One beautiful thing about technology is how it brings people together regardless of physical distances. And one of my favorite ways to spend virtual time with my favorites is to watch movies together online.
In this post, I'll tell you all about the best options to watch Netflix, Amazon Prime, Hulu, and other streaming services online so you can simultaneously chat with your buddies just like you do in real life.
For Apple users, of course, there's SharePlay on FaceTime that lets you watch movies and tv while video chatting. But this is only possible with fellow iPhone, iPad, and Mac users. So, for greater flexibility, here's how to watch movies together online using third-party websites and browser extensions.
1. Teleparty (formerly Netflix Party)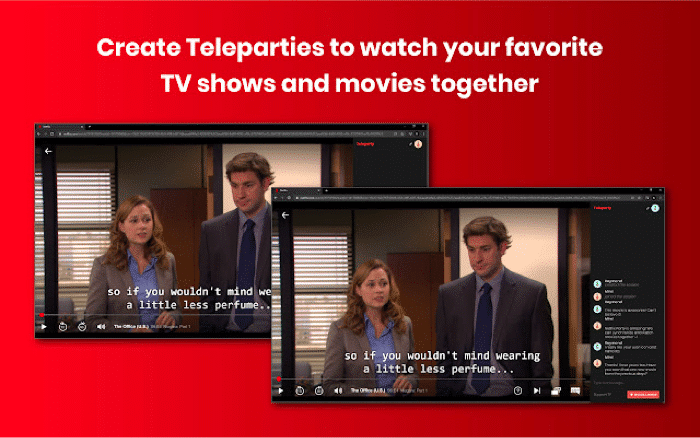 Features:
Watch Netflix, DisneyPlus, Hulu, and HBO
All participants must have an account on the streaming service
All participants must use Google Chrome
Text-based chat
Smooth and accurate sync
You probably heard of Netflix Party during 2020 when the world was under lockdown, and we were all isolated. This Google Chrome extension is now known as TeleParty and is the best way to watch Netflix, Disney Plus, Hulu, and HBO with friends.
It synchronizes the playback and adds group chat to your favorite streaming sites. The best part is that it's free, although all participants must have an account on the respective streaming service. I tried it out and found it pretty easy to set up and use:
How to use Teleparty
Install the extension from the Chrome web store link given below.
Log in to a supported streaming service on Google Chrome and play a video.
Click the Netflix party icon in the toolbar and click Start the Party
Copy the custom URL generated by Teleparty and share it with your invitees.
Invitees can click the link to join the party.
They must log in to their own account on the selected streaming service.
Price: Free
2. TwoSeven
Features:
Watch Netflix, Amazon, Hulu, Disney+, HBO, Crunchyroll, YouTube, Vimeo, and more
Watch Hulu and Disney Plus by being a paying subscriber
Works on Google Chrome and Firefox browsers
Text-based chat
Audio and video chat
All participants must have a TwoSeven account and an account on the selected streaming service.
TwoSeven is a web app that lets you watch videos or movies with an unlimited number of people. You can even let everyone use their webcams and microphones while they're watching for a truly interactive experience. However, be warned that this can get disruptive as it interferes with the movie's audio. Fortunately, there's also a text-based chatbox.
While TwoSeven is free, you can support the company on Patreon to enjoy premium benefits that include using TwoSeven on Hulu and Disney Plus, among other perks.
How to use TwoSeven
Create a TwoSeven account by clicking the extension icon and visiting the official website.
Click Start Watching.
You'll see a pop-up window that lets you create a private room. Tick the boxes to allow other participants webcam and mic access or allow admins to control playback. Then click Just Me.
Now, select a streaming service and log in to your account. For YouTube videos, paste the URL.
Click the icon in the top right corner, which looks like two people and a plus sign.
Click Copy Link and share the link with friends.
Invitees need to click the link and log in to their TwoSeven accounts to be added to the watch session.
Use the camera and microphone icons on the right to enable video and audio.
Click Messages in the bottom right for the text chat.
Price: Free (Premium plans start at $3 per month)
Download | Sign up for TwoSeven Premium
3. Scener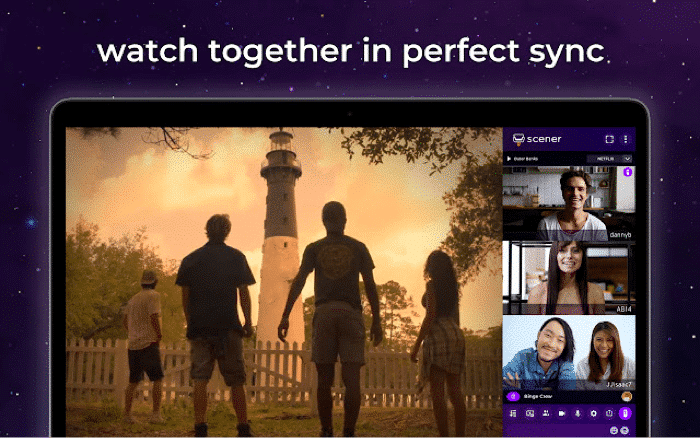 Features: :
Watch Netflix, Amazon Prime Video. Hulu, Disney+, HBO Max, YouTube, and more
Watch, and video chat with up to 10 people in a private virtual room
Watch with unlimited people in a public broadcast
Virtual remote control that can be passed between people
Build a profile and gain followers
All participants need an account on the streaming service being viewed.
What makes Scener stand out is that you can use it to build your presence by scheduling public watch parties and gaining followers. Public parties can be viewed by anyone anywhere, and they can connect using text chat.
Alternatively, if you prefer private gatherings, Scener lets you watch Netflix and other platforms with up to 10 people. This has a video chat feature in addition to the text-based chat. You can also pass the virtual remote to anyone to let them rewind, pause, and play the movie or TV show.
How to use Scener
Download the Scener extension.
Click the extension's icon and then click Create a theater.
Select either public or private theater and then click Create.
If you're new to Scener, click the Create Account button, or else click the button that says, "Already have an account? Log in here."
Select the streaming service you want to use and sign in to your account.
Click the Enable button with a camera icon to turn on your camera.
In the pop-up window, allow access to your camera and mic,
When you hover the pointer over the video, you'll see tiny camera and microphone icons. You can use them to toggle your video or audio on and off.
Click Copy invite link button to get either a link or a code with your friends.
To enter the virtual theater, invitees will need to install the extension, create an account, sign in to the service, and enable audio and video.
If invitees already have Scener, just send them the code, and they can enter that via the Scener extension to join your theater.
Choose a movie or show and click the play button to start watching.
Price: Free
4. Metastream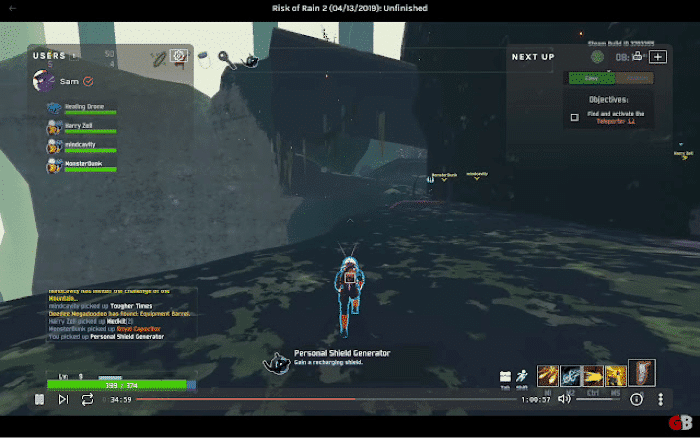 Features
Watch Netflix, Hulu, YouTube, Twitch, and Crunchyroll
Works on Google Chrome and Firefox
Create a queue of videos to watch
Text-based chat
Participants must have an account on the selected streaming service to watch
Metastream is another simple way to watch movies together online. It supports all the major video platforms, including Crunchyroll for anime. I tested it, and the sync worked well while maintaining video quality.
How to use Metastream
Download the Metastream Remote extension for Firefox or Chrome.
Go to the Metastream website and click Start Session.
Click the Invite button on the left to generate a shareable link. Copy and share it with friends.
You can also choose to keep the session private, public, or offline and change the number of users allowed.
When people join, you'll see a box on the left with your name and theirs; you'll have to click the green checkmark next to their name to let them in.
To start watching, click the Add Media button and either paste a video URL or select a video source.
Price: Free
5. DisneyPlus Group Watch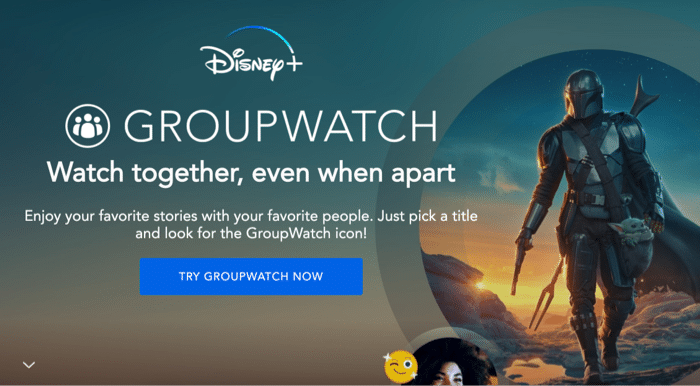 Features
Watch Disney+ with up to seven people
Emoji reactions
Works on almost any device and browser
All participants must be active Disney+ subscribers
Disney+ has a native GroupWatch feature that lets subscribers watch shows and movies simultaneously with friends and family. It currently lacks a chat feature, but viewers can send emoji reactions to the group screen. There are six different emojis, namely, funny, scared, sad, angry, and surprised. The emoji and the name of the sender will pop at the screen's bottom.
How to use Disney+ GroupWatch
Go to the details page of a movie or show and tap the GroupWatch icon.
It looks like three people.
A link will pop up, which you can send to up to 6 other people
When everyone has joined, any participant can tap Start Stream.
Any participant can pause, fast forward, or rewind and send emoji reactions at any time.
Price: $8.00 per month
6. Hulu Watch Party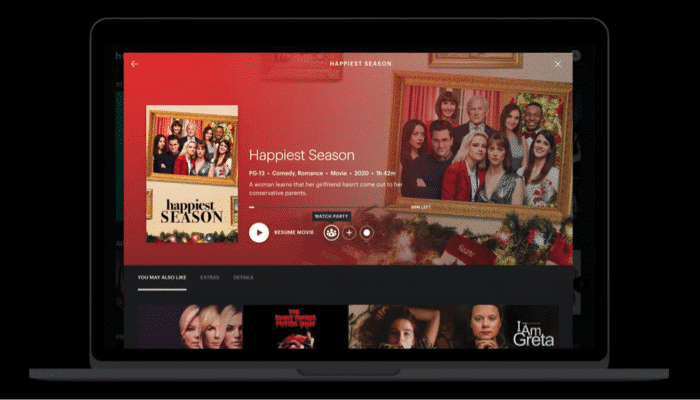 Features
Watch Hulu with up to 8 people
Live text chat
All participants must be subscribers of Hulu's ad-free plan
Works on Google Chrome, Firefox, Safari, and Edge
The "Click to catch up" button can put viewers in sync at any time.
Like Amazon Prime Video, Hulu allows you to host a virtual watch party with live text chat for up to eight people. The great thing is that multiple people on the same account can use the Watch Party feature together.
How to use Hulu Watch Party
Log in to hulu.com on your browser.
Find a movie or show to watch and click it to open the details page.
If it supports Watch Party, you will see an icon that looks like three people together. Click that and select Start the Party in the pop-up window.
Click the link icon to get a link that you can copy and share with others.
Once others join, click Start Party.
You can even add people later by clicking the link icon in the top right of the chat bar.
When an invitee clicks the link, they will have to sign in to their ad-free Hulu account and click Join the Party.
Price: $12.99 per month
7. Plex Watch Together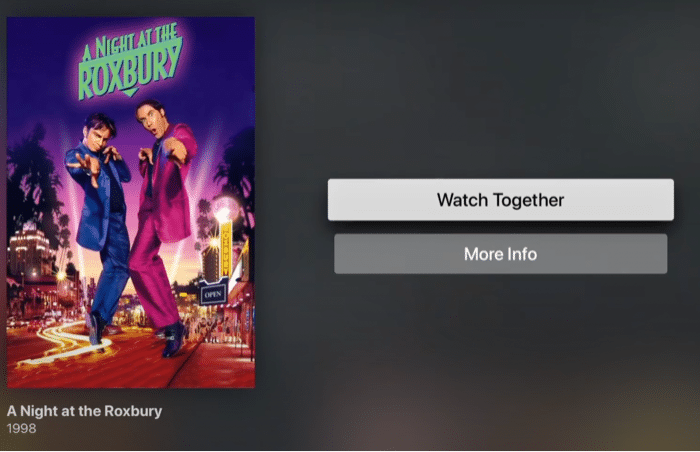 Features:
Watch movies online from Plex's free ad-supported movie and TV library
Works on web browsers, Android and iOS phones, Android TV, Apple TV, and more.
No official limit on the number of viewers, but it depends on network and server capabilities
Plex is a great tool for watching movies and tv shows online completely free. The Watch Together feature makes it even better by letting you invite as many people as you like to virtual screenings. Unfortunately, there's no chat feature yet, but perhaps it will be added soon.
How to use Plex Watch Together
On the Plex website or app, find what you want to watch.
Select the More (…) button on the details page.
Click Watch Together and invite some friends to join you.
You need to already be friends with someone on Plex to invite them to a watch party.
Invitees will get a notification at the top of the app's home screen to join the session.
Price: Free
That wraps up all the best ways to watch movies online with friends and family. Let me know in the comments below if you have any questions or suggestions.
Read more:
Readers like you help support iGeeksBlog. When you make a purchase using links on our site, we may earn an affiliate commission. Read Disclaimer.