Thanks to dozens of instant messaging apps, sharing contacts, links, music, etc., has become easier. But, when the time finally comes to open the item shared with you, everything seems lost. Either the link would've gone too up in the chat, or you'll be lazy to search for it. There should be a dedicated section where all the shared items are stored! Enters the Shared with You feature in iOS 15 and iPadOS 15.
In this article, let's learn about Shared with You and how you can use it to make your experience better.
Messages have got a big upgrade in iOS 15, and one of its most talked-about features is Shared with You.
It segregates the content that people send into different sections. For example, all the websites shared with you are in the Links section, images in the Photos section, etc.
And it doesn't stop here — Shared with You also adds the items shared into the proper apps. This means that if someone shares a link on Messages, it will not only show in the Messages' Links section but also in Safari.
Similarly, if someone shares a photo, it will not only show up in Messages as a separate section but also in the Photos app.
By default, Shared with You is enabled in iOS 15 and iPadOS 15. It doesn't require any sort of setup or toggling to work. However, it is only compatible with the Messages app in iOS and iPadOS for now.
There are several Shared with You integrations in iOS 15, some of which are mentioned below:
Photos: When someone sends you an image via iMessage, it will automatically show up in the For You tab of the Photos app. You can save it to your Photo library directly from this section.

Moreover, if you tap the name label on the top, it opens up the image in iMessage with the in-reply thread open.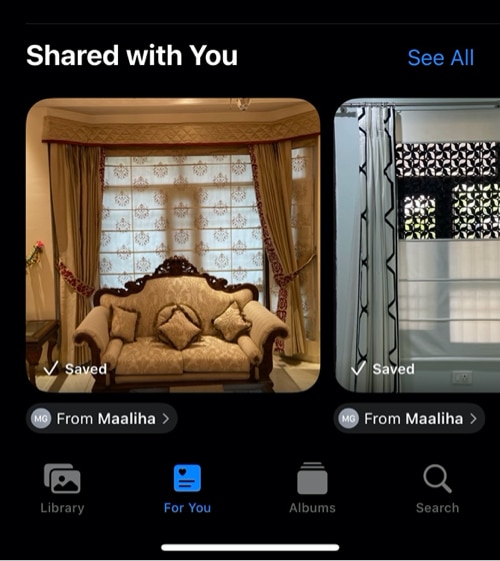 Apple News: If anyone sends you an Apple News story via iMessage, it automatically appears in the Today and Following tabs.

Safari: Many times, friends share links to articles and news pieces that may be useful to us. Now, you'll no longer need to search your iMessage chat and find the link. Instead, all the links shared with you will show in a separate section in Safari.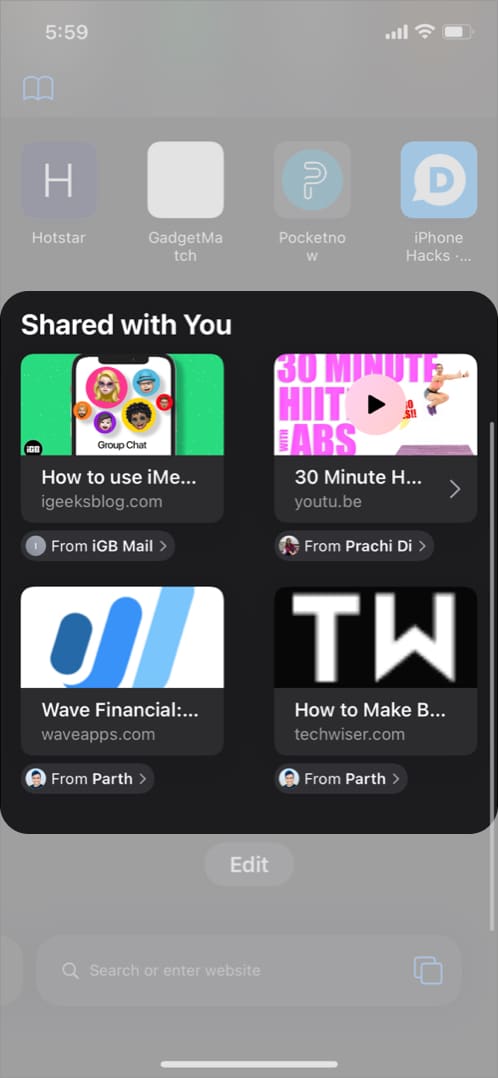 Apple Music and Podcast: Music and podcast links shared via iMessage show up in the Shared with You section in the Listen Now tab in the Apple Music and Podcast app.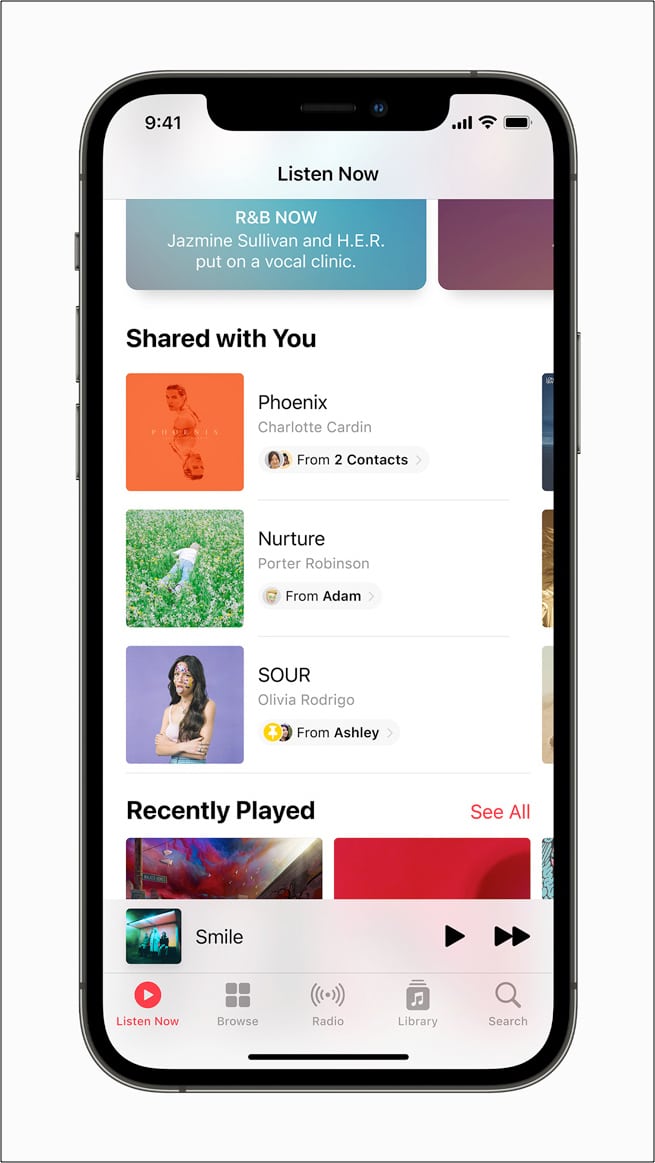 Apple TV: When someone sends a movie or a TV show link via iMessage, the TV show or the movie will appear in the Shared with You section of the Watch Now tab so you can start watching it quickly.
Apart from Shared with You, you can use SharePlay to watch movies and TV shows together in iOS 15. To learn more, check out our detailed guide on how to use SharePlay.
Open iPhone Settings.
Scroll down and select Messages.
Now, select Shared with You.
Here, disable Shared with You for all apps or selected apps.


Alternatively, if you just want to prevent a specific conversation from appearing in Shared with You, you can simply hide it.
Hide content from appearing in Shared with You
Don't want every message thread to appear in the Shared with You section of the app? You can easily hide it! However, you can't select the content type. It will hide all types of content in Shared with You from that particular message thread.
Open Messages → long-press the conversation you don't want to see in Shared with You → choose Hide in Shared with You. That's it!
Shared with You is an excellent feature on iPhone and iPad. It lowers the number of steps required to search for a shared item. However, it is limited by the iMessage-only functionality. Had Apple opened up its API to third-party developers, it would have been one of the best iOS 15 features.
What are your thoughts about Shared with You? Share in the comments below!
Want to learn more about iOS 15 features and what it brings to the iPhone? Check out these iOS 15-related articles:
Readers like you help support iGeeksBlog. When you make a purchase using links on our site, we may earn an affiliate commission. Read Disclaimer.