Pop-ups are distracting and annoying, to say the least. But sometimes, websites use pop-up windows to function, or you want to test the pop for something. Browsers generally block all these pop-ups to give you a peaceful browsing experience.
If you need to disable a pop-up blocker to interact with the site you're browsing, you can easily change your browser's settings on your device. Below, I'll teach you how to unblock pop-ups on your iPhone, iPad, or Mac browser.
Should you disable browser pop-up blockers?
While pop-ups are one of the most hated features of the web, they are often helpful. They let you interact with the websites more seamlessly.
For example, if you're trying to sign up for a new service and need to input your credit card information, a pop-up window can ensure that your data is entered into the form correctly.
However, they can also be spammy and even dangerous. Some may lure you into downloading unwanted software or lead you to malicious websites.
It's your prerogative, but I suggest you only enable pop-ups from trusted sites. The good thing is that browsers like Chrome give you control over which sites to allow pop-ups from and which ones to block.
How to allow pop-ups on an iPhone and iPad
Usually, pop-ups are blocked by default when browsing on your iPhone; here's how to change it.
Because Safari is the iPhone and iPad's built-in browser, you'll need to head to your device Settings to unblock pop-ups on Safari:
Open Settings.
Scroll down and tap Safari.
Under General, toggle off Block Pop-ups.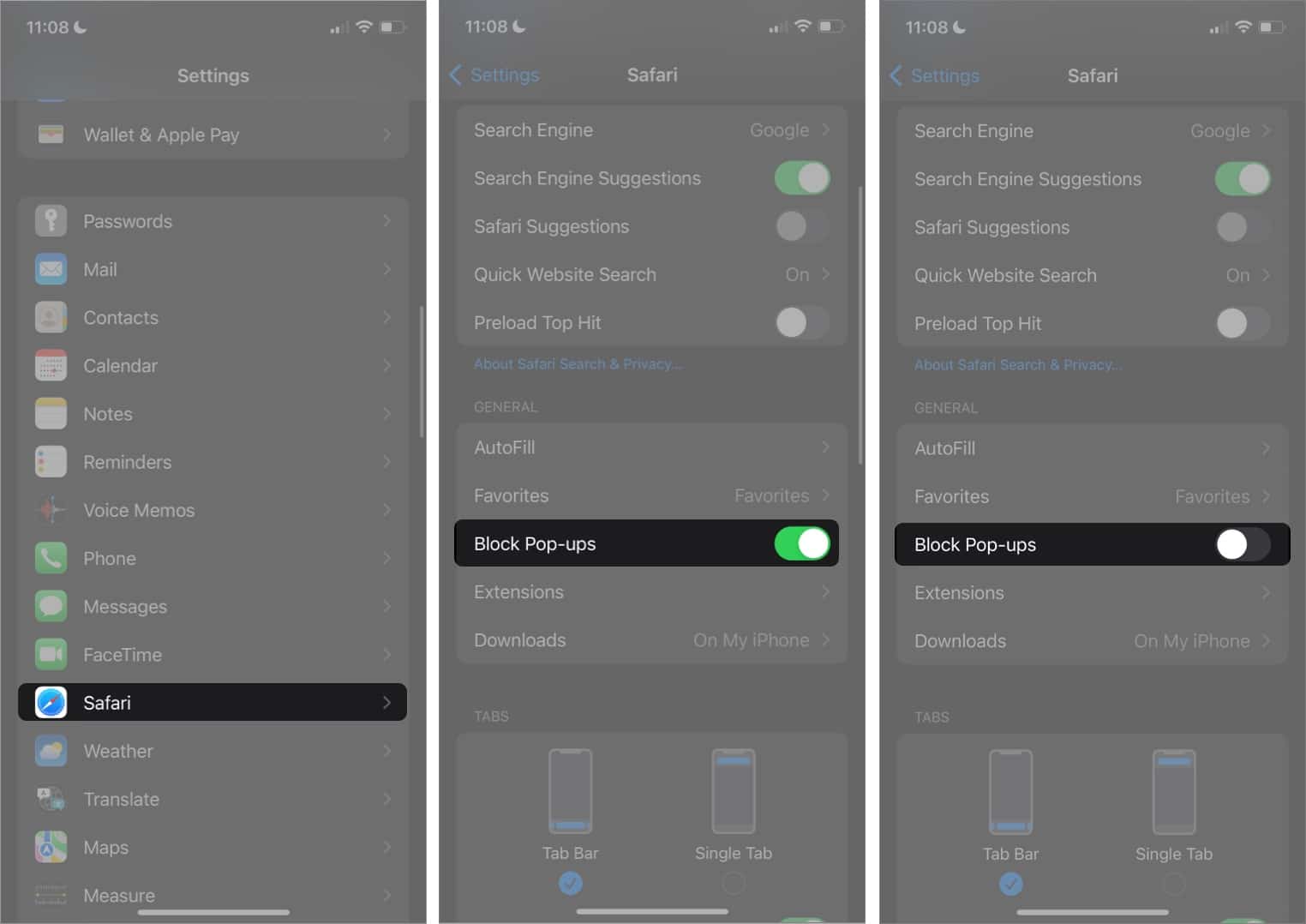 Note that you only have the option to enable all pop-ups in Safari on the iPhone and iPad. It's not possible to selectively enable pop-ups from specific websites. A workaround is to allow all pop-ups and just download a third-party adblocker for your iPhone or iPad that you can customize.
You can always revert your settings and enable pop-up blockers on your iPhone and iPad.
Chrome on iOS and iPadOS also blocks all pop-ups by default and lets you allow pop-ups from specific sites. If you prefer this, you can always set Chrome as your default browser on your iPhone.
Open Chrome on your iPhone.
Tap More Options (…) icon.
Select Settings from the overlay menu.
Chrome settings will open. Scroll down and tap Content Settings.
Tap Block Pop-ups → toggle it off.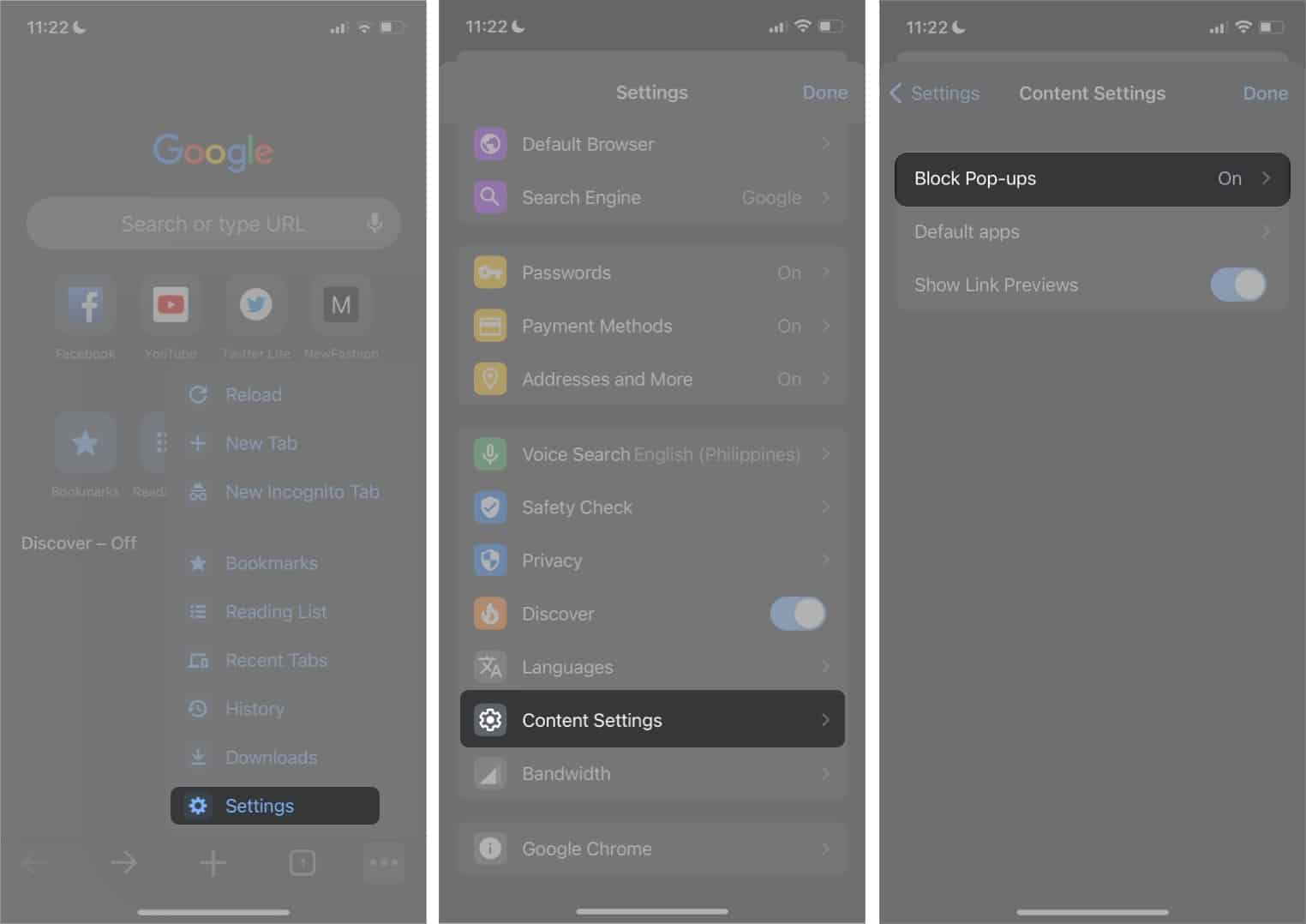 Note that this enables pop-ups from all the websites you visit. If you want to block all pop-ups except those from certain sites, you can do the following:
Open the website whose pop-ups you want to allow.
If the browser blocks a pop-up, you'll see a notification below your address bar. Tap Always show.
How to disable pop-up blockers on a Mac
Unlike on your iPhone, you have more liberty on your Mac to select the websites whose pop-ups you wish to enable, regardless of your browser. Below I'll discuss the two most commonly used browsers on Mac – Safari, and Chrome.
In Safari
Open Safari.
Click Preferences → select the Websites tab.
Scroll to the bottom of the left-side pane and select Pop-up windows.
Click the drop-down menu beside When visiting other websites. Choose Allow to enable all pop-ups.
Alternatively, choose Block and Notify to keep blocking pop-ups but allow Safari to show them to you whenever you visit a website.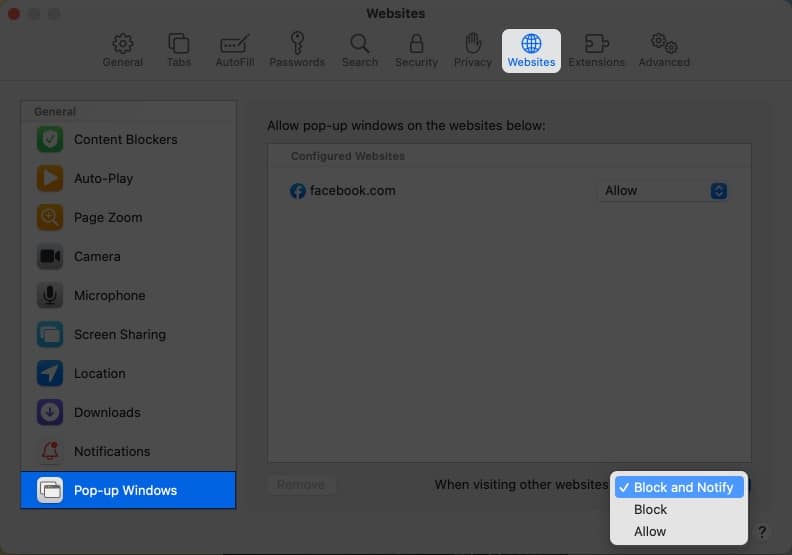 The websites listed under Configured Websites are sites where you've previously modified your pop-up blocking preferences. If you want to change them, just click on the website → Remove.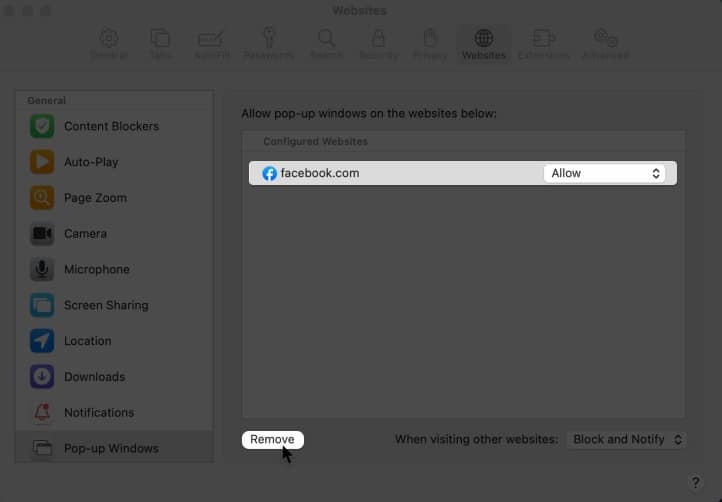 If you want to keep blocking all the pop-ups except certain websites, you can do so in Safari on Mac. Just do the following:
Open Safari → go to the website.
Click Safari → Preferences → select the Websites tab.
On the left-side pane, scroll to the bottom and select Pop-up Windows. On the right, you'll see all currently opened websites on Safari. Look for the website whose pop-ups you want to allow.
On the drop-down menu, select Allow enabling all the site's pop-ups to appear. You can also select Block and Notify if you still want Safari to block it but have the option to view it by clicking the Smart Search field.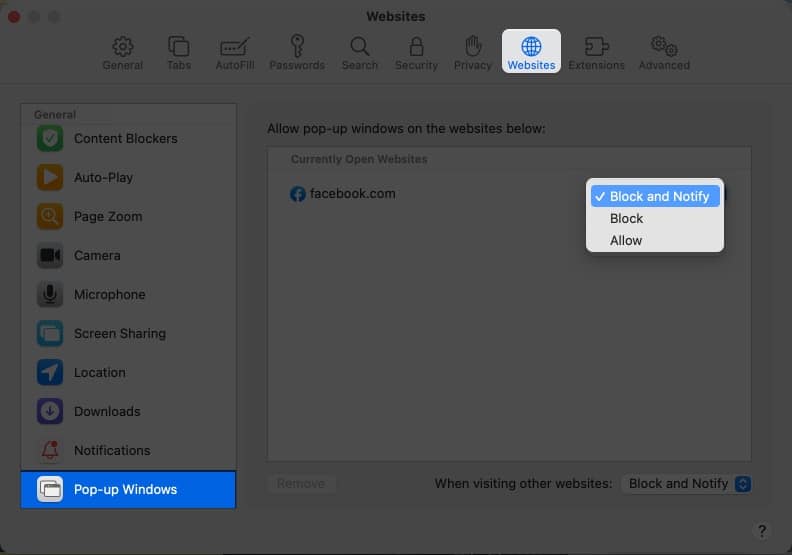 In Chrome
Open Chrome → Preferences.
Choose Privacy and security → Site settings.
Go to the bottom and click Pop-ups and redirects.


Under Default behavior, tick Sites can send pop-ups and use redirects.


If you only want to unblock pop-ups from select sites, do the following:
Launch Chrome → open the site that you want to allow pop-ups.
Click the lock icon at the left-side corner of the address bar.
If you see Pop-ups and redirects, toggle it on. Some sites do not reveal this option. If you do not see Pop-ups and redirects in the drop-down menu, click Site Settings instead.


Under Permissions, go to Pop-ups and redirects and click the drop-down arrow beside it. Select Allow.


Wrapping up…
If you want to unblock all pop-ups, that's also an option too. However, just be careful which sites you visit and which buttons you click. What's your relationship with pop-ups? Do you enable all pop-ups or just allow those from websites you trust? Share them below!
Read more:
Readers like you help support iGeeksBlog. When you make a purchase using links on our site, we may earn an affiliate commission. Read more.
Rachel loves anything Apple —from iPhones, to Apple Watches, to MacBooks. She is also a medical writer and a ghostwriter for various publications.