Recently, we showed you how to transfer Google Photos to iCloud Photos. But if you are jumping ships from iOS to Android or want more free storage (5GB of iCloud vs. 15GB of Google), you will be interested in learning about Apple's new tool that lets you transfer your iCloud Photos to Google Photos effortlessly. So, without further ado, let me show you how to do it.
In March 2021, Apple launched its new tool to transfer a copy of your iCloud Photos to another service such as Google Photos. Before you do that, it is vital to learn about the basic requirements.
Basic requirements:
Make sure you are using iCloud Photos (obviously). You can check this on your iPhone by opening the Settings app → Photos → see if iCloud Photos is enabled or not.
You must have two-factor authentication enabled for your Apple ID.
Make sure your Google account has ample free storage available.
How to transfer a copy of iCloud Photos to Google Photos
Visit privacy.apple.com and sign in with your Apple ID.
From under Transfer a copy of your photos and videos, select Google Photos. In the future, more services may be supported.
Check what you would like to transfer – Photos, Videos, or both.
Follow the simple on-screen prompts.
When asked, sign in to your Google account.
The transfer process will begin. Apple will notify you of your transfer request via email. You will also receive an email when the transfer is complete (in 3 to 7 days).
I have also tried to cover the most frequently asked questions to answer all your related queries.
FAQs
Q. Is iCloud Photos to Google Photos transfer service available everywhere?
No. Currently, it is only available in Australia, Canada, the European Union, Iceland, Liechtenstein, New Zealand, Norway, Switzerland, the United Kingdom, and the United States.
Q. Does the transfer of pictures and videos from iCloud Photos to Google Photos alter anything at the original source?
Via this service, a copy of your iCloud Photos content is sent over to Google Photos. Nothing is modified in iCloud Photos. They will stay as they are.
Q. How long does it take to transfer photos from iCloud Photos to Google Photos?
It takes 3 to 7 days for the transfer to complete. Apple uses this time to verify that the transfer request was legitimate.
Q. Are all formats of photos and videos supported?
The supported file formats include .jpg, .png, .webp, .gif, some RAW files, .mpg, .mod, .mmv, .tod, .wmv, .asf, .avi, .divx, .mov, .m4v, .3gp, .3g2, .mp4, .m2t, .m2ts, .mts, and .mkv.
Please note that pictures and videos stored in iCloud Photos are transferred in original or popular industry-standard formats.
Q. I have two versions of the same photos – one edited, one original. Will both be transferred?
No. Just the most recent version of the photo will be transferred. The original won't. It is also worth noting that duplicates will appear as one photo.
Q. I have several organized albums in iCloud Photos. Will they be transferred or not?
Apple has you covered. Photos will be transferred with their albums. Though videos are an exception as they are transferred without their album.
It is also important to note that shared albums, smart albums (that automatically take in photos that meet specific criteria), photo stream content, Live Photos will not be transferred.
Q. One of my iCloud Photos albums has over 20,000 photos. Is there anything to worry about?
Yes. The maximum photo limit of a Google Photos album is 20,000 items. Thus, if you have an album that exceeds this limit, all the photos will be transferred, but the extra ones won't be inside that album.
Q. Will the transferred photos count against my Google cloud storage limits?
Yes, they will. Also, during transfer, if you add more photos or your Google cloud storage runs out of space, you may not be able to transfer all photos and video.
Another way to move your iCloud Photos to Google Photos
In the method above, we used the official integration between Apple and Google that completes the data transfer once you make the request. It is all from Apple's servers to Google's. You do not have to meddle in between.
But as mentioned above, this is only available in a handful of countries. Plus, you can't individually select which photos and videos to transfer. This is where the following method will come in handy. It is nothing special. Just the old 'download data from iCloud Photos and upload it manually to Google Photos.' I am almost sure you knew this. Still, let me assist with the exact steps.
First, download photos and videos from iCloud Photos
There are multiple ways to have the photos and videos stored in iCloud. If these photos and videos are visible in the iPhone Photos app, you can get the iOS Google Photos app and upload everything there.
You may also transfer them via AirDrop to a Mac. Or, if you use iCloud Photos on Mac, everything is already inside the macOS Photos app. You can drag and drop them to the desktop. If you use a Windows machine, connect your iPhone to it and use the official Windows 10 Photos app to get the images and videos to your PC.

Another method is to log in to iCloud.com and click iCloud Photos. Next, select the photos and click the download icon.

Finally, one easy way to download your iCloud data involves using the same link we used in the first method. That is, visit privacy.apple.com and log in via your Apple ID. Next, click 'Request a copy of your data >.'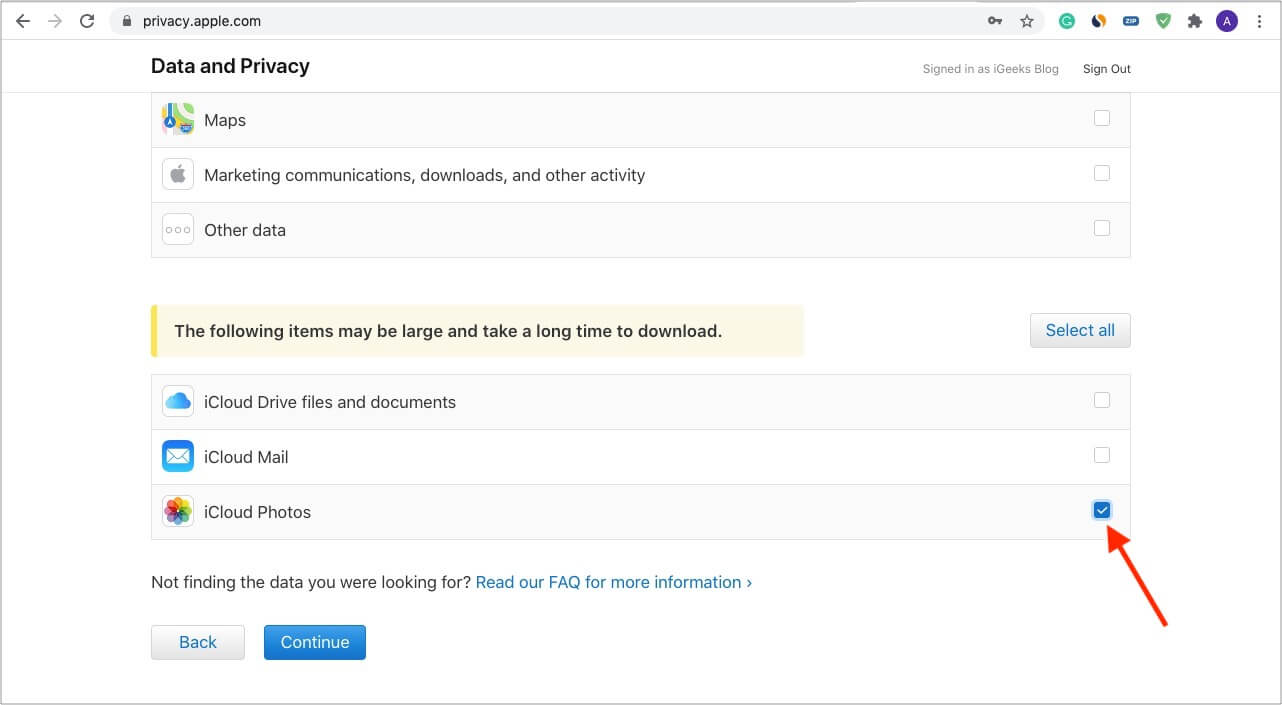 Scroll down and check iCloud Photos and click Continue. Finally, click Complete request.
Once you have the photos and videos from iCloud, it is effortless to upload them to Google Photos. Let me show you how.
Upload your photos and videos to Google Photos
You can use the Google Photos mobile app or the website on a computer to upload everything to it. I prefer the latter, and thus, here are the steps.
Visit photos.google.com and sign in using your Google account.
Drag and drop files to it or click Upload at the top right.
For better organization, consider making an album and upload media to it.


I believe this guide answered what you were looking for.
Next, I have a question for you. What do you think of this move by Apple? Are they becoming liberal in their approach and slowly opening their walled gardens?
They let you change the default browser and mail apps on the iPhone. Then, this effortless transfer from iCloud Photos to Google Photos. What do you make of all this progress? Is it anti-trust issues and fines, or is Apple on to something?
Let us know in the comments down below.
Read more:
Readers like you help support iGeeksBlog. When you make a purchase using links on our site, we may earn an affiliate commission. Read more.
A self-professed Geek who loves to explore all things Apple. I thoroughly enjoy discovering new hacks, troubleshooting issues, and finding and reviewing the best products and apps currently available. My expertise also includes curating opinionated and honest editorials. If not this, you might find me surfing the web or listening to audiobooks.