Every file on the Mac has a path that begins with the root directory. If you use the device frequently, you've most likely accumulated a large number of files and folders over time. As a result, knowing the file location might be a considerable time saver while looking for documents. In this post, I'll demonstrate how to find file paths in Finder on Mac.
1. Finder Path Bar
The Finder Path Bar is the quickest and simplest way to see a file's complete path. The whole path to your present location is displayed at the bottom of the window in Finder.
Open the Finder app.
Click View in the menu bar.
Select Show Path Bar.


Alternatively, you can also use Option + Command + P keyboard commands to Show Path Bar. Plus, use the same commands to hide the path bar or open Finder → View → Hide Path Bar. Plus, you can just right-click and copy the file path.
Note: If the Status Bar is visible, the Path Bar will be seen just above it.
2. Finder context menu
While using the Finder context menu, you get an easy option to copy the full path of the file on your clipboard, which you can later paste anywhere as per your requirements.
Launch Finder.
Select and right-click the file.
Press and hold the Option key from the keyboard.
Select Copy [file name] as Pathname.


You can paste the file path anywhere you want to use it.
Note: When you'll press and hold the Option key, Copy will change its name to Copy [file name] as Pathname.
3. Get Info
In macOS, the Get Info procedure displays the file path in just two clicks. Check out the steps below:
Go to Finder → right-click the file.
Choose Get Info.


The file path is now shown in the Where section of the pop-up menu.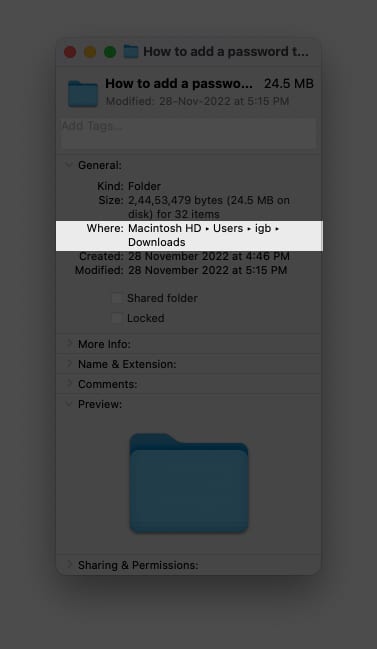 4. Finder title bar
This method can be used for files stored in a folder. You may not be allowed to copy the path while using this option, but the structure provided in the dropdown makes it simple to locate the file.
Enter a folder stored in Finder.
Right-click on the Finder title bar.


Now, you may see folders or locations in the dropdown menu; you can easily navigate to your preferred location from here.
5. Go to Folder
If the above methods were too nerve-wracking, then you may use this simple drag-and-drop approach using the Finder's Go to Folder command to see file paths.
Launch Finder.
From the menu bar, select Go → Go to Folder.


Drag the file to the path box to check its path.


Note: You need to have multiple Finder windows open to use this feature. You have to drag and drop from one window to another.
6. Spotlight
With only a few clicks, Spotlight allows us to search for and open anything on our Mac, but by following the instructions below, we can also use it to view the file paths.
Launch Spotlight (Command + Space Bar).
Search for a file name.
Press and hold the Command key.
7. Automator
This small trick will be adored by shortcut enthusiasts! With the use of your Mac's Automator, you can easily construct a variety of microservices that can carry out a wide range of tasks, like quickly obtaining any file's file path. To make your own shortcut, follow these steps:
Go to Spotlight → Automator.
Choose Quick Action → click Choose.


Change Workflow receives current to files or folders and into Finder.
Choose Utilities from the Library section in the leftmost menu.
From the left menu, double-click (or drag) Copy to Clipboard.


Click File from the top menu → choose Save.
You can also press Command + S.


Rename shortcut → click Save.
Once you've created a shortcut, you can go to file → right-click → Quick Actions → [name of shortcut]. Now that the file path has been properly copied, paste it into a text editor to check the path.
8. Terminal
One of the most powerful tools on your Mac is the Terminal, but using the feature isn't a piece of cake. If you're comfortable utilizing the prompt, then check out the instructions below to use your device as a pro.
Navigate to Launchpad.
Open Terminal.
Drag and drop the file into the Terminal.
You will be able to see its path.


Right-click and copy the path.
FAQ
How do I stop Finder actions on my Mac?
Press Command + Option + Esc to force the unresponsive Finder to quit. If in case this doesn't work for you, refer to our article on how to force quit an unresponsive app. 
Make your Mac easy to navigate…
It's impossible to remember how to navigate to files and folders when there are a lot of them. Due to this, you could occasionally get annoyed and think about cleaning up your Mac. Above mentioned were some of the most basic ways to view file paths in macOS. If you have any additional suggestions, please comment below.
Check more:
Bhaskar is a tech guru who turned wordsmith. Hiding his B.Tech degree in a closet, he ditched the corporate path to simplify tech for everyone. For the past 5 years, he's been dishing out how-tos, reviews, and sharp insights. But there's more! He's a witty interview champ and has been sharing his wisdom for 3 years. Furthermore, he has honed his editing skills for 1.5 years and is now delving into marketing to assist newcomers. When not jamming his fingers on those mechanical keyboards, you may find him on strings or engaging in sports. And by evening, his quotes will be appearing on your Instagram feeds.