Our lifestyles have changed a lot since the advent of smartphones. Services like Facebook, Instagram, and WhatsApp have become indispensable. The majority of us use these platforms to stay connected. But have you ever wondered what happens to the Facebook account after a person dies?
Well, Facebook lets you memorialize a person's account. Wondering what's that? Well, it lets you keep the account active after you have passed away by passing the reins of your account to your friends or family.
Why should I memorialize my Facebook account?
The objective of the process is similar to that of Apple's Digital Legacy – to take care of all your affairs after you're gone. Memorializing Facebook is the best way to keep your memories alive. It is almost like a Digital Tribute to the departed. Once memorialized, friends and family will be able to share memories and stories.
Here're some of the major advantages of Facebook account memorialization.
The person will not appear in birthday reminders and people you may know.
After memorialization, Facebook will add a Remembering tag to the profile.
Only Legacy Contacts can make changes to the account.
It will serve as a remembrance long after a person is gone.
Now, if you're ready, move on to the next section to understand how it works.
How to memorialize your Facebook account
1. Choose a Legacy Contact
In the previous section, we talked about Legacy Contact. Simply put, legacy contact is the digital equivalent of a will executor. He or she can control Facebook memorialized page and decide what to share.
Facebook Legacy contact will be able to:
Create memorial posts/stories.
Change a person's profile picture and cover photo.
Change privacy settings.
Accept/reject friends requests.
Moderate comments and posts.
Access everything shared on Facebook so far.
You may have figured out the importance of Legacy Contact by now. I suggest you talk with your friend or family before appointing them as Legacy Contact. The person will have access to the entire Facebook profile.
2. Assign Facebook Legacy Contact
How to assign a legacy contact for your Facebook on iPhone, Android, and iPad:
Tap the three horizontal lines icon → Settings icon.
Select Personal and account information → Account ownership and control.
Tap Memorialization settings.


Select Choose a legacy contact.


How to assign a legacy contact for your Facebook on Mac or desktop:
Click the drop-down arrow at the top right.
Select Settings & Privacy.
Select Settings.
Choose General in the left menu sidebar.
Click Memorialization Settings.


Search and add legacy contact.


Note: Facebook will only notify the contact after your account is memorialized and not when you appoint them as one. Hence, you must inform them beforehand.
Request your account to be deleted after death
Some of us might not be comfortable handing over our stuff to others. In such a case, you can set up your account in a way that Facebook deletes it after you pass away. Here's how:
Request your Facebook account to be deleted on iPhone, Android, and iPad:
Follow the steps in the previous section to

go to

Memorialization settings.
Next, click Delete After Death.
Facebook will automatically delete the account after death.


Request your account to be deleted on Mac and Desktop:
Follow the steps in the previous section to go to Memorialization Settings

.

Now, select Request that your account be deleted after you pass away

.




Next, click Delete After Death.
That's it! Your Facebook account will be deleted automatically after death.
How to memorialize your friend's or relatives' Facebook account
Facebook lets anyone memorialize friends or family accounts. This option is helpful if the person has not been assigned a legacy contact. Upon producing proof, Facebook can add you as a legacy contact.
1. Reach out to next of kin
Reach out to the person's next of kin. Inform them of your decision and take their approval. Ask family members whether they are alright if the account is memorialized. Finally, visit submit a memorialization request.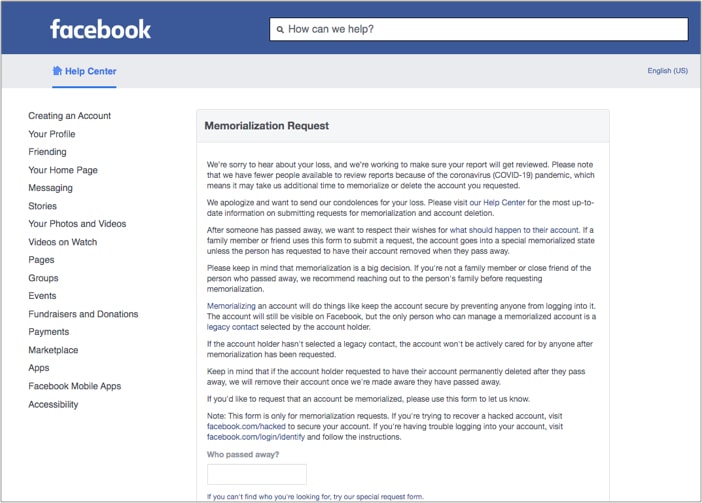 2. Submit the proof of death
Facebook asks for Documentation of death. It can be a photo of an obituary, death certificate, memorial card, or other document related to their death.
Note: Once you memorialize a Facebook account, it isn't typical of Facebook to reverse it. Hence, be careful.
How to create a Facebook memorial group
What if your loved ones decided to delete their account? Well, you can still create a Facebook memorial group in their memory. Here's how:
Choose Groups from the main menu.
Tap + icon. (Mac/Desktop users Click Create new group)
Select Create New Group and name it.
Select privacy (Public or Private).


Invite friends, and add profile and cover picture.
Make the group invite-only.
Use the secret option so that the group will not appear in the search.
Include a brief introduction in the About section.
Add posts to cherish the good times.
The digital afterlife
The trend of leaving a digital legacy is catching up. We want to be remembered even beyond the grave. Futurists have begun talking about how one could live a duplicate life digitally. In other words, the human brain can be scanned and uploaded to a server. Once they pass away, the copy lives in a simulated environment.
Netflix's Black Mirror episode San Junipero has beautifully explored the concept of the digital afterlife. Soon humans will be able to upload their consciousness. Features like Facebook memorialization and Apple Legacy Contact are small steps towards establishing a digital legacy.
What are your thoughts on this? Share in the comments below.
Related Reads:
Readers like you help support iGeeksBlog. When you make a purchase using links on our site, we may earn an affiliate commission. Read more.
Mahit is an engineer by Education with a corporate stint to his name. He ditched the corporate boardroom wars in favor of the technology battleground. For the better part of a decade, he has worked for popular publishing outlets, including Dennis Publishing, BGR India, AppStorm, MakeUseOf, and iPhonehacks.