In today's age, if you step into a classroom, you'd likely see that most students have a tablet or laptop with them. Apple products could provide a significant productivity boost to today's digital natives. But the hefty price tag can be a great obstacle.
Fortunately, Apple offers Apple education pricing all year round to make its products more affordable for students. On top of that, it also throws a back-to-school promo yearly for added perks. Here's everything you need to know about the Apple student discount and how to get one.
How to get an Apple student discount
Different countries have different sets of steps to go through. I'll list down the process for students in the US.
Generally, claiming an Apple student discount on the Apple Store for Education is easy-peasy if you're a US student. Just go to the site and choose the device you want to buy.
You may be asked to log in with your Apple ID for a more straightforward process. You may purchase one as a guest if you don't have one.
If you're from the UK, China, or Singapore, you must get yourself verified with UNiDAYS.
Select the specs you want for your device and fill in your delivery details before proceeding to checkout.
Before checking out, you'll be asked to review your item/s. You'll need to tick a box verifying that you belong to the group eligible to get Apple's Education pricing discount.
Alternatively, you can go to the Apple Store or any third-party vendors or authorized Apple resellers and claim the Apple Education discount. They might ask for proof like school IDs and any other evidence that they're currently enrolled in a school.
I ordered a Mac for my younger brother last year. Since I am from the Philippines, the promotional product that came with the Mac was a set of AirPods. I received two separate invoices for the Mac and the AirPods.
What can you get from Apple student discount?
Generally speaking, you'll get a more significant discount on Macs than iPads. To help you compare the price difference and which device you can save the most from, below are all the products under Apple Education Discount, their rates, and their discounted prices:
MacBook Air with M1 chip: from $999 to $899
MacBook Air with M2 chip: from $1099 to $999
MacBook Pro 14": from $1999 to $1,199
iMac: from $1299 to $1249
Mac mini: from $599 to $499
Mac Studio: $1,999 to $1,799
Studio Display: $1,599 to $1,499
Prop Display XDR: $4,999 to $4,599
Mac Pro: from $6,999 to $5,599
iPad Pro: from $799 to $749
iPad Air: from $599 to $549
iPad (10th generation): from $449 to $419
iPad (9th generation): from $329 to $309
iPad mini: from $499 to $449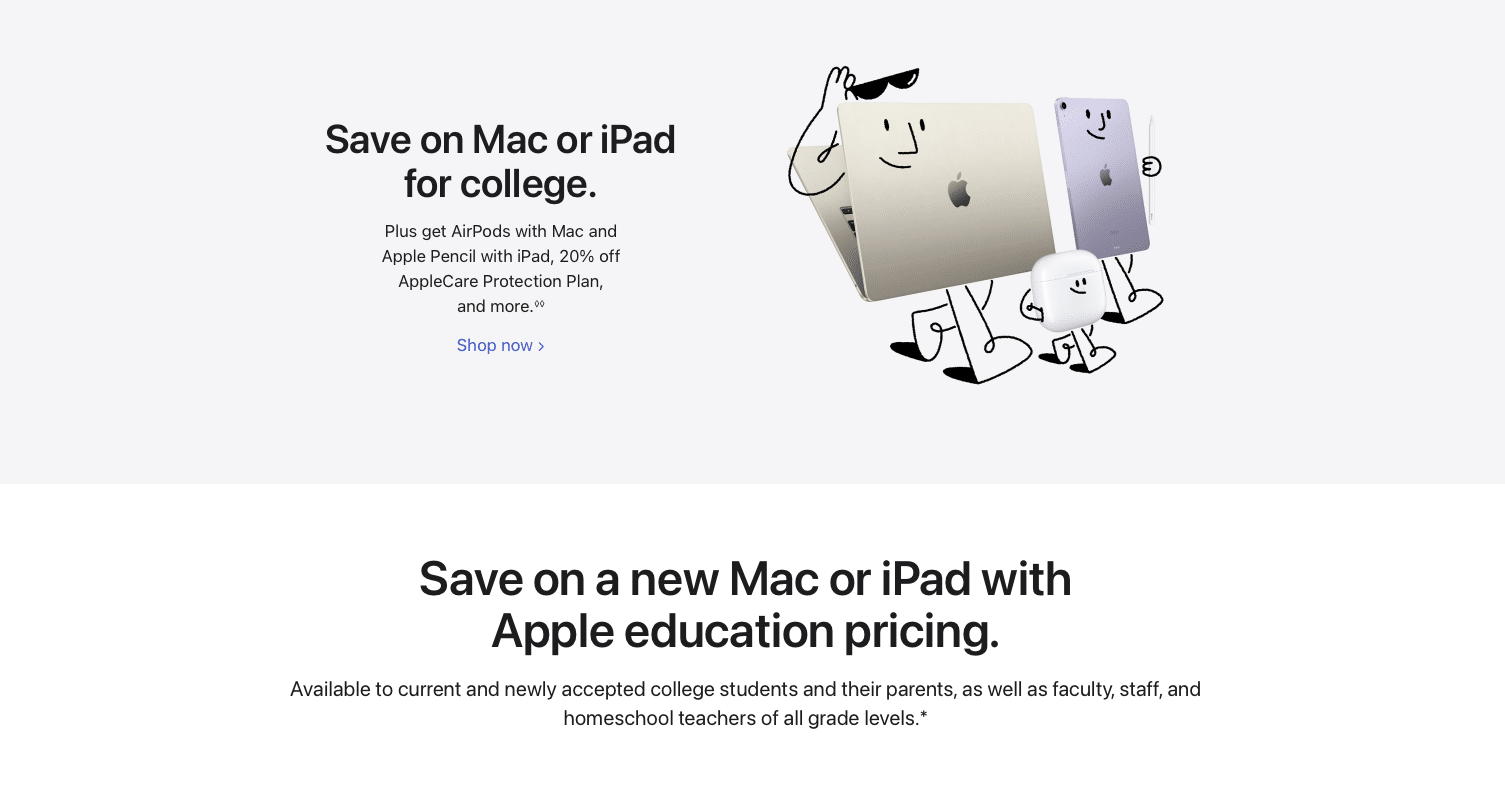 Apple also offers eligible individuals several other discounts and offers. These include:
20% off on Apple Care
0% annual percentage rate (APR) if they check out using Apple Card Monthly Instalments.
Three months of free Apple Music
A special rate of $5.99 per month for Apple Music with free access to Apple TV+
Every year, Apple also offers a back-to-school promo. In 2023's Higher Education Offer, qualified purchasers who buy an eligible product receive an Apple Gift Card on top of the discounted pricing. Below are the eligible products and their corresponding gift card:
$150 Apple Gift Card: iMac 24 inch, MacBook Pro, and MacBook Air
$100 Apple Gift Card: Mac Mini, iPad Pro 12.9 inch, iPad Pro 11 inch, and iPad Air
Note that the promotional product you can get after purchasing an iPad or Mac depends on your country.
For UK customers, the equivalent Apple Gift Card values are £130 or £100. In Canada, you can receive either $200 or 150 Canadian dollars (CAD).
Meanwhile, in Asian countries like India, Singapore, and the Philippines, a purchase of a Mac comes with either 2nd or 3rd generation AirPods, while buying an iPad entitles you to a 2nd generation Apple Pencil.
Who is eligible for the Apple student discount?
Apple offers Apple education pricing for the following individuals who plan on getting a Mac or an iPad:
Employees and homeschool teachers of public or private K-12 institutions
School board members and PTA or PTO executives (elected or appointed)
Faculty and staff of higher education institutions
Students attending or newly accepted into a higher institution
Parents purchasing on behalf of their child
How many products can you purchase with the Apple student discount
For the Back to School promo, a qualified purchaser can only purchase one Mac and iPad. Apple warns that if it determines that you participated in the promotion despite not being eligible, it will ask you to return the product or reimburse the value of the product.
However, when it comes to purchasing from the Apple Store for Education, you can buy the following quantities of products per year online, through an Authorized Campus Reseller, or in an Apple Retail Store:
1 desktop
1 Mac mini
1 Notebook
2 iPads
2 accessories (with Education Pricing)
Until when is Apple Student Discount available?
While the education pricing discount is available year-round for all eligible individuals, the back-to-school promo is only available for a certain period. This year, the promotion began on June 5, 2023, and ends on October 2, 2023, in the United States.
Just make sure you place your order during the promotion period. You still qualify for the promo even if you ship after the end of the promotion period.
FAQs
Can I get a student discount in an Apple store offline?
Yes. Just ask if you can purchase an eligible product with an Apple discount and/or back-to-school promo. Ensure the product you want to buy is eligible for the promotional discount.
How does Apple check if you're a student?
Store attendants in the Apple Retail Store, third-party vendors, or Authorized Campus Resellers may ask you to provide proof of eligibility (for example, the current semester's tuition fee receipt or your current school ID). Online, Apple will require you to tick a box to verify that you belong to the group eligible to get Apple's Education pricing discount. 
How do I get an Apple student discount without being a student?
You don't have to be a student to get an Apple Education Discount. If you're an employee, staff, homeschool teacher, school board member, PTA or PTO executive, or parent of a student, you can also claim the discount.
Wrapping up…
If you're a student, getting a powerful device that's compatible and capable of running the most sophisticated software may help give you an edge.
If the steep price discourages you from getting a Mac or an iPad, an Apple Education discount may help slash a significant amount from the price tag, making the price a little more student-friendly. Which devices are you planning to buy? Share in the comments below.
Read more:
Rachel loves anything Apple —from iPhones, to Apple Watches, to MacBooks. She is also a medical writer and a ghostwriter for various publications.