If you heavily use your Mac, it quickly catches fingerprints, dust, grease, etc. So, cleaning MacBook regularly is essential for its longevity and optimal performance. In this blog, I'll take you through step-by-step instructions on how to clean your MacBook screen. Moreover, I'll share expert tips and tricks to get rid of smudges to keep it spick and span.
What you'll need to clean a Mac screen?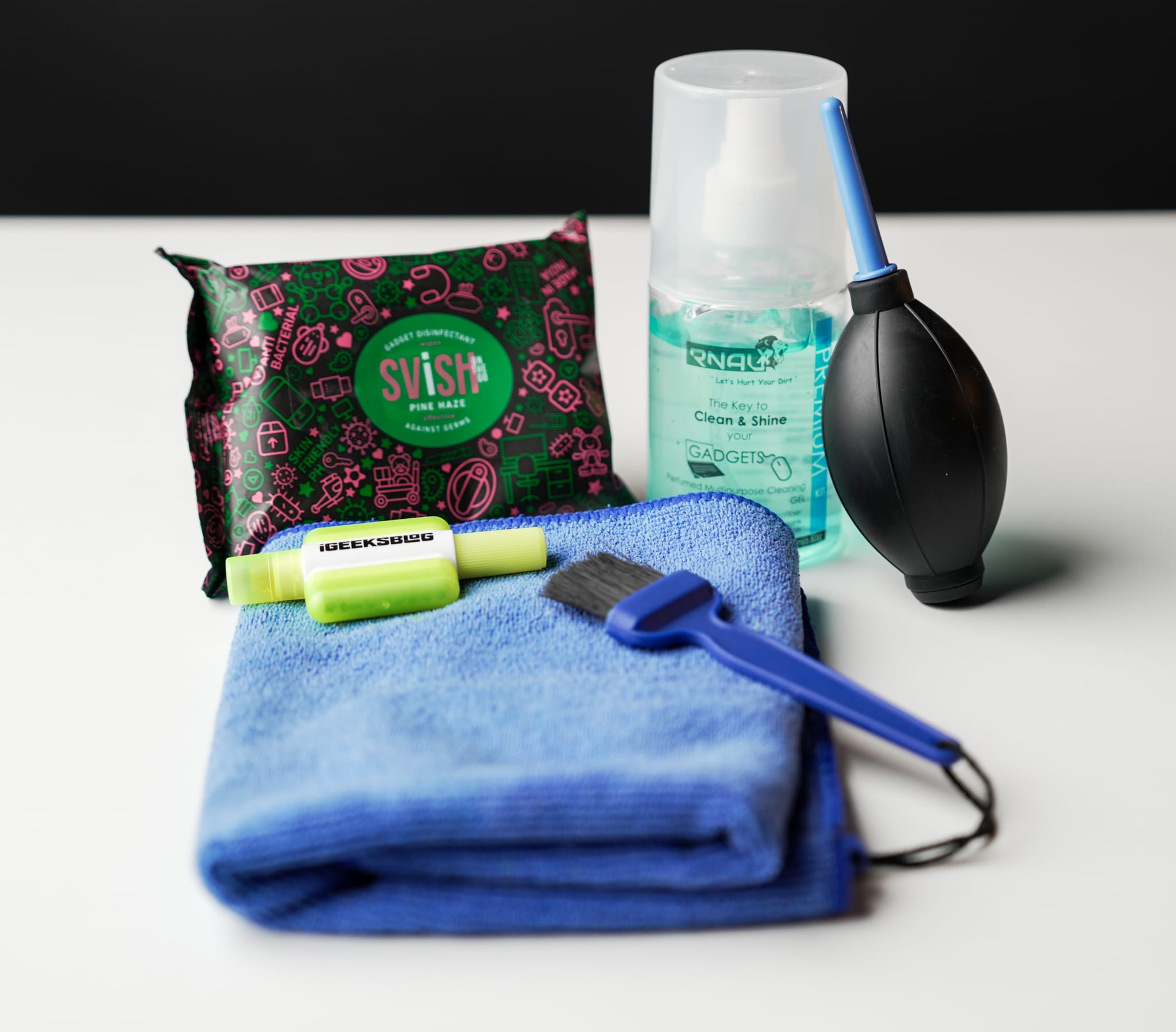 Soft, lint-free cloths or microfiber towel
Clorox disinfecting wipes
70% isopropyl alcohol
Dust cleaner
Want to know the best-branded products of each category? Refer to our complete guide on essential tools to clean your MacBook.
What things you shouldn't use to clean your Mac screen?
Apple suggests a few precautions to follow before you start cleaning your MacBook.
Avoid using household towels, paper towels, abrasive cloths, leather, or other harsh materials.
Over-wiping and putting pressure on your Mac screen can harm your screen surfaces.
Remove any plugged-in equipment, cables, or external power sources.
Keep liquid cleaning solutions away.
Avoid using Windex, window cleaners, home cleansers, solvents, abrasives, bleach, ammonia, aerosol sprays, or cleansers containing hydrogen peroxide and acetone.
Don't spray cleaners directly on your Mac.
How to clean your MacBook Air or Pro screen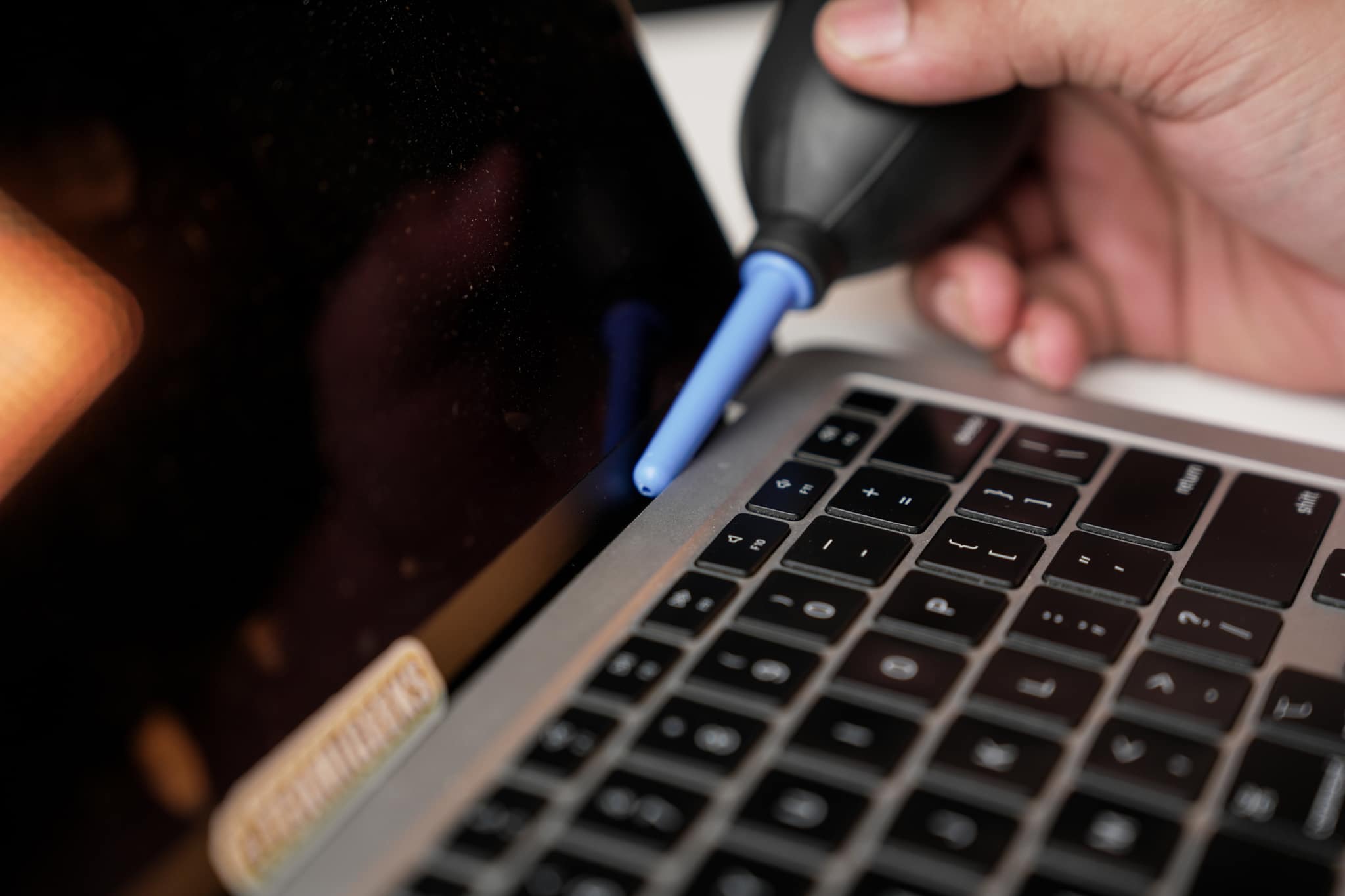 Shut down your MacBook and disconnect it from any chargers or accessories.
Use a soft, lint-free microfiber cloth to remove any present dust and significant debris.
Use the cloth supplied with your iMac or Pro Display XDR for the nano-texture glass display.
Now, lightly dampen one side of the microfiber cloth with the screen cleaning solution or take wet disinfecting wipes. You must squeeze out the excess liquid.
Start wiping the display carefully from the bottom towards the camera in upward and side-by-side motion. Keep moisture out from openings.
See if it's removing smudges and fingerprints from the screen else, take some more solution.
Repeat the procedure with the dry side of the microfiber towel to wipe away any remaining moisture and shine the screen.
Ensure your Mac screen is completely dry before turning it on.
Now, the screen on your MacBook should seem brand new. In the same way, you may clean the exterior of your Mac. To clean the MacBook Pro Touch Bar, slightly dampen the cloth with only water. Besides, use a 3M Grey Microfiber or a soft, dye- and lint-free cloth for the bottom area.
You must also clean the keyboard and ports on your MacBook. It's because they rapidly amass dust and other particles. In fact, things get worse when the debris results in difficulties like jammed keys and charging problems. So, use compressed air to blow out those hard-to-reach areas.
FAQs
Can I use my eyeglass cleanser on my MacBook screen?
The MacBook's screen has an anti-reflective coating similar to anti-reflective spectacles and camera lenses. So, with a fresh microfiber cloth, you may use the glass or lens cleaner on your Mac screen without risk. 
How often should I clean my MacBook display? 
Clean the screen every two weeks, or more often, if you use your MacBook in a dusty or unclean environment. Regular cleaning prevents dust and grime from building up, making subsequent cleanings more straightforward. 
Can dust harm my MacBook? 
The buildup of dust and debris can harm the battery and overheat the MacBook by blocking the fan. Additionally, scratching the screen might result in long-lasting bodily harm. 
Is it OK to clean the Mac screen with water?
You may use packaged distilled water to clean your Mac screen without streaks. Apple especially recommends dampening its provided clothing iMac with water.
Give your MacBook the TLC it deserves!
I am sure you've successfully learned how to clean your MacBook screen and keyboard at home. You can keep your Mac screen crystal clear and free from fingerprints and smudges using simple steps and the right tools. Remember to follow the precautions to avoid damaging your screen.
Regularly cleaning your MacBook screen enhances its visual appeal and ensures optimal viewing experience. Also, a clean screen helps prevent eye strain and allows you to fully enjoy your MacBook's vibrant display.
Explore more…
Ava is an enthusiastic consumer tech writer coming from a technical background. She loves to explore and research new Apple products & accessories and help readers easily decode the tech. Along with studying, her weekend plan includes binge-watching anime.