If you care about what you hear in music like me, you probably would want to tweak your iPhone and iPad audio settings to suit each song genre. Well, it's a little painful that, unlike third-party equalizer apps, Apple's built-in equalizer doesn't allow you to tweak the highs, mids, and lows as you like.
Although EQ presets on iPhone and iPad are convenient and let you automatically tweak the original sound mix, the setting only works with songs played via Apple Music. To ease things out for you, here's a guide on how to adjust your iPhone's music equalizer.
How to change iPhone EQ settings
Adjusting the iPhone built-in equalizer requires selecting the best sound mixer for a particular song. Therefore, try setting the EQ when a song is playing; this helps you understand how the song sounds with the change in EQ.
To avoid blasting all songs at the same volume, before changing your music EQ, make sure to turn off your iPhone's sound check first.
To choose a music equalizer for a song on your iPhone:
Open iPhone Settings → Music.
Tap EQ.
Tap any equalizer's name to apply it to a currently playing song.
Tap Off to turn off all equalizer effects and revert to the default sound mix.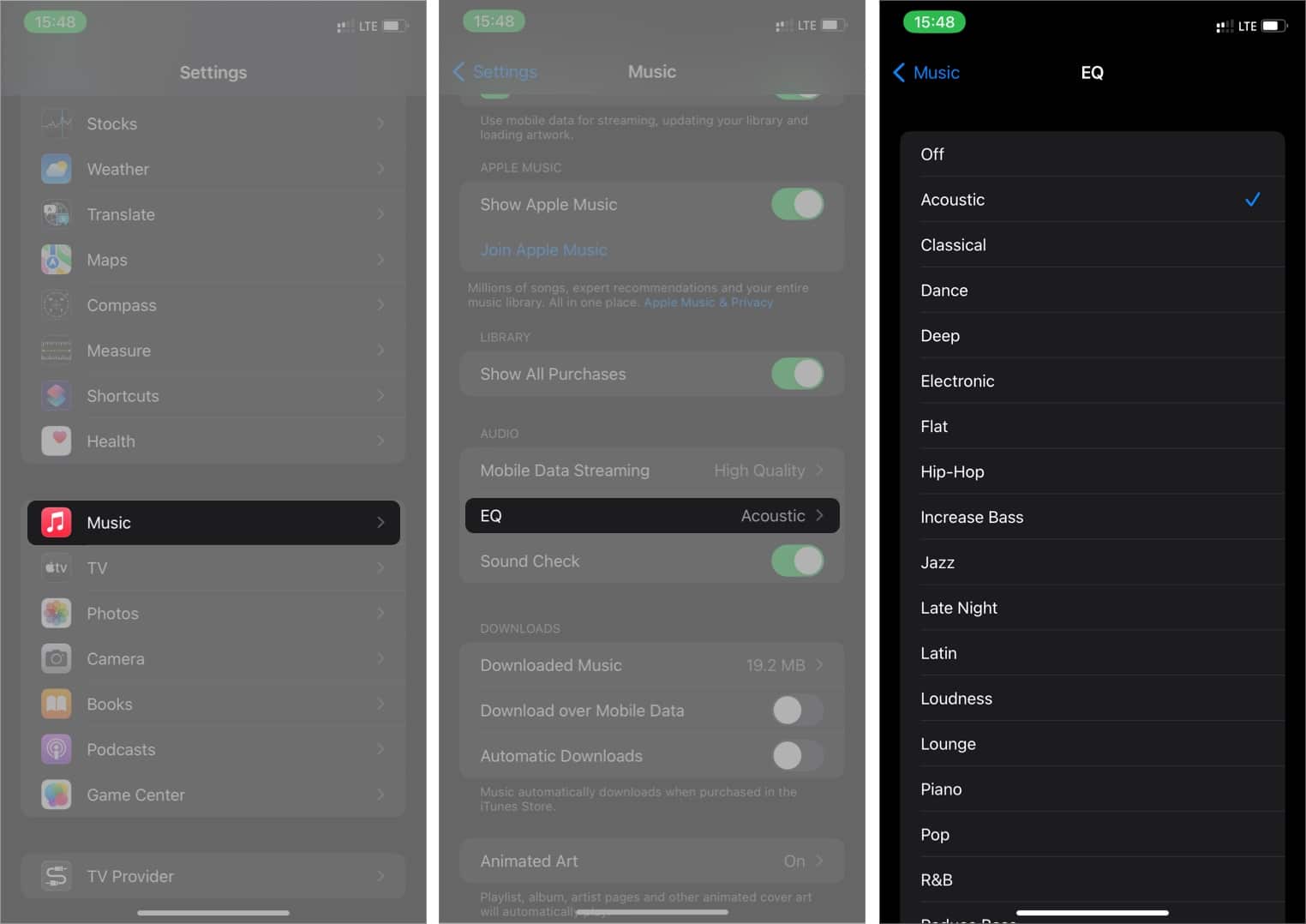 What is the best music equalizer on the iPhone?
Every music genre has a frequency mix that works ideally for it. Usually, the best sound mix for any song is always the one without an equalizer, which retains the original recording volume.
Equalizers can help alter the original sound frequency of your music. For instance, the Acoustic, R&B, and Classical equalizers work best for slower songs.
However, picking the wrong equalizer for a song might make it sound awkward. If you choose a particular EQ on your iPhone and your music doesn't sound as you like, you can easily change it with a few simple taps.
Now that you know how to change the music frequency with your iPhone's built-in EQ, you might want to try different EQs for your favorite songs. Did you find that perfect EQ? Let me know in the comment section below.
Have fun tweaking your iPhone music experience!
Read more:
Readers like you help support iGeeksBlog. When you make a purchase using links on our site, we may earn an affiliate commission. Read more.
Idowu is an avid tech writer and a software surfer who loves covering knowledge gaps in consumer software, including anything related to iPhones. Well, when he's not reading and learning new things, you'll find Idowu losing gallantly on a solid chessboard or virtually on Lichess.