When you are hunting through the jungle of accessories for your device, it can become quite overwhelming to find the perfect accessory for your iPad. That is precisely where iGeeksBlog steps in. We have our eyes always open and hunt down the best iPad sleeves. Is this post any different? Well, yes and no both. Yes, because in this listing, we are only fanboying about the iPad sleeves by Harber London. And no, because ultimately we are only choosing the best products for you.
Harber London Sleeves for iPad (9.7″, 10.2″, 10.5″, 11″, 12.9″)

Quick Access:
#1. Carry-All iPad Folio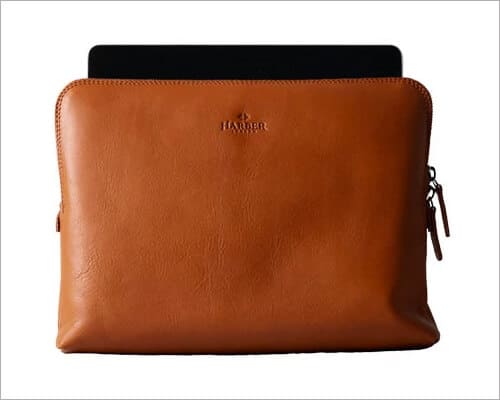 Just like the carry-all MacBook (Link) folio by the same brand, this one also has the same capabilities. In this sleeve, you can securely keep your iPad, your Apple pencil, cords, cards, and a few other documents as well, all thanks to the anti-scratch metal zip closure of the case.
Handcrafted in Spain and designed in the UK, this robust sleeve is made from premium quality of full-grain vegetable-tanned leather with soft wool felt lining. The case also allows you to store your iPad with a compatible keyboard as well. Adding to your iPad's elegance, this sleeve is simplistic and minimal.
Size: S (29*21 cm), M (34*25.5 cm) & L (37.5*25.5 cm)
Check out on Harber London
#2. iPad Folio Evo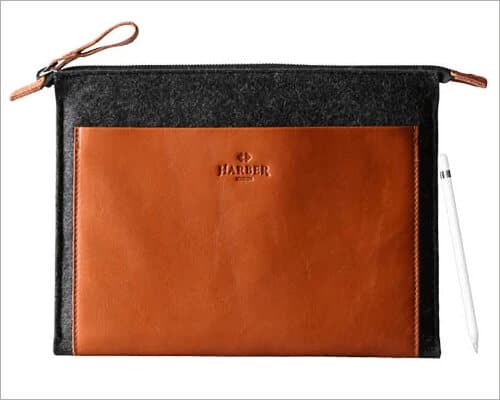 Available in two colors, the Evo Folio case by this brand is made from premium quality of full-grain vegetable-tanned leather with soft wool felt that is renewable and eco-friendly. There is an open pocket on the front and a zipper pocket on the back to house all the important items that you might need like phone, keys, cards, cables, etc.
Made from anti-scratch metal, the zips on this case won't let any harm come in the way of your device. The dense wool felt body provides an excellent padding without adding any unnecessary bulk to your case. Above all, the filling also helps in protecting your device against bumps and scratches.
Compatibility: iPad 9.7″, 10.2″, 10.5″, 11″ & 12.9″
Check out on Harber London
#3. Leather iPad Envelope Sleeve Case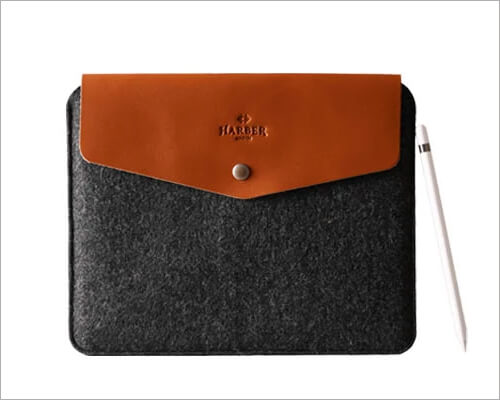 Don't let cold vibes interfere in your iPad's swag envelope your it in the warmth of soft wool and leather. In other words, you need to protect your iPad in an envelope case by Harber London. Sporting a sturdy push-button closure, the case prevents your iPad from sliding out.
Keeping functionality and style in mind, the sleeve is made with minimal stitching. Moreover, the contrast between dense wool felt and leather cover will give you a tremendous sporty as well as an elegant vibe. The thick wool padding protects your tablet from bumps and scratches without adding any bulk.
Compatibility: iPad 9.7″, 10.2″, 10.5″, 11″ & 12.9″
Check out on Harber London
#4. Slim iPad Evo Case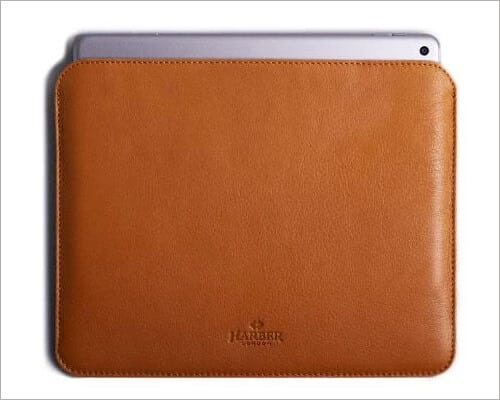 The Evo collection by Harber London was born from the feedbacks of this brand's existing customers. So, you can easily say that this collection was specially designed for keeping everyone in mind. In addition to this, the case can easily hold your Apple Pencil along with a keyboard.
Functionality meets style with the slim iPad Evo Case. Keeping the bulk to a minimum, this case protects your iPad from accidental bumps and mishaps. In conclusion to everything mentioned, I would say that this sleeve is definitely a steal if style and functionality are what speaks to you.
Compatibility: iPad 9.7″, 10.2″, 10.5″, 11″ & 12.9″
Check out on Harber London
#5. Slim iPad Pro Evo No. 7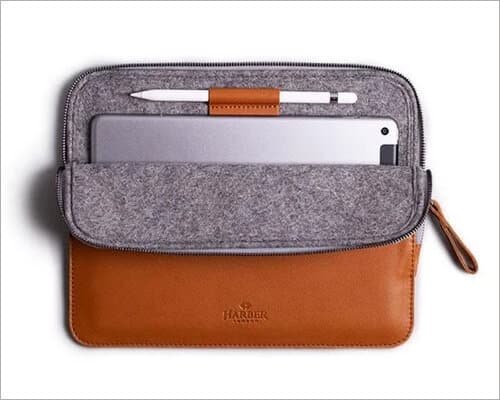 Well, well, well… Look what we got here. Last on the list, but certainly topping the favorites, is this Evo No. 7 sleeve. What makes it apart from other sleeves on the list? Umm, let's see maybe the integrated stand in the sleeve that you can use to elevate your iPad, obviously, that is it.
Just like all other Harber London sleeves and cases, this one is also made from full-grained vegetable-tanned leather and wool felt lining with anti-scratch metal zip. Furthermore, it is designed in the UK and handcrafted in Spain by super talented and skilled craftsmen.
Compatibility: iPad 9.7″, 10.2″, 10.5″, 11″ & 12.9″
Check out on Harber London
Signing Off…
With one of these sleeves on your arm, you are certainly not going to ask for anything more. These iPad sleeves by Harber London are perfect to rock any look be it casual or professional, it adds a touch of exclusivity to your persona.
Related Posts:
Let us know in the comments below if you want us to do some particular accessory round-ups.
Jignesh Padhiyar is the co-founder of iGeeksBlog.com who has a keen eye for news, rumors and all the unusual stuff that happens around Apple products. During his tight schedule, Jignesh finds some moments of respite to share side-splitting contents on social media.