Google announced its new Pixel 7a, the successor to Pixel 6a, at the Google I/O 2023. The Pixel 7a is a significant upgrade from the 6a. However, it looks almost similar to the Google Pixel 7 and matches its spec sheet in some ways, but under a budget.
Nevertheless, if you're planning to buy the Google Pixel 7a, you might have difficulty deciding whether you should go for the Pixel 7a or the iPhone 13, which falls under the same price range. We'll compare the Pixel 7a vs. iPhone 13 to help you decide which one to get.
Google Pixel 7a vs iPhone 13 – Specs
Specifications
Pixel 7a
iPhone 13
Display
6.1-inch OLED with 90Hz refresh rate; supports HDR
6.1-inch Super Retina XDR OLED with 60Hz refresh rate; supports HDR 10, Dolby Vision
Resolution
1080 x 2400 pixels (~429 ppi density)
1170 x 2532 pixels (~460 ppi density)
Size and Weight
5.98 x 2.87 x 0.35 inches; 6.84 ounces (193.5 grams)
5.78 x 2.81 x 0.30 inches; 6.14 ounces (174 grams)
Processor
Tensor G2 (5nm)
A15 Bionic (5nm)
RAM
8GB
4GB
Storage Options
128GB (UFS 3.1)
128GB, 256GB, 512GB (NVMe)
Software
Android 13
iOS 16
Cameras
Rear: 64 MP (main) and 13 MP (ultra-wide)
Front: 13 MP (ultra-wide)

Rear: 12 MP (main) and 12 MP (ultra-wide)
Front: 12 MP (wide)
Battery
4385 mAh
3240 mAh
Connectivity
5G, Wi-Fi 6E, Bluetooth 5.3, USB-C 3.2
5G, Wi-Fi 6, Bluetooth 5.0, Lightning USB 2.0
Wireless charging
Yes
Yes
Price
$499
$699
While the specifications look better for Pixel 7a on paper, things are different regarding real-world use cases. Google launched the Pixel 7a in 2023, whereas Apple launched the iPhone 13 in 2021. So there's a difference of two years between these two smartphones. As a result, you'll see newer technologies on the Pixel 7a.
Google Pixel 7a vs iPhone 13 – Design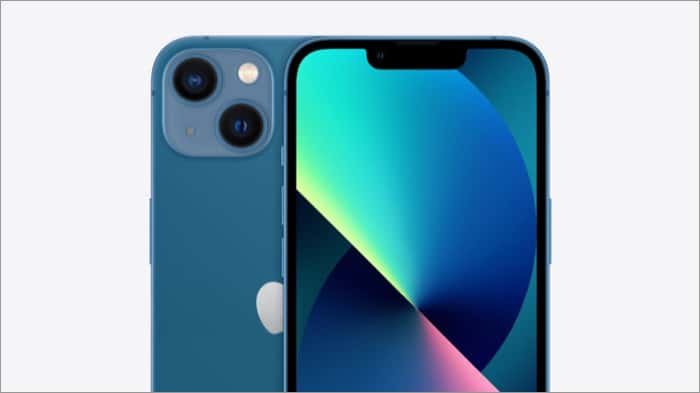 Both the Pixel 7a and the iPhone 13 come with their signature design language. However, the iPhone 13 isn't much different from its predecessor, the iPhone 12. The diagonal camera module is the only differentiating factor between the iPhone 12 and 13. In fact, to a great extent, iPhone 13 is quite similar to the iPhone 14 as well.
Besides, it features a rounded square design that might feel uncomfortable for some, but I like it. The company enclosed the iPhone 13's body in an aluminum frame on the sides with glass on the back.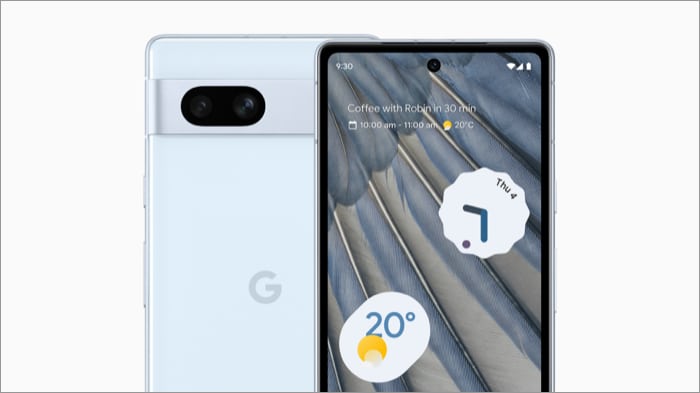 On the other end of the spectrum, the Google Pixel 7a has an entirely different design from its previous generation, but it still looks like the Pixel 7. As a result, you won't notice the difference between the Pixel 7 and the Pixel 7a.
The Pixel 7a has more of a rounded-off design, making it comfortable to hold for most people. The Pixel 7a's body has an aluminum frame on the sides, similar to iPhone 13. Moreover, it has a plastic back which might feel slightly cheaper when you hold it.
Google Pixel 7a vs iPhone 13 – Display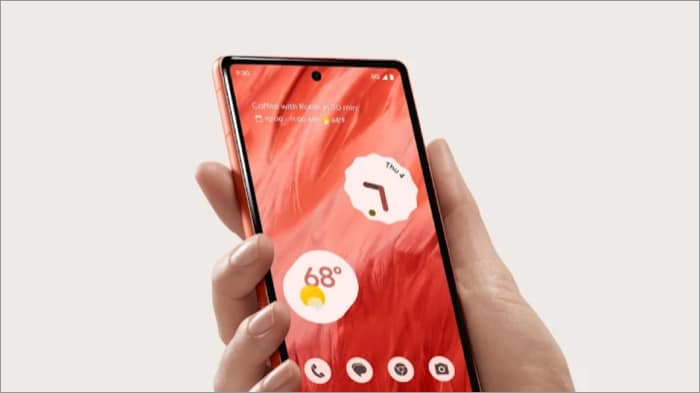 Regarding the display, the Pixel 7a features a 6.1-inch OLED display with a 90Hz refresh rate. It features a 1080 x 2400 pixels resolution, and being an OLED one, it supports HDR out of the box.
Google didn't mention the peak brightness value for HDR, but it is between 900 and 950 nits. The display features a hole-punch cutout in the top center, and it isn't easy to ignore those large bezels on all sides. The display also houses the fingerprint sensor that you'll use to unlock the Pixel 7a.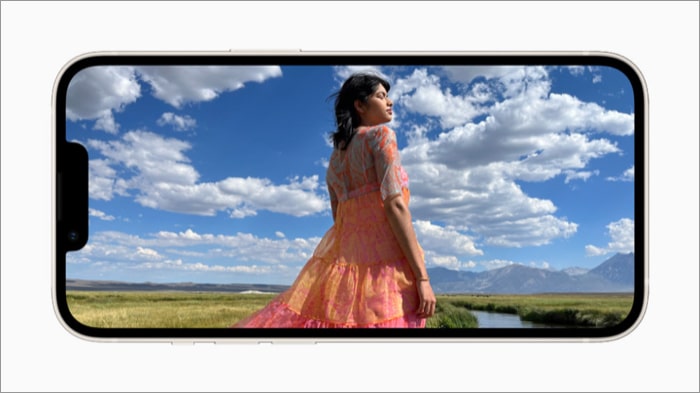 iPhone 13, on the other end, comes with a 60Hz display but takes the cake here. It features a 6.1-inch Super Retina XDR OLED display. Unlike the Pixel 7a, it has a slightly better resolution at 1170 x 2532 pixels.
Moreover, it supports HDR 10 and Dolby Vision, and the peak brightness can get up to 1200 nits when playing an HDR video. Furthermore, you get the same old notch that doubles as Face ID, which has been there since the iPhone X. Although the iPhone 13 caps the refresh rate at 60Hz, it still offers a more premium experience over the Pixel 7a in this department.
Google Pixel 7a vs iPhone 13 – Performance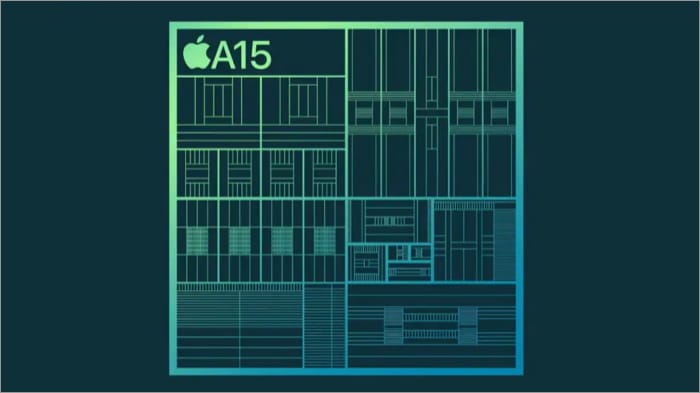 Pixel 7a and iPhone 13 use their in-house chipsets and perform well enough. However, the iPhone 13 is undoubtedly the better performer, even with 4GB of RAM — all thanks to the optimized iOS, NVMe storage, and proprietary A15 Bionic chip.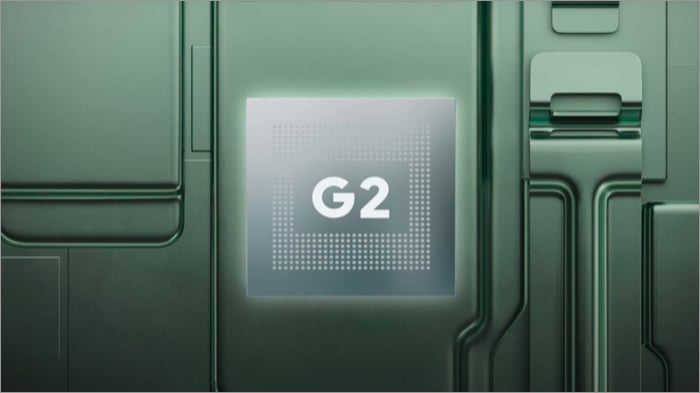 Contrarily, the Pixel 7a partnered with Samsung to build their custom Tensor G2 chip with a 5nm architecture, which can perform well in day-to-day use. Although it sounds great on paper, it still has a slower UFS 3.1 storage than the NVMe on iPhone 13, leading to slightly higher loading times.
Overall, the Tensor G2 still doesn't surpass Apple Silicon's performance. Hence, the iPhone 13 performs better than the Pixel 7a.
Software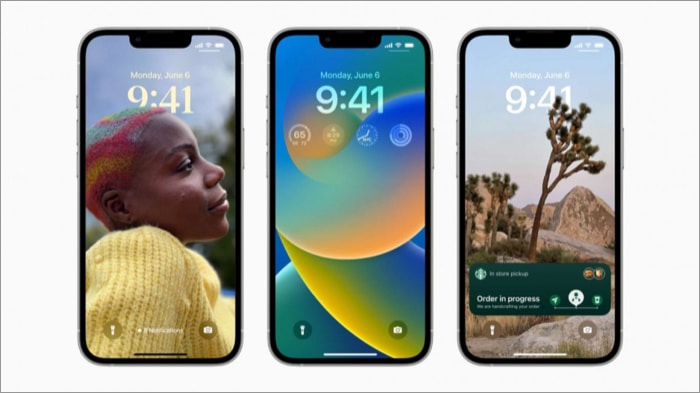 You can never go wrong when it comes to the Apple ecosystem, thanks to the smooth integration of all in-house software versions. Ecosystem aside, even the standalone iOS provides a better user experience and long-term support with regular updates.
Currently, the iPhone 13 runs on iOS 16, which provides features like Live Activities, lock screen widgets, Live Text, and more. Provided that Apple has more control over the iPhone's hardware and software, you get a more refined experience when it comes to iOS.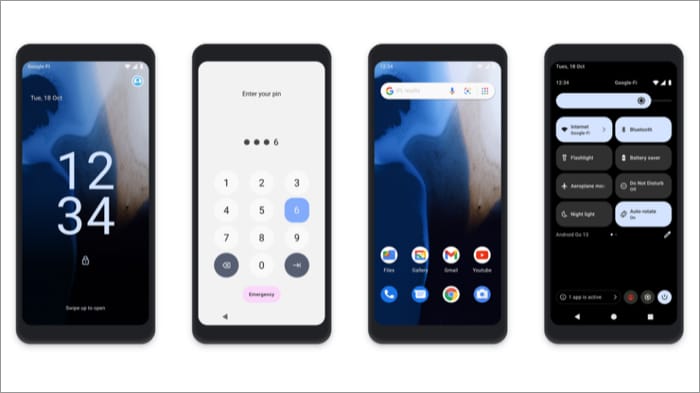 The Pixel 7a runs on stock Android 13 without any third-party UI, meaning you won't find bloatware and will use Android as intended. Android lets you customize most aspects of the operating system by default but falls behind in terms of long-term support.
However, you shouldn't expect a lot of customizations with iOS. If you want that, you'll need to go for Android on the Pixel 7a. Having said that, if you're more familiar with iOS than Android or want better optimization, you'll find the cleanest experience on the iPhone 13.
Google Pixel 7a vs iPhone 13 – Camera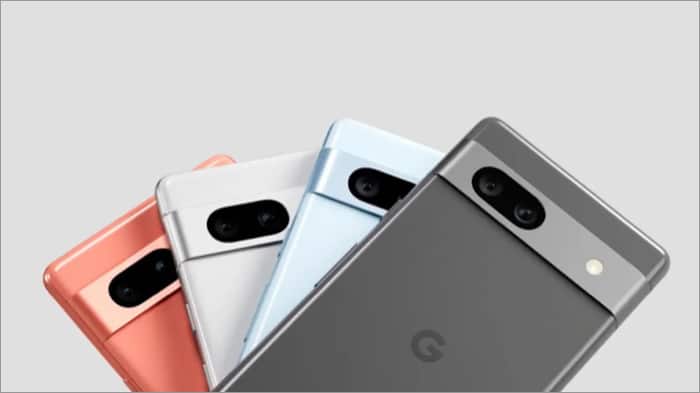 On paper, the Pixel 7a has a 64 MP primary lens and a 13 MP ultrawide lens, which sounds better compared to the iPhone 13's cameras. It is also more prominent than the ones you'll find on the Pixel 7 and 7 Pro, both of which have a 50 MP primary lens.
You might not know that you'll only be able to capture images at 16 MP by default, and there's no setting to change it. Apart from that, you still get stunning shots out of the Pixel 7a's camera with better dynamic range and the classic Google look, which you would like most.
Also, the selfie camera is equally satisfactory. You won't have to worry about it since it packs a 13 MP ultrawide sensor. Moreover, when it comes to taking videos, you get detailed and stable videos from the Pixel 7a with the ability to shoot at a maximum of 4K at 60fps. However, they aren't as good as what you get on still images.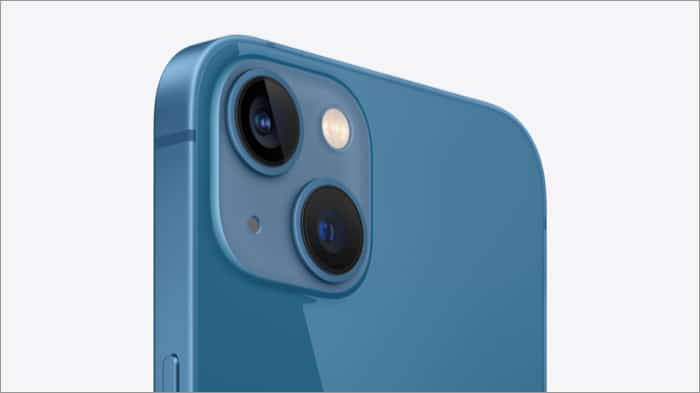 The iPhone 13 has a 12 MP primary lens and a 12 MP ultrawide lens at the back. It does a great job when it comes to photos. Nonetheless, whether you like the dynamic range and the iPhone look in photos is entirely subjective. The same applies to the selfie side with its 12 MP wide sensor. You'll find on the iPhone that most of the images you take are consistent.
On the video end, the iPhone 13 performs exceptionally well, even better than other smartphones, which is why many creators choose to record with an iPhone. It records at a maximum of 4K at 60fps, the same as the Pixel 7a, but you'll find the video taken on the iPhone to be better. It also has features like Cinematic mode, Photographic styles, and more.
Lastly, if you take many photos from your smartphone, go with the Pixel 7a. And if videos are your priority, you should get the iPhone 13 without thinking twice.
Connectivity
The Pixel 7a arrived two years after the iPhone 13. For this reason, the former has better connectivity options in some areas.
The Pixel 7a has Bluetooth 5.3, Wi-Fi 6E, and USB Type-C 3.2 technologies for connectivity. Plus, if you live in an area with 5G coverage, you'll receive a better signal since it has 19 5G bands.
Conversely, the iPhone 13 comes with slightly older but manageable connectivity options such as Bluetooth 5​​.0, Wi-Fi 6, and USB 2.0 with the Lightning cable. However, you get more 5G coverage here over the Pixel 7a since it has 23 5G bands, including the Millimeter Wave (mmWave) technology support.
Google Pixel 7a vs iPhone 13 – Battery life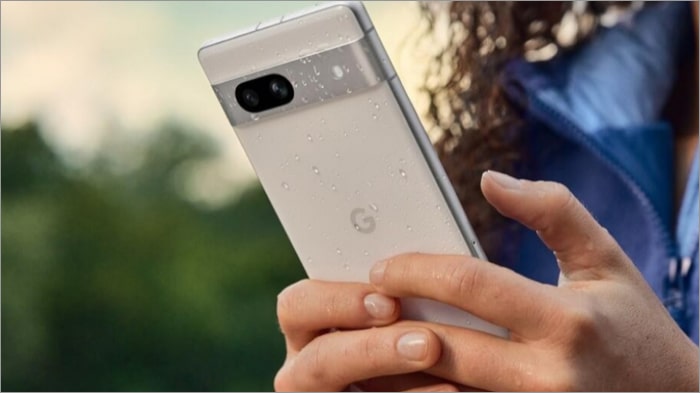 Regarding battery life, the Pixel 7a, with the 90Hz refresh rate, would last you around 6-7 hours of SOT (screen-on time) on average with regular usage. And even if it's turned off, you'll get a slight or unnoticeable improvement in battery life.
You can always top it up with an 18W PD 3.0 charger, which won't be the one that you get in the box, but you still get something. You can also use standard wireless chargers at 7.5W and Qi-certified chargers at 5W to charge the Pixel 7a.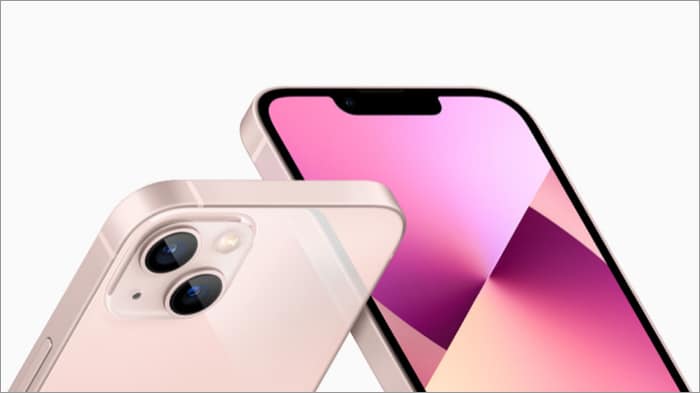 Again, regarding the iPhone 13, you can expect around 6-7 hours of SOT with regular usage. Sometimes, you can push it to 8 hours when you enable the Low Power Mode.
Besides, you can use a 20W and above Apple charger or MFi-certified chargers to quickly juice up the iPhone 13. Moreover, it also comes with MagSafe technology that can charge the iPhone 13 wirelessly at 15W. Plus, it also has support for Qi-certified chargers at 7.5W.
Google Pixel 7a vs iPhone 13 – Price
It always comes down to the price before you make any purchase decision.
The Pixel 7a is available for purchase at $499; on the other hand, the iPhone 13 will cost you $699.
If you try a little hard, you can find the iPhone 13 even cheaper at third-party re-sellers like Amazon, Best Buy, and many others. But this won't apply to the Pixel 7a since it was launched just a couple of days prior to writing this article.
Pixel 7a vs iPhone 13 – Which one should you get?
Since both smartphones come at slightly different price points, deciding on one could be challenging. Although you can get the Pixel 7a if you're under a budget of $500, if you can extend your budget by $200 more, you'll get a better-value smartphone.
If you're looking for a budget stock Android phone with some of the best cameras or coming from an Android phone, then look no further and get the Pixel 7a if it fits your budget.
However, if you're leaning toward Apple for the value proposition or coming from an old iPhone, you should look no further and get the iPhone 13 already. It's an extraordinary phone for the price, and I can vouch for its performance.
Conclusion…
I hope this spec-by-spec comparison between the iPhone 13 and the Pixel 7a could make your purchase decision easier. Also, which one did you buy, finally? Do let me know in the comments.
Read more:
Readers like you help support iGeeksBlog. When you make a purchase using links on our site, we may earn an affiliate commission. Read Disclaimer.