StressFace helps you check and monitor your stress levels on a scale of 1 to 10 on your Apple Watch throughout the day. While the Apple Watch features are great, I wish the iPhone app could have been better.
Pros
Easy to use
Apple Watch complications
Good meditation library
Cons
The iPhone app has limited features
Apple Watch Complication requires Series 4 and above
Price: $0.99 per month for premium
There are times when we face stressful situations in our life. While you can't avoid stress, there's a way to overcome it through simple meditations. At times, there are obvious signs of stress; however, sometimes, stress creeps in without warning or hesitation.
So, how can you measure or manage your stress levels? Well, StressFace can help you achieve just the same.
StressFace review: Monitor your stress levels on Apple Watch
StressFace is an app that monitors your stress levels throughout the day through your health trends history and custom algorithms. You receive a score from 1 to 10 (10 being the highest) that shows your current stress level.
I used this app daily to see how it performs in real-world usage, and here is what I observed.
Features and user interface
StressFace has two apps – iPhone and Apple Watch. The Apple Watch app has a simple and easy-to-use interface with four sections. First, you'll see your current stress level, where it also mentions you to use the Breathe app on your Apple Watch to update your stress level.
Swiping to the right, you'll see your timeline, which shows your stress levels throughout the day at various times. On the third page, you have the Average Stress page showing your average stress levels in terms of days.
And finally, on the last page, you have the stress threshold option, which you can adjust to see if you handle stress better than others or not. That said, most features require you to unlock the premium version.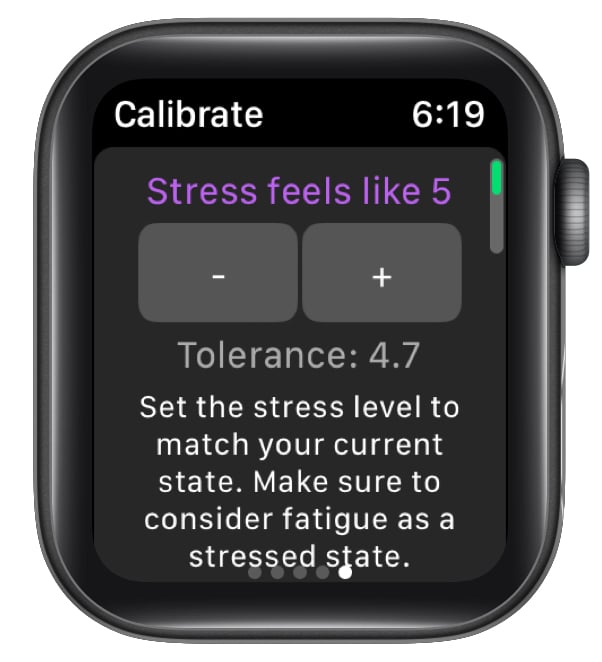 On the other hand, the iPhone app allows you to listen to meditation sounds, and there are new meditations weekly. Furthermore, you get the option to unlock the premium version and set the watch face with the StressFace app's complication.
I was not too fond of the iPhone app's user interface or features. I felt that the iPhone app should also provide more data and feels empty even though there are meditations. However, I liked the Apple Watch app and the features it offers.
Why should you monitor your stress levels?
We usually relate stress levels with the wrong implication, which isn't always the case. Usually, you face stress when you're closer to a deadline or any terrifying situation.
Stress is a part of your body's fight-or-flight mechanism, which releases multiple hormones to increase muscle activity. Our body reacts to our day-to-day stressful situations in the same way. As a result, a lot of pressure applies to your blood vessels leading to cardiovascular diseases in the long term.
Hence, you'll need to monitor your stress levels to know what triggers your stress so you can plan to manage it effectively through meditation or anything that relieves it. And StressFace helps you achieve the same by monitoring your stress levels using your Apple Watch.
How to use StressFace app
StressFace is an easy-to-use app, so you don't need to tinker a lot with the settings to get it working. All you've to do is install the iPhone app, which should automatically install on your Apple Watch. If not, you can download it from the App Store on the Apple Watch.
Once done, open the StressFace app and permit it to access HealthKit. Now open the Mindfulness app on your Apple Watch and perform a 1-minute Breathe session. Open the StressFace app, and check your current stress level. Since you did a breathing session, it should be somewhere between 1 to 3.
On the Apple Watch app, open StressFace and navigate to the timeline page. Scroll down and select the Link Calendar option. Now you can know which event on the calendar made you stressed. Also, if you go to the Calibrate page, you can adjust the stress threshold according to your tolerance.
Moreover, when you feel stressed, open the iPhone app, turn on the mediation sounds, and start meditating to calm yourself. You can also set the StressFace Apple Watch complication from the iPhone app.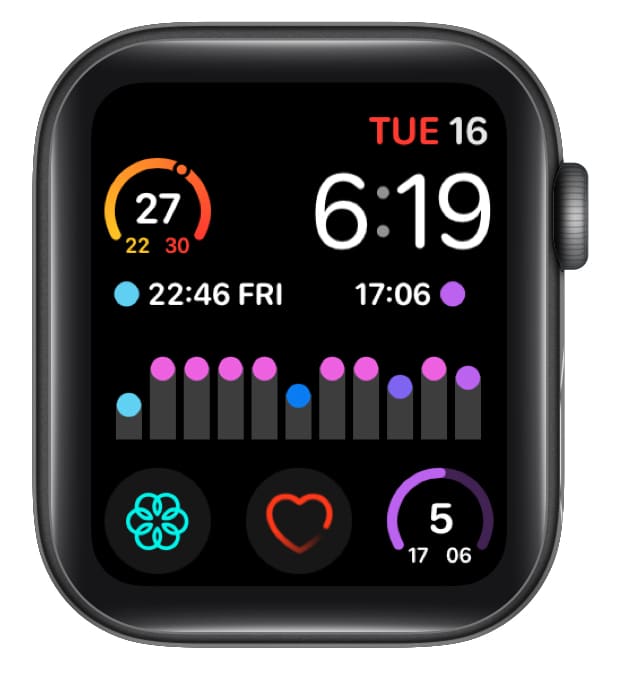 The meditations have an image where you breathe in when the image zooms in and breathe out when it goes back to normal. And I felt it was similar to the Mindfulness app on Apple Watch.
How StressFace helped me?
I go through various daily tasks – writing, gaming, reading, spending time with family, and sleeping. And using the StressFace app, I noticed my stress levels going to 6 at the most when playing games for a longer duration, leading me to think why it was happening.
I observed the same thing for a couple of days. Later, I started lowering my gaming duration and meditating while waiting in the game. It significantly decreased my stress levels, surprisingly.
As a result, I had better sleep cycles and a good increase in productivity. As well as feeling less stressed, my game performance improved as well. Although I wouldn't say StressFace is entirely accurate, it was close to what I felt.
Should you use StressFace app on your Apple Watch?
iGeekometer
User Interface
Features
Accuracy
Value for money
StressFace is a fantastic app to monitor your stress levels. I liked how it incorporates your calendar, showing the events that led to higher stress levels and later allowing me to improve it. I believe it's good to have such an app on your wrist that helps you calm yourself.
However, I feel like the iPhone app lacks a lot of features. Meditations are good, but guided meditations would have been much better. Also, we should be able to see the stress data on our iPhones, like what we see on the Apple Watch.
But the app's premium features are accessible for $1 per month. So I shouldn't be complaining much. As for its price and the features it offers, it's a steal deal. And if you're health conscious, you should get this app on your Apple Watch immediately.
Read more:
Readers like you help support iGeeksBlog. When you make a purchase using links on our site, we may earn an affiliate commission. Read more.
Sajid is an Electronics and Communications Engineering graduate who loves writing about tech. He's primarily interested in writing about Android, iOS, Mac, and Windows. You'll find him watching Anime or Marvel when he's not writing.