Blinctrip is a reliable flight booking app for iPhone. However, their app's special feature will have your heart. This app has almost everything from the door-to-door itinerary to Trip Mode (boarding gate or flight delay alerts).
Pros
Simple and organized UI
Properly arranges your complete itinerary
Send alerts and reminders for every flight
Allows you to store important docs in one place
Cons
Limited web-mode
Space for more features
Whether planning a work or leisure trip, flight bookings are of utmost importance. However, the task doesn't end here. There are a lot of steps involved between booking, boarding, and reaching your destination. And Blinctrip can help you manage it all. How? Read the complete review to know.
Blinctrip: The personal travel assistant you'll need
If you travel too often or your itinerary is packed with multiple stops, you certainly need an assistant to help you manage everything. But not everyone has the luxury of bossing around an assistant; moreover, they can't be with you 24/7.
But, your iPhone is almost always with you, and so is this app. What I like most about Blinctrip is that it goes above and beyond regular flight booking websites or apps. Like a true travel assistant, it sticks with you almost every step of the way.
How to use the Blinctrip app on iPhone
Notably, while the Blinctrip website enables you to look at flights at an affordable price, the rest of the special features are limited to the iOS and Android apps. I am testing the iOS app, and here is how it goes.
Step 1. Book your flight
The system is the usual one, select your location, destination, date, and passengers. A list of available flights on the route will be presented to you. Select the one you prefer and follow the onscreen instructions to book the flight.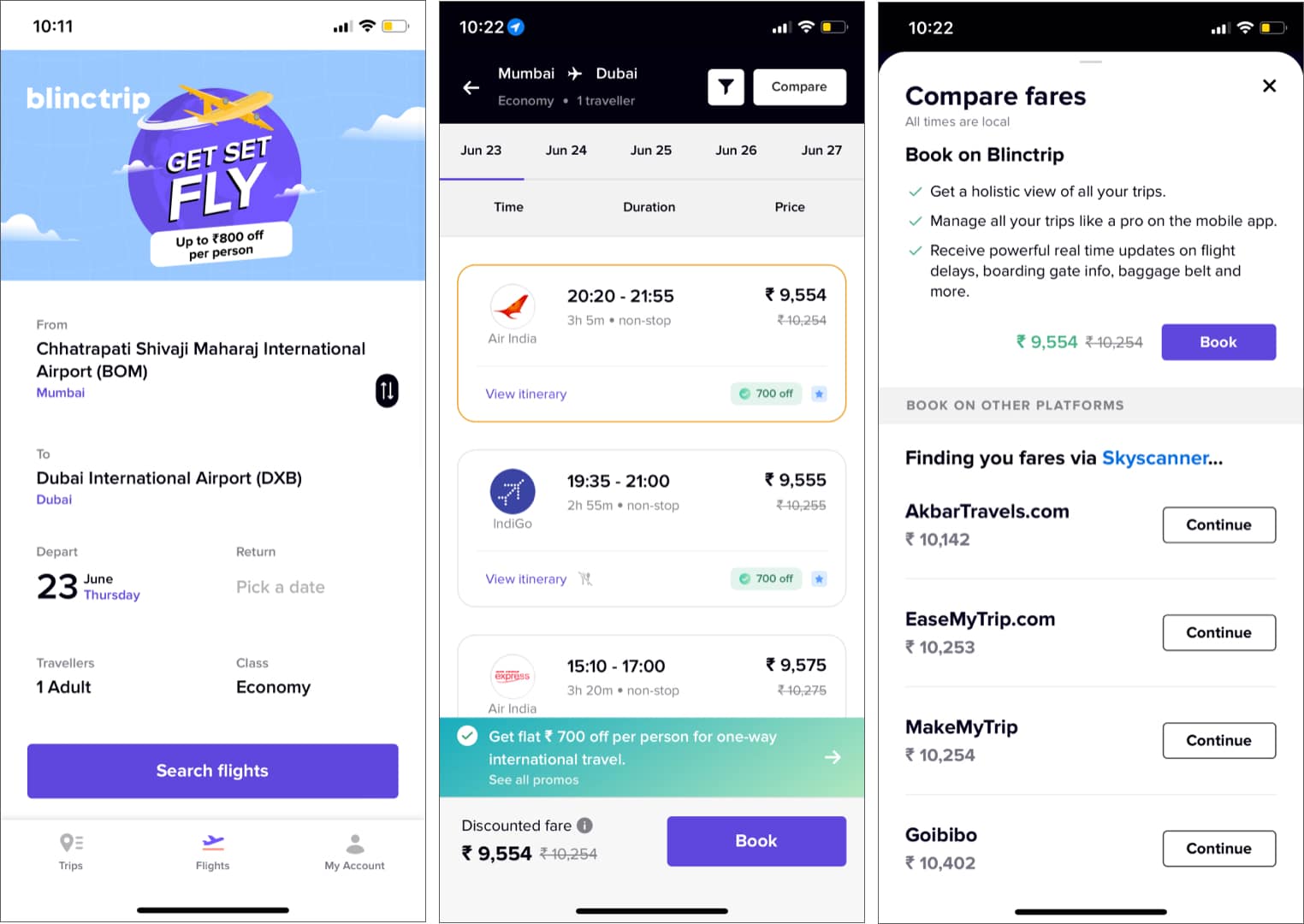 Now, while that happens in every other app, the benefit of using Blinctrip is the discounts. There are plenty of offers and discount schemes to grab and save money on your travels.
Moreover, it also incorporates flights for international airlines, including Emirates, Lufthansa, British Airways, KLM, Thai Airways, Malaysia Airlines, Singapore Airlines, Qatar Airways, Vistara, IndiGo, and more.
Step 2: Prep for your flight
While it doesn't help you pack, it pretty much handles the rest of things quite easily. For starters, it doubles as an itinerary manager; you can manage all your flight bookings, regardless of where you booked them.
All the info about your flight
Anticipate your flight experience and get info about the probable legroom, baggage allowance, meals, Wi-Fi, and other amenities. You can check all this and more information before booking the flight as well, but if you want to revise or recheck at any moment, Blinctrip is there to help you out.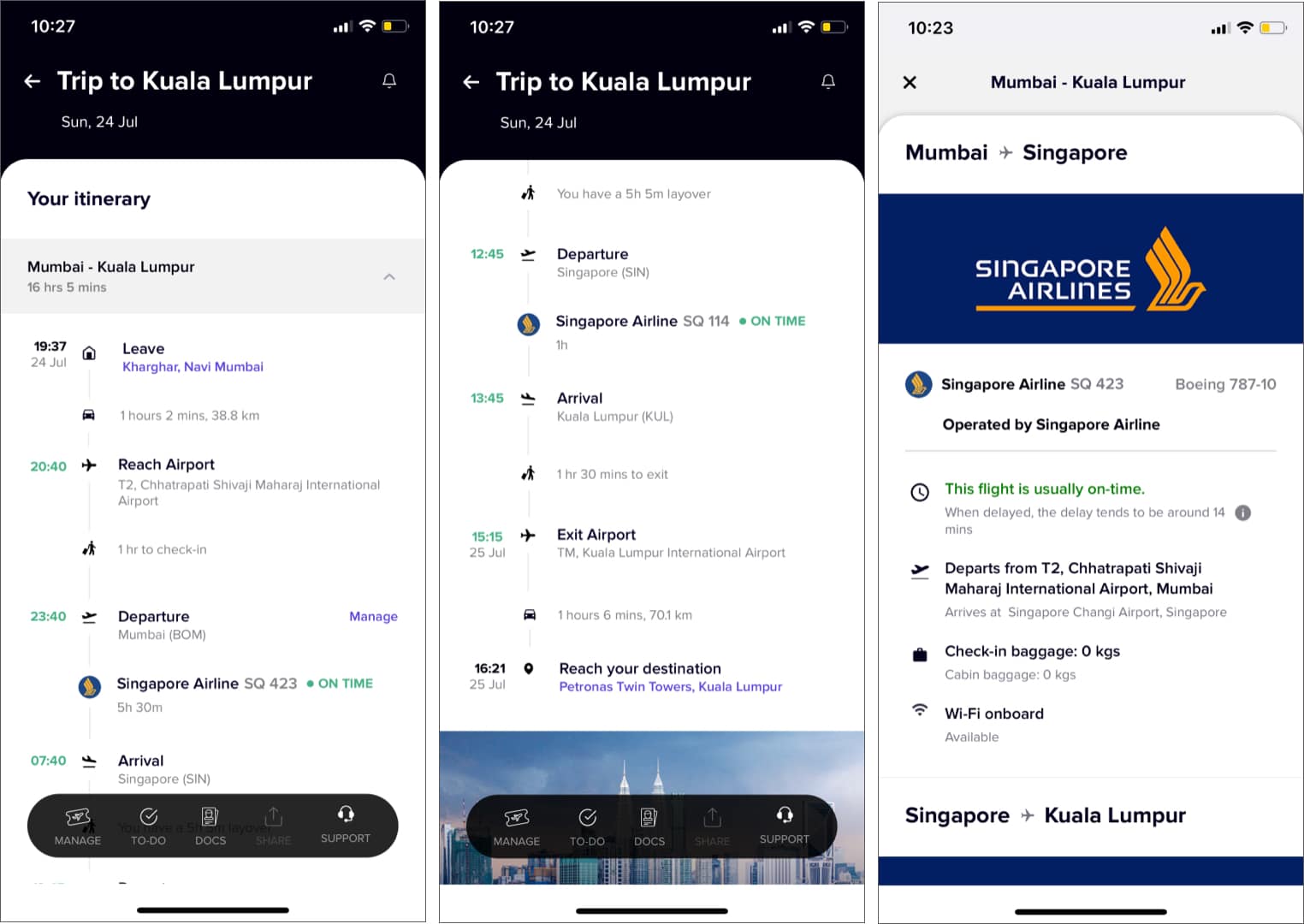 Door-to-door itinerary
Once you've entered your itinerary into the app, the app will line up your schedule as per date and time. And not just flights, it will also list the best time to leave home/office/hotel for the airport and the time you'll reach home/office/hotel.
Trip Mode
A uniquely special mode, Trip Mode, activates 5 hours before your flight to keep you informed at each step of your journey. It,
sends alerts when it's time you must leave home,
guides you to the boarding gate,
provides baggage belt information upon arrival,
notifies if the boarding gate changes, the flight is delayed, and more.
It even checks the weather of your destination to warn you if you need a raincoat or sunscreen.
Web check-in reminder
Why wait till the last moment? Blinctrip will notify you when the check-in window opens for your flight. The idea is to avoid any last-minute hustle and reserve the best possible seat.
Step 3: Boarding the flight
I have already covered a few points of this section, courtesy of Trip Mode. Thanks to it, you'll get alerts about delays, if any, and it sends instant alerts if the boarding gate changes.
Again, as a proper personal travel assistant, it wants to make your every experience super smooth. And for that, it even enables you to save important documents in one place.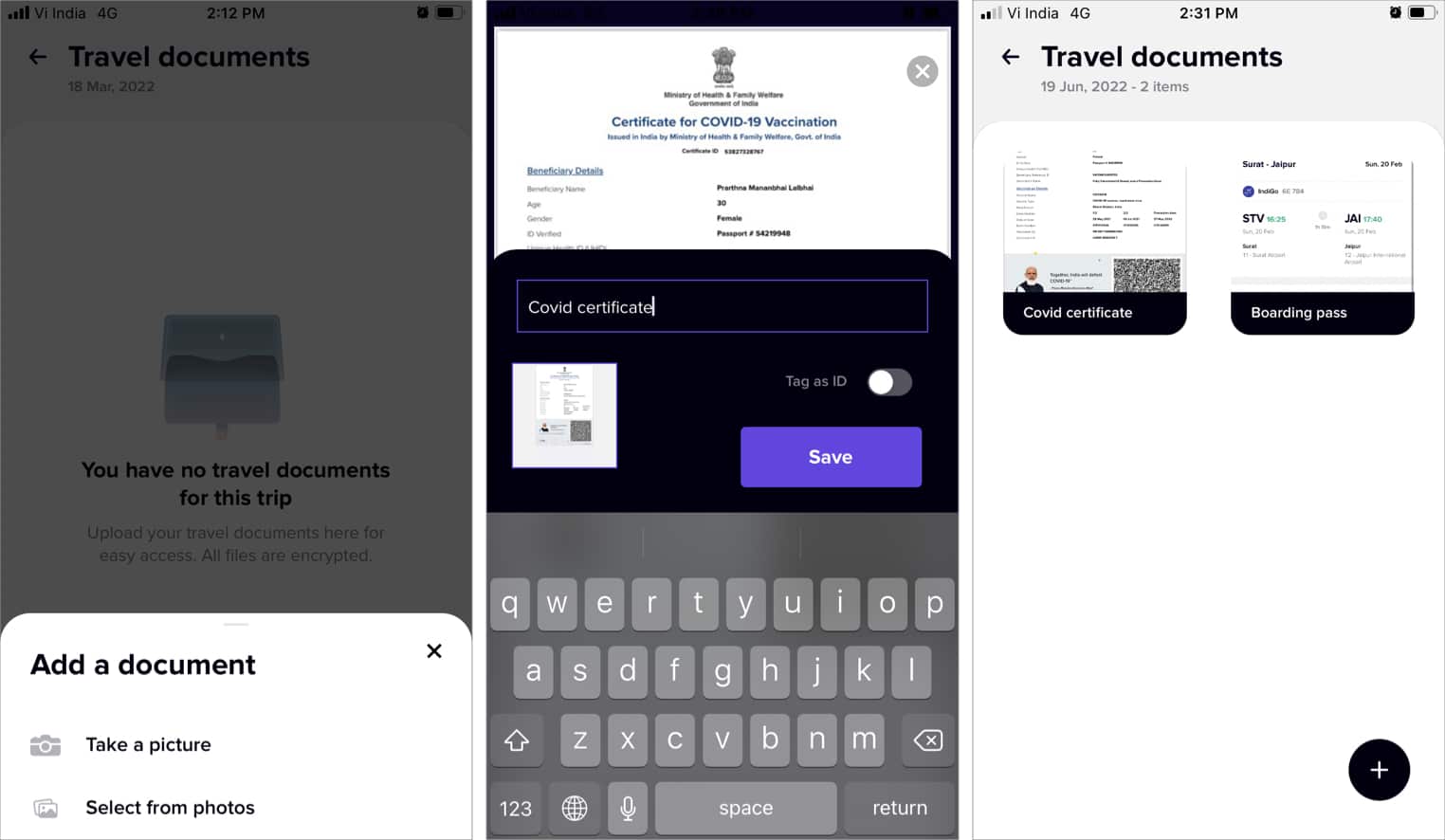 And while you might require a physical copy of some documents, you'll have them handy whenever required. A perfectly cool place to save your Covid vaccination certificate or test reports to show at the counter alongside your boarding pass.
Step 4: Reach the destination without worry
As told before, Blinctrip offers a door-to-door itinerary. So, you'll know an approximate time for when you'll reach your hotel or home after landing at the destination.
Moreover, if you are a tourist, you can also avail an informative guide within the app. The guide carries the most popular tourist spots, food specialties you should try, and more.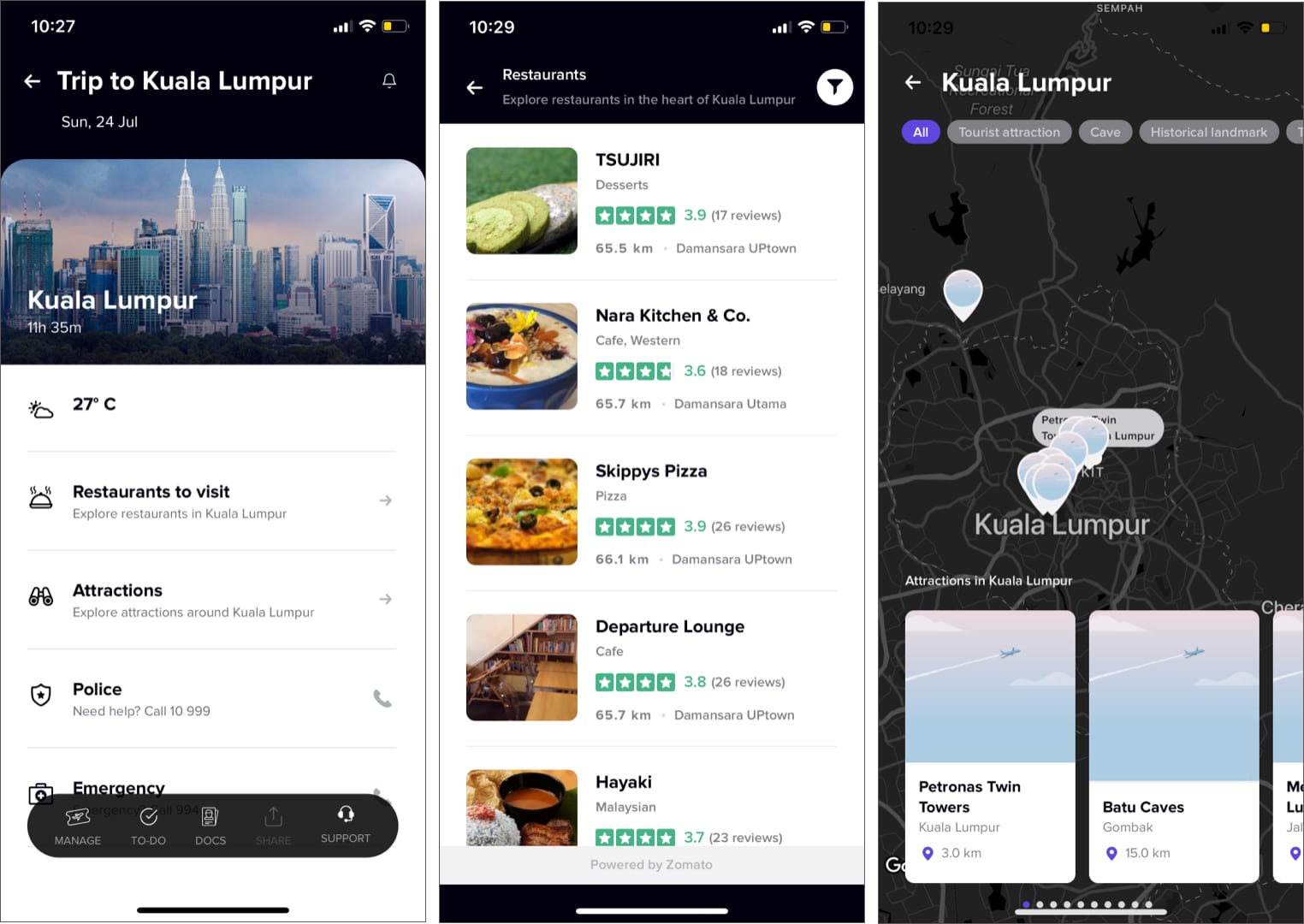 Furthermore, as per the app's website, they will soon add support for where you can stay. Simply put, hotels and homestays will arrive soon in the app.
We want more!
Don't get me wrong, I do love what the app offers. Especially the way it helps you manage the itinerary and notifies you about every big and small detail. But I can't stop this greed that wants more features.
And they are not something major, but things I felt would make the app the perfect companion, for instance, taxi booking, Maps integration, packing suggestions, and more.
Is the Blinctrip app an efficient travel partner?
iGeekometer
User interface
Features and facilities
Price and availability
Value for money
While I won't give 10/10 for the app's flight booking feature, the itinerary feature has my organizational-freak heart. The best part is that you can also add flights booked elsewhere, giving us a chance to manage our travel, even if the tickets are booked by someone else.
The Trip mode is almost flawless, and I like seeing all those notifications. It keeps me pumped and mentally ready for the trip. Overall, I feel you should give this app an honest chance. If you have already tried the app, let me know your experience in the comment section below.
Read more:
Readers like you help support iGeeksBlog. When you make a purchase using links on our site, we may earn an affiliate commission. Read more.
A self-professed Geek who loves to explore all things Apple. I thoroughly enjoy discovering new hacks, troubleshooting issues, and finding and reviewing the best products and apps currently available. My expertise also includes curating opinionated and honest editorials. If not this, you might find me surfing the web or listening to audiobooks.