Want to dip your toes in the Web3 universe or perhaps completely bathe in it? Whatever your need, this is just the read because I've covered the perfect starting point from what are Web3 browsers and which are the best Web 3 browsers currently available. Let's get started!
What are Web3 browsers?
On the surface, Web3 browsers are like normal browsers. The distinctive feature is their connection to Web3. Built with Web3 API support, they can seamlessly manage and interact with decentralized applications (websites, apps, wallets, etc.) without needing an extension or third-party API.
Why are Web3 browsers special?
Web3 or Web 3.0 is an advanced, decentralized version of the world wide web, based on Blockchain technology. The key term here is 'decentralized,' i.e. data and services are hosted via a distributed network of servers and devices, not a centralized server.
Unlike its predecessor, Web 2.0, it doesn't concentrate (centralize) the power to big techs (Facebook, Google, Apple, etc.) or government authorities, allowing more privacy, less monopoly, and equal opportunities.
Note: If you want to know more about Web3 and its application, check out this special section at the bottom.
Best Web3 browsers for dApp apps
1. Opera Crypto Browser – Packed with Web3-focused features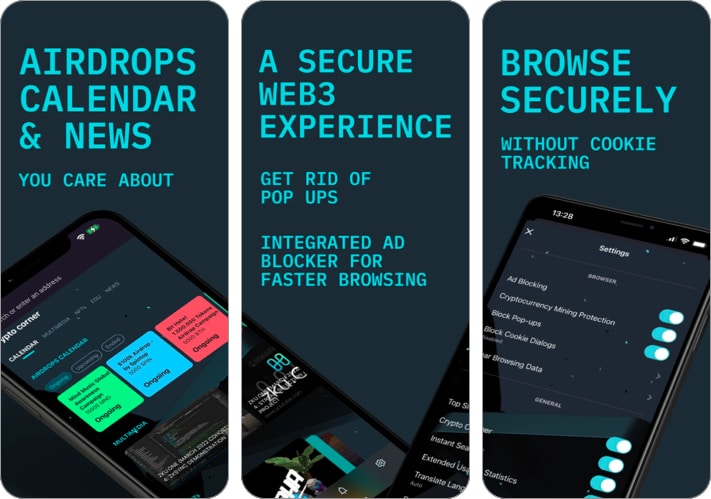 Currently in beta, the Opera Crypto Browser unlocks Web3 and Crypto integrations while keeping your privacy and security intact. It incorporates several Web3-focused features, including Web3 dApps and a native non-custodial crypto wallet.
Furthermore, the platform partners with key ecosystems, Layer 2 solutions, and blockchain (Polygon, Handshake Solana, Nervos, Celo, etc.) to enable smooth access to more dApps and metaverse.
Special features
A built-in Crypto Corner helps you explore all things blockchain, cryptocurrencies, and NFTs. You'll get the latest news and crypto prices, airdrop alerts, podcast and video suggestions, market sentiment, and more in one place.
The non-custodial crypto wallet supports multiple blockchains (Bitcoin, Ethereum, EVM), giving you unhindered access to your cryptocurrencies. Plus, you can sign into various dApps, NFT marketplace, etc., with the wallet, without installing extra extensions.
Secure and faster surfing with a built-in free VPN, Ad Blocker, and Tracker Blocker. You'll no longer see random pop-ups or ads, plus speed up your browsing experience.
Availability
| iOS/iPadOS | Android | Mac | Windows | Linux |
| --- | --- | --- | --- | --- |
| ✅ | ✅ | ✅ | ✅ | ✅ |
Conclusion
In 2018, Opera became the world's first browser with a built-in crypto wallet. It has since been an advocate and forerunner for Web3 technology, including an exhaustive partnering system.
Thanks to that, you are privy to the latest Web3 trends, cryptocurrencies, and more. But most importantly, it always keeps privacy and security at the forefront. So, it's a win-win situation for crypto lovers and enthusiasts.
Download – iPhone and iPad | Mac
2. Brave Browser – Privacy-oriented Web3 browser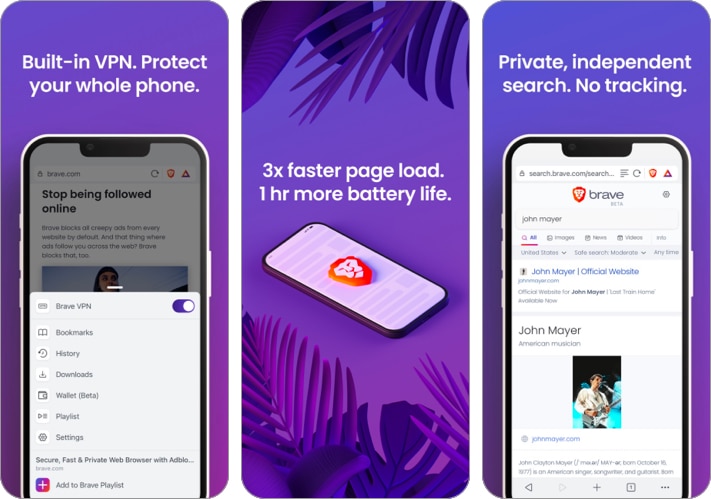 Brave is a popular web browser often commended for its privacy features. It adopted the Solana blockchain as the default for dApp support at the start of 2022. Alongside that, a self-custody crypto wallet, Brave Wallet, was built into the browser.
The wallet enables users to connect with hardware wallets (Trezor & Ledger), decentralized wallets (MetaMask, Coinbase, etc.), NFTs, and other dApps, without installing browser extensions. Interestingly, Brave also introduced a cryptocurrency, BAT Token, that you can earn and spend.
Special Features
Basic Attention Token (BAT) is awarded to users if they choose to see Brave Private Ads. In turn, they can spend this on gift cards, crypto, NFTs, tipping websites or content creators, etc. Notably, the ads don't track you. Plus, even if you opt out of ads, it won't affect your user experience.
Brave Wallet is designed to minimize vulnerability and phishing attempts so that you can buy, store, send, and swap cryptocurrencies and NFTs and login to dApps without worry. Moreover, secure wallets burn less CPU and memory in comparison to a third-party extension.
Multilayer privacy protection blocks trackers, cross-site cookie tracking, fingerprinting, etc., and includes multiple advanced features from Chromium customizations to DeAMPing.
Interplanetary File System (IPFS) is a decentralized file hosting solution (similar to Bit Torrent) that enables secure peer-to-peer file hosting, unaffected by issues like server outages, attacks, etc.
Extra perks like a private window with Tor Connectivity, free video conferencing, truly independent search, offline playlists, and a customizable news feed.
Availability
| iOS/iPadOS | Android | Mac | Windows | Linux |
| --- | --- | --- | --- | --- |
| ✅ | ✅ | ✅ | ✅ | ✅ |
Conclusion
Brave is a solid choice for someone who treasures privacy, especially if they are braving the world of Web3, cryptocurrency, and NFTs. Between the multilayer protection and compatibility with dApps, it could be a safe, secure, and decent starting point.
Download – iPhone and iPad | Mac
3. Osiris Browser – Blockchain-based dApp browser
While Opera and Brave have added support to Web3, Osiris incorporates blockchain from the bottom up. Developed by the Decenternet, it is designed to deliver functional Web 3.0 infrastructure to enable users a faster web experience, free from ads and mass surveillance.
Special Features
Osiris Metawallet acts as a layer 2 solution, allowing higher and faster transactions per second. Moreover, it offers interconnectivity between major blockchains such as Ethereum, Bitcoin, Tron, and Polkadot, without excessive transaction fees.
Osiris Armor is a built-in blocker that keeps intrusive tracking scripts, cookies, and ads on websites and YouTube videos. Plus, it also incorporates IPFS file hosting solutions like Opera.
Browse faster as Osiris offers up to 3-7 times faster than regular browsers. A portion of that speed is due to the efficient ad and cookie blocking (Osiris Armor).
dAppstore partnership allows users open and smooth access to the decentralized application store, wherein they can explore De-Fi, NFTs, and blockchain games.
Availability
| iOS | Android | Mac | Windows | Linux |
| --- | --- | --- | --- | --- |
| ✅ | ✅ | ❌ | ✅ | ❌ |
Conclusion
Osiris is a well-architected browser over the Acent mainnet, a pretty active community. So, expect more features, dApps, and interconnectivity to be incorporated into the mix.
Although Osiris is a nascent browser and quite privacy-centric, you may come across bugs now and then. I would suggest trying out the browser, but don't make it your default browser as of now.
Download – iPhone
4. Puma Browser – Web3 browser for iPhone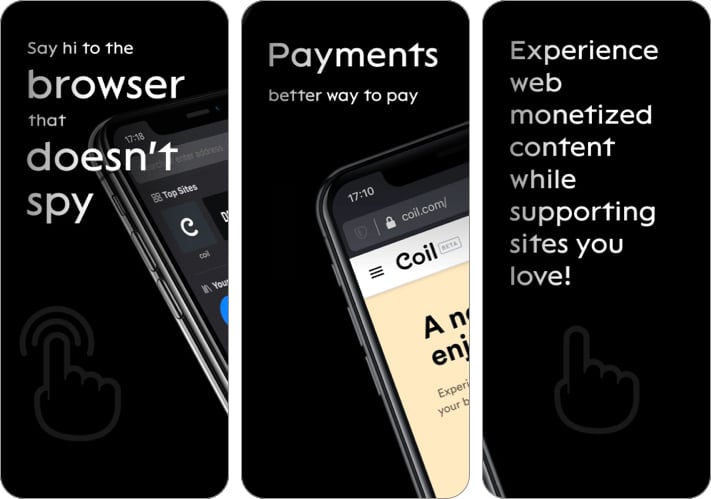 Puma is a privacy-centric mobile browser and wallet designed for the Web3 ecosystem. It employs a micropayments system called Coil that lets users directly and securely pay to creators and developers of their choice.
Notably, this unique (for browsers) and intelligent concept undercuts the usual money-making models of advertisement, data snooping and sharing, and clickbait-driven pop-ups.
Special Features
The Coil is Puma's native web monetization protocol that lets you access content locked under pay-walls for $5/month. With the membership, you can access Simmer.io games, Cinnamon's video library, and Imgur Emerald for free.
The protocol also supports you in supporting your favorite Twitch streamers. Notably, you can also make payments via Interledger Protocol.
Access decentralized domains enable you to access decentralized domains like Handshake (HNS) or ENS that are denoted by a backslash / (not .com).
Availability
| iOS/iPadOS | Android | Mac | Windows | Linux |
| --- | --- | --- | --- | --- |
| ✅ | ✅ | ❌ | ❌ | ❌ |
Conclusion
As per me, Puma is a kind of a Web3 social media project wrapped in the skin of a mobile browser. The built-in micropayments and direct payments to creators are indeed a novel idea for overthrowing issues like data breaches and corporate monopoly.
I'll give full points to Puma for the concept. However, as a browser, it is too bare-boned currently. I would love to have some more features or Web3 tools on the table.
Download – iPhone and iPad
5. Beaker Browser – Peer-to-peer Web3 browser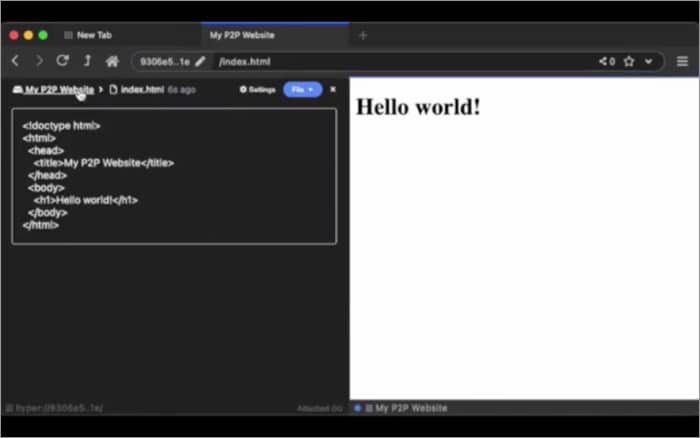 Beaker is a Chromium-based browser, so you'll find it similar to the browser you're currently using. Although there is a fundamental difference, Beaker lets you host websites. You can convert your device into a server creating custom hyperlinks.
These hyperlinks can be shared with other users, and they can access the websites and their assets or make edits depending upon permissions. The platform boasts almost all the tools you'll need, from website editor to API integration.
Special Features
P2P networking is the USP of the browser. Similar to how P2P file sharing works, the feature allows users to share their websites privately. Basically, you're not sending the data to any corporate cloud while sharing; instead, you're hosting it from your device, cutting down any and all peeping Tom.
Availability
| iOS/iPadOS | Android | Mac | Windows | Linux |
| --- | --- | --- | --- | --- |
| ❌ | ❌ | ✅ | ✅ | ✅ |
Conclusion
Beaker Browser is on the right track. Peer-to-Peer networking is a strong Web3-centric feature. However, we might need a little more from the makers, like a wallet, NFT support, extensions, or something.
In its current state, the browser is limited. It's great If you're planning to share confidential data, but the lack of built-in blockers, VPN, etc., is a sore point.
Download – Mac
All you need to know about Web3
The good and the bad of Web3
To better understand the importance of Web3, we need to comprehend the evolution of the web.
Web 1.0 – Consider it a read-only web; you could not interact with the content or the creator (publisher) directly.
Web 2.0 – The web with social media; it made everything easy. You can access a wider variety of content, interact with creators (comments, DMs, workshops, etc.), and be a creator, if you will. However, the platforms (corporates/big techs) own the data and the discretionary power.
Web 3.0 – Harnessing the power of decentralization, Web3 gives you all the benefits of Web 2.0 without the tracking eye or power centralization.
Many enthusiasts claim that the decentralization revolution will bring the power (whether over data, currency, art, or more) back into the hands of individuals. And thus, Web 3.0 is given so much importance.
However, the nascent nature of the platform and the lack of knowledge in the general public has also opened the gateway to fraudulent activities and scams. So, while I'll recommend exploring Web3 and its application, a wise move will be to proceed with caution.
Web3 browser or dApp browsers
dApp (decentralized apps) are apps that use decentralized protocols for some or all features. Web3 browsers support dApps and other tools, thus, earning the name dApp browsers. You can use the term interchangeably.
You may also spot a built-in browser in cryptocurrency wallets or NFT apps. However, they haven't considered Web3 or dApp browsers because of their limited access.
Are Safari, Chrome, or Edge Web3 browsers?
Not as of now, though you can use third-party extensions (like MetaMask and Coinbase) to integrate support for wallet and other Web3 tools. Yes, it doesn't offer as quick, seamless, and secure operation as the dApp browsers mentioned in our list, but they get the job done.
Notably, rumors suggest that Chrome and Edge might soon add Web3 support and a built-in wallet. So, keep following this page, as we'll gladly add them to the list as soon as the said features are released.
Signing off…
Like the World Wide Web itself, Web 3.0 is very-very vast. I have directed you towards the tip of the iceberg; you'll have to deep dive to learn and explore more. As usual, I am with you, so feel free to share your questions in the comment section below.
Here are some references to help you start your Web3 journey:
Readers like you help support iGeeksBlog. When you make a purchase using links on our site, we may earn an affiliate commission. Read Disclaimer.