NFTs have taken the world by storm; some are making and selling it, some are busy investing, and the rest is busy talking about it. I get your interest in the mystery of NFTs because my hands are equally itchy. And before the curiosity kills the cat, you should check out my carefully curated list of iPhone apps to create and sell NFTs.
Notably, I have divided the article into parts so that you can find the right app quickly and easily; Happy NFTing.
1. NFT Creator! – Best NFT creator for beginners
Don't have a degree in graphic design or years of experience in your bag? No problem! NFT Creator has you covered. The simple to use UI is packed with tools that help you quickly, easily, and almost effortlessly create high-quality digital art.
You get a mix of over 1000 solid and gradient backgrounds, 100+ art filters, brushes, 100+ crypto graphics, 1000+ fonts, and more. Moreover, you can add your photos, artworks, etc., or use images and graphics from Pixabay.
The best part is that NFT Creator works like an advanced photo editing software. It follows a layer-like system, similar to Photoshop, encouraging you to play with opacity, masks, lighting, etc.
Although the app only allows you to create a graphic, you'll need another app, website, and wallet to upload and sell it as NFT.
Pros
Simple to use
Layer-like system
Wide variety of tools and assets
Cons
Only creates, can't upload or sell
Price: Free (Subscription starts at $3.99/week)
2. GoArt – The filter king for NFT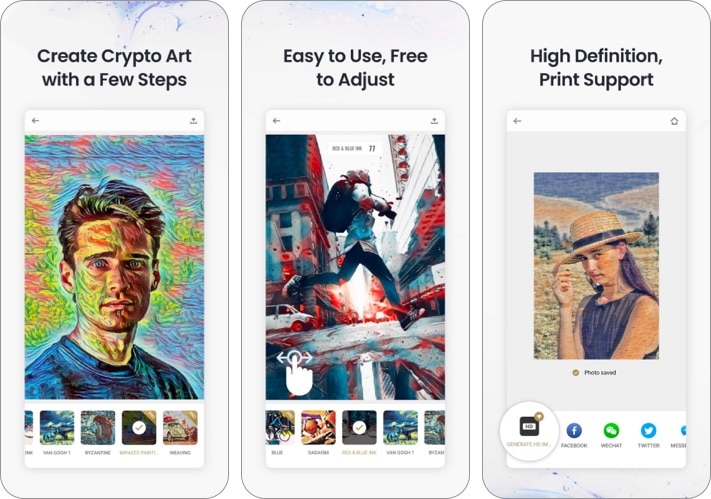 If you have an image or original artwork that just needs a little more TLC or spunk to match the mad creative NFTs making the round, GoArt could be of your service.
It's one of the most exhaustive filter apps from Van Gogh, pointillism, brush strokes, to Picasso; the list goes on and on. You can also manage the filter intensity by just swiping left or right, so you get plenty to play with.
Incredibly, the effect application and adjustment are quite quick. However, downloading, comparing, and choosing the right one might be time-consuming.
However, a few things are missing from the perfect picture. I would have loved other editing tools besides filters, maybe crop, overlap, stickers, etc. Then again, minting is not part of the package.
Pros
A

plethora of awesome filters

Easy to adjust filter intensity
Instantly enhances the artwork
Cons
Limited freemium filters
No other editing features
Price: Free (In-app purchases starts at $1.99)
3. Dream by WOMBO – AI-powered NFT creator
While the app doesn't claim any such feat, it could be a great asset for NFT and digital art creators. After all, it enables users to create high-quality artworks super quickly and almost effortlessly, all thanks to the power of AI.
So, you have to type in a random prompt (let's say Apple) and select an art style from the list of options. The magic starts brewing from the moment you tap Create, and within seconds, you'll have a unique painting.
Now, use this painting as is or as a background for your artwork or some inspiration; it can check multiple boxes. And even though this one is not a crypto or NFT-centric app, it is certainly worthy of your attention.
Pros
Simple to use UI

Flawless painting in seconds
Generate multiple results
Completely free app
Price: Free
4. NFT Creator NinjaFT – Best for digital trading cards
Please note the punctuation mark difference in names. The earlier app, which boasts an '!', NFT Creator! is an app that helps you create the perfect NFTs. Whereas, this app NFT Creator (without the !) allows you to mint, browse, buy, and sell NFTs. Now, that's clear, let's get to know this app better.
I get a jack of all trades feeling from this app. First and foremost, it lets you mint non-fungible tokens on Binance Smart Chain. Then it doubles as an NFT marketplace, sports, and pop culture card creator, NFT wallet, and even a daily NFT raffle.
Yes, you can win free NFT in daily giveaways. And there's more; the app is also planning to launch a NinjaVerse soon, an NFT-exclusive virtual world. However, that could also be a flaw in this app.
NFT Creator, its tool, and marketplace are heavily ninja- and sports-oriented. So, it is a win-win if you're into such things, but if not, give this app a pass.
Pros
Quite an exhaustive app

Chance to win free NFTs
Create and share cards on any social network
Cons
UI is a bit crowded
Limited to ninja and sports-oriented markets
Price: Free (In-app purchases start at $4.99)
How to create NFTs on iPhone or iPad
On paper, there are just three steps to creating an NFT:
Create the NFT.
Upload the NFT on a marketplace and link it to your wallet (create one if you don't have one).
Sell the NFT.
However, it's not that simple as many things come into play. From what you want to create, which blockchain should you use, which is the right marketplace for your NFT, how should you price it, and how to market it.
Lucky for us, there is an app for almost every stage. And lucky for you, we have covered all the notable ones in this list. So, pick the right app and start NFTing. But wait, should you really invest your time and money in it? Read on.
Should you create NFTs?
Every new technology comes with its fair share of risks, and so do NFTs. While we see some NFTs going out for exorbitant prices, not all NFTs will have such luck. The market is unprecedented and unpredictable.
And even if we sideline the time taken to create an NFT, we can't forgo the minting cost involved. Thus, we can't ignore the possibility of incurring a loss. However, it is also wise to acknowledge that NFTs are building to be the next big thing.
And while early investors face the most risk, they also earn the most profit. Overall, I would suggest you take risks while playing it safe. Maybe don't bathe in that pool, but at least take a dip or two.
Well, these are my two cents about NFT; what's yours? Share your views, comments, suggestions, and critiques in the comment section below.
Meanwhile, here are some interesting articles for you to go through
Readers like you help support iGeeksBlog. When you make a purchase using links on our site, we may earn an affiliate commission. Read Disclaimer.