Keeping up with the ever-evolving world of website development can be an intimidating task. Everything comes down to choosing the right software for your Mac. Several reliable tools can bring your web design concepts to fruition. In this article, I've compiled a list of the best web design software for Mac to get your dreams up and running.
1. WordPress – Editor's Choice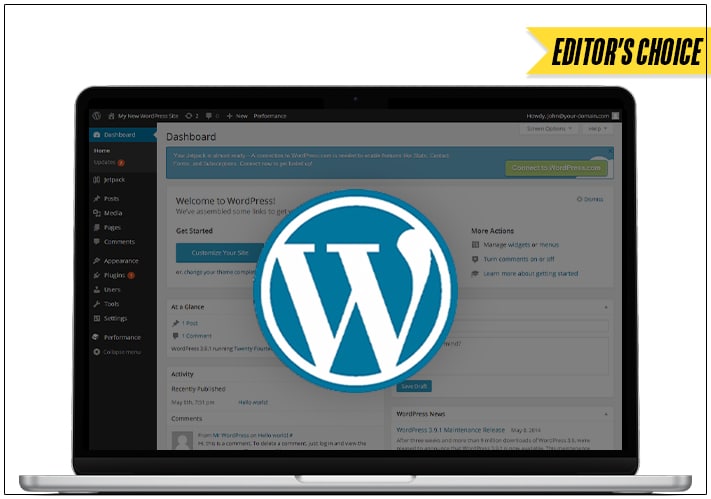 WordPress is a powerful, popular, and free content management system (CMS) that is widely used for web development. It is open-source software that can be installed on any web hosting platform, making it a great choice for Mac users who want to develop their own websites.
WordPress is a user-friendly platform that can be used by both beginners and experienced developers. It offers a wide range of plugins, themes, and other features that can be customized to create a unique website. Additionally, WordPress is easy to use and update, making it a great choice for those who want to maintain their website themselves.
I personally enjoy the software's vast customization options, which allow us to readily modify web pages to suit our particular needs. Aside from that, the software also receives regular updates placing it first on my list of the best website-building software for Mac.
Note: WordPress.com and wordpress.org are two distinct websites that shouldn't be mixed up.
Pros
Completely customizable design
Powered up by plugins and widgets
Creating E-Commerce is simple
A vast library of ready-to-use templates is available
Cons
The learning curve is steep
Need to pay a web host
Price: Free (Plans start at $4)
2. Wix – Customizable web development tool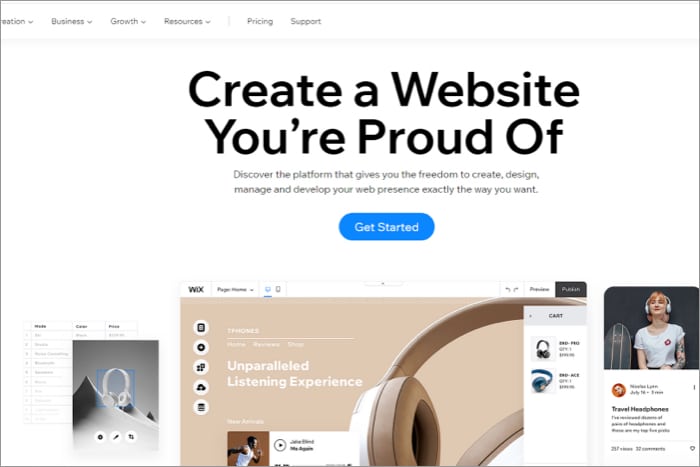 Wix is an all-in-one website builder for Mac that is renowned for its user-friendly interface and extensive customization options. The software offers a vast array of custom-built templates that can be easily tailored to your specific needs through a simple drag-and-drop process. Moreover, it allows you to integrate WooCommerce or social media into your website.
This cloud-based platform enables you to access and edit your website from anywhere, as long as you have an internet connection. Wix also provides a range of tools and resources to help you optimize your site for search engines, monitor its performance, and engage with your audience.
One of the major benefits of using Wix is the support one receives from the makers. The platform has a responsive and knowledgeable help center that includes tutorials, videos, and articles to guide you through the process of creating your site. Additionally, if you encounter any technical or design-related issues, you can reach out to the customer support team via email or phone.
Pros
Free plan
Have built-in SEO tools
Comes with more than 300 integrations
Wix Artificial Design Intelligence (ADI) editor integrated
Cons
Can't change the template for a published website
E-commerce is not available with each plan
The free plan has too many ads
Price: Free (Plans start at $16)
3. Shopify – Create your store here!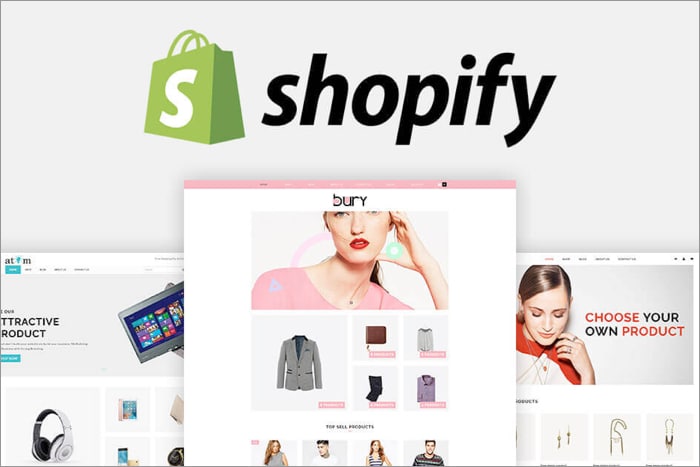 Shopify is an e-commerce platform that has established itself as an industry leader. It is a cloud-based tool that provides entrepreneurs and small businesses with an easy-to-use platform to create an online store. This platform is particularly attractive for Mac users due to its wide range of features, which include product management, order processing, payment gateway integration, and customer relationship management.
The key selling point of the software is the user interface that allows you to design your online store using pre-designed templates, customize them to match your branding, and manage your entire sales process in one place. Aside from that, you do not require any prior coding knowledge to use it; as a result, the tool is accessible to all users.
Additionally, Shopify's easy-to-navigate payment process is a standout feature that sets it apart from other web development software for Mac. It supports a variety of payment gateways, including major credit cards, PayPal, and Apple Pay, allowing merchants to accept payments from around the globe.
Furthermore, the tool provides a secure checkout process that meets the highest standards of security and fraud prevention, which is important for giving customers peace of mind when making purchases. Overall, Shopify is an excellent choice for anyone looking to create an online store on their Mac.
Pros
Built specifically for e-commerce
3-day free trial
Third-party apps available
Cons
Limited free themes
Fewer modification choices
Can't create a blogging website
Price: $9
4. SquareSpace – Mark your real estate online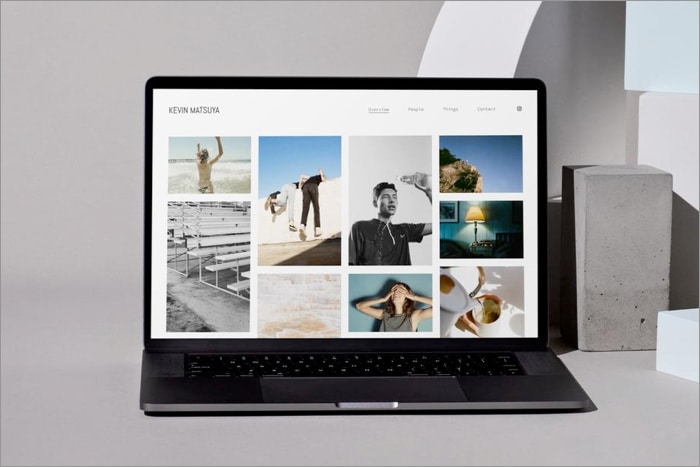 SquareSpace is a feature-rich platform that makes it simple for users to easily construct beautiful websites, online stores, and blogs. Website development is made simple for users of all ability levels by the software's user-friendly interface and extensive selection of templates.
It also provides a number of features that set it apart from other website-building software, such as sophisticated SEO tools and potent analytics. Using the tool for web development has several advantages, one of which is its capacity to produce responsive websites that look fantastic on all devices.
The platform also makes it simple to integrate third-party technologies, such as social media and e-commerce platforms, to assist companies in enhancing their online presence. Also, the software provides a number of marketing tools that customers may utilize to promote their websites and increase their internet presence.
It also has the capacity to offer dependable and secure hosting services. Finally, SquareSpace is a well-liked option among users because it provides top-notch customer assistance. The platform offers round-the-clock phone, live chat, and email customer care to make sure consumers can always get the assistance they require.
Pros
Award-winning templates
14-days free trial
Responsive designs
SEO capabilities
Cons
Pricier than competing website builders with the same features
Only the most expensive package is offered with advanced e-commerce functionality
Price: $16
5. Drupal – Adaptable web design tool for Mac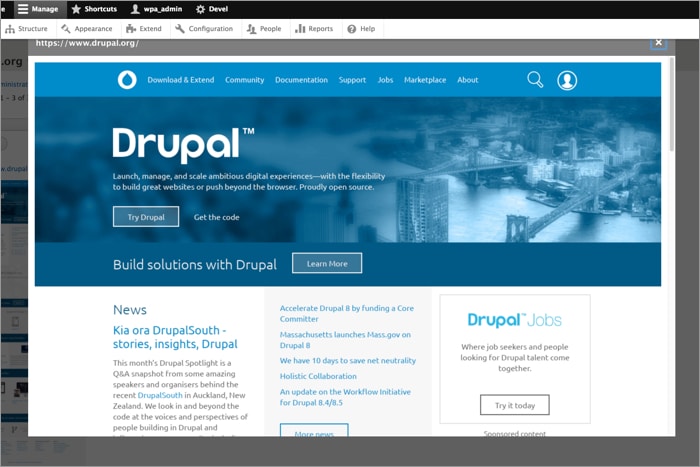 Drupal is an open-source CMS that is considered one of the best web design software for Mac. It offers a strong framework for creating scalable, dynamic websites, web applications, and online communities. Thanks to its extensive customizability, flexibility, and modularity, it can be used for a variety of web development projects.
The software's adaptability and scalability are two of the tool's USPs. With different content categories, user roles, and permissions, the program enables developers to build sophisticated websites. Additionally, the development community, which regularly releases updates and security patches, guarantees the stability and security of your website.
Moreover, a comprehensive taxonomy system, sophisticated search capabilities, and built-in support for multilingual content are just a few of the advantages that distinguish this tool from others on the list. Even for sites with a lot of traffic, Drupal's caching mechanism and optimization tools help to ensure quick page loads. Because of this, Drupal is a well-liked option for businesses that need a reliable and secure website.
Pros
Framework is flexible
Allows creating custom content types and views
High-quality security measures implemented
Cons
UI is not beginner-friendly
Site building is time-consuming
Price: Free
6. Weebly – Professional website maker software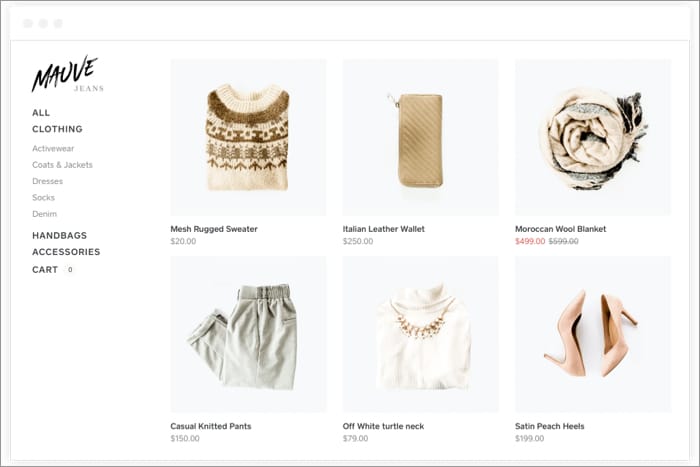 Weebly is a popular and free website builder that offers an easy and intuitive way to create a professional-looking website without any coding skills. It is an excellent web development software for Mac users, allowing you to design and manage your website directly from your Mac computer.
With this tool, you can choose from various customizable templates and drag-and-drop tools to create your website's pages and content. You can add text, images, videos, forms, and other elements to your website effortlessly, making it easy to create a website that meets your unique needs.
One of the reasons for adding this program to my list of best web design software for Mac is its user-friendly interface, which makes it easy for anyone to create a professional-looking website quickly. The platform is also highly customizable, allowing you to add your own branding and style to your website.
Additionally, it also offers a powerful e-commerce platform that allows you to sell products and services directly from your website. You can easily set up an online store, manage inventory, and process payments using Weebly's built-in tools.
Pros
Responsive-design themes
Site stats included
Allows you to switch themes without rebuilding your site
Uptime is good
Cons
No interface-wide undo feature
customer service in testing is slow in responding
Price: Free (Plans start at $10)
7. Joomla – Dependable website builder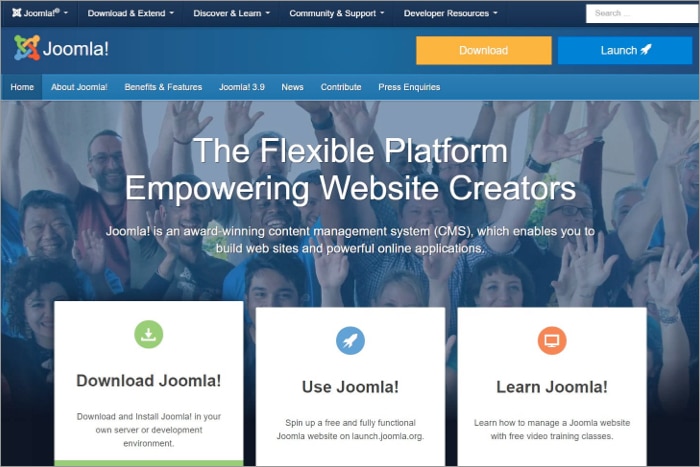 Joomla is an open-source web development software that can be downloaded for free on Mac. It is a popular choice for developers who want to create dynamic and interactive websites that include blogs, online stores, and social networking platforms. Aside from that, It is maintained by a strong community of developers, making it one of the dependable tools to consider while crafting your website.
One of the standout features of Joomla is its CMS capabilities, which allow developers to manage website content easily, organize pages and menus, and configure permissions for multiple user roles. Additionally, it offers a wide range of customizable templates and extensions that enable users to create unique and sophisticated websites without needing to do extensive coding.
Developers can also take advantage of features like search engine optimization (SEO) and mobile responsiveness with this website builder software for Mac. Moreover, the websites created with Joomla are not only visually appealing but also user-friendly and accessible on all devices.
Pros
User-friendly interface
6,000+ extensions
Visual editor
Freedom in backend management
Cons
Require some coding knowledge
Gets pricey with paid extensions
Price: Free
8. GoDaddy – Hosting website builder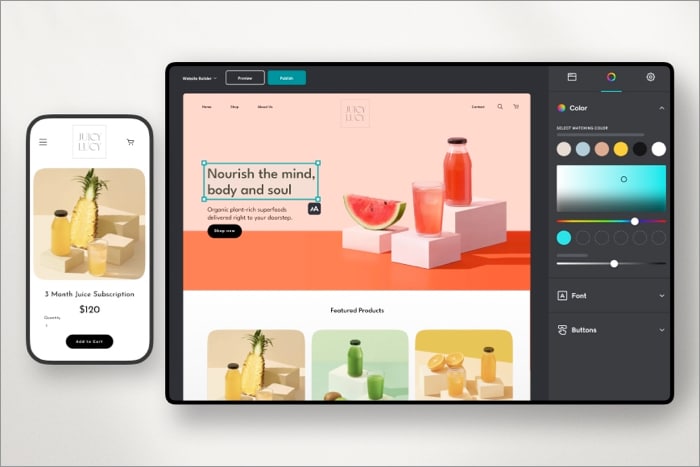 GoDaddy Website Builder is a potent web development tool that provides a simple, one-click interface for creating a website that looks professional without the need for coding knowledge. It's the perfect tool for Mac users who want to quickly and effectively build a website.
You can select from various section templates that have already been created and modify them to match your brand or sense of style. Additionally, the platform provides a wide range of features, such as social media integration, SEO tools, and e-commerce functionality. To make your website stand out, you can also add your own photos and multimedia content.
Users can easily click on the elements they want to include on their website, such as text boxes, images, videos, and more, using the software's simple editing process. To ensure your website looks exactly how you want it to before publishing, you can preview it.
Small businesses, bloggers, and individuals who want to build a professional website on their own without assistance from a web developer should use GoDaddy Website Builder. Besides this, you can also check for the cheap hosting plans offered by the service provider.
Pros
Customizable section templates
Reformats content when switching themes
Pricing plans are cheap
Cons
Templates aren't visually appealing
Creative freedom is not available
Price: Free
9. Hostinger – Creative web dev software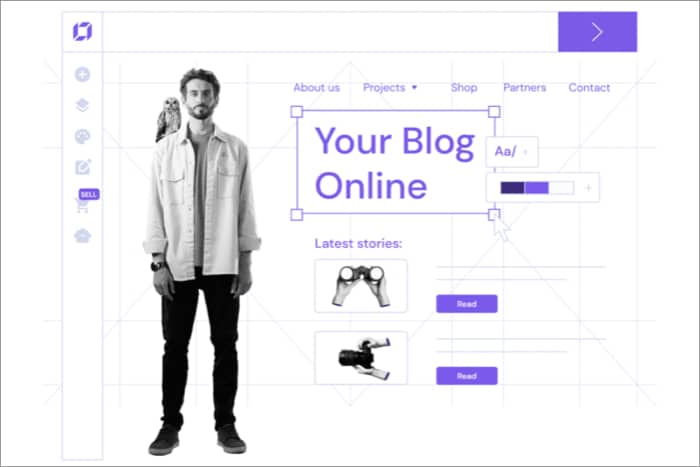 Hostinger is a great option if you want to create a professional-looking website but don't want to deal with coding or selecting a web host. However, it's important to note that this website builder isn't free.
Nevertheless, its user-friendly interface makes it an excellent choice for beginners, and its drag-and-drop editors, customizable templates, and pre-built elements allow you to create a website that meets your requirements.
Using a hosting website builder has several benefits, including the ability to optimize your website for search engines, monitor its performance, and engage with your visitors. With Hostinger, you can integrate social media, add contact forms, and leverage email marketing tools to connect with your audience. These features make it a valuable tool for building an effective online presence.
Pros
Beginners friendly
Affordable than most of the options on the list
Built-in features
Cons
Lacking customization
Dependence on the platform
Price: $2.99
10. SITE 123 – Responsive web designing tool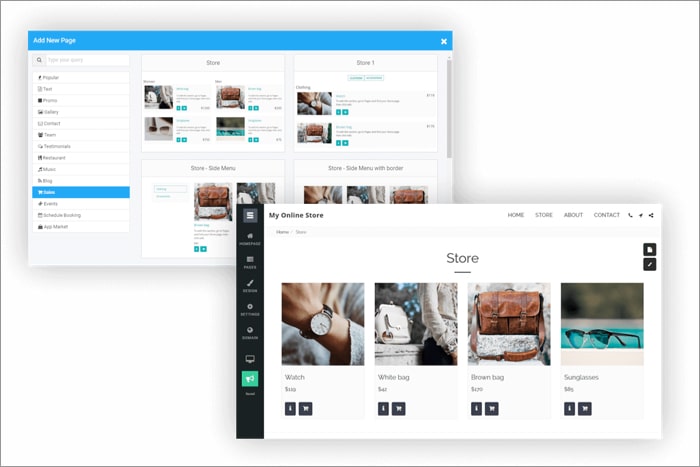 Although SITE 123 may not top my list of the best web development software for Mac, it is undeniably a top-tier tool that has become the preferred choice for both individuals and businesses seeking to create visually appealing websites.
The software's sleek interface and user-friendly features have made it a go-to option for web development. One of its standout features is the vast collection of pre-designed templates that ensure a polished and professional look for your website. All of these templates support responsive design and can be optimized for both desktop and mobile devices.
Another noteworthy feature is the drag-and-drop website builder, which allows users to create customized websites without any coding knowledge. The software also offers a broad range of tools and features that make it a powerful tool for companies seeking to enhance their online presence. This includes e-commerce features and SEO optimization to help advance your website.
Pros
A vast collection of pre-designed templates
Templates support responsive design
Wide range of features and tools to enhance your website
Cons
Not much customization offered
Don't offer more advanced options
Price: Free (Plan starts at $5.80)
FAQ
Why is Mac a good choice for web development?
Web developers frequently favor Mac for web development because of its svelte design, user-friendly interface, and high-performance capabilities. Macs are also renowned for their dependability, security, and interoperability with well-liked web-building tools.
What's your choice?
Whether you possess advanced coding skills or prefer to avoid coding altogether, the above-mentioned software options can assist you in bringing your creative ideas to fruition and building exceptional websites that are distinctive and captivating. Share with us your preferred web development software for Mac in the comments section below.
Read more:
Bhaskar is a member of the iGB family and enjoys experimenting with words and rhythms. He also has a knack for web and app development. If not writing, you may find him on strings or engaging in sports. And by evening, his quotes will be appearing on your Instagram feeds.