In a world of increasing online threats to your privacy and security, a VPN router is an excellent way to stay safe. It eliminates the need to install VPN apps on each of your devices individually and adds protection to gadgets that don't have any in-built security, such as gaming consoles.
However, it can be complicated to choose the best VPN router considering the unique use cases. In this article, I've tried to explain everything you need to know and suggested 5 top VPN routers for your business, personal use, gaming, and more.
Before proceeding, if you are new to VPN, consider checking out our guide on VPN and how to use it?
What is a VPN router?
A VPN router incorporates a virtual private network into your internet router so that every connection to it is secure and, well, private.
This means that every device connected to a VPN router enjoys an anonymous IP address which can help prevent snooping from internet service providers, thwart hackers, bypass region restrictions on websites, etc.
All of your online activity gets protected without having to use additional VPN apps or services. Pretty nifty!
Why should you get a VPN router?
When you use a regular router, you have to install VPN software on each device you use to ensure a private internet connection or bypass region restrictions on certain content.
There's no way of sharing the virtual private network on one device with another. But a VPN router solves this problem by having a VPN service pre-installed right into it.
This means that it establishes a secure connection at the hardware level so you can connect all your devices to your virtual private network without individual software installations.
These devices can include smartphones, tablets, computers, smart TVs, etc. Moreover, a VPN router can also automatically protect devices or peripherals on which you cannot install VPN apps such as gaming consoles and smart speakers. This ensures all-around protection when using the internet.
Our picks for the best VPN routers
1. Synology RT2600ac – Editor's Choice
Technical specification:
Speed: up to 2.53Gbps
Antennae: 4×4 MIMO Omni-directional high-gain dipole (2.4GHz / 5GHz)
Wireless spec: 802.11ac
LAN Ports: Gigabit x 4 LAN; Gigabit x 1 WAN (Dual WAN support)
External Ports: USB 3.0 x 1, USB 2.0 x 1, SD card reader x 1 (SDXC, SDHC)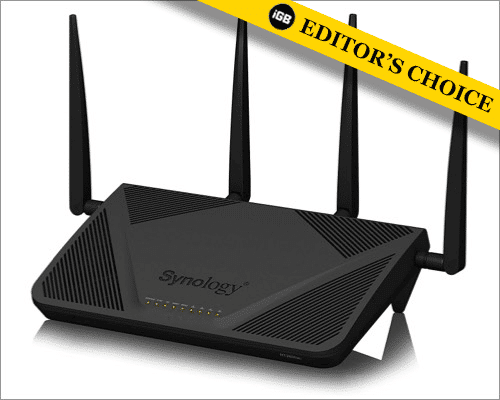 This is an easy-to-setup VPN router that will supercharge your wireless network to provide enough bandwidth for your entire family or team. It boasts powerful traffic monitoring tools that let you set up bandwidth prioritization, so your gaming console or smart TV always gets enough speed and never stutter or lag.
Moreover, it's easy to keep your children safe from inappropriate content by blocking potentially harmful sites with just a few clicks. Take advantage of customizable profiles for different family members or employees and advanced traffic monitoring tools to shape the data flow in your network.
Pros
Fast speed
Good coverage area of 3,000 square feet
Advanced cloud file management capabilities
2. TP-Link AC1750 – Best for personal use
Technical specification:
Speed: 450mbps for 2.4GHz, 1300Mbps for 5GHz
Antennae: 3 high-gain external antennas
Wireless spec: 802.11n, 802.11b, 802.11ac, 802.11g
LAN Ports: Gigabit x 4 LAN
External Ports: USB 2.0 x 1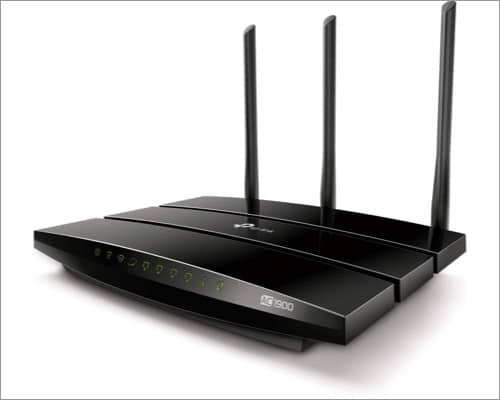 This is one of the best routers for personal use. It's affordable, reliable, and compatible with all Wi-Fi devices, 802.11ac and older. You can connect up to 50 devices and enjoy extended range Wi-Fi over 2500 square feet thanks to the triple external antennae.
Moreover, it has Alexa voice control to turn it on or off. You can keep your family safe, and your devices secure with advanced WPA/WPA2 wireless encryption, parental controls, and guest access.
The 3x faster AC1750 Wi-Fi ensures smooth gaming and a 4K streaming experience without disruptions! Above all, it's also one of the best budget VPN routers.
Pros
Connect up to 50 devices
Affordable
Alexa voice control
Cons
Signal strength could be better
3. GL.iNet GL-AR750S – Best for travel
Technical specification:
Speed: High speed 433Mbps(5G) + 300Mbps(2.4G)
Antennae: 2 foldable dual-band external antennas
Wireless spec: 2.4 GHz Radio Frequency
LAN Ports: 3 WAN/LAN Ports (10/100/1000 Ethernet)
External Ports: 1 USB2.0, 1 TF Card Slot (128GB Max)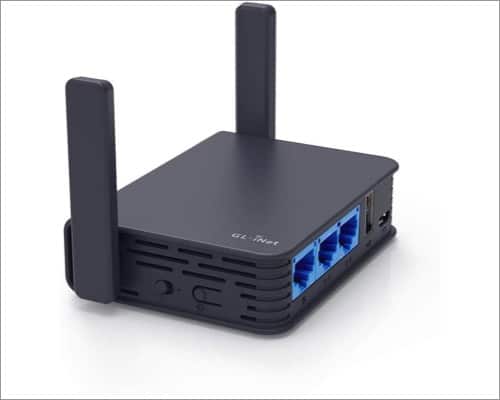 For all you fellow travel lovers out there, here's a nifty little router that can help you stay safely connected on the go. It comes with OpenVPN and WireGuard pre-installed and is compatible with 30+ VPN service providers.
Moreover, don't be fooled by its size. It packs quite a bit of power and functionality. For instance, you can bring all your workplaces together with a single, secure private cloud, thanks to OpenVPN or WireGuard. Use it with ease at cafes or on the go at airports and hotels.
Pros
Small and portable
1-year warranty
3 customizable LED lights
Cons
No way to disable WPA and only use WPA2-AES, which could be risky
4. NETGEAR Nighthawk – Best for business
Technical specification:
Speed: up to 6Gbps
Antennae: 4
Wireless spec: 802.11n, 802.11b, 802.11a, 802.11g, 802.11ac
LAN Ports: 5
External Ports: 2 x 3.0 USB ports.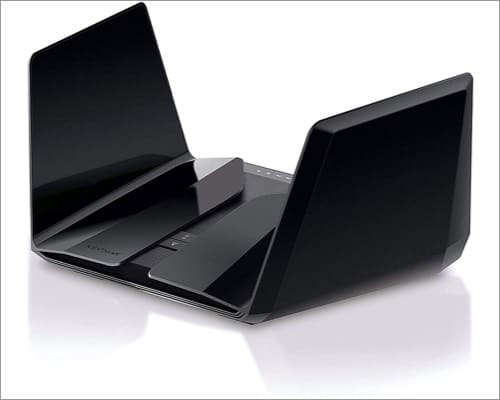 This one looks quite different from conventional routers, and therein lies the innovative magic. It offers blazing Wi-Fi speeds of up to 6Gbps to let you download, stream and transfer data 5X faster, so it's among the best VPN routers for business.
It's a breeze to set up and manage, thanks to the Nighthawk app. Plus, you can share a storage drive with any connected device and create personal cloud storage to access from anywhere using the USB ports. Parental controls and security feature starts from $4.99/month with a 30-day free trial.
Pros
Blazing fast
Easy to set up and use out-of-the-box
Can handle 20 streaming clients without issues
Elegant design
Cons
Expensive
Pay extra for parental controls
5. ASUS ROG Rapture – Best for gaming
Technical specification:
Speed: up to 5334 Mbps
Antennae: 8
Wireless spec: 802.11ac
LAN Ports: 8
External Ports: Dual USB 3.0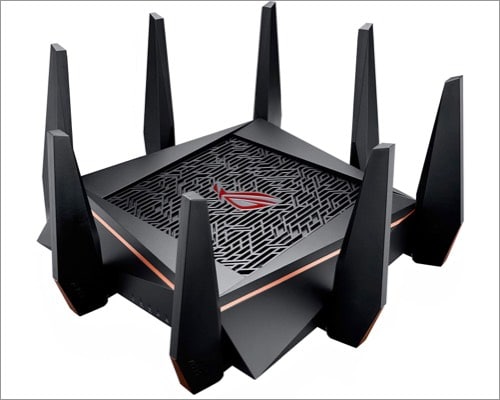 For all the gaming freaks out there, here's a router that lets you run a VPN and stable internet connection at the same time while effectively maximizing your connection speed to gaming servers, so you never miss the action.
The Game Dashboard gives you exclusive features like Game Boost, VPN Fusion, Game IPS, and route-optimized low ping time gaming servers. This helps optimize your gaming network to ensure uninterrupted fun.
Pros
Powerful specs
Fast bootup
Impressive gaming performance
Your online privacy is of the utmost importance and should not be taken lightly. I recommend using one of these best wireless routers for VPN to enjoy a secure browsing experience closed off to prying eyes.
Do you have any questions about VPN routers? Drop them in the comments so I can help you out. I would also love to hear if you use any VPN software or apps and your experience.
You may want to take a peek at:
Readers like you help support iGeeksBlog. When you make a purchase using links on our site, we may earn an affiliate commission. Read Disclaimer.