If you're a proud MacBook owner, you probably know that Apple provides an adapter in the box to keep your device juiced up. However, there are situations where you might find yourself in need of an alternative. Perhaps you've lost your original charger, it's no longer functioning properly, or maybe you're simply seeking an alternate upgrade. Whatever the reason may be, we've got you covered.
In this article, we'll explore some of the best USB-C chargers for MacBook Pro or Air. So, let's dive in and help you find the perfect charger that keeps your Mac powered and ready!
1. Apple 67W USB-C power adapter – Editor's Choice
Apple's very own 67W USB-C power adapter is undoubtedly the best charger for MacBook. So, in case you have lost the original adapter you got in the box, just buy one these bad boys again! As for its compatibility range, this power adapter supports both USB-C and Lightning cable devices.
Apart from being sleek and lightweight, it is one of the fastest chargers available on the market. With its streamlined design and robust build quality, it's also an ideal travel companion. As long as you use the MFi-certified cable that came in the box, you can be assured that your MacBook is protected during charging.
Overall, the 67W USB-C power adapter from Apple is an optimal choice for MacBook users looking for functionality, style, and safety. With its impressive features and capabilities, this power adapter truly exemplifies Apple's commitment to delivering top-notch charging solutions.
Pros
Delivers up to 67W of power
Compatible with a wide range of USB-C devices
Built-in safety features to protect your devices
Cons
Can be expensive
Charging cable sold separately
2. Anker PowerPort Atom III – Compact and lightweight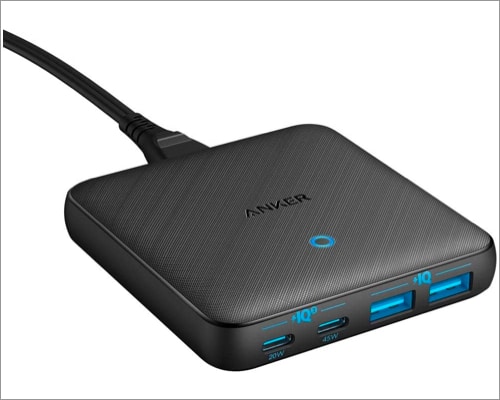 With the latest PowerIQ 3.0 technology, Anker PowerPort stands as one of the top draws in the list of the best USB-C chargers for Mac. The multiple ports provided by this wall adapter are sure to take care of all devices at once. Based on the type of usage, you can plug in the port to the respective device.
This 64W 4 port charger is enough to power every MacBook released to date as well as other devices such as phones, tablets, and even external hard drives. The ports are also reversible, so they can be used with either USB-C or Lightning cables. The integration of gallium nitride against silicon has turned PowerPORT Atom III into the slimmest charger without compromising power.
It features a square design with a built-in LED indicator, so you can easily monitor the power output. Additionally, the built-in safeguard features ensure complete protection of your devices. So, the Anker PowerPort Atom III is the perfect choice for power users who need a reliable and versatile charger.
Pros
Delivers up to 65W of power
Supports Power Delivery (PD) charging protocol
Affordable price
Cons
Not as fast as some other chargers on the market
3. Belkin Boost 68W – GaN technology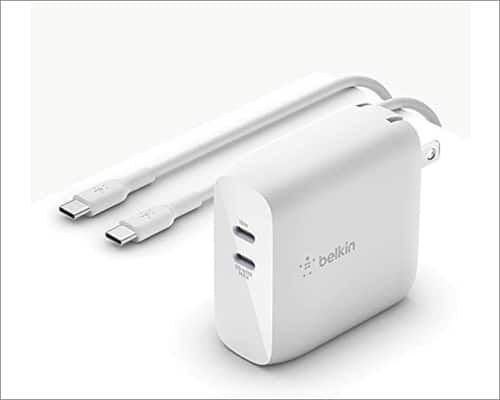 Being one of the most powerful wall adapters available on the market, Belkin Boost Charge is operated on a whopping 68 watts of power. It's the fastest way to keep your Mac charged at all times, so you never miss a beat.
The power delivery technology of this charger allows it to exhibit up to 3 amps of power without any hassle. What's more, there are two incredibly powerful ports offering to charge two devices at once. Based on preference, you can charge an iPhone at 60W or a laptop at 50W. The Belkin Boost Charge 68W USB-C Charger is also compatible with every USB-C device, so you don't have to hold yourself back.
Engineered with a modern and sleek design, Belkin boost charge offers great portability to its users. Moreover, you get a 2-year limited warranty and Combined Equipment Warranty worth $2500 for your devices. All in all, you can get the Belkin Boost Charge 68W USB-C Charger and ensure that your laptop is always charged and ready to go.
Pros
Device Insurance
Built-in safety features to protect your devices
2-year warranty
4. Satechi 75W dual type-C PD charger – All-in-one charging point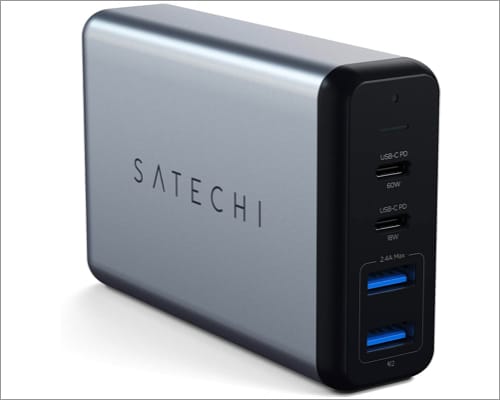 The introduction of the new Satechi 75W Dual Type-C PD charger has surely impressed tech enthusiasts. This powerful, fast, and efficient wall charger with 4 ports has raised an edge to keep the MacBook charged and secure on the go. The built-in chip detects and delivers optimal power output when multiple devices are connected simultaneously.
The 75 watts of output ensure that the charger has enough juice to quickly recharge your laptop as well as other Apple devices without compromising on power. Integrated with both USB-C and USB-A support, this adapter has everything you could ask for. Thanks to its compact size and foldable plug, the Satechi wall charger is the perfect travel companion for your devices.
With power delivery 3.0 and quick charge 4.0 support, as well as heat-resistant materials in the enclosure, charging is safe and worry-free. Having said that, Satechi's powerful and efficient charging capabilities, as well as its intelligent power distribution and versatile port options, make it an ideal companion for those carrying multiple devices.
Pros
Compatible with a wide range of USB-C and USB-A devices
Dual USB-C PD
Extra USB 3.0 ports
Cons
Charging cables are not included
5. UGREEN 100W USB-C charger – 4-in-1 multiport charger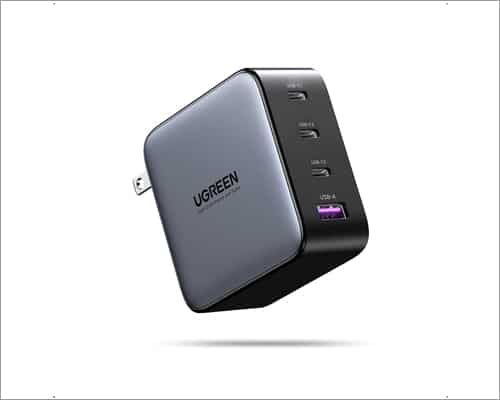 If you're tired of using tangled wires and glitchy adapters for your laptop, it's time to level up your game with the latest UGREEN USB-C charger. This charger is designed to meet the power needs of your laptop, providing up to 100W of power. It is a powerful, fast, and efficient charger with PPS3.0 technology, allowing for simultaneous charging of 4 devices at once.
Its fast-charging capability can charge a MacBook with an M2 chip from 0 to 55% in less than 30 minutes, making it perfect for users on the move. A combination of UL94-V0 certification and heat dissipation design protects your device from damage when charged overnight. With built-in temperature and voltage protection, your devices are safeguarded from internal damage, ensuring a secure charging experience.
Small enough to fit in the palm of your hand, UGREEN does not compromise with power or quality. Boasting a reliable and responsible choice for all your charging needs, this wall adapter can make your life hassle-free. Stay powered up and ready to go with this game-changing USB-C charger.
Pros
Wide compatibility
Safe and reliable
95% conversion rate
Cons
Not suitable for steam deck
6. TECKNET 65W PD 3.0 GaN charger – Sleek and stylish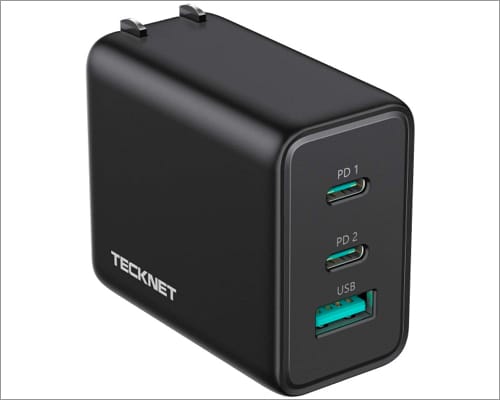 As there are so many options out there, having a product that meets all the requirements of the user without breaking the bank is paramount. Hence, I present you with the TECKNET 3.0 GaN charger. Boasting seamless support of 65W power delivery, this adapter can charge up your MacBook from 0- 100% in 2 hours. Isn't that something?
With a weight of 3.88 ounces and featuring a foldable plug, it is almost 50% lighter than regular chargers, making it a perfect travel companion. The composition of gallium nitride makes it more power efficient and prevents dissipating heat if used for a longer duration. Moreover, this adapter will prevent overcharging and power surges if you're prone to leaving your device on overnight.
Additionally, with this adapter, you get 3 ports that are compatible with a wide range of devices. It is equally efficient if you seek to charge multiple devices at once. With its reliable performance and impressive charging speed, the TECHNET 65W PD 3.0 GaN charger is an excellent choice for anyone looking for the best USB-C charger for MacBooks in 2023.
Pros
36 months support
Latest GaN chip technology
Switch support
Cons
Occasionally behavior changes with the number of devices
7. GMM 65W wall charger – Foldable GaN adapter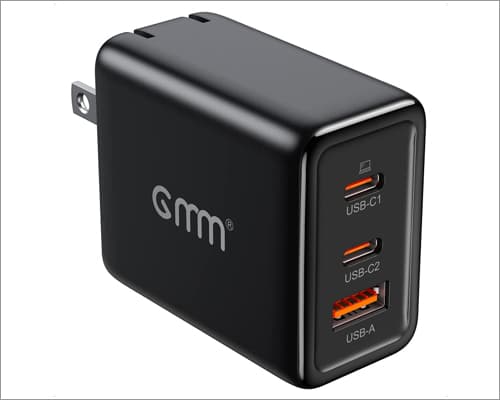 Level up your game with the GMM wall charger for MacBooks. In addition to high-speed charging and data transfer, the USB-C port supports USB Power Delivery 3.0 at a maximum power of 65W. Offering multi-pin support, this wall charger is three times faster than the traditional 5W chargers. Conclusively, it is capable enough to charge up your Mac from 0-100% within 2 hours.
The USB-C (PD3.0) and USB-A (QC3.0) ports can simultaneously charge up your devices at the same time. Thanks to the GaN III technology, you won't experience any noticeable loss of power. The sleek and efficient design makes it easily accessible without taking up too much space. This charger is perfect for those who need maximum charging power in a portable package.
With so many options at your disposal at an affordable price, this adapter is a true game-changer. Don't settle for average charging speeds. Elevate your MacBook experience with the GMM wall charger and stay ahead of the game.
Pros
Universal compatibility
12-month warranty
7 intelligent safety procedures
Cons
Requires separate connection for PPS mode
8. Hyphen-X 100W USB-C charger – Simple yet powerful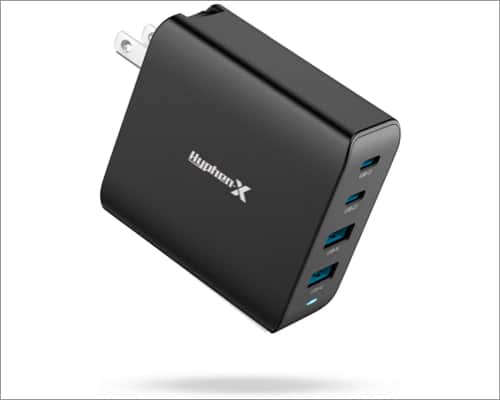 In this rapidly growing tech world, it's evident that you don't settle for anything less than you deserve. The same applies to your MacBook. If you're looking for a reliable and efficient charger for your Mac, then cross your path with the Hyphen-X USB-C charger. Designed to provide unparalleled performance, the Hyphen-X adapter is a powerhouse that delivers a staggering 100 watts of power.
The advanced Power Delivery (PD) technology makes sure that your Mac is ready to go in no time, regardless of the device you are using. Equipped with overcurrent protection, over-voltage protection, and temperature control, this charger ensures that your MacBook stays safe and secure while charging. It only gets better as the sleek design and unmatched functionality of this adapter is also suitable for devices operating at higher frequencies.
This highly portable adapter is most suitable for professionals who are always on the go. Slip it into your bag or backpack, and you'll hardly notice it's there until you need to power up your MacBook. Embrace the future of charging technology and never settle for less with the Hyphen-X 100W USB-C Charger.
Pros
18-month warranty
24/7 customer support
Reduces power losses by 80%
Power up your MacBook like never before!
And there you have it. Turn to a world of fast and reliable power delivery and say goodbye to slow charging methods. Whether you're working on a demanding project or exploring new horizons on the go, these chargers will ensure that your Mac is ready to go. Remember to choose the wall adapter that suits your needs best.
Thank you for reading. Please consider leaving your thoughts in the comments below.
Read more:
Readers like you help support iGeeksBlog. When you make a purchase using links on our site, we may earn an affiliate commission. Read Disclaimer.