Although an old-school method, RSS readers bring you all the relevant information in one place efficiently. If you still miss Google Reader, fret not! Many developers jumped on the wagon to develop neat reader apps, especially for macOS. I have rounded up the list of the best RSS reader apps for Mac. But before going further, let's understand what it is and how it helps.
What is an RSS reader app and Why do I need it?
An RSS reader, 'Rich site summary' or 'Really simple syndication' reader, is a web tool that allows you to check the updates from a website. It contains simple files or feeds that store the latest news in text format.
Websites are updated frequently with new content, and it may become a task to check them now and then. With an RSS reader app, you can access all your favorite website feeds, and social media feeds from a single place.
RSS readers are especially useful for writers, content creators, and others who rely on the latest news for their work. They are also easy to read and will automatically update themselves in the background, giving you the latest headlines at all times.
Mac users have plenty of tools to choose from, but I've listed the 5 best below.
Best RSS reader apps for macOS
1. Reeder 5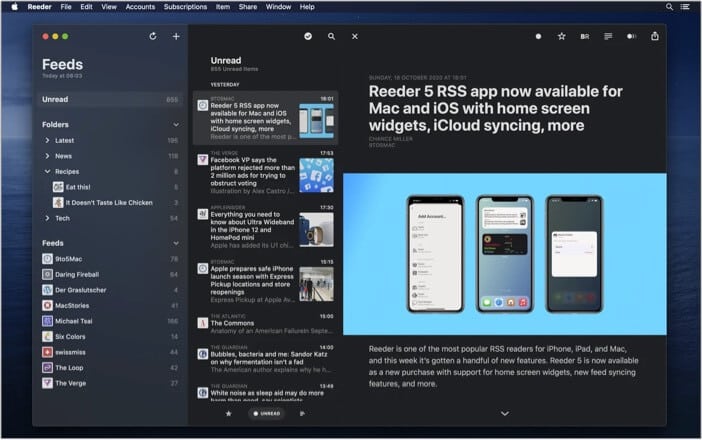 The Reeder 5 app for Mac is an RSS reader that features one of the best user interfaces among all readers. Although this app will cost you money, it is worth every penny.
If you're someone who loves to stay updated and read all the latest news, you'll enjoy the 'Read Late' and 'Mark as Read' features available on Reeder 5. It supports various third-party feed services such as Feedly, NewsBlur, Instapaper, Pocket, and more.
If you use another RSS reader but prefer Reeder, you can move the OPML file and get all your feeds back. It also offers an iCloud sync feature, which syncs the RSS feeds between an iPhone and Mac.
Price: $9.99
2. NetNewsWire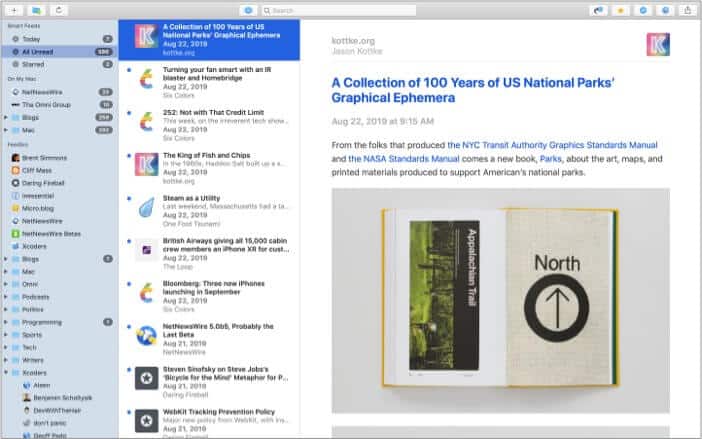 The NetNewsWire RSS reader app is a popular tool that offers a clean and fast user interface. This is an open-source tool, meaning it's free to download. This Mac app offers support for Feedly, Feedbin, and allows you to import the OPML file as well.
If you're an avid RSS feed reader, you may have a paid subscription to a feed service. You can easily sync your account on NetNewsWire and get access to all your feeds. The same goes for Feedly users. You can sync your feed, including the read items.
The app has a simple two-column interface with an old-school aesthetic to it. Well, most apps on this list have a similar layout, but this app is extremely simple. You can use keyboard shortcuts to navigate around the interface, and there are plenty of customizations available. This is a great option if you are looking for a free RSS reader.
Price: Free
3. ReadKit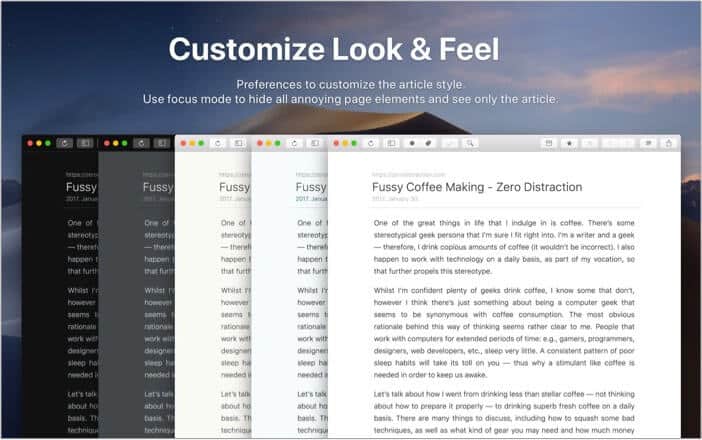 If you want an RSS reader app that offers support for plenty of Read it later services, lets you manage your feed subscriptions with ease, and has a simple design, you've got to check out ReadKit.
This paid reader for Mac supports services such as Readability, Pocket, Instapaper, etc. You can use these services to organize and save stories that you may want to read later. The app also offers the ability to star a story through the interface.
The application comes with a Smart Folder option that enables you to manage your feed easily. You can organize them into different categories or subjects such as Apple, Android, Mac, Windows, Entertainment, etc.
ReadKit comes with support for several RSS feeds such as Feedbin, Feedly, NewsBlur, Fever, and others. It also gets a Focus mode that enables full screen and allows you to read an article without any distractions. There's also a search function available on the app.
Price: $9.99
4. Feedly: Read more, know more‪.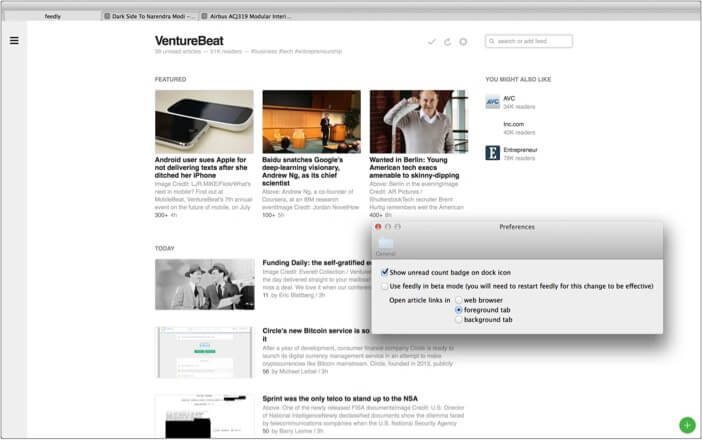 Feedly is one of the most popular RSS readers available today and is also one of the simplest ones out there. The Feedly app for macOS looks just like its web app, and that's because it essentially is one.
This app was started as a web app and then converted to a desktop app for macOS. This is the best app for beginners, in my opinion, as it allows you to choose the categories and select websites to start your feed.
You can choose different RSS sources based on categories such as Technology, Sports, Business, Health, Startup, Space, and more. After selecting the categories of your liking, you can add the RSS feeds within the category. Feedly does everything else for you, and you're treated with a great reading experience.
It allows you to login using Google or Twitter accounts as well. You can also add your custom news feeds, and it gets its built-in browser. Feedly is a free app, but if you have a massive list of sources, you'll have to subscribe to Feedly Pro at a monthly subscription of $7.99.
Price: Free (In-app purchases start at $7.99)
5. News Explorer‬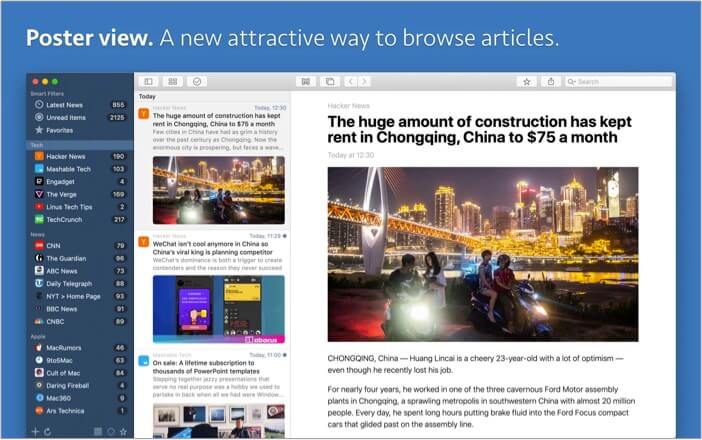 News Explorer is a feature-packed RSS reader app for macOS. It not only does RSS well, but it goes well beyond that. This app has a clean user interface and allows you to add RSS feeds, JSON, Atom, and even Twitter subscriptions.
All of this is then accessible from one single feed, making it a breeze to go through all your subscriptions. News Explorer can also add Podcast RSS feeds and listen to them while scrolling through other news articles.
The app offers good customization and features a Reader view that lets you view and read the entire article without any distractions. It supports Twitter replies as well, which allows you to reply and retweet from your feed without leaving the app or opening a browser. It works with offline Read it Later services such as Instapaper, Pocket, and others.
Price: $9.99
FAQs about RSS feed readers for macOS
Q. How do I set up an RSS feed on my Mac?
You can use one of the above-mentioned RSS feed reader apps to set up an RSS feed. Once you've installed the app of your choice, you can simply add the website, import an OPML file from another RSS reader, or sync with supported feed readers.
Q. Does Mac Safari Have an RSS reader?
Apple's Safari browser does offer a barebones RSS reader experience that shows your feed in simple text with a summary and title for your articles. However, you can add extensions to get a better viewing experience.
Q. What does an RSS feed look like?
An RSS feed consists of articles from all your subscription and includes images, titles, and a little summary of the article. You'll usually find a title and summary on a basic feed, but advanced readers offer more information such as images, videos, and more.
Q. How do I get an RSS feed?
Most websites have a feed that delivers news and articles to a feed reader. You can type in the web address in your RSS reader to gain access to the website's feed. You can get an RSS reader app for your iPhone or iPad as well.
Read more:
Readers like you help support iGeeksBlog. When you make a purchase using links on our site, we may earn an affiliate commission. Read more.
Siddharth is a freelance technology writer with over a decade of experience. He has written tutorials, guides, features, how-tos, listicles, and more for sites such as 91mobiles, MySmartPrice, GadgetReview, TheAndroidSoul, and more. In his free time, he loves to travel, ride motorcycles, watch movies/TV shows, and pet dogs.