Jigsaw puzzle games have been a well-liked category, coming a long way from simple picture-rearrangement games to ones with solid plots and appealing visuals. Also, they are fun and instructive since they test cognitive abilities and develop children's intellectual skills. However, finding the best jigsaw puzzle games is never easy. Therefore, I have compiled a list of the top jigsaw puzzle games for iPhone and iPad.
1. EasyBrain Jigsaw Puzzles – Editor's choice
Requirements: iOS 11.0 or later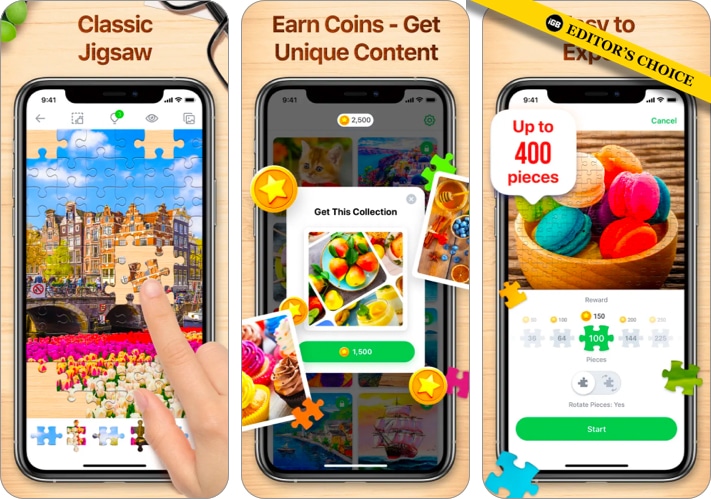 You will get a captivating experience with over 13,000 adorable HD graphics. So, you can de-stress and have hours of fun while exercising your short-term memory and focus. It offers lots of free high-quality images. You can choose from several categories: colors, flowers, nature, animals, art, landmarks, etc.
Also, you will never get bored as it releases a new free puzzle daily. When you complete the puzzle, you will earn coins and spend them on specialized collections and puzzles. I liked the game events and exclusive postcard rewards. If you get stuck, use Hint to fit the next puzzle piece.
Choosing 400 puzzle pieces mode and turning on rotation can make your game more challenging. Besides, the individual backgrounds allow you to select your preferred look.
Pros
Personalize the difficulty levels
Get hints
Price: Free (In-app purchases start from $3.99)
2. Jigsaw Puzzles for Adults – Use your own photos
Requirements: iOS 12.0 or later
This puzzle game for iPhone and iPad offers over 10,000 free jigsaw puzzles and adds new ones daily. You may upload your photos to create puzzles. I liked their 12 different levels of difficulty. So, as per your convenience, you can choose from 12 to 440 puzzle pieces. Also, the huge collections of 17+ categories have every kind of image you want.
The app allows you to set the backdrop color and puzzle-piece shape to get a more personalized vibe. For each puzzle independently, you may enable or disable the piece rotation. Besides, before holidays like Christmas, Halloween, and Easter, they come up with special puzzle packs.
The game receives a significant update on Wednesday, including several large puzzle packs. I personally work on numerous jigsaw puzzles at once, and its autosave feature helps store the progress. But it needs some upgrades to work smoothly.
Pros
Weekly big puzzle packs
17+ categories
Cons
Problems in saving the progress
Price: Free (In-app purchases start from $0.99)
3. Magic Jigsaw Puzzles – In-game music library
Requirements: iOS 13.0 or later
The Magic jigsaw puzzle is a widely popular game with 100 million global downloads. It's over 30,000 HD puzzle gallery has special collections from Disney, Pixar, and Nickelodeon. Also, you may use your photos as puzzles. I liked its in-game music library that allows you to choose your favorite song to go along with your stress-relieving puzzle sessions.
In its 6 levels of difficulty, you can choose 1200 pieces as the highest. Besides, it allows attempting many puzzles at once to track your development. Also, you may solve the problem by looking at the final image. To make the game more challenging, turn on the rotation mode and move the pieces in groups. Magic Jigsaw Puzzles has the greatest online community where you can participate in weekly competitions.
Pros
Weekly competitions
Great Magic Jigsaw Puzzles community
Cons
The app freezes sometimes
Price: Free (In-app purchases start from $0.99)
4. Critical Hit Jigsaw Puzzle – For disney lovers
Requirements: iOS 11.0 or later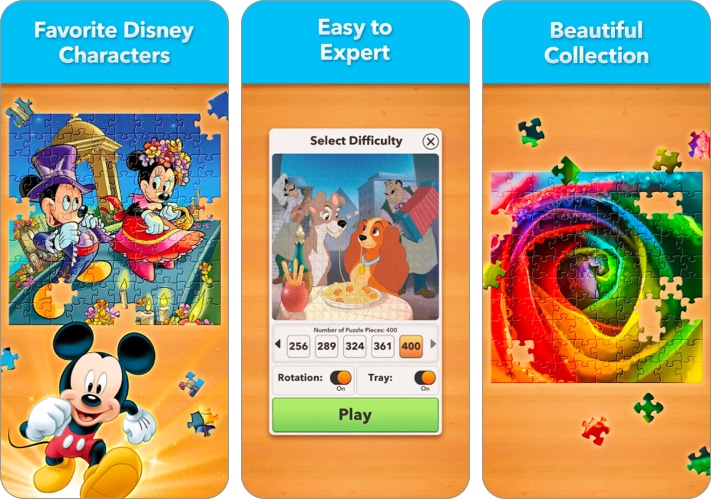 This jigsaw puzzle game has collaborated with Disney to offer fantasy puzzles of Mickey & Friends, Snow White and the Seven Dwarfs, Beauty and the Beast, etc. There are over 25,000 HD images with daily free puzzle addition. If you are playing on the iPad, you may choose from 9 to 1024 pieces for the iPad. And for iPhone, it allows for 9 to 400 pieces.
Besides, you will never be bored as the app provides free puzzle packs for download and launches new ones each week. When you solve puzzles, you will get bonuses, and you can use that jigsaw credits to purchase new puzzle packs. Also, you can save your completed puzzles and share them with others. I liked the game center leaderboard feature with 40+ different goals to complete.
Pros
Good for kids
Leaderboard goals
Price: Free (In-app purchases start from $0.99)
5. Jigsaw Puzzle Wow – Completely free
Requirements: iOS 9.0 or later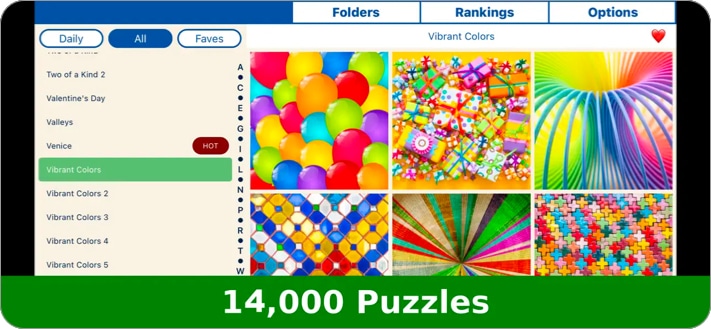 If you are looking for completely free jigsaw puzzle games for iPhone and iPad, here it is. This offers 14,000 puzzles and 500 sets of puzzles. Besides, you can use your images to make puzzles. On your iPad, the puzzles have 625 pieces or more. But there are only 100 pieces of puzzles on iPhone and iPod. The piece rotation and ranking board feature a level of difficulty and make your game more enjoyable.
Pros
Free 14,000 puzzles
Ranking boards
Cons
The gaming interface needs improvement
Price: Free
6. Jigsaw Puzzles Plus – With soothing music
Requirements: iOS 9.3 or later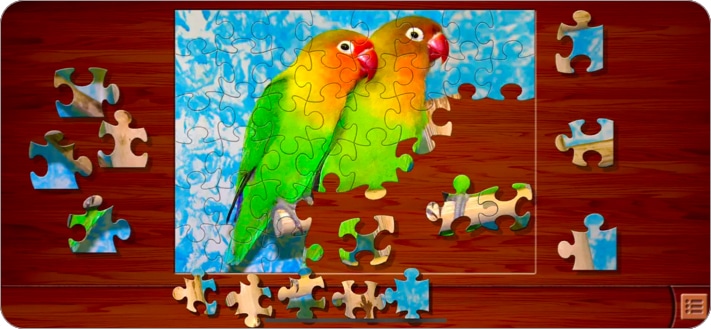 The Jigsaw Puzzle Plus game is ideal for older iPhone versions as it runs on iOS 9.3 or later. You can enjoy HD images' jigsaw puzzles in various categories. As it's designed for iPad, you need to play in landscape mode on iPhone. Also, you may choose the puzzle's size and degree of difficulty. I loved the soothing music and other tranquil sounds it offers to calm the mind and reduce mental stress.
Pros
Different shaped puzzle pieces
No ads
Price: Free (In-app purchases start from $0.99)
7. Jigsaw Puzzles Epic – Fully HD optimized
Requirements: iOS 11.0 or later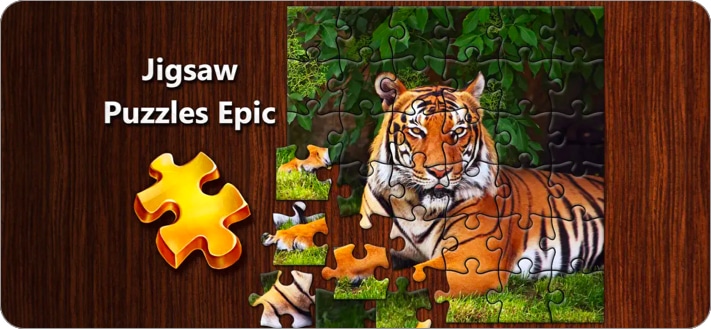 The Jigsaw Puzzles Epic has over 10,000 HD puzzles in over 250 distinct bundles. You may also use your photographs to make puzzles. Besides, every puzzle is unique since the pieces are all of different shapes. The best part is it offers daily free puzzles and regularly updates the puzzle packs.
The app has 11 levels of difficulty with over 625 pieces, offering various challenges to complete. Also, you can check your ranking, thanks to the integration of Leaderboards and Achievements with Game Center. Besides, you can work on many puzzles at once by saving all of them in progress.
Pros
Simple to play
Option to disable zoom and snapping
Cons
Lack of puzzle piece shapes
Price: Free (In-app purchases start from $3.99)
8. Puzzle Games – For beginners
Requirements: iOS 10.0 or later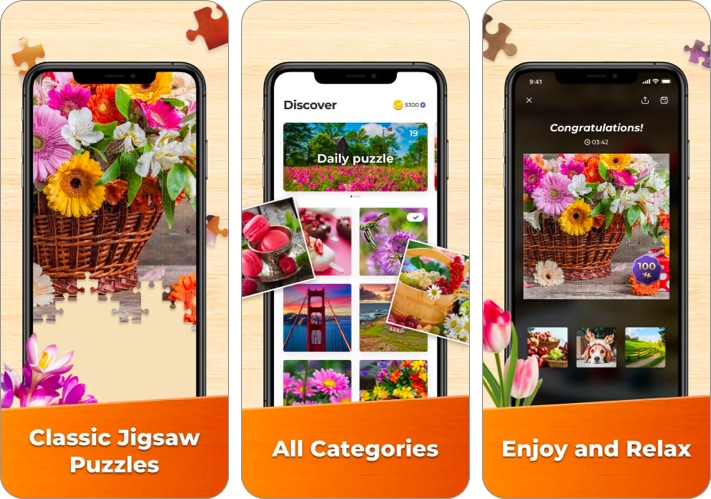 If you love nature photos in HD, this puzzle app is perfect for you. It offers new puzzles daily, and you can view them monthly calendar-wise. Also, the intriguing challenges keep you returning to play. You may also save your solved puzzles in a collection.
The personalization allows you to set over 625 pieces and autosave your progress. But there is no landscape mode that is not good for iPads. And you need to learn how to use the controls via trial and error since there is no in-game assistance to explain what they do.
Pros
Special events
Tiles mode
Cons
No landscape mode
No in-game help
Price: Free (In-app purchases start from $0.99)
9. Jigsawscapes – Play offline
Requirements: iOS 10.0 or later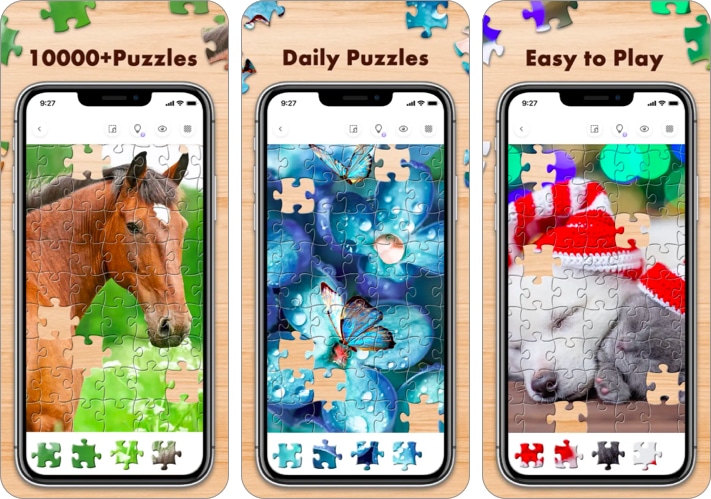 Popular and compelling Jigsawscapes offers over 7000 puzzles to develop your brain and add 20 new puzzles daily, available offline and online. The puzzles are intended to provide relaxation to both novice and experienced gamers. Also, you may customize the difficulty level by adjusting the number of pieces for each problem.
Besides, you can create your Puzzle Collection to save all completed puzzles in one location. The custom backdrop feature allows you to use your preferred background while playing. I must say this app has a user-friendly design, simple controls, and a clean structure. So, people of all ages can enjoy the game.
Pros
No need for internet
User-friendly design
Price: Free (In-app purchases start from $6.99)
10. Art Puzzle – Jigsaw coloring game
Requirements: iOS 12.0 or later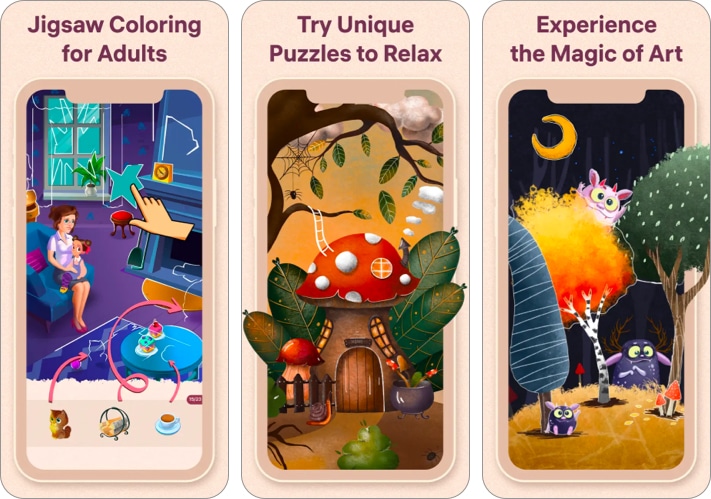 Art Puzzle offers jigsaw puzzles and coloring books together. Here, you can solve puzzles by piecing vibrant animated artwork together. Each puzzle is unique. Besides, you can enjoy thousands of images from various artists, each with their distinctive technique and style. If you are stuck on a puzzle, look for hints to complete them quickly.
Pros
Animated puzzles
Only one hint on iPhone
Price: Free (In-app purchases start from $4.99)
So, that's all for today, folks!
The jigsaw puzzle games are perfect for both kids and adults. I love making puzzles from my photos and sharing them with my friends. Which app will you download to play? Let me know in the comments below. Also, explore other games for iPhone and iPad…
Read more:
Readers like you help support iGeeksBlog. When you make a purchase using links on our site, we may earn an affiliate commission. Read more.
Ava is an enthusiastic consumer tech writer coming from a technical background. She loves to explore and research new Apple products & accessories and help readers easily decode the tech. Along with studying, her weekend plan includes binge-watching anime.