If you want to add production value to your videos, the biggest improvement you can make is using a gimbal along with your iPhone to shoot them. Shaky camera work can often lead to bad impressions and an amateurish feel. The gimbal's stabilization mechanics help reduce this.
Well, this is why I've curated this list of the best iPhone gimbals. Let's take a look at the entries!
1. DJI OM 5 – Editor's choice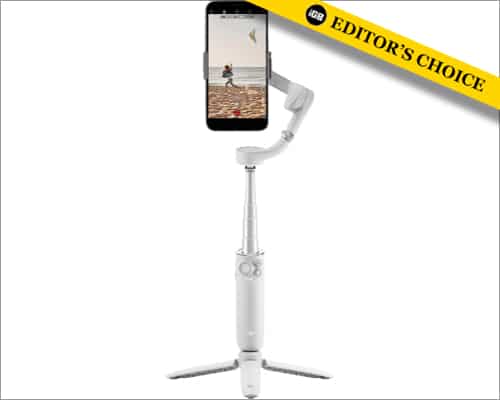 The best gimbals provide professional quality and a worthwhile experience without burning holes into your pocket. While the DJI OM 5 may not be cheap, its price point is justified considering how great it is.
The gimbal is lightweight and can fit into your palm. This makes it extremely easy to carry around, especially if you're vlogging during a trek or hike. You can also extend it if you need wider shots with the built-in extension rod.
If it's the first time you're using a gimbal, the DJI OM 5 will help you understand the correct way to shoot your videos. ShotGuides software is implemented to recognize the surrounding environment and provide the best shot sequences. It also uses the ActiveTrack 4.0 software to track objects in the surroundings easily. This works even if you're moving the camera fast.
Best of all, it has a 3-axis motor that works perfectly to keep your videos synchronized and stable. Shaky shots will become a thing of the past. Coming to the device's build, there's a magnetic surface with rubber coating on the sides to keep your phone secure.
The only downside is that you might face issues mounting the phone if you're using a heavy or thick phone case.
Pros
Lightweight
Can be extended
Excellent software implementation
3-axis motor
Good build quality
Cons
Difficult to use with a heavy phone
2. Zhiyun Smooth 5 – Perfect for professionals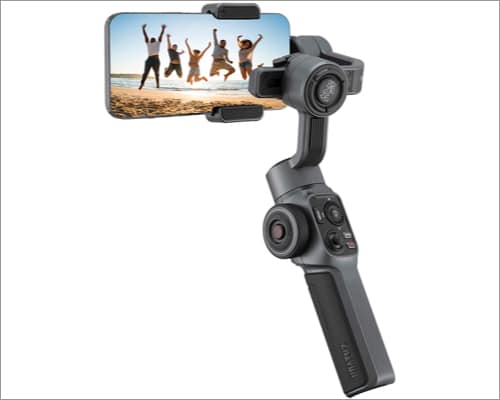 What makes a manufacturer great is when they improve on their previous products. This is exactly what Zhiyun did. They reduced the size of the Smooth 5 by 60%, as compared to the Zhiyun Smooth 4. This makes the gimbal exceptionally lightweight. You can fold it too!
The 3-axis motor helps you stabilize your videos and even add the flair of cinematic videography. However you choose to shoot your videos, you will not be disappointed by the results.
You can also attach a magnetic fill light that adds 360° of light around the phone for the perfect lighting. While the initial color temperature is 5300K to 5700K, you can change it according to your requirements.
Additionally, the SmartFollow 4.0 software used by the gimbal helps you take clearer shots even when you're moving. Face tracking works much better through this, and so does centering the object. Lastly, you get a 1-year warranty with this beautiful device.
The gimbal isn't very durable or strong for multiple accessories, however. So you'll have to be wary of this issue.
Pros
Reduced size for better weight distribution
3-axis motor
SmartFollow 4.0 software is good
1-year warranty
Cons
Can't use too many attachments
3. hohem 3-axis gimbal stabilizer – World's lightest smartphone gimbal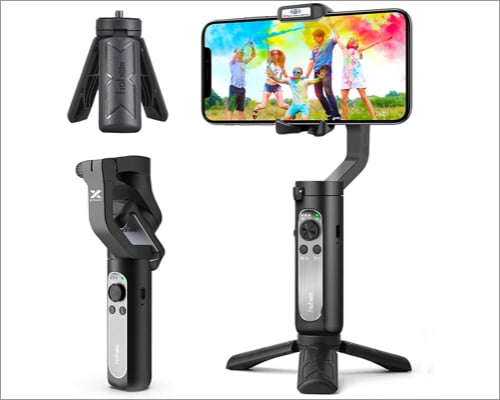 The lighter the gimbal is, the higher the chances that it may not be durable. However, even though the hohem 3-axis Gimbal Stabilizer is the lightest smartphone gimbal globally, it's also very durable.
Its lightweight structure helps you carry it almost anywhere. You can even fit it into your pocket if the need arises. This helps you create some amazing shots wherever you go. Gimbal's Moment mode also helps you add professional effects to your video, such as inception and timelapse.
There are four definitive following modes: pan follow and pan&tilt follow. This helps you create your shots the exact way that you want them. Moreover, the iSteady 3.0 Anti-Shake algorithm and the 2000mAh battery ensure that you take the most stable shots for almost 8 hours!
Lastly, the ease of use is worth mentioning. Whether you want landscape mode or portrait, shooting mode or film mode, all of it can be achieved by simply tapping the button(s) on the gimbal once.
However, the firmware for this gimbal needs to be better. Updates and tracking issues have been reported by previous users.
Pros
Very light
Plenty of following modes
Good battery backup
Easy to use
Cons
Firmware needs to be updated
4. Zhiyun Smooth Q3 – Excellent for night photography/videography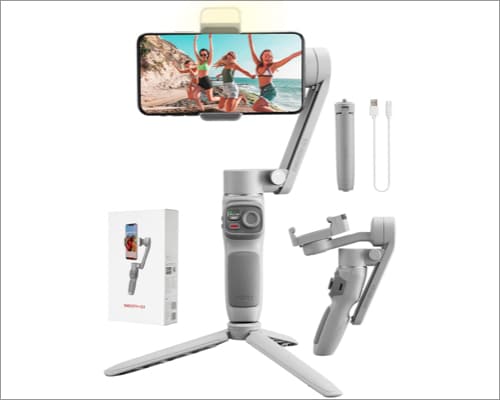 The Smooth Q3 is a lightweight gimbal that works well for photography or videography in the dark. This is thanks to the 3-axis stabilization motor and, more importantly, the 180° LED fill light attached to the gimbal.
You can also operate the gimbal hands-free due to the gesture control afforded by SmartFollow 3.0. Shoot pictures or capture videos with the simplest gestures, and it can be activated simply through the companion app.
The gimbal also uses its software to provide the "Hitchcock Effect", a zoom shot that is synonymous with the camerawork of Alfred Hitchcock. Fancy yourself as a filmmaker? This iPhone stabilizer gimbal will help you take the shots you want.
Unfortunately, the ZY Cami App and the gimbal software need some updates. Both tend to crash.
Pros
LED fill light provided
Good for night shoots
3-axis motor
Fancy effects
Cons
App and gimbal software needs updates
5. DJI OM 4 SE – Best for content creators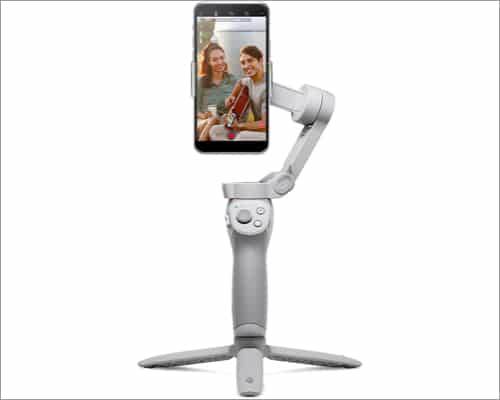 If you're into creating content such as short films, reels, or TikTok videos, this is the iPhone gimbal you should go for with your eyes closed.
The gimbal is small and lightweight. This makes it easy to carry around wherever you go. It becomes especially handy when you want to travel light.
Additionally, the gimbal uses the patented ActiveTrack 3.0. This software helps the gimbal (and the phone) track important objects in the shot without hassle. From pets to children to adults, all the important people and events in your life will get captured with the utmost ease.
The gimbal also features Story Mode. This is where things get interesting. The Story Mode allows you to use all the zoom, music, and other essential effects on your video without a third-party editor. A few taps will do all the work that you usually take hours to do.
Moreover, the 3-axis stabilizing motor keeps the videos from jittery quality. The gimbal can also be controlled with gestures.
However, if you're into professional photography or videography and need to use external lenses, this gimbal isn't the best fit. It can't handle heavy attachments.
Pros
Great for content creators
Lightweight
Software implementation is done well
3-axis stabilizing motor
Cons
Heavy attachments cannot be used
6. Zhiyun Smooth XS – Excellent for selfies and vlogs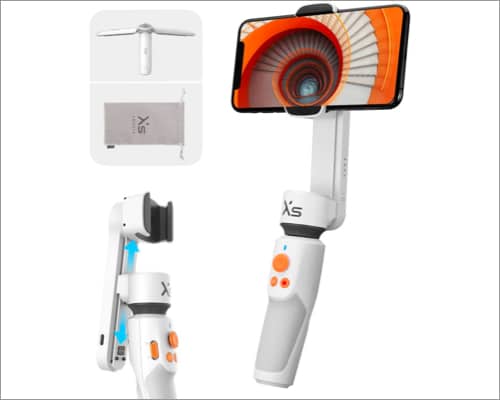 Zhiyun has been producing some amazing gimbals for quite some time. With the Zhiyun Smooth XS, you get an amazing design choice and a steady device for taking the best selfies and vlogs.
The Smooth XS uses an elegant sliding mechanism for two detachable parts. This makes it easy to carry around as well.
While you're not getting the latest 3-axis stabilization motor, you get a 2-axis motor that's more than enough for all your selfie and vlogging needs. You can also extend the gimbal using the built-in telescopic selfie extension rod. This changes the length of the gimbal from 10″ to 20″.
For your selfie needs, you can control the gimbal through either Bluetooth or the ZY Cami app. Once your iPhone is connected to the gimbal, the onboard controls on the gimbal can be used for controlling your phone. From timelapse to panorama mode, all the features can be accessed through the gimbal itself.
This gimbal works best with smaller phones, however. Larger phones either don't fit into the mounting station, or they destabilize the gimbal, thanks to the extra weight.
Pros
2-axis stabilization motor
Good for selfies and vlogs
Gimbal's buttons can be used for controlling the phone
Extendable selfie stick
Cons
Large phones will be difficult to handle
7. hohem iSteady V2 – For a little bit of everything
The hohem iSteady V2 is a jack of all trades. Whether you're a professional or a beginner, you can use this smart iPhone gimbal for all your content purposes.
One of the best things about this gimbal is that you don't need an app. The in-built AI vision sensor does most of the work for you. It can track all the important objects in the shot without external help. Moreover, the LED video light with the gimbal is perfect for shooting in different lighting conditions.
The gimbal uses the iSteady 4.0 anti-shake algorithm and the 3-axis motor to produce professional videos. Additionally, you can implement Hitchcock, Inception, panoramic ring shooting, and other such exciting modes into your videos.
Lastly, the battery life on this gimbal is exceptional. This gimbal stabilizer for iPhone comes with a massive 2800mAh battery. This can easily provide you with up to 9 hours of usage.
Unfortunately, some users have stated that the activation for the gimble takes plenty of time. Hopefully, the manufacturers can fix this in the newer models.
You can check out our full review of hohem iSteady V2.
Pros
Excellent battery life
No need for app installation
LED video light provided
3-axis motor
Software provided works well
Cons
Gimbal activation takes too long
8. Fantaseal 2-in-1 ergonomic portable stabilizer – Most versatile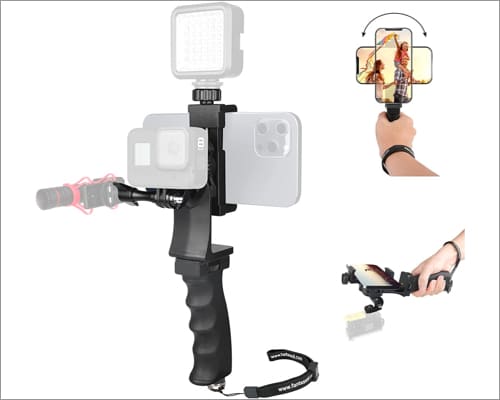 If you're looking for a gimbal that can turn your smartphone into a complete video camera, this is it. This iPhone gimbal from fantaseal has to be one of the most versatile gimbals you can find.
Holding this gimbal is exceptionally comfortable. The ABS material used for the handle feels durable and ergonomic, thanks to the finger-shaped grooves on the body. This ergonomic and durable feel comes in handy when shooting fast-paced action shots.
If you've got another camera, like a GoPro, you can attach it on top of the smartphone. Thanks to the gimbal and its software, the smartphone will now act as a remote control for your GoPro. Isn't that neat?
The dual hot design of the gimbal provides the added benefit of attachments. With this, you can attach mics and video lights to improve your video quality, as per your requirements. This gimbal truly is a versatility champion.
The L-arm could have been sturdier, though. If you add too many attachments, the arm starts to wobble.
Pros
Ergonomic
Versatile enough to be used with other devices
Perfect for taking action shots
Cons
Build quality needs improvement
9. ULANZI U Rig Pro – Best budget buy for filmmakers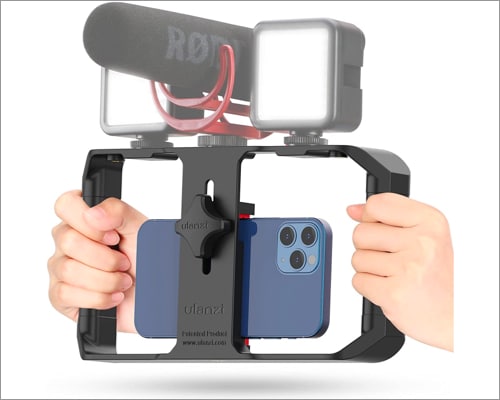 When you first look at the ULANZI U Rig Pro, you'd be surprised at its design. However, the design is practical and, considering the price point, perfect for budding filmmakers.
The iPhone stabilizer gimbal comes with 3 cold shoe mounts. This gives you multiple options for mounting your device based on the shot you want to take. It also has 3 Standard shoe mounts and a couple of Universal Threads. This implies that attachments for lighting and microphone won't be an issue either.
With the Universal Tripod Thread at the bottom, you can mount the tripod on a tripod, jib, stabilizer, and slider. This extends the number of options you have in terms of angles and shoot spaces.
My only gripe with this iPhone gimbal is that the body's made of plastic. While it feels sturdy, extended usage or too many attachments could dent the body.
Pros
Aggressive pricing
Unique design
Many options for mounting
Good for budding filmmakers
Cons
Plastic body doesn't feel durable in the long run
Summing up
How did you like this list of the best gimbals for iPhone? I've tried to include different iPhone gimbals based on preferences and budgets. Considering the number of options in the market now, you'd be spoilt for choice.
Have you ever used a gimbal? Or do you prefer more traditional methods of videography? Let me know your experience in the comments section!
Read more:
Readers like you help support iGeeksBlog. When you make a purchase using links on our site, we may earn an affiliate commission. Read more.
Anirban is a literature post-grad who delves in philosophy and postmodern novels when not writing on tech and gaming. His love for research is only trumped by his love for chai and heavy metal.