When it comes to quality video content creation, the struggle is real! The right gear makes all the difference in easing and streamlining the process. One nifty little gadget that I recently got my hands on is the Hohem iSteady V2 AI gimbal for iPhones and other smartphones.
I tested it out thoroughly to see how it performs, and this review will give you all the details you need. Keep reading to know if and why you should go for this relatively affordable smartphone gimbal.
But first, what is a gimbal?
If you're new to video-making, think of a gimbal as an advanced selfie stick or tripod equipped with sensors and motors to allow your camera or smartphone to pan, tilt, or rotate smoothly along an axis.
The most common type is 3-axis gimbals. These keep your camera stable while you move to capture sharp shots and smooth, fluid footage that looks professional. They're a must-have for vloggers, video content creators, or even photographers.
Hohem iSteady V2 gimbal at a glance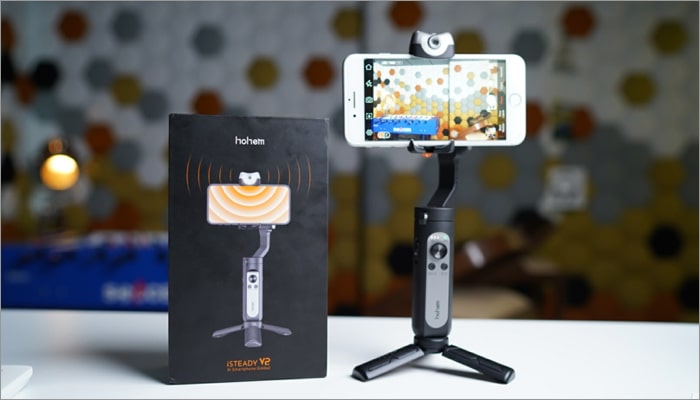 Right from the outset, iSteady V2 comes across as a sleek and sophisticated piece of equipment. The well-crafted box won me over the moment I received it. Inside, everything was snugly arranged and got me excited to start experimenting!
What's in the box?

Specifications
Weight: 263g
Dimensions (mm): 179 x 79 x 39 (Folded), 230 x 80 x 40 (Unfolded)
Maximum Payload: 280g
Rotation range: Pan 320°, Roll 320°, Tilt 270°
Bluetooth: 4.2
Battery: 2800 mAh Li-on
Charging: Bidirectional USB Type-C port
Color options: Black, White
Supported systems: iOS 10.0 and later, Android 6.0 and later
Features
Mechanical 3-axis stabilization
Built-in AI tracking
Gesture control
Dual orientation (portrait and landscape)
Built-in mini ring light with 3 brightness settings
Pan & tilt follow
Auto-inception mode
Sport mode
POV All Follow mode
Design and build
The Hohem iSteady V2 is made of sturdy non-slip plastic that's easy to grip. It comes with a mini tripod that can be easily screwed on and off as necessary.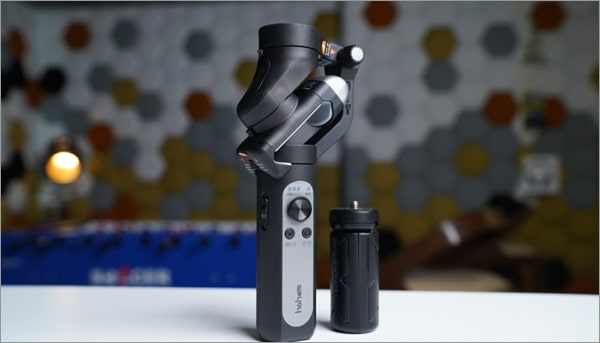 It boasts innovative hardware designs with a built-in AI tracking sensor. This means it can independently handle face and gesture tracking without any software assistance.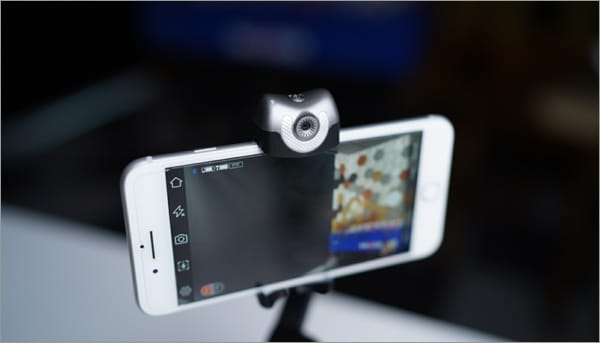 Further, it's got a small ring light built around the AI sensor. This has three brightness settings and comes in handy for low-light shooting,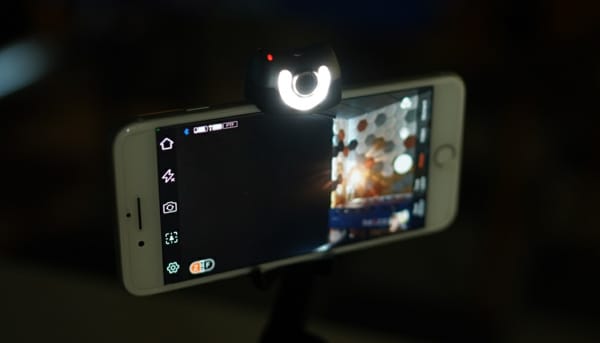 It's incredibly light, which is remarkable for a device that packs in an internal battery and motors. The gimbal supports phones with a maximum width of 55-90mm, a thickness of 11mm, and a weight of 280 grams. With a phone attached, the gimbal weighs about 500 grams. It's pretty comfortable to hold and carry around.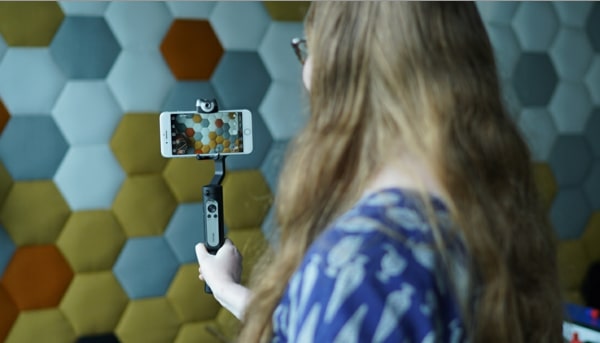 Further, the phone clasp is well-made and sturdy. You can easily insert and remove your phone.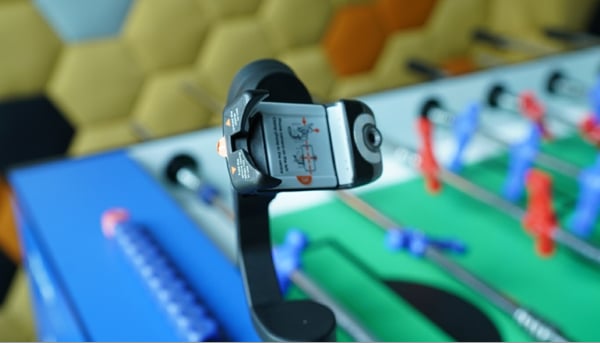 The handle is ergonomically designed to fit comfortably in your hand.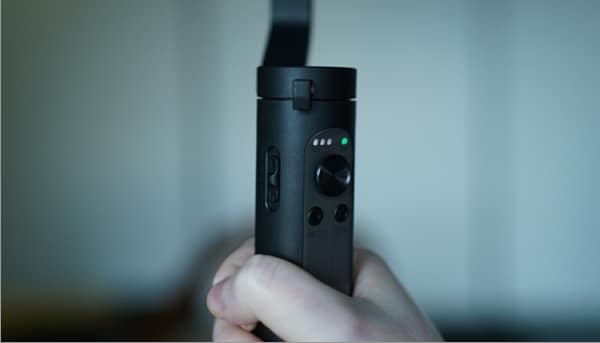 The only drawback about the build quality is the mini-tripod, which feels a bit fragile. So, be mindful when using it.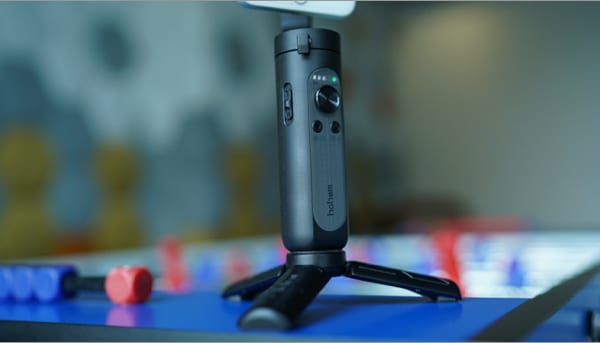 Also, note that the Hohem iSteady V2 is not waterproof. So it's unsuitable for shooting in the rain or underwater. Lastly, I feel that the design could have been more aesthetically pleasing. It seems pretty basic and lacks a wow factor when you first look at it. However, it more than makes up for this in functionality (explained later)!
Performance and stability
I tested the iSteady V2 with an iPhone 8 Plus, an iPhone X, and an iPhone 12 Pro Max. On the whole, it provides excellent stabilization for almost any smartphone.
However, note that the motor may appear in the frame if your phone's camera is too close to the central area. This is because the phone always needs to be centered within the clasp for the gimbal to function correctly. Since iPhones have cameras near the top of the phone, I did not face any issues with the motor appearing in my footage.
One of the most spectacular features is that the iSteady V2 automatically switches to low-angle shooting when you turn it upside down. This kind of camera movement can give you some pretty spectacular shots to play around with for your creative video projects.
Further, experimenting with the different modes like inception and time-lapse result in endless creative possibilities!
Stability is perhaps the most vital factor to look for in a gimbal, and iSteady V2 does not disappoint. It offers smooth footage for most circumstances. I tried walking around, dancing, rolling in a chair, and making a full circle, and iSteady V2 followed along perfectly without any glitches.
Even when you pick up the pace, it stabilizes pretty well and ups the quality of your video compared to footage taken with just your phone. So go ahead and take it along on your next adventure for some stunning footage.
Moreover, it did not tire my hands, and in fact, I was so enamored that I didn't want to put it down!
Lastly, the battery comfortably lasts for 7-9 hours, making it convenient for long shoots. Moreover, when you're not using it, it can double up as a power bank to charge your phone! That's a nifty little extra feature.
AI visual tracking
AI tracking is the flagship feature of the Hohem iSteady V2 gimbal, so I was excited to try it out. The AI sensor is built into a small module on top of the phone clamp. It gives you face or object tracking power when using the camera in any social media platform or video app.
So, it's perfect for shooting action scenes or video calls. The subject can move around, and the gimbal will automatically rotate to keep them in the frame.
To use the AI tracking, turn on the gimbal and push the button on top of the AI sensor. Wait a few seconds for the ring light to flash, and it's set. When using the front camera, you can enable AI tracking by making the OK sign with your right hand. The small red light flashes green which indicates that the gimbal is now tracking you.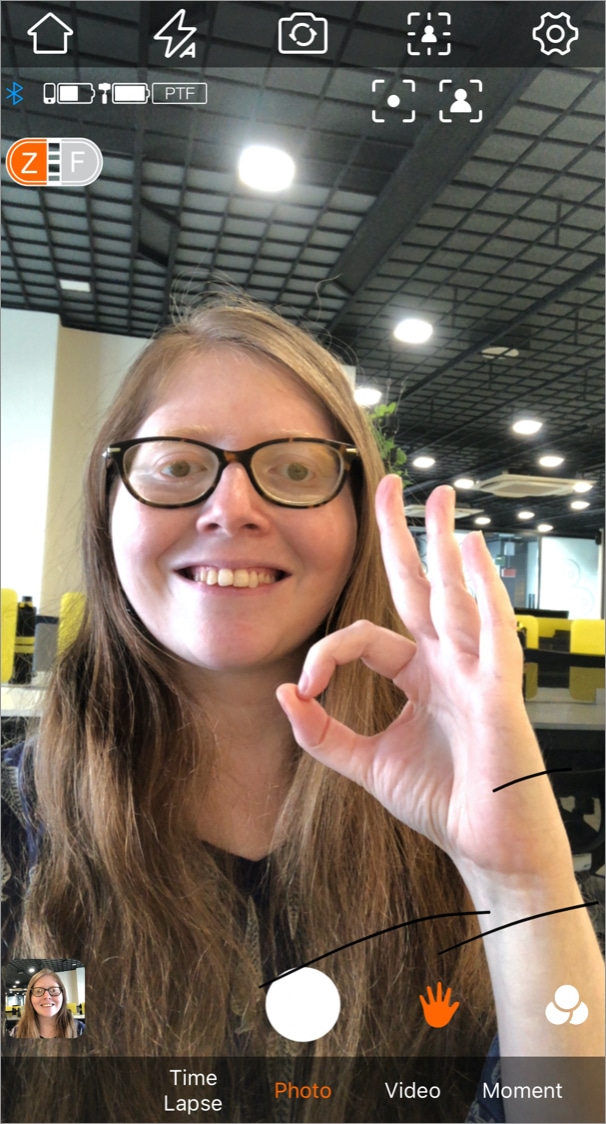 I am pretty impressed by the gesture recognition and intelligent tracking. I've not come across a system like it before, so it's truly the USP of the iSteady V2. It's incredibly responsive and works like a charm. It kept everyone at iGeeksBlog entertained for hours! I'm sure it'll add convenience to your video recordings.
Other gestures that you can use are as follows:
Hold up your hand to stop tracking
Make a thumbs up with both hands to switch to landscape orientation
Two thumbs pointed to the right will switch your phone to portrait orientation.
Of course, you can also achieve all these functions with the physical buttons on the gimbal. Now that we are done with the basics, let's understand how to use it!
How to set up and use the Hohem iSteady V2 gimbal
The gimbal comes with a handy manual that clearly explains how to set it up. Please do not attempt to set it up without first seeing this booklet, as you may end up damaging the motors. Here's an overview of the gimbal setup process:
Open the app and sign up for a Hohem account.
Next, loosen the knob to unfold the mount, insert your phone, and tighten the knob to hold the mount in place.
Long-press the Function button (small button on the handle's right) to turn on the gimbal.
Launch the Hohem Pro app on your phone and tap the Start button to start using the gimbal.


Make sure you secure your phone into the clasp before turning on the gimbal. Otherwise, the motor will repeatedly run through the startup motions that may damage the gimbal.
After mounting your phone, turn on the gimbal and open the Hohem Pro app to start using the device! It's pretty straightforward, but it may prove somewhat complicated for those who have never used a gimbal before.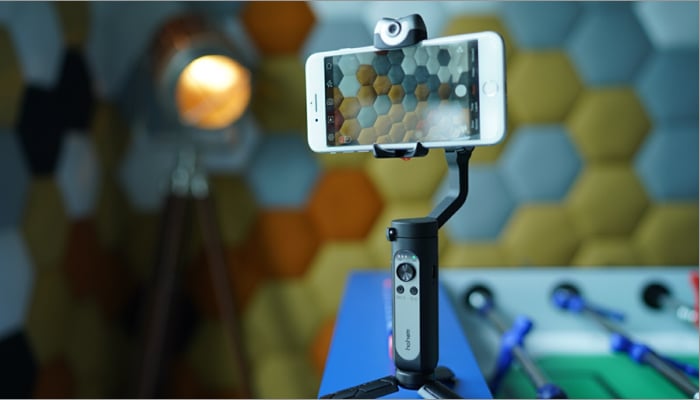 If the LED indicator lights do not appear when you turn on the gimbal, charge the gimbal. It took me about three hours to fully charge it.
On the whole, the setup process is pretty straightforward. But it might prove complicated for beginners. However, referring to the manual will help you out.
Also, note that the Hohem Pro app is needed to connect the gimbal to your phone. It also has a built-in camera functionality and many extra features. But you can also use the gimbal with the native camera app on your phone or other apps like Instagram.
The Hohem Pro app
The Hohem Pro app is incredibly functional and completes the iSteady V2 experience. It's straightforward and intuitive to use.
For AI tracking, you can select an object or face. Once enabled, the gimbal will move to keep the face or object in the frame.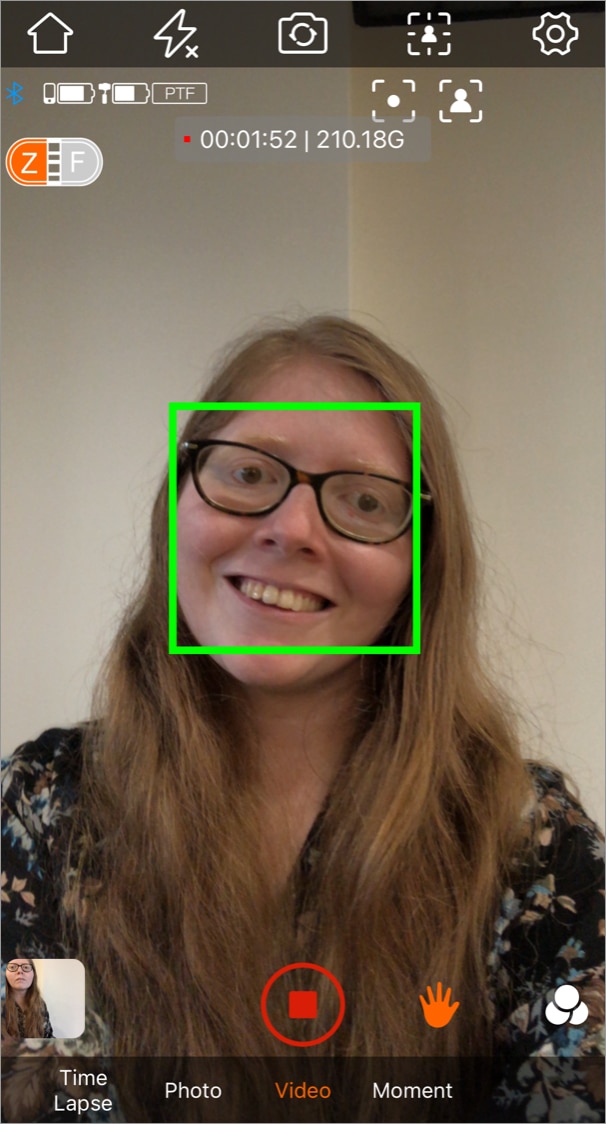 You can also adjust the motor speed to achieve better framing for fast-moving objects. But keep in mind that this can result in jerkier video and will also drain the battery faster.
Additionally, you can use the app for a range of functions as below:
Moment Mode
Auto-inception Mode
Motion Timelapse
Real-time Beauty Mode
Auto-Calibration
Online Firmware Upgrade
These are some pretty advanced functions given the size and price of the iSteady V2. If these seem overwhelming, don't worry. The Hohem Pro app includes detailed tutorials for each function.
There's also a selection of filters to play around with. Photos and videos are stored directly on your camera roll, so they're easy to find.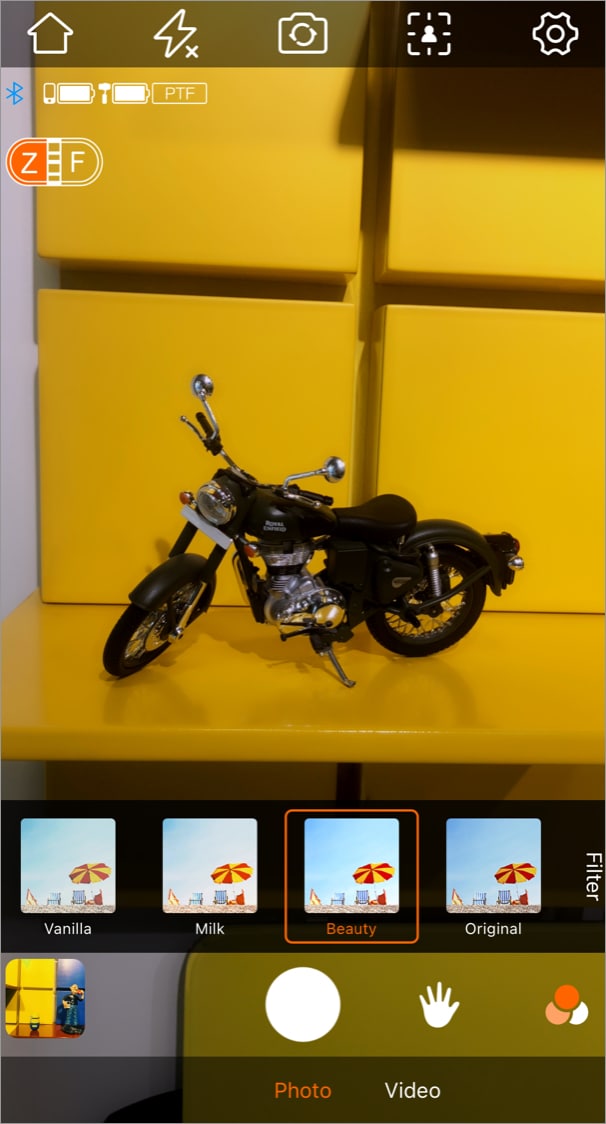 Verdict: Is the Hohem iSTEADY V2 the ultimate vlogging partner?
iGeekometer
Design
Build quality
Features and performance
Stability
Value for money
Whether using your phone's camera app or the Hohem Pro app, the iSteady V2's tracking functions work equally well. This is a standout feature because other gimbal apps do not adapt as well to the native camera on your phone. Moreover, the iSteady V2 gives you the significant benefit of face-tracking motion-sensing within your phone's camera.
Further, given the included tripod, gesture controls, and the option to use the gimbal without its app, this nifty device is an excellent all-in-one kit for vlogging or movie-making.
It's easy to use and carry with you wherever you go. Moreover, it packs a punch given the affordable price point. When you buy the Hohem iSteady V2, you get the latest technology to enhance your video production. This puts it a notch above similar products, making it a worthy little gadget for videographers of all skill levels.
Pros
Enables stable, smooth video recording
Fairly straightforward to set up and mount a phone
Full-featured mobile app with impressive built-in effects
Works independently with the native phone camera
Built-in light
Doubles up as an emergency power bank
Affordable price
Cons
Build quality could be better
Might be complicated for newbies
Price: $129.99
Read next: