If you're a content creator, streamer, vlogger, or rely on your iPhone's mic for work purposes, you're probably aware that while the iPhone's mic is good, an external microphone performs better in these circumstances. They're better at canceling out background noise and delivering crisp audio after processing.
So, if you're on the lookout for the best external microphones for iPhone, this article is for you. These mics have been arranged for different preferences, utilities, and budgets. Let's have a look at the entries.
1. Logitech Blue Yeti USB Mic – Editor's choice
Connector type: USB
Power source: Corded electric
Audio sensitivity: 120dB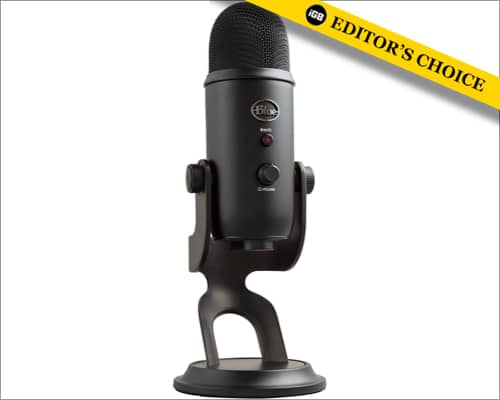 An all-purpose microphone has to do plenty of things well, from recording voices for a video to answering calls. It shouldn't break the bank either and has to showcase durability.
Keeping all these things in mind, Blue Yeti USB mic is a favorite at iGeeks. This is the same microphone that we use for recording our videos.
The microphone comes with a custom three-capsule array that produces crisp audio for different kinds of videos, whether a music video or vlog. Moreover, if you like adding extra effects to your voice during processing, the Blue VO!CE software provided with the mic gives you a range of custom enhancements.
You won't need multiple mic setups either, as this mic has four pickup patterns to minimize the loss in audio. These are omni, stereo, flexible cardioid, and bidirectional.
The mic's quality is good as well. Despite the lower price tag, the premium finish and onboard controls, provide a more holistic audio recording experience. Lastly, you can adjust the positioning and pivot of the mic to suit your recording process.
Besides, every product by Logitech, the parent company of Blue, boasts parts that can be recycled to create another product. Hence, the microphone is eco-friendly and boasts the Climate Pledge Friendly icon on Amazon.
Unfortunately, the only caveat with this mic isn't with the mic itself – it's with the customer support. Recently, the customer support experience for multiple buyers hasn't been good.
Pros
Custom three-capsule array provides versatility
Four pickup patterns
Aggressive price tag
Premium build quality
Eco-friendly
Cons
Customer service experience isn't great
Check out on: Amazon | Blue Mic | Best Buy
2. Movo VRX10 Universal Video Microphone – Best for interviews
Connector type: 3.5mm jack
Power source: No battery required
Audio sensitivity: 76dB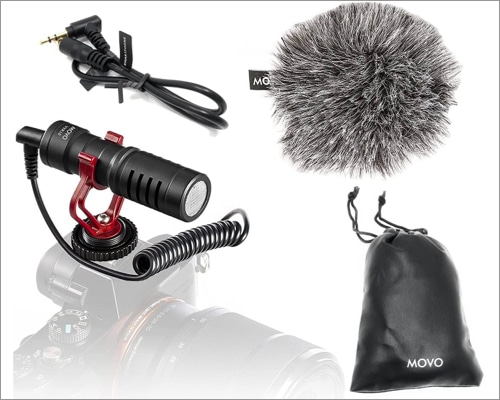 When you're interviewing someone, you need a microphone that isn't too expensive and doesn't weigh you down. The Movo VRX10 passes both of these criteria with flying colors.
This microphone is compatible with almost any device, from camcorders to iPhones, thanks to its 3.5mm jack. Moreover, it isn't powered by a battery. So, you don't have to worry about charging the microphone, lest it runs dry in the middle of your vlog.
The mic is constructed using aluminum, adding a strong layer of durability to the product. Even if the microphone slips from your hand and falls a few feet, you can rest assured that it is intact.
Last but not the least, this microphone comes with a 1-year warranty and US-based customer support to ensure that your product's aftercare is in safe hands.
The vocal pickups seem to run slightly on the colder side, however.
Pros
Universal compatibility
Good build quality
No need for batteries
1-year warranty
Cons
Vocal pickups aren't as good as its competitors
3. HyperX QuadCast S – Best for gaming
Connector type: USB
Power source: Corded electric
Audio sensitivity: ≥ 90dB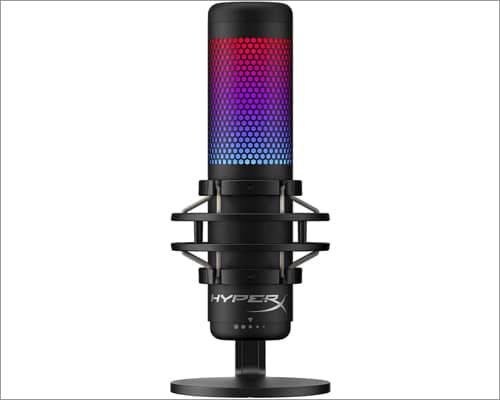 When you're gaming, you require a good mic for two purposes. Firstly, to be heard clearly over the deafening chat of your teammates in-game. Secondly, when you're streaming on Twitch or YouTube.
The HyperX QuadCast S is near perfect for gaming. The first thing you notice about the mic is the beautiful design with RGB lighting. This lighting is dynamic and can change according to your music or gameplay once it's been synced with the HyperX Ngenuity Software.
The elastic rope suspension provided with the mic absorbs all the shocks and rumbles and their associated sounds. This results in clear audio, even in the loudest of situations.
You can choose between 4 different polar patterns, such as omni and bidirectional, depending on the situation and what you want to be heard the most prominently. If you're worried about unwanted sounds being picked up by the mic, you can mute the mic instantly, thanks to its tap-to-mute feature.
Pair this mic with great headphones, and you're good to go. Besides, HP is the parent company of HyperX, adding to its reliability!
The headphone jack and USB port are provided at the back of the mic, however. Understandably, this isn't the greatest of placements as it can clash with many gaming setups.
Pros
Beautiful design
Absorbs shocks and unfiltered background noise
Four polar patterns
Tap-to-mute feature
Discord-certified
Anti-vibration shock mount
Cons
Headphone jack and USB port placement could have been better
Check out on: Amazon
4. PowerDeWise Lavalier – Best lapel mic
Connector type: 3.5mm jack
Power source: Corded electric
Audio sensitivity: 74dB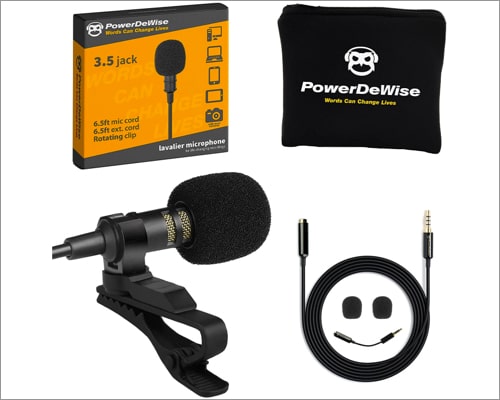 Lapel mics are used in a variety of situations. They're often used for interviews and public speaking scenarios. As such, they should filter out most of the background noise and reduce any distortions in the voice.
PowerDeWise does all of this and takes it up a notch. There's a shielded cord provided in the latest iteration of the mic that doesn't let external noise ruin your experience of using the product.
It's also universally compatible with a host of mobile phones, camcorders, laptops, and audio recorders. However, if you're buying this for your iPhone, you will have to buy an adapter separately.
You don't need to install fancy drivers for this mic, either. You can just plug the mic into your device and use it directly, without the need for time-consuming software installations. Instead, you can use this extra time to plug the mic into the 2m extension cord provided with the mic. In the pandemic era, this mic allows some much-needed social distancing.
This isn't a lapel mic for audio professionals, though. Its noise cancellation feature can be extra sensitive and cut off your recording along with the background noise.
Pros
A shielded cord helps avoid unwanted noise
Universally compatible
No software installation required
Extension cord provided
Cons
Noise cancellation is too sensitive
Check out on: Amazon | PowerDeWise
5. Shure MV88 – Best portable mic for professionals
Connector type: Lightning
Power Source: Battery
Audio sensitivity: 120dB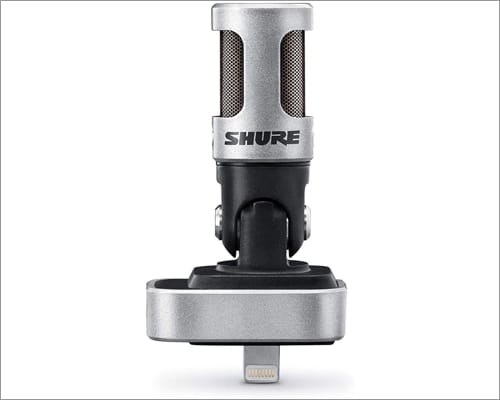 Shure has been at the top of the audio recording world with its products. The Shure SM57 has been a mainstay in many concerts that featured professional artists. This proves the longevity and reliability of the company.
For audio recording professionals, the Shure MV88 has been nothing less than a boon. Gone are the days when you had to carry expensive and heavy equipment around for processing different sounds without compromising on quality.
One of the biggest reasons why this mic is perfect for iPhones is because of the proprietary app on iOS. This app can be used to change settings and DSP channels as well (digital signal processing). Additionally, you get a durable body complemented with the metal design.
You can also swivel this microphone in most directions, making it ideal for professionals who travel a lot and record their audio on the road.
Unfortunately, I wasn't satisfied with the mic's battery life. It tends to drain rather quickly, especially if there's a lot of background noise. It's also quite expensive for a microphone.
Pros
iOS app for manual control
Durable body
Can be oriented in different directions
Perfect for recording on-the-go
Professional level recording
Cons
Bad battery life
Expensive
Check out on: Amazon
6. PoP Voice Professional Lavalier Lapel Microphone – Best budget lapel mic
Connector type: 3.5mm jack
Power source: AC
Audio sensitivity: 30dB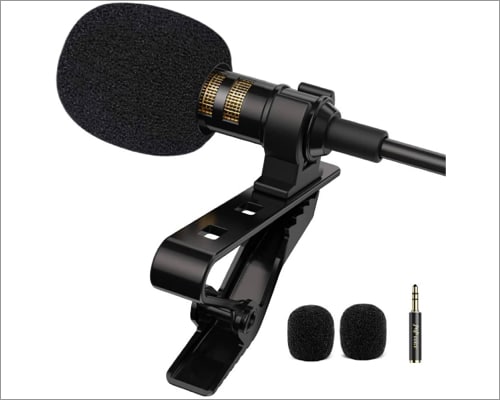 Let's say that you've got barely enough money to buy a new microphone, but your iPhone's mic just isn't cutting it. If this seems like a relatable situation, you could consider the PoP Voice Professional Lavalier Lapel Mic.
This lapel mic is compatible with all iPhones, from iPhone 6S to iPhone 13, other mobile devices, and most PCs or laptops.
The mic doesn't require batteries to operate either. Instead, it functions on a plug-and-play basis. However, it's only effective in one polar pattern – omnidirectional.
I didn't like the build quality of the microphone, however. While you can't expect a high build quality at this price segment, I feel that the manufacturers could've done slightly better.
Pros
Cheap
No batteries needed
Compatible with a majority of iPhones
Check out on: Amazon
7. Comica CVM-VM10-K2 – Best microphone under $50
Connector type: 3.5mm jack
Power source: Battery
Audio sensitivity: 100dB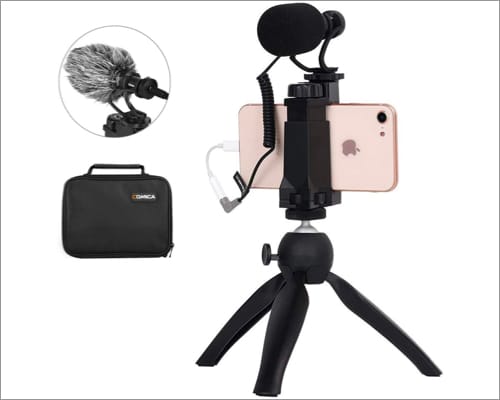 Content creators who delve into content that doesn't require a heavy emphasis on audio recording and processing would find this offering from Comica to be of good value.
The Comica CVM-VM10-K2 doesn't set you back by a huge amount of money. For around $50, you get a complete smartphone video recording kit that comes with a tripod for more stability during recording sessions.
There's also a shock mount and furry windscreen to cut down on background and white noise. The polar pattern of this microphone leans towards a flexible cardioid.
It's easy to set up as well, and you can use the microphone by setting up the tripod and connecting the mic with a 3.5mm jack. The shock mount and windscreen can be added just as easily.
You can't use this recording kit if you're charging your phone and if the phone isn't on airplane mode. In either case, the mic picks up on the disturbance. Thus, ruining your audio recording.
Pros
Complete smartphone video recording kit
Shock mount and furry windscreen provided
Easy to set up
Cons
Picks up static noise if phone isn't on airplane mode and charging
Check out on: Amazon
8. Rode VideoMic Me Compact TRRS – Best mini-shotgun microphone
Connector type: 3.5mm jack
Power source: Corded electric
Audio sensitivity: 94dB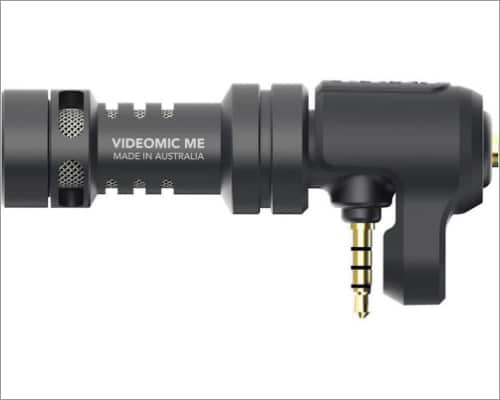 Mini-shotgun mics are perfect for making Instagram reels and Tik Tok videos. These small microphones focus directly on the sound source in front of you.
Rode is a big name in the audio industry, and the VideoMi Me Compact TRRS is a great choice for new content creators to make videos with amazing sound quality. The mic has an omnidirectional polar pattern and thus dismisses any background noise that can hamper your recording.
This external microphone for your iPhone is compact, has a durable body, and includes a furry windshield for making videos in diverse weather conditions.
One of the caveats of this mic is that it isn't flexible. It fixes perpendicularly to the mobile device, and if combined with the windshield, could hamper your video recording.
Pros
Omnidirectional polar patterns
Compact
Durable
Furry windshield is provided
Check out on: Amazon | Best Buy
9. Moukey Vlogging Kit – Best iPhone microphone for vlogging
Connector type: 3.5mm jack
Power source: No battery required
Audio sensitivity: 43dB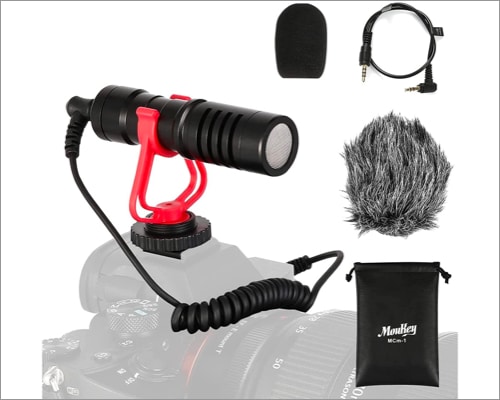 Vlogging can be a tricky affair, especially considering the amount of equipment you may have to carry around. Thankfully, the Moukey Vlogging Kit can help you create premium quality vlogs without the need for multiple equipment or accessories.
The mic provided in the kit is unidirectional and is best used when pointed directly at the source of the sound. Moreover, it's got a cardioid condenser capsule inside and pairs well with different DSLRs.
The aluminum body also adds durability to the mic and prevents interruptions from high-frequency sounds. Additionally, you're provided with a mic windscreen, foam cover, and a 3.5mm TRS Output cable.
The manufacturers should have provided a mount that connects the stand to the smartphone, however. While you can use it sans the mount, this missing piece results in an added expense when setting up your smartphone for vlogging.
Pros
Complete vlogging kit
Pairs well with DSLRs
Premium finish
Windscreen, foam cover, 3.5mm output cable provided
Cons
Mount to connect to smartphone isn't provided
Check out on: Amazon
10. Piy Painting USB Microphone Kit – Best microphone for podcasts
Connector type: USB
Power source: Corded electric
Audio sensitivity: 45dB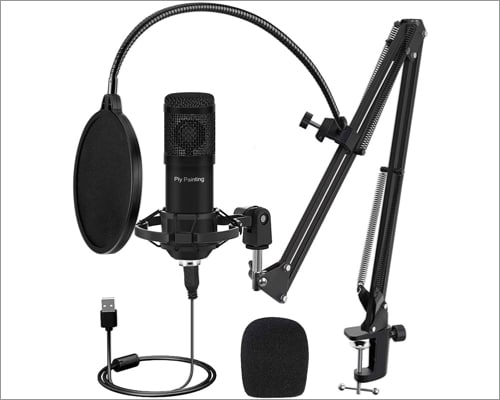 I wonder how many of us have sat with friends and thought about starting a podcast on various topics. I know that I've had this conversation with my friends enough number of times. Regardless of whether I start a podcast or not, don't let budget restraints stop you from starting your own!
The Piy Painting USB Microphone Kit is a good, budget-oriented alternative to the more expensive mics used for podcasts. When you're starting, this microphone kit will have you covered with all the basics.
The mic comes with a 16mm diaphragm for filtering the audio, and the high sampling rate of 192kHz/24Bit results in a crisp recording. You can secure the setup to your desktop with the C-clamp and the boom arm that is sturdy enough to hold the mic's weight and even adjust the tension.
Most importantly, this huge kit can be assembled well within 15 minutes, plugged into your device directly, and used. You don't even have to install any software to use this mic.
Despite these parts, the manufacturers haven't added a dedicated mute button on the mic. While this isn't a dealbreaker, it can be a hassle if you need to mute the recording at certain times.
Pros
High sampling rate
16mm diaphragm provided
Can be assembled easily
Check out on: Amazon
Boom, Mic-drop!
Ever since the pandemic, a lot of professional work has moved online. At the same time, many have found the time to start their music channel or podcast stream. It's no wonder that the demand for external microphones has increased exponentially.
I hope that this list of the best external microphones for iPhone has given you some clarity on the budget and preferences you should bear in mind when buying your own. Are you a fan of external microphones? Would you be willing to try them out if you haven't already? Let me know your opinions in the comments below!
Read more:
Readers like you help support iGeeksBlog. When you make a purchase using links on our site, we may earn an affiliate commission. Read Disclaimer.