Although FTP has been sidelined over the years, it can still be an efficient tool to transfer files from one computer to another computer and mobile device or upload them on a web host or cloud service. Moreover, it offers certain advantages (discussed later in this article) which make it worth it!
But before I get ahead of myself and reveal the best FTP clients for Mac, let's learn more about FTP and discuss if it is the right solution for you!
What is FTP, and why do you need an FTP client?
File Transfer Protocol (FTP) is a standard network protocol used to move computer files from one host to another through a TCP-based network, like the internet seamlessly.
While they are mostly preferred by web developers to make changes or upload files on their website servers (for instance, WordPress websites lack a built-in FTP client), you can also use it personally, especially for its faster transfer speed.
Although FTP has evolved over the years into FTPS and SFTP, which are more reliable and secure, you can use an FTP client to form a quick connection to your website's servers. If it supports SFTP or FTPS, switch to them. All our recommended FTP clients support SFTP as well.
What factors to consider in an FTP client?
First, you should prefer an FTP client available on both Windows and Mac, in case you are planning to switch from Mac to Windows in the future. We have created a list below to help you decide on an FTP client on Mac.
Cross-platform availability
A user-friendly interface
File organization with a robust search function
Third-party apps integration
Transfer speed
Support for large files
Price
Password encryption for added security
Drag and drop support
Remote file editing
Now that you know the factors to look forward to in an FTP client let's dive into our round-up!
Best FTP clients for macOS
1. Commander One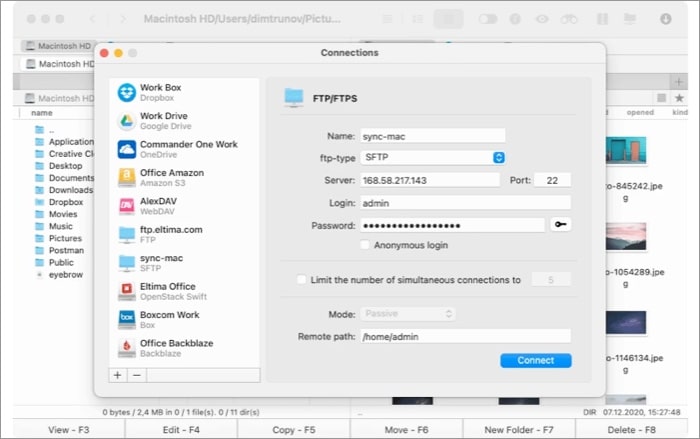 Commander One is primarily suitable for those working with protocols such as WebDAV, SFTP, and more. Simply connect the app to the supported cloud service and start moving, deleting, and arranging files. On top of that, you get to enjoy a dual-pane interface on a big screen to manage files.
Key features
Support for popular cloud services
Terminal emulator
Hotkey support
Compact mode to see a bunch of files in a small place
Pros
Color and font customization
Unlimited tabs
Fluid UI
Zip support
Built-in file viewer
Cons
The multi-rename feature is missing
Lack of synchronizing directories
Price: Free ($30 after a free trial)
2. CyberDuck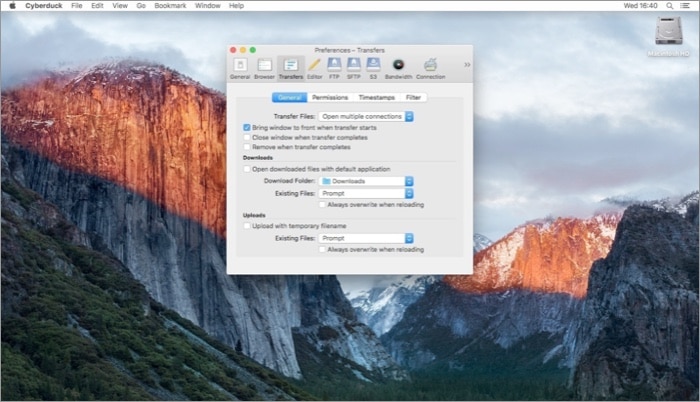 CyberDuck is suitable for both beginners and advanced users. The app features a beautiful interface that's easy to use and navigate. It is available for Mac and Windows computers and lets you connect with several third-party apps such as OneDrive, Google Drive, Amazon S3, WebDAV, and more.
Key features
Integration with Cryptomator to encrypt file or folders before uploading
Drag and drop function
Sleek user interface
Built-in command-line interface
Pros
Open source and free
Fast transfer speeds
File search
Pause and resume add-on
Cons
Support for only single panel mode
Price: Free
3. FileZilla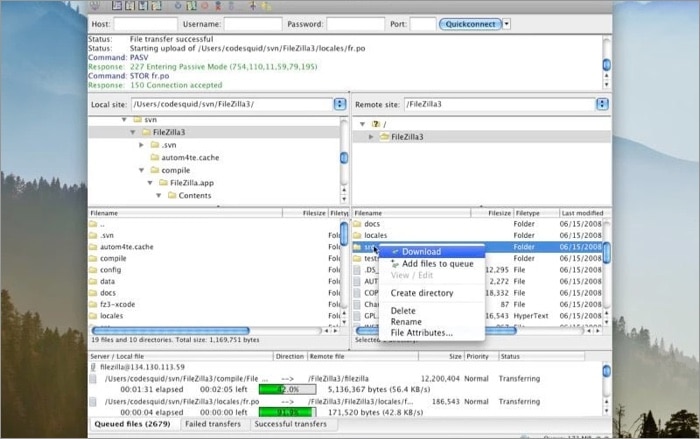 Released way back in 2001, FileZilla is in the market for more than 18 years (yes, you heard it right!). It is one of the popular and oldest FTP clients for Mac. My major gripe with FileZilla is an outdated user interface compared to rivals. Being the oldest in the market, the software boasts an active community to troubleshoot your questions and queries.
CyberDuck is one of the biggest rivals of FileZilla. The former has a better interface, while FileZilla jumps ahead with an active community, dual-panel interface, and support for Windows and Linux. Well, my bet is on FileZilla between the two.
Key features
Dual-pane interface
Multiple languages support
Large file transfer
Regular updates
Bookmark function
Pros
One of the best user communities
Drag and drop function
Transfer queue
Synchronized directory browsing
Cons
Outdated UI
Need FileZilla Pro for third-party cloud storage support
Price: Free (The pro plan is priced at $20 as a one-time purchase)
4. Transmit 5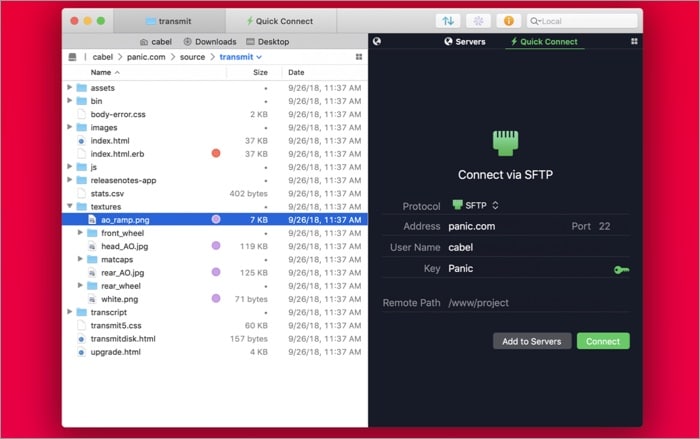 Transmit 5 has the best user interface among all the FTP clients on Mac. With a single click, you can quickly connect to multiple cloud storage services such as Box, Google Drive, Amazon Drive, etc., and start uploading files to the server.
Transmit is packed with valuable features often missing from the free FTP clients. Let's take a look at them.
Key features
Full support for Amazon S3 and other cloud storage services
Excellent user interface
Two-factor login
Text size options
Pros
Drag and drop file upload feature
Default Panic sync to sync your servers and accounts in multiple Macs
Folder syncing to track changes
Rules setup
Cons
A huge screen footprint makes it difficult to multitask
Mac's App Store doesn't allow the one-time purchase
Expensive
Price: A 7-day free trial and after that $45 as a one-time purchase.
5. Forklift 3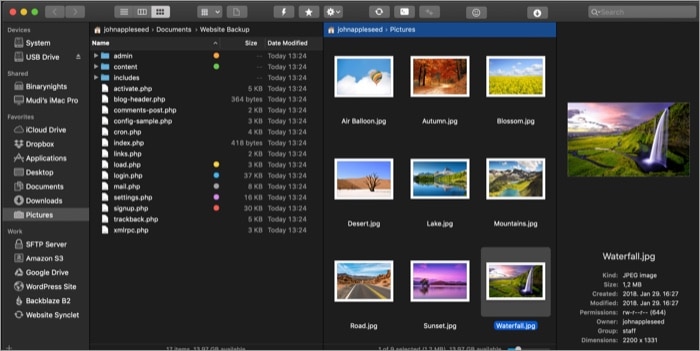 Forklift 3 is yet another paid FTP client for Mac. The service connects to multiple cloud storage options, and you can quickly transfer, upload, and move files from the selected location to a server. Forklift offers excellent speeds with an eye-catching UI.
Key features
Sync browsing for a flawless navigation
Built-in Git support and app uninstaller
Support for major cloud storage services
Pros
Good UI
Blazing fast transfer speeds
Dual-pane interface with a sidebar support
Drag and drop support
Dark mode
Cons
File transfer over 2GB failed a few times
Price: Free (A 14-day free trial followed by a one-time purchase at $30)
Advantages of using a paid FTP client over a free one
If you have heavy FTP usage, I would highly recommend investing in a paid Mac FTP client. Compared to free FTP, you get to enjoy the following functions often absent from a free one.
Native UI
Dual-pane support
Faster upload/transfer speed
Folder sync to keep track of changes
Support for all third-party cloud storage services
Several customization options
FAQs
Q. Should I use FTP or SFTP?

SFTP is relatively better. FTP lacks security. It's a non-secure way to transfer files from your device to a server. SFTP is a more secure way to establish a connection and perform the transfer function.
Q. Which FTP client is best for Mac?

Beginners should stick with CyberDuck as it's free and works as advertised. For pro users, I would recommend Transmit 5.
Q. How do I test my FTP connection on a Mac?

Open the Finder menu on the Mac. Click Go in the menu bar and select Connect to Server. Add server address and use login credentials from the following menu.
Go through the apps list above and start using FTP on the Mac to transfer files. Do let us know which FTP client for Mac you ended up in the comments section below.
You may want to take a peek at:
Readers like you help support iGeeksBlog. When you make a purchase using links on our site, we may earn an affiliate commission. Read more.
Parth previously worked at EOTO.tech covering tech news. He is currently freelancing at iGeeksBlog, Guiding Tech, iPhonehacks, and TechWiser writing about apps comparisons, tutorials, software tips and tricks, and diving deep into iOS, Android, macOS, and Windows platforms.