Adobe Photoshop has been the default choice for photographers and creators out there. Over the years, Adobe switched to the subscription model instead of a more cost-friendly one-time purchase. The company is also forcing users to opt for the Creative Cloud subscription that costs an eye-watering $52.99 per month. If you are looking to get out of the Adobe ecosystem then read the post to learn about the 5 best Adobe Photoshop alternatives for Mac.
In this post, we will focus on proper photo editing tools and not any graphics or UI/UX design tools as we have dedicated apps for that from Adobe and other companies. Let's get started.
1. Affinity Photo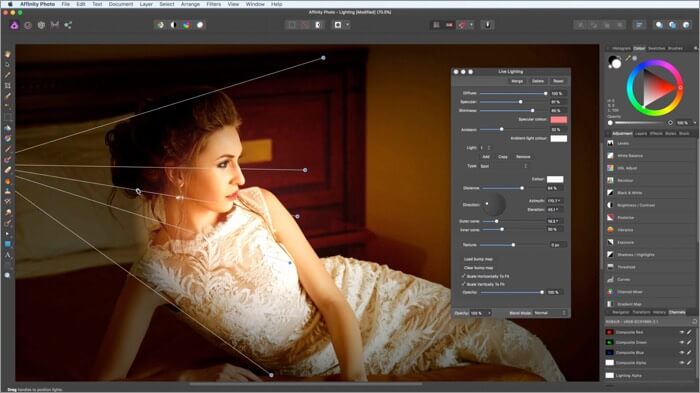 No surprise here. Because of Affinity's one-time payment option coupled with frequent sales (and of course, an excellent feature set), the Affinity Photo is having a positive WOM (Word of mouth) among professionals.
Affinity has got you covered on the cross-platform availability. It's accessible on both Windows and Mac. The feature-set is almost identical to Adobe Photoshop. However, you will need to master the UI as it requires a bit of a learning curve. Some of the notable functions include liquefying color correction, RAW support, Panorama stitching, Batch processing, and more.
Working with PSD files? Affinity has got you covered that as well. You can easily import Photoshop files and start editing. The software is also powerful enough to support 360° image editing.
As I mentioned above, Affinity does require a bit of a learning curve and understandably, there aren't many online guides available for the software yet. The company offers a hardcover workbook to help new users become familiar with their program.
Affinity Photo usually retails for $49.99. As of writing, the company is offering a 50% discount, bringing the cost down to $24.99. It's a bargain if you ask me.
2. Pixelmator Pro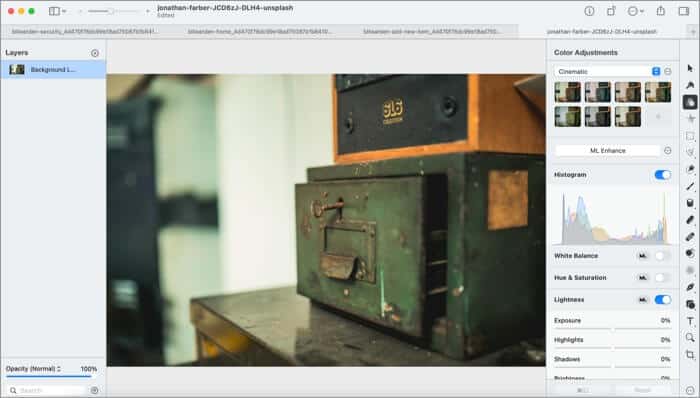 Pixelmator Pro is more of a Lightroom alternative than the actual Photoshop replacement. But if you have a light workflow and have no problems with the current feature set of Pixelmator Pro then I will definitely recommend you to give Pixelmator a try.
I love the interface of Pixelmator Pro. It's simple, easy to use, and feels fluid than the complex Photoshop UI. Instead of throwing every option at the user, Pixelmator smartly organizes the functions in the sidebar.
The company claims to have written the editing engine from the scratch on Metal, Apple's hardware-accelerated graphics API. The method allows developers near-direct access to the graphics processing unit (GPU). And it shows in the final product. I have been using Pixelmator Pro for more than six months and never ran into any random error or glitches, something that I often experience with Adobe Photoshop.
As for features, you have the usual set of editing options such as support for RAW photos, a plethora of filters, retouching tools, text styles, ready-to-use shapes, and more.
Pixelmator is available for $39.99 (One-time payment) on the Mac App Store. Do look out for frequent sales from the company on social media. I bought the software for a 40% discount during Christmas time.
3. Skylum Luminar 4
Skylum emphasizes on AI capabilities of Luminar 4 to lure potential Photoshop convertibles. The whole software is designed for users to spend less time messing with endless editing options and let the AI settle and adjust photos for you.
True to Skylum's tall claims, I love the AI structure tool in Luminar 4. With a single click, you can let the software make necessary changes to an image to look richer and give the pop-up effect. We have seen something similar on Google Photos and it's nice to see Luminar offering something comparable on the Mac.
Luminar's library feature is a blessing for anyone frequently importing photos from the hard drive. When you connect your hard drive to Mac, Luminar will mirror your hard drive and keep the changes in sync between the software and the hard drive.
The remaining feature list includes add-ons such as the erase tool, adjustment amount slider, portrait enhancer, and more.
Lumiar 4 is available for both Mac and Windows. However, it still doesn't support the M1 architecture natively, something that both the rivals Pixelmator Pro and Affinity offer out of the box.
Luminar is offering a 30 days money-back guarantee. You can get the license for one seat at $69.99. If you are serious about Luminar, then I would advise you to go for the two license deal that brings the overall cost down.
4. Colorcinch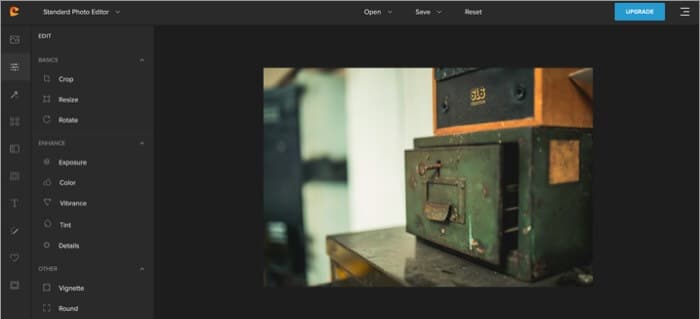 So far, we have only talked about dedicated Photoshop alternatives for Mac or Windows. Let's take a look at Colorcinch which is a web-based image editor. Using a web-based solution allows you to use the same software across Windows, Mac, Chrome OS, or even Linux. No need to worry about cross-platform availability.
The software has an extensive collection of presets, graphics, and other creative assets. One of the biggest strengths of Colorcinch is the fact that it features a handful of AI-powered specialty effects. One of my favorites is the Cartoonizer effect that can neatly transform images into cartoons, sketches, and paintings.
Need to access royalty-free images for the next project? Colorcinch has got you covered on that as well. The software gives 1.5 million high-resolution stock photos to choose from.
You also get to enjoy hundreds of artistic borders, vector graphics, and icons. The only issue with Colorcinch is the lack of offline support. Understandably, the software only works with a capable internet connection.
Colorcinch offers a free version with basic editing capabilities. The Plus plan starts at $5.99 per month.
5. ON1 Photo RAW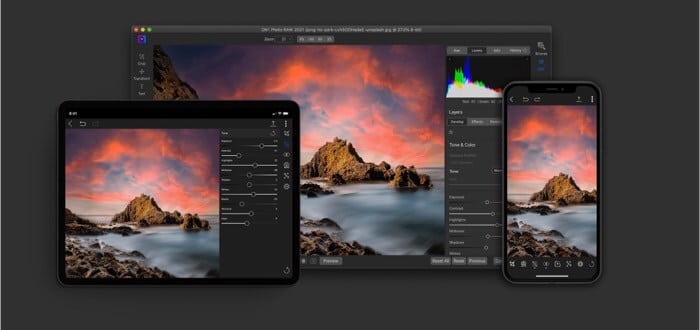 If you don't want all those AI tools to do a mediocre job for you and instead want all the control then ON1 Photo RAW is a suitable Photoshop alternative for you.
ON1 has most of the photo adjustment tools you would expect from a Photoshop replacement. Some of the head-turning features include Portrait editing, a bunch of presents, filters, smart organization, and masking tools to explore your creative side.
My only problem with ON1 Photo RAW is the complex user interface. New users will find it hard to navigate through the menus and options.
ON1 Photo RAW has a decent at $149.99 (one-time cost) and comes with a 30-day free trial. You can opt for a subscription at $10 per month. But hey, a monthly subscription is the prime reason we started looking for an Adobe Photoshop alternative on the Mac, isn't it?
As for me, I personally use Pixelmator Pro on my MacBook Air and switch to Affinity Photo on a Windows desktop. What about you? Which Photoshop alternative are you going to choose? Share your thoughts in the comments section below.
You would like to read these posts as well:
Parth previously worked at EOTO.tech covering tech news. He is currently freelancing at iGeeksBlog, Guiding Tech, iPhonehacks, and TechWiser writing about apps comparisons, tutorials, software tips and tricks, and diving deep into iOS, Android, macOS, and Windows platforms.