Traveling can be a little hectic if you don't have a vehicle. But a car rental app on your iPhone can ease off the weight. Previously, you had to use a navigation app to physically locate reliable car rental deals and make a reservation; thankfully, now you can do it all on your iPhone.
You can pick the ideal vehicle for your special events and family vacations, from electric cars to luxury ones, with the rental car apps for iPhone. Plus, you can manage your reservations, compare rates, and check all information in one place.
So, with no further ado, let's jump into my 10 best car rental apps for iPhone!
1. Turo car rental app for iOS – Editor's choice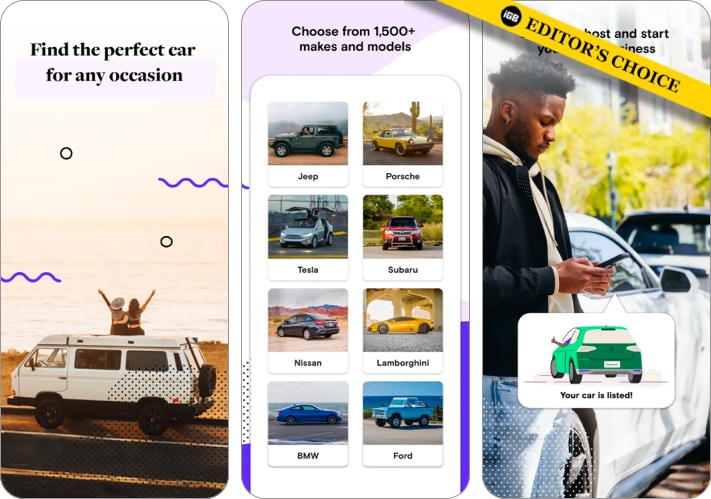 Turo has the largest peer-to-peer car-sharing marketplace, with more than 600,000 vehicles listed worldwide. The free app allows you to rent your preferred car from an active network of local hosts in the US, Canada, and 5000+ cities. Besides hiring a car, you can become a host and build your adaptable and scalable car-sharing company.
You may choose from 1500+ models, from a Jeep to a camper van, and rent directly from a local host for as little as $25 per day. There are several contactless check-in options to securely access your rented cars. With a single tap, order the car and book trips while traveling.
The best part is you can save up to 30% compared to traditional car rental deals. But the registration procedure and other formalities are lengthy and tedious before getting started.
Pros
World's largest car-sharing marketplace
Pet-friendly
1500+ models
Cheaper ($25/day)
Cons
Customers support needs to be upgraded
Setup takes time
Price: Free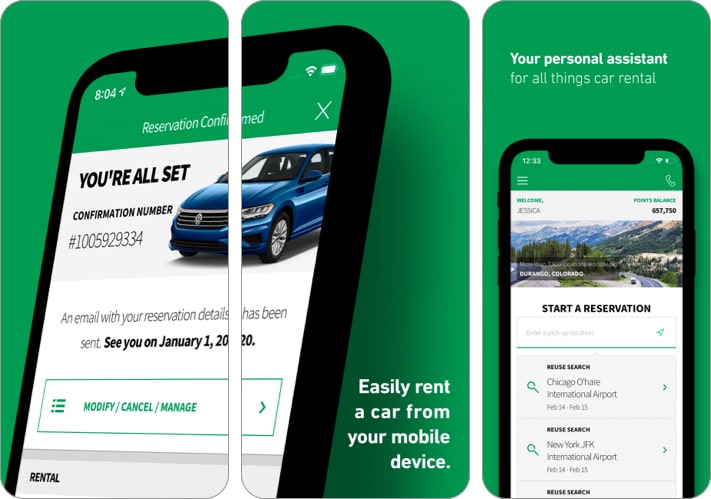 One of the most popular rental car apps for iPhone that has kept up a good reputation for hassle-free bookings. I found the app as easy and seamless as physically booking a vehicle. After deciding on a destination, you may use filters to discover the ideal ride with over 9,500+ cities worldwide.
You can quickly choose a rental vehicle, see or change forthcoming bookings, and receive instructions and roadside assistance 24/7 with the free car rental app. So, travel without concern with a selected range of vehicles, from economical to luxury.
Additionally, there are great rewards and loyalty programs. You'll get benefits on car rental options and points you may exchange for free rental days. Enterprise implements an industry-leading safety process called Complete Clean Pledge to clean and disinfect every rental vehicle.
I love the Enterprise ReadyPass feature, which minimizes wait time and optimizes convenience at pickup. For this, you must fill up all important information in advance. But I have faced problems with login as the app logs out automatically, and the navigation is bad.
Pros
Offers free upgrades at specific locations
Get offers via Email
Easy-to-use search filters
Cons
Logs out automatically
UI/UX is not good
Price: Free
3. Hertz rental car app – Easy expense tracking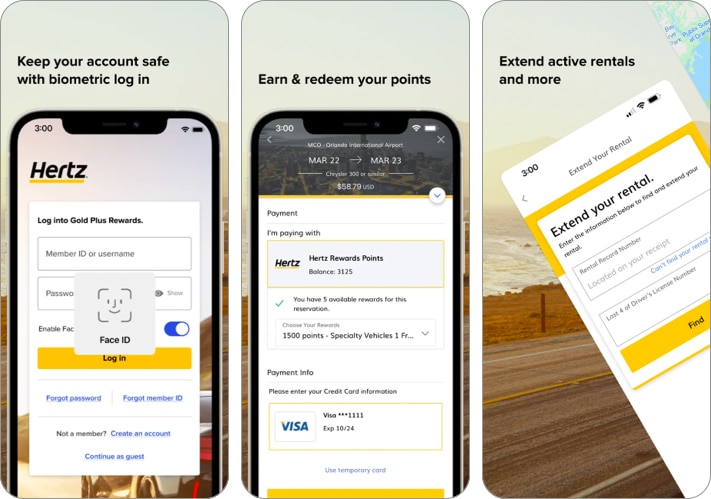 Hertz is among the most well-known apps for rental cars. It's quite simple to schedule a new rental, manage your current ones, and modify the pickup location or the day and time on the app. Thus, you can book your car from every corner of the US with no hassle.
Additionally, if you have Hertz Gold Plus Rewards, you may use the app to monitor and use your points. The membership enables you to use a face or touch ID to enter into the app and display a customized profile on the home screen.
Hertz app offers receipts for monitoring expenses. Additionally, they remember prior vehicle rental services you booked for quicker check-in. My favorite was the SpotHero feature. You can pick up and drop off from different places and even receive assistance for parking.
Pros
Biometric login system
Extend active rentals feature
Monitor expenses with receipts
Cons
Bad customer support
Can't show active rental car on maps with directions
Price: Free
4. SIXT – Rent a car with monthly subscriptions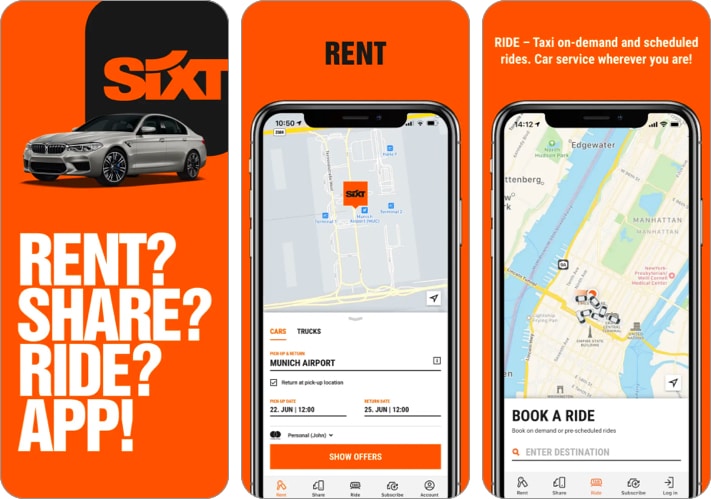 If you regularly commute and require vehicle sharing or rentals, you should have the best road trips app for iPhone and car rental apps. SIXT can be a perfect match to get the best car rental deals. The app allows you to rapidly book preferred vehicles, manage and cancel reservations while on the move, and locate nearby branches.
SIXR operates its services in over 100 countries and offers a combination of taxis, ride-sharing from independent drivers, and car rental companies. Hence, you can save frequent drop-off locations and change currencies.
The filtering feature is quite simple and has several options, including automobile type, seat count, etc. You may then sort the vehicles by price or popularity to pick the suitable one.
You can access the app on almost every Apple device, including Apple Watch. But there's a payment gateway issue that the company should look after.
Pros
Offers monthly subscription
Discount on midweek rentals
Range of luxury cars
Cons
Long wait lines
In-app payment issue
Document verification doesn't work
Price: Free
5. Getaround – Budgeted car rentals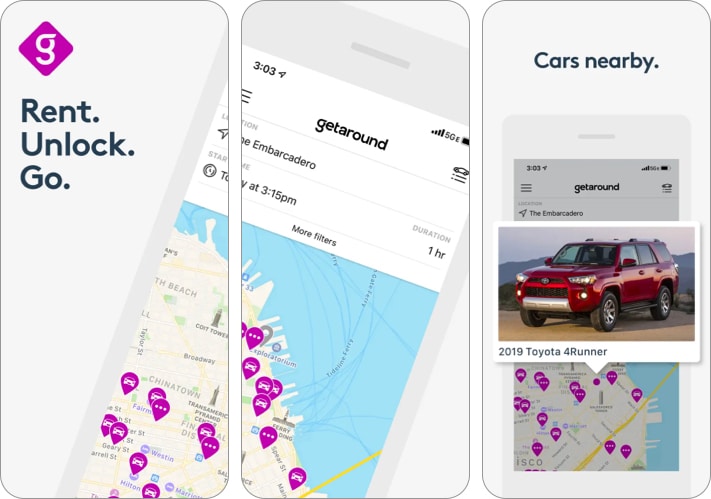 Getaround boasts more than 5 million users. You can get instant access to your rented car for an hour or a day. The great thing is you don't have to pay any subscription or sign-up fee. You can choose from various vehicles, from a Toyota to a Tesla.
And it won't hurt your pocket. The starting price can vary from $3 to $5 per hour. Besides, the brand provides rental liability insurance and roadside assistance. The unique feature of unlocking the car through the Getaround app without the keys is what I loved.
If you own a car, you can earn $1,000 by listing your car on the app. However, the consumer service is very disappointing.
Pros
Wide range of vehicles to rent
Easy-to-use app
Unlimited listings for car owners
Earn money as well
Cons
Bad app service
Doesn't work in a slow network
Price: Free
6. Zipcar – 24/7 available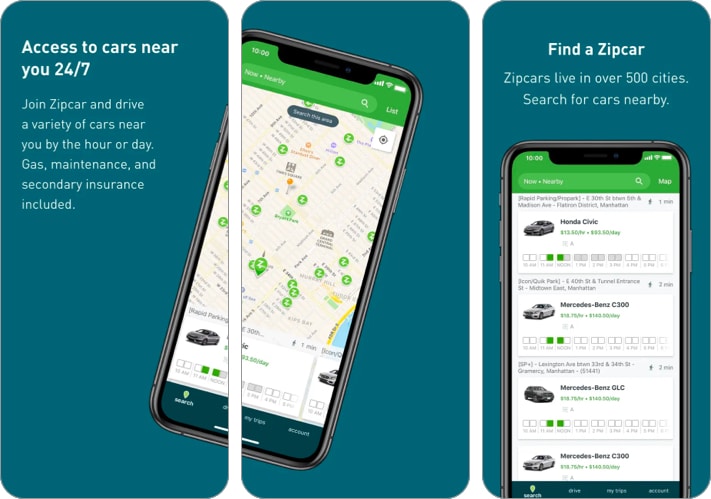 Zipcar provides services in metropolitan regions and university campuses in 500+ cities. So, it's very convenient to choose from Zipcar's large selection of vehicles, including sedans, hybrids, and vans.
You may register, choose their membership level, and get a Zipcard. Using it, you can hire a vehicle nearby and unlock it. Also, you don't have to worry about additional charges as every reservation includes gas, mileage, assigned parking, and insurance options.
Through the app, you can contact the helpful local Zipcar crew. I loved their quick customer support. But you need to keep a check on their automatic billing issue.
Pros
24/7 availability and customer support
End or extend rentals from the app
Best for university campuses
Cons
Keeps customers stranded
Automatic billing issues
Price: Free
7. Rentalcars.com car rental app – Compare car rents
Rentalcars.com was essentially a leading website in the car rental industry. After their huge success, they developed the Rental Cars app.
It's a competitive car rental marketplace where you can compare rates from 900+ vehicle rental agencies. The interesting part is companies like Enterprise and Alamo have also listed themselves on Rentalcars.
You can hire a vehicle in 160 different countries, making it quite convenient to use when traveling. I will praise the simplicity of using the app. It does not impose any needless additional or administrative costs while providing the cheapest local car rental offers.
Pros
Offers eVoucher
Easy payment method
Cons
High cancellation fee
Advertised cars not available
Price: Free
8. Alamo – Quickest service
With the Alamo Rent A Car app, you can get instructions to reach your rental location, quickly make a reservation, and see or change forthcoming bookings. The app helps you to choose a vehicle by showing the car's mileage information, model, and capacity.
You may save information, such as your driver's license number and date of birth. So that you can simply get in your vehicle and drive away. Also, you can view all specifics of your rentals like pickup or drop-off hours, current rental vehicle list, travel instructions, the location of the nearest petrol stations, and more.
Although Alamo's prices are already rather affordable, if you have an Alamo Insider account, you may save an additional 5% on certain base rates. I liked the Accelerated Check-in feature helps you to complete the pickup procedure quickly.
Pros
24/7 customer support
Quick check-ins
Price: Free
9. Carla car rental app – Book now, pay later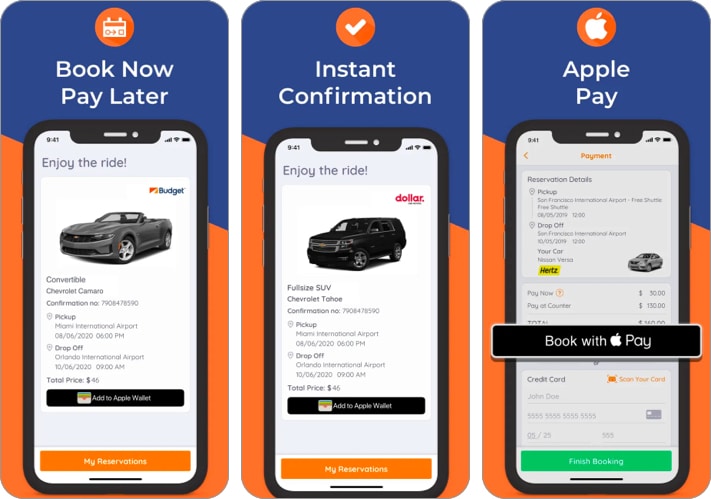 Carla allows you to compare rental vehicle rates from 900+ vendors, including Hertz, SIXT, and 20,000+ locations across the globe. Being one of the best car rental apps for iPhone, it assists you in locating the ideal rental vehicle for your unique requirements.
The app makes it extremely simple to search for well-known vehicle rental providers, streamline the reservation process, and compare pricing. You don't have to look for discounts or pay additional fees for insurance. The daily one-way rentals start from $9 per day, making it quite affordable.
Carla has developed their payment gateway integrating with Apple Pay. Besides, I found the "Pay later" scheme very helpful. Sometimes I have faced issues with refunds after canceling an upcoming rental. If you face any difficulties, just contact their excellent global customer support.
Pros
Book now pay later scheme
Integration with Apple Pay
Cons
Refund issue
Car coverage fee
Price: Free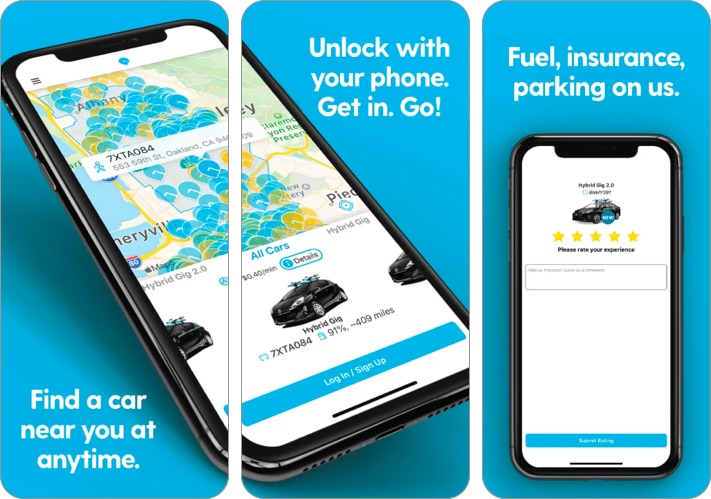 GIG offers a one-way vehicle sharing service for the Bay Area, Sacramento, and Seattle. Just find a car nearby, unlock it with your phone, and drive away! They provide a service region called HomeZone. Here you can pick up a vehicle at one place and drop it off anywhere. Also, the parking is free, and you don't need to refill the meter.
You can hire cars instantly. You can save money using GIG as they only charge for what you use, and there are no membership fees. Fuel, insurance, and roadside support are all included in the price. Also, if you have urgent requirements and don't have an advanced booking, don't worry.
If you also love bike riding like me, bring your bike as there is a bike rack at every Gig. I will praise their referral programs where you and your friend get driving credits.
Pros
Free fuel, insurance, and parking
Return the car to a different spot
Cons
Hidden restrictions and fees
Price: Free
FAQs
Q. What is the cheapest car rental app?
Turo provides their services for $25 per day, you can use the Getaround car rental app to hire cars at $5 per hour. Carla also offers rentals from $9 per day.
Q. Is there an app that lets you rent out your car?
Turo is the world's largest peer-to-peer car sharing marketplace. So, you can become a host and rent out your car. Besides Turo, you can earn $1,000 by listing your car on the Getaround app.
Q. Which is the best private car rental app?
From Turo, you may hire vehicles from local private automobile owners.
So, that's all!
Using an app to book a rental vehicle is considerably simpler than doing it over the phone or in person. These best car rental apps for iPhone will make it simple to choose a rental automobile that satisfies your requirements. Have you used any of these apps? Let me know in the comment below.
Read more:
Readers like you help support iGeeksBlog. When you make a purchase using links on our site, we may earn an affiliate commission. Read Disclaimer.