The Apple Watch 7 is the newest and best entry in Apple's smartwatch lineup. While Apple has provided basic protection, using a screen protector is best to protect its screen. Since the watch comes in both 41mm and 45mm sizes, the screen protector that you choose will have to fit either of them.
Hence, I've made it easier by choosing and listing the best Apple Watch 7 screen protectors in both sizes. Let's have a look at the entries!
1. Misxi – Editor's choice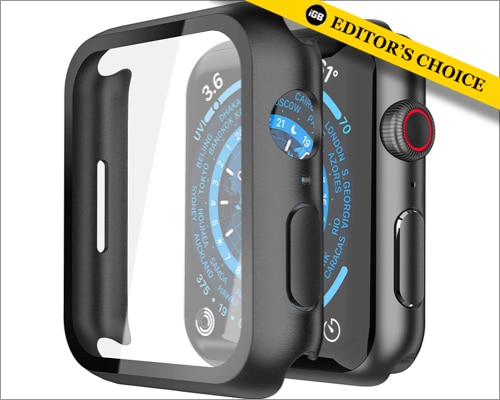 While screen protectors are great, they only protect one thing – the screen. However, the Misxi screen protector also comes with an entire case to protect the watch's head.
The case is made of polycarbonate material that fits the curves and edges of the watch. For the screen, you'll find a built-in temper glass that's cut to precision to fit the watch's screen.
The installation is easy as well. You don't have to remove the watch's strap to install this screen protector. Just snap in the case to the watch's head, ensuring that all the sides fit well. Although this is an entire case, it doesn't ruin the screen's touch sensitivity either.
Unfortunately, the only issue with this Apple Watch Series 7 screen protector is that it won't protect your Apple Watch from water. The case isn't made waterproof.
Pros
Full case provides good protection
Good build quality
Easy to install
Touch sensitivity isn't affected
Check out on Amazon: 45mm | 41mm
2. LK 6 Pack – Plenty for the price of one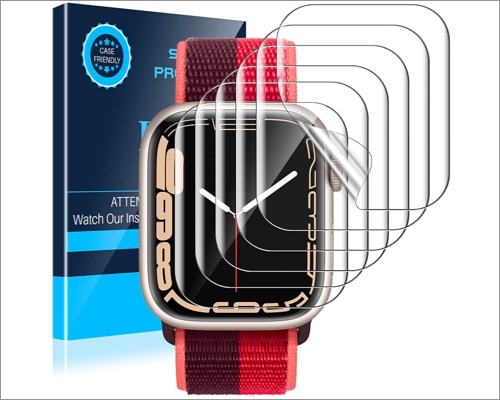 The Apple Watch Series 7 smartwatch is such a big hit that you'll find entire families wearing the same watch. In such a scenario, you should get screen protectors for all watches, not just yours.
With the LK 6 pack Apple Watch Series 7 screen protector, you get 6 screen protectors for a nominal price. They come in 45mm and 41mm sizes and fit the screen well.
Moreover, they're very thin (0.1mm thickness). This doesn't impede the protection offered. Instead, it keeps the watch's touch sensitivity and accurate color reproduction.
Even during the application, if you see bubbles or scratches on the screen protector, you don't have to worry. This Apple watch series 7 45mm screen protector has self-healing properties to ensure that the scratches and bubbles are gone after 24 hours.
A major issue with this screen protector is that they don't last for too long. Users have stated that they've replaced multiple screen protectors in a week or two.
Pros
6 in a pack
Thin and lightweight
Doesn't affect the watch's functioning
Self-healing properties
Check out on Amazon: 45mm | 41mm
3. YMHML – Good budget option
Screen protectors for Apple Watch Series 7 sometimes come with a case to provide increased protection. With the YMHML screen protector + case, you don't have to break the bank to pay for your smartwatch's protection.
Instead of TPU materials, this protective case is made of polycarbonate materials, increasing its strength and toughness. Moreover, the screen protector has a 9H scratch-resistance rating to ensure that you're getting superb protection for the price.
The cutouts for the screen and buttons are precise. Additionally, you don't need to take off the strap to apply the case. A direct snap-in system works perfectly well. Lastly, you get two Apple Watch Series 7 screen protectors with each purchase!
Unfortunately, if you live in a city with a lot of humidity, you might notice that moisture builds under the surface of the screen protector on days with high temperatures. This can cause interference with your user experience.
Pros
Good pricing
Decent build quality
Easy installation process
Cons
Not resistant to moisture
Check out on Amazon: 45mm | 41mm
4. ArmorSuit – Thinnest screen protector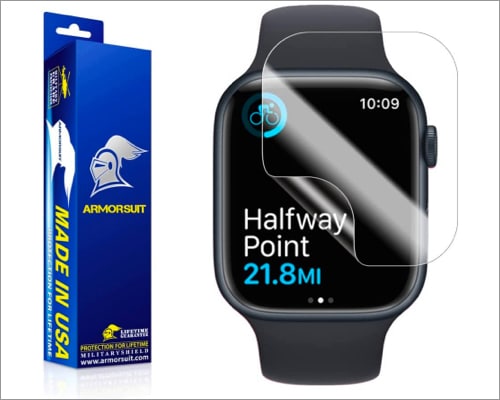 Thin screen protectors for Apple Watch Series 7 usually have to be replaced after a few days. However, with the Armorsuit screen protector, you can use it for extended periods without compromising on the protection.
This MilitaryShield screen protector from ArmorSuit has precise cutouts done through laser technology. Thus, it fits the screen's contours very well. Moreover, the screen protector is flexible enough to fit the screen's edges without sticking out of place.
The company has used good materials for manufacturing as well. The screen protector uses military-grade, tough, and clear material to provide perfect sensitivity. Additionally, the material is yellow-resistant and self-healing. Minor scratches will heal in a day or two. Lastly, it comes with a Lifetime Replacement Warranty.
My only gripe with this Apple Watch Series 7 screen protector is that it can be difficult to install properly. If the cutouts are lined perfectly with the smartwatch's screen, you will have to deal with bubbles and peeling.
Pros
Precise cutouts
Superb build quality
Self-healing and yellow-resistant
Lifetime Replacement Warranty
Check out on Amazon: 45mm | 41mm
5. Smiling – Thin bumper cover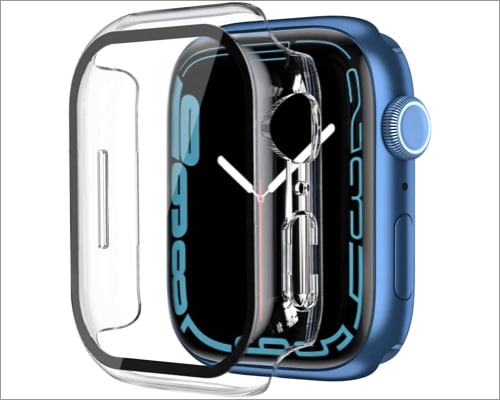 While screen protectors for Apple Watch Series 7 tend to be thin, when you pair it with a bumper cover, you have to deal with a little bit of bulk. However, this bumper cover from Smiling carefully offsets that extra weight.
There's a built-in screen protector that has a 9H scratch resistance rating. Moreover, it's made of anti-yellowing polycarbonate material. This ensures you get the highest clarity available.
The cutouts of the screen protector are precise, leaving enough room for buttons. The entire package provides good protection against drops and scratches. The best part is, despite you snapping on a full case for your smartwatch, the lightweight material doesn't add any noticeable weight.
There is an issue with this, however. You'll have to deal with a lower screen sensitivity, thanks to the built-in screen protector.
Pros
Lightweight bumper cover
Decent build quality
Precise cutouts for buttons
Cons
Screen sensitivity is slightly reduced
Check out on Amazon: 45mm | 41mm
6. Whitestone – Full body protection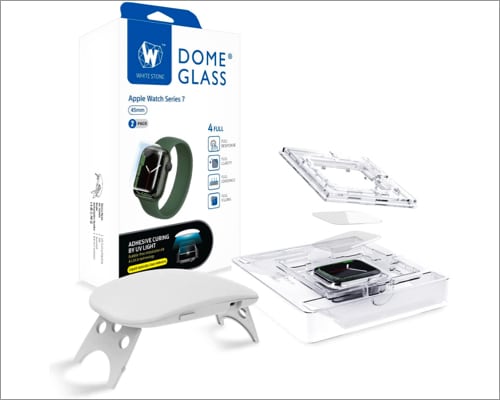 This offering from Whitestone is probably one of the most expensive screen protectors you can get for your Apple Watch Series 7. Nonetheless, it's worth the price.
The screen is made of liquid glass. This technology has been patented by the company, and the application even requires a special kit. After placing the watch face on the kit, the liquid glass will evenly disperse over the watch, covering all the edges and leaving no room for bubbles or peeling.
Furthermore, the kit also comes with a UV curing light. This ensures that the first application goes smoothly without bumps or bubbles. Finally, you also get an aluminum case to snap onto your watch's body. Overall, the kit provides full-body protection.
Of course, one of the major issues with this screen protector is the application. It's unnecessarily complex for a screen protector.
Pros
360° protection
Liquid glass dispersion technology
Comes with an aluminum case
Cons
Difficult to apply
Expensive
Check out on Amazon: 45mm | 41mm
7. YMHML Waterproof – Best waterproof screen protector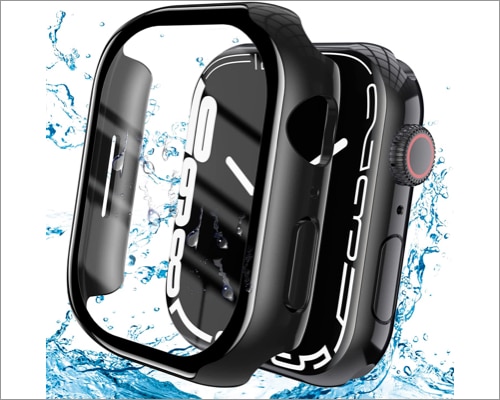 Although there are plenty of Apple Watch Series 7 screen protectors offering a bumper case and total protection, hardly any are waterproof. YMHML is a welcome change to this scenario.
This screen protector from YMHML is waterproof and uses a built-in sealing ring. This sealing ring bridges the gap between the watch's body and the case. Doing so ensures that no water can enter and ruin the watch.
Further, the entire casing protects the watch from shocks, drops, falls, and collisions. The cutouts for the buttons and screen are precise as well, resulting in the same levels of sensitivity. Lastly, you don't even have to remove the case when charging the watch!
Despite the waterproof claim, the watch doesn't have an IP water resistance rating. This is why I'd recommend you keep it away from excessive water levels.
Pros
Waterproof (to an extent)
Precise cutouts
Doesn't affect screen sensitivity
Doesn't affect charging capabilities
Cons
No IP water resistance rating
Check out on Amazon: 45mm | 41mm
8. TOCOL – Designer screen protector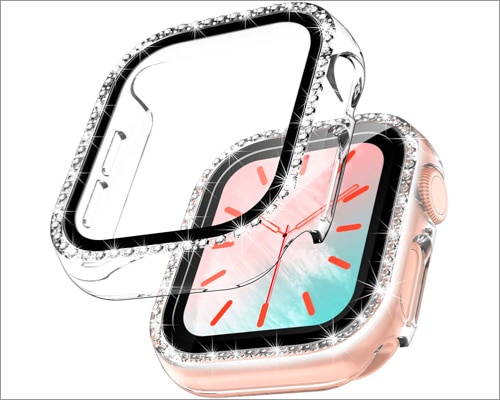 This screen protector is for those who like to add a little bit of spice to our gadget's looks. If you're bored of the minimalist look of the Apple Watch Series 7, you can go for this designer screen protector from TOCOL.
The case uses a luxury bling crystal inlay around the watch face's edges, giving it a flashy look. This screen protector not only looks good but is also durable. It's made of military-grade polycarbonate material, and the built-in screen protector protects the watch from scratches and stains.
Furthermore, the watch is universally compatible. From Apple Watch Series 5 through to Apple Watch Series 7, this protector is available in all sizes.
There is a minor issue, however. The crystals around the inlay are prone to catching material such as fabric. So, be wary of this before purchasing.
Pros
Flashy design
Decent build quality
Compatible with all Apple Watch 7 versions
Cons
The crystal inlay can get stuck on fabrics and other material
Check out on Amazon: 45mm | 41mm
9. QHOHQ – Elegant screen protector + cover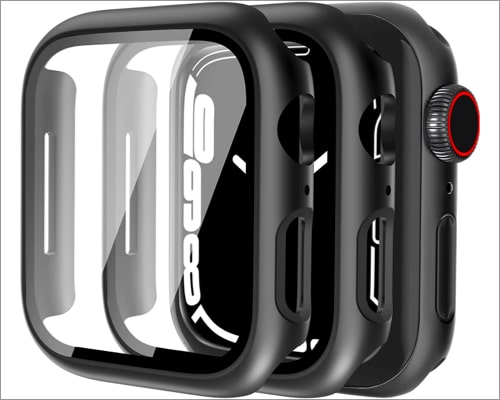 For those who like the minimalist look and want the same from screen protectors, QHOHQ has you covered. This offering from the company provides a sleek and elegant design to go with your latest Apple Watch Series 7.
Apart from the precise cutouts for the buttons, you'll notice that the case has a beautiful matte finish. That's because the case has been treated with matte surface-oiling technology. Besides, you get an ultra-thin case and a built-in screen protector with a 9H scratch resistance.
The case is slightly prone to gathering moisture under the screen protector, though. You should bear this in mind if you plan to purchase this product.
Pros
Elegant and sleek design
Thin and lightweight
Highly scratch-resistant
Cons
It could gather moisture underneath
Check out on Amazon: 45mm | 41mm
Does Apple Watch Series 7 need a screen protector?
While Apple has claimed that the Apple Watch Series 7 screen is scratch-resistant, it's always a good idea to go for an extra layer of protection. Besides, it won't be resistant to too many bumps and drops. Moreover, if the watch accidentally falls, it might fall on the side of the watch's body.
There are other dangers apart from drops too. If the watch comes in contact with excess levels of water or soap, it can get damaged. Any cracks on the screen or body might allow this water or soap to seep through. The chemicals present in these substances can and will hurt the watch's internals.
Any damage to the watch's face or the body will mean extra repair or replacement costs. Instead, it's always better to add the screen protector and a bumper case for a nominal extra fee to prevent future mishaps.
That's it!
The Apple Watch Series 7 is an excellent addition to an already amazing smartwatch lineup. However, just like any other new Apple product, it is quite expensive. To keep your watch safe, it is recommended to use any of the above Apple Watch Series 7 screen protectors.
Have you ever used screen protectors for your Apple Watch? If so, how was your experience? Would you prefer to spend money on these screen protectors? Let me know in the comments below!
Read more:
Readers like you help support iGeeksBlog. When you make a purchase using links on our site, we may earn an affiliate commission. Read Disclaimer.