Apple's new iPhone 13 lineup made its debut in September 2021. While you might be ready to upgrade your iPhone, you might struggle to find the best pair of accessories for your new device. After all, accessories are essential in keeping them safe and secure!
In this article, we look at the best accessories for iPhone 13 mini, iPhone 13, iPhone 13 Pro, and iPhone 13 Pro Max. No matter which iPhone 13 you choose to buy, these sets of accessories are sure to make you pop. 
1. Spigen screen protector
With a 9H rating of hardness on the Mohs Hardness Scale, this screen protector is tough to scratch, making it the best screen protector for iPhone 13. Further, the installation kit provided with the screen protector can be auto-aligned and applied effortlessly.
Additionally, it has an oleophobic coating that prevents fingerprint impressions. In other words, it keeps your iPhone 13 smudge-free and prevents scratching. The screen protector is made of tempered glass, which means that it won't shatter into a thousand pieces if it breaks accidentally.
What's more? The screen protector pack offers two separate protectors that bear the brunt. The installation process is remarkably simple. Once fixed, it feels the same as iPhone's touchscreen. In fact, the screen remains as clear as it was before the screen protector.
Pros
Long-lasting
Affordable and reliable
Easy installation
Cons
Plastic pieces can't be recycled
Check out on Amazon:
iPhone 13 mini | iPhone 13 and 13 Pro | iPhone 13 Pro Max
2. Apple silicone case with MagSafe
Designed for the latest iPhone 13 versions, there isn't a better accessory to keep your iPhone 13 safe and stylish. With a silky and soft-touch finish, this silicone case is the perfect combination of protection and style.
What's more? The case's microfiber soft lining provides added protection for all those accidental shocks, drops, and accidents.
With built-in magnets, it offers just the right alignment for your device. Since the case is MagSafe-compatible, all you need to do is snap the MagSafe charger on the case. You can even set it on a charger that has a Qi certification.
Its slim profile and incredibly stunning looks also make it a great choice for iPhone 13 users. It combines functionality, durability, and style seamlessly.
Pros
Slim profile
Multiple connection possibilities
Soft grip
Cons
Slightly expensive
Strong chemical scent
Check out on Apple's website:
iPhone 13 mini | iPhone 13 Pro Max
3. Apple AirPods Pro
Equipped with an active noise cancellation feature, these AirPods offer an immersive sound experience. Besides, they come with a transparency mode that enables easy hearing and seamless connectivity. The fit is snug, thanks to the soft and tapered silicone tips of the Apple AirPods Pro.
The transparency mode is so incredible that it lets you share a song between two pairs of AirPods. It supports voice assistant connectivity so Siri can read out your messages.
Above all, it has a spectacular battery life of up to 4.5 hours when you're using it non-stop. The charging case is wireless, so charge your Apple AirPods Pro even in transit. Also, the AirPods are compatible with other kinds of chargers that have Qi certification.
Pros
Comfortable and customizable fit
Easy to connect and convenient to use
Clear sound that isn't muddy or overpowering
Cons
Difficult to control using Siri
4. Apple MagSafe charger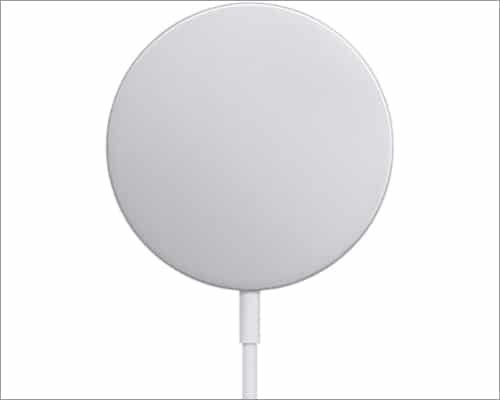 Designed to make wireless charging the next big thing in the iPhone universe, the MagSafe Charger is the accessory you need. With built-in magnets perfectly aligned, you can use the charger for your AirPods or your iPhone.
You can charge the MagSafe Charger with any charger that has a Qi certification. However, you must remember that this charger works best with iPhone 12 and iPhone 13 variants. Additionally, it's also applicable for AirPods Pro, the wireless charging case, AirPods, plus the wireless charging case.
The MagSafe charger comes with a USB-C integrated cable that's 1 meter in length. For optimal charging, use a power adapter of 20W USB-C that's available separately. The design is minimalistic and simple, making it easy to operate. Just slap it on your iPhone's back, and it will start charging automatically. You don't need to worry about the lineup.
Pros
Convenient and easy
iPhone stays connected to the charger
Snaps into the perfect charging position
Cons
Charges slower than the lightning cable
5. Belkin MagSafe 3-in-1 wireless charger
With too many Apple devices at hand, it might get difficult to get all of them fully charged simultaneously and always. This is where Belkin MagSafe 3-in-1 comes into play. This charging station is your one-stop solution to charge your iPhone 13, AirPods, and Apple Watch all at the same time.
Despite its sleek design, it packs in a lot. It has a power cord connected to it, which in turn is connected to a power adapter on the other end. Belkin MagSafe 3-in-1 is touted to provide 15W of charging with the help of magnetic and circular devices. The diagonal tilt lifts your phone off its base to make it appear as if it's floating in space.
As long as you don't remove the phone from the charger, it won't come off. Even if you turn it upside down, it won't drop. This means that you can turn your iPhone from a vertical to a horizontal position and vice versa. The 15W charging ensures a 26 percent increase in the iPhone battery and 39 percent for the Apple Watch.
Pros
Stylish and subtle
Has an adapter
Fast wireless charging
Cons
Cannot be used with a non-MagSafe device
6. Anker Portable Charger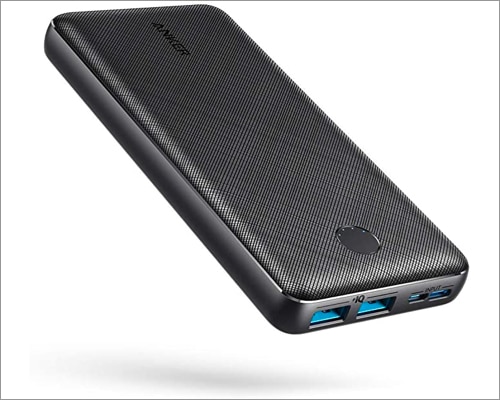 Equipped with a massive cell capacity of 20,000 mAh, this portable charger can charge a variety of Apple devices. This includes the iPhone XS, iPhone 13, iPad mini 5, to name a few. In addition to that, this portable charger employs an advanced technology that is characterized by a combination of PowerIQ and VoltageBoost.
Together, these two technologies provide optimal charging to all your Apple devices. At the same time, it also comprises a trickle-charging mode that's most suited for charging accessories with low power. This portable charger is also designed in a way that it can provide simultaneous charging. It consists of twin USB ports allowing you to charge two devices simultaneously.
With a USB-C as well as a Micro USB input port, it's up to you to recharge the way you want to. If you recharge using a 10W charger, it will take close to 10.5 hours for the device to get charged. Similarly, using a 5W charger means spending close to 20 hours behind charging.
The portable charger comes with a Micro USB cable and a travel pouch. It also provides equipment warranty as well as customer service options.
Pros
Easily carried and manageable
Available in pocket-friendly dimensions
Comes in a variety of models to suit the user's demand
Cons
Requires its charging cable
7. Apple MagSafe Battery Pack
There isn't a more convenient and easier to use battery pack than the MagSafe Battery Pack. That's not us saying it, but the usual reviews. With its magnets that are aligned perfectly, it remains attached to your iPhone to provide safe and wireless charging. What's more? It's an automatic battery pack.
That means, once connected, it will charge on its own, and you won't have to switch it on or off. You won't even have to remove your cards from the cardholder. If you're sitting at your desk and need to charge your device, all you need is to plug a lightning cable into the MagSafe battery pack. It will provide up to 15W charging.
For the times when you have to cut to the chase and enable fast charging, you can use a power adapter of 20W to charge your iPhone faster than usual.
Pros
Small and compact
Doubles as a 15w wireless charger
Deep iOS integration
Cons
Won't fully charge any iPhone 13 model
8. Sony WH-1000XM4 Wireless Industry Leading Noise Canceling headphones
Designed to be the leading noise-canceling headphones in the industry, this accessory comes with Dual Noise Sensor technology. Additionally, it constitutes Edge-AI that provides next-level music. It has been designed in collaboration with Sony Music Studios Tokyo. Once charged, it provides a battery life of close to 30 hours.
If you charge it for 10 more minutes, it can provide an additional charging of 5 hours. What's more? It is equipped with a touch sensor that allows multiple tasks. This includes playing a particular track, pausing it, skipping a few, and reducing or increasing the volume. You can also use your voice assistant for the same purpose.
The voice assistant also helps in answering phone calls. It does so by using Speak-to-chat technology. This feature reduces the volume of the tracks automatically when you get a call and as long as you're in conversation with the person.
The quality of phone calls is exquisite and has a precise voice pickup feature. Other features include multi-point pairing and DSEE Extreme upscaling.
Pros
Multiple device pairing
Lightweight and comfortable
Spatial audio format
Cons
High price
No IP rating
Same design for all products
9. Belkin Car Vent Mount with MagSafe
Designed especially for iPhone 13 and above, this car mount is a safe and powerful accessory concerning holding your iPhones. It's equipped with a superlative base as well as vent clips. So, when you're driving your car, your iPhone stays intact and doesn't fall due to any speed breaker or other movement.
Additionally, you can view your iPhone in any manner for optimal charging, streaming, talking, and navigation. So, you can arrange your playlist vertically and then use the navigation tool horizontally.
The cable management is pretty intuitive, which is why the charging cable is kept within your reach conveniently. This prevents your device from ever running out of battery.
Pros
Elegant and bold design
Powerful MagSafe connection
2-year warranty
Cons
Only compatible with iPhones 12 and above
Charger is sold separately
With that, we wrap up our recommendations for the best accessories for the iPhone lineup 13. These exclusive accessories add convenience and functionality to your life. Let us know which one you like best and if you'd like to add a couple to our list of all-time favorites.
Read more: