At the Scary Fast event, Apple unveiled its refreshed MacBook Pro series with the latest M3 family of processors, which have a few improvements over their predecessors. If you intend to purchase a Mac with one of the M3 processors, a choice between the M2 and M3 processors is obvious. In this tutorial, I'll compare Apple's M3 CPUs versus M2 chipsets to help you decide which one is best for you.
Key specifications – Apple M3 vs. M2
Before I compare both chipsets thoroughly, let's compare the specs of M3 and M2 processors.
| Specification | Apple M3 | Apple M2 |
| --- | --- | --- |
| Architecture | 3nm | 5nm |
| CPU cores | up to 8 cores (M3), 12 cores (M3 Pro), and 16 cores (M3 Max) | up to 8 (M2), 12 cores (M2 Pro), 12 cores (M2 Max), and 24 cores (M2 Ultra) |
| GPU cores | up to 10 cores (M3), 18 cores (M3 Pro), and 40 cores (M3 Max) | up to 10 cores (M2), 19 cores (M2 Pro), 38 cores (M2 Max), and 76 cores (M2 Ultra) |
| Neural Engine | 16 cores; 18 TOPS | 16 and 32 cores; 15.8 TOPS and 31.6 TOPS respectively |
| Unified memory (RAM) | up to 24GB (M3), 36GB(M3 Pro), 128GB (M3 Max) | up to 24GB (M2), 32GB(M2 Pro), 96GB (M2 Max), 192GB (M2 Ultra) |
| Transistors | 25 Billion (M3), 37 Billion (M3 Pro), 92 billion (M3 Max) | 20 Billion (M2), 40 Billion (M2 Pro), 67 Billion (M2 Max), 134 Billion (M2 Ultra) |
| Memory Bandwidth | 100GBps (M3), 150GBps (M3 Pro), 300 GBps (14-core M3 Max), 400 GBps (16-core M3 Max) | 100GBps (M2), 200GBps (M2 Pro), 400GBps (M2 Max), 800GBps (M2 Ultra) |
Apple has not yet announced the M3 Ultra, but based on paper specs, the M3, M3 Pro, and M3 Max outperform the M2, M2 Pro, and M2 Max in most cases.
CPU – Apple M3 chip vs. M2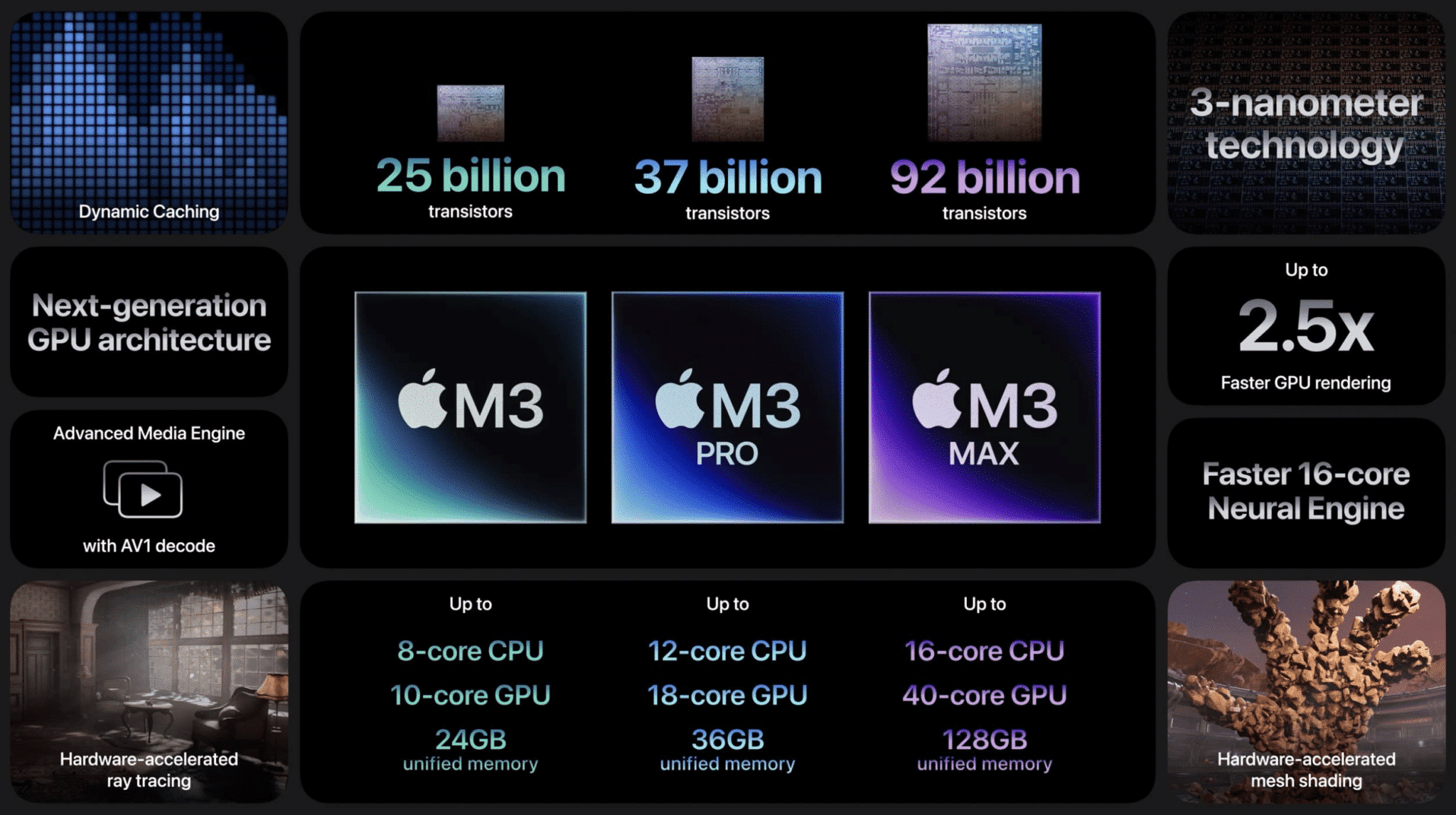 Like Apple's A17 Pro chipset, the M3 processors have been fabricated on TSMC's 3nm process, resulting in more transistors. M2 launched with 20 billion transistors, M2 Pro with 40 billion, M2 Max with 67 billion, and M2 Ultra with 134 billion transistors. In comparison, M3 features 25 billion transistors, M3 Pro has 37 billion, and M3 Max has 92 billion transistors.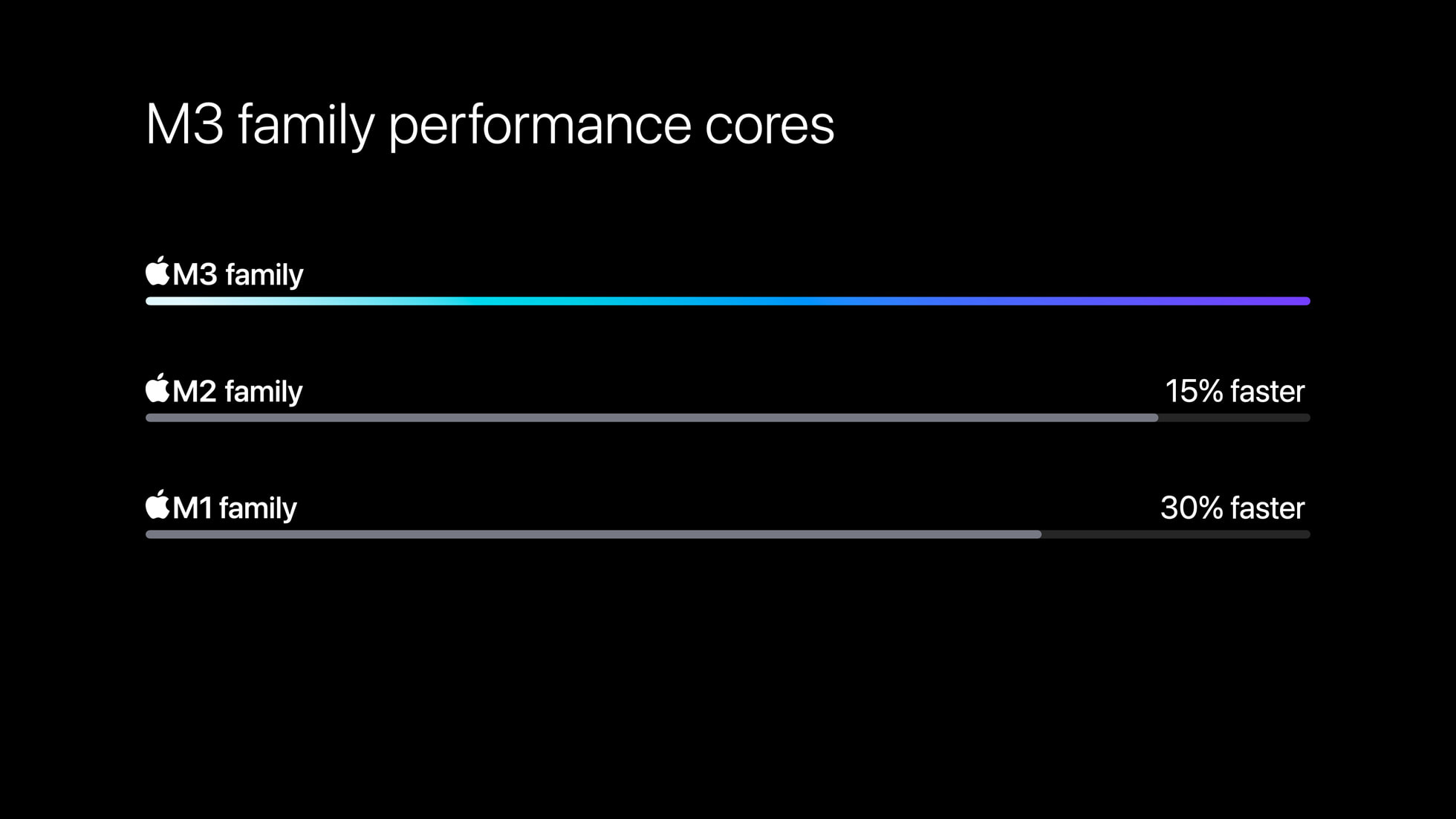 Apple claims that M3's high-performance core is 15% faster than M2's, and the efficiency core of M3 is 30% faster than that of M2. While M3 and M3 Max have more transistors than M2 and M2 Max, M3 Pro has fewer transistors than M2 Pro. The M2 Pro had eight performance and four efficiency cores, while the M3 Pro shares them equally with six performance and six efficiency cores.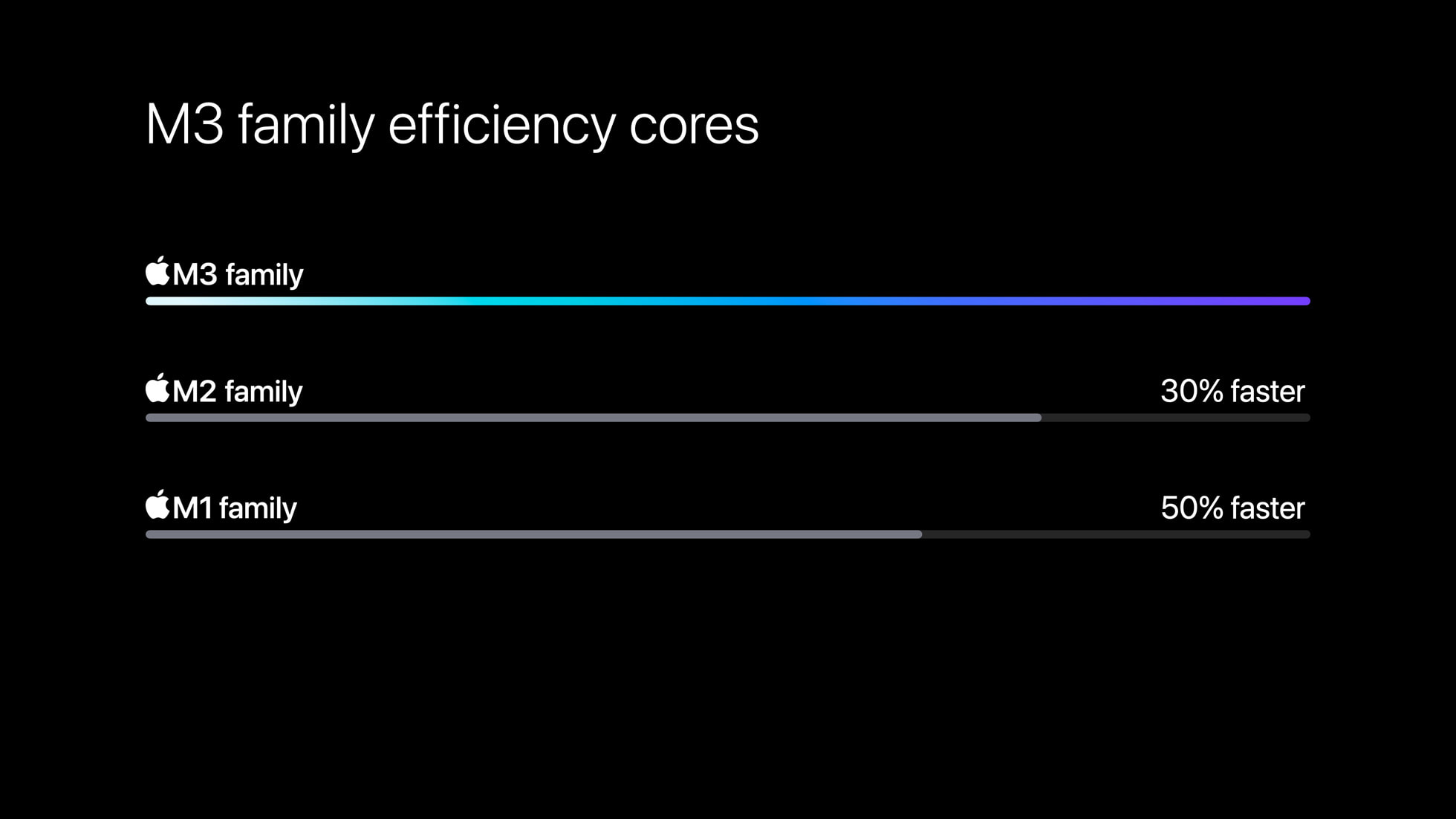 In the end, the performance of your Mac will depend on which M3 model you choose. Nonetheless, whether you go for the M3 or M2, the difference in performance and efficiency is insignificant if you get the M2 Mac for a lower price than the M3 Mac.
GPU and other improvements
The M3 had more GPU improvements similar to the A17 Pro, as they both have a 3nm fabrication process. The GPU on the M3 chipset supports dynamic caching, hardware-accelerated mesh shading, and hardware-accelerated ray tracing for better rendering performance.
If you didn't know about Dynamic Caching, it lets the chipset allocate system-level memory to hardware in real-time with precision dynamically.
Besides, Apple claims that its 10-core GPU on the M3 and M3 Pro is 10% faster than the M2 and M2 Pro's GPU, respectively. The 40-core GPU on the M3 Max is about 20% faster than the M2 Max's GPU. Apple added that the GPU on the M3 processor is ~65% faster than M1's GPU. Moreover, Apple M3's GPU does this at half the power of M1's GPU regarding efficiency.
Unified memory – Apple M3 vs. M2
Apple didn't improve much regarding the unified memory as it remains the same LPDDR5 in M3 and M2 processors. Instead, Apple reduced the bandwidth of the M3 Pro and M3 Max, but it remains the same on M3.
The M3 features a 100GBps bandwidth, the same as that of the M2. The M3 Pro, on the other hand, has a reduced bandwidth of 150GBps compared to 200GBps, and the same goes for M3 Max.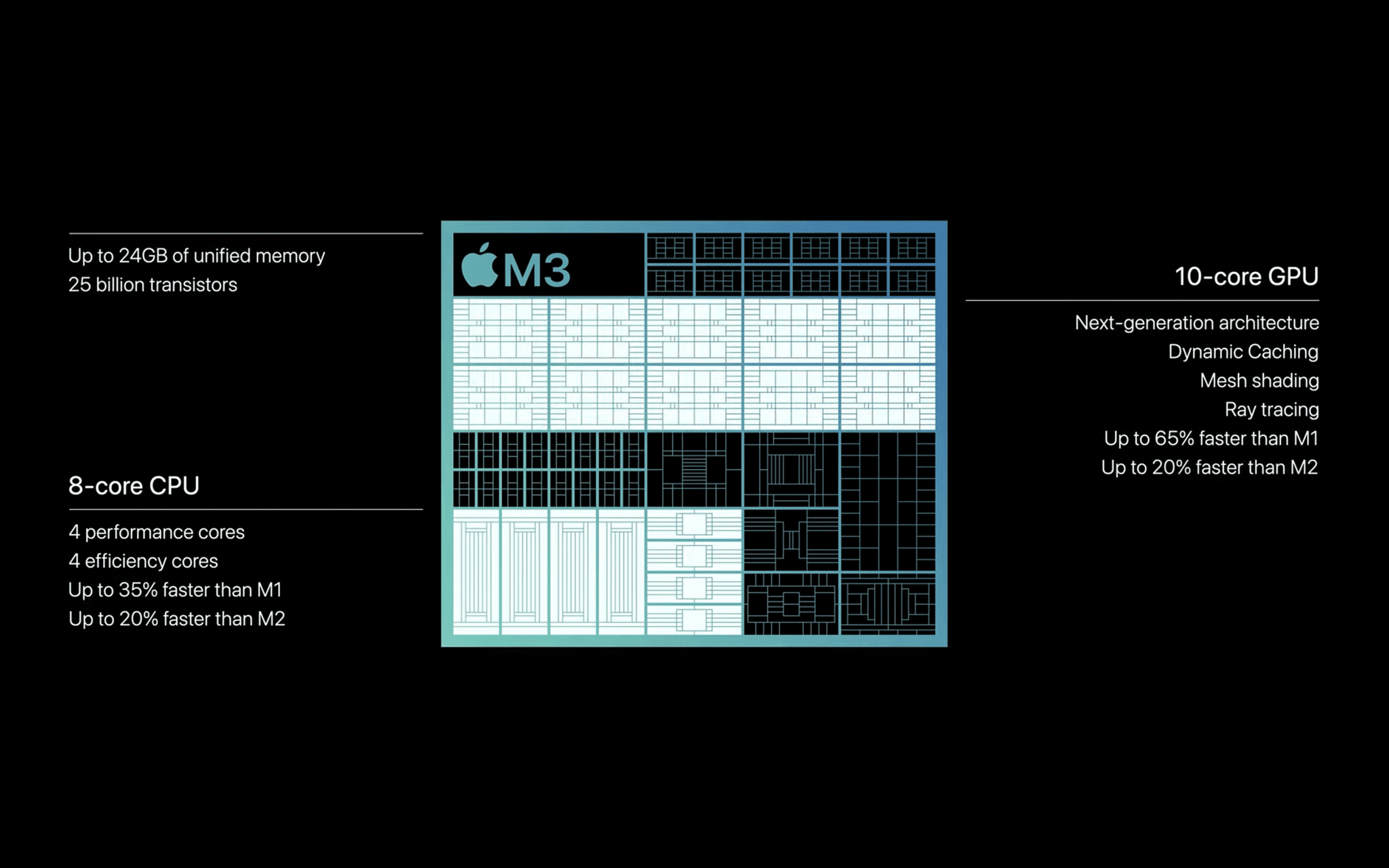 There can be various reasons Apple chose to downgrade the bandwidth on M3 chips. One of them could be that Apple has decreased the prices of its newest MacBook Pro lineup, and the other reason could be Apple might be using a 192-bit memory bus on M3 rather than a 256-bit memory bus on M2.
Furthermore, with M3 Max, Apple introduced a 128GB unified memory option, whereas M2 was limited to 96GB on M2 Max.
Neural and Media Engine – Apple M3 vs. M2 chipset
Apple says that M3's Neural Engine is 15% faster than M2's Neural Engine, but the cores remain the same at 16 cores at 18 TOPS. But the A17 Pro chip on iPhones can have 35 TOPS, which is debatable. On a positive note, when you compare the Neural Engine on M3 to M1, it's 60% faster.
The Media Engine on M3 remains the same, too, with little to no changes. The AV1 decoding support, meaning you can now stream AV-1 encoded videos on streaming platforms like Twitch, YouTube, and more, providing better battery life for your Mac.
Are M3 chips better than M2?
The M3 chipsets are a minor upgrade over the M2 family of processors, whether CPU, GPU, memory, or Neural Engine. So, here are my conclusions:
If you own a Mac with an M2 processor, you should avoid upgrading to an M3 Mac.
If you're upgrading from the M1, the M3 could be a significant upgrade.
I hope you found this comparison guide helpful. If you have any further questions or suggestions regarding the same, you can leave them in the comments below. I'd be happy to respond!
Read more:
Readers like you help support iGeeksBlog. When you make a purchase using links on our site, we may earn an affiliate commission. Read Disclaimer.