Apple's M3 family of chipsets offers a range of performance options for Mac users. With their 3-nanometer architecture, next-generation GPU cores, and faster CPU and Neural Engine, the M3 chips are more powerful than ever. To help you decide which chip is suitable for your needs, I'll compare the key differences between the M3 vs. M3 Pro vs. M3 Max chips here!
Key differences – M3 vs M3 Pro vs M3 Max
Yet again, Apple has shown its prowess with the next-gen M3 series chipset integrated into the new 14 & 16-inch MacBook Pro and iMac 24-inch models.
But with so many specifications mentioned, you may get confused about which processor configuration is ideal. Therefore, let's compare by numbers for a clear understanding:
| | | | |
| --- | --- | --- | --- |
| Specs | M3 | M3 Pro | M3 Max |
| Transistors | 25 billion | 37 billion | 92 billion |
| RAM | 24GB unified memory | Up to 36GB unified memory | Up to 128GB of unified memory |
| GPU cores | 10 cores | 14/18 cores | 30/40 cores |
| CPU cores | 8 cores | 11/12 cores | 14/16 cores |
| Storage options | Up to 2TB SSD | Up to 4TB SSD | Up to 8TB SSD |
Performance – M3 vs M3 Pro vs M3 Max
M3 is a significant step from the first M1 chip, increasing 5.1x faster performance. All the processors use industry-first 3nm technology for computer processors to accommodate a more substantial number of transistors. It also contributes to improved speed and efficiency.
M3 has 25 billion transistors, adding 5 billion more from the M2. However, the M3 Pro is similar to the M2 Pro, with 37 billion transistors – both of which are 2.4x faster than the M1 Pro model.
M3 Max got the biggest leap with a whopping 92 billion transistors. So, you will experience up to 2.5x faster processing than the M1 Max model.
Besides, the M3 family contains a 60% faster 16-core Neural Engine that speeds up robust AI machine-learning models. Also, it lets your Mac preserve data on the device to protect privacy. Moreover, AI image processing and professional video editing get speed improvements.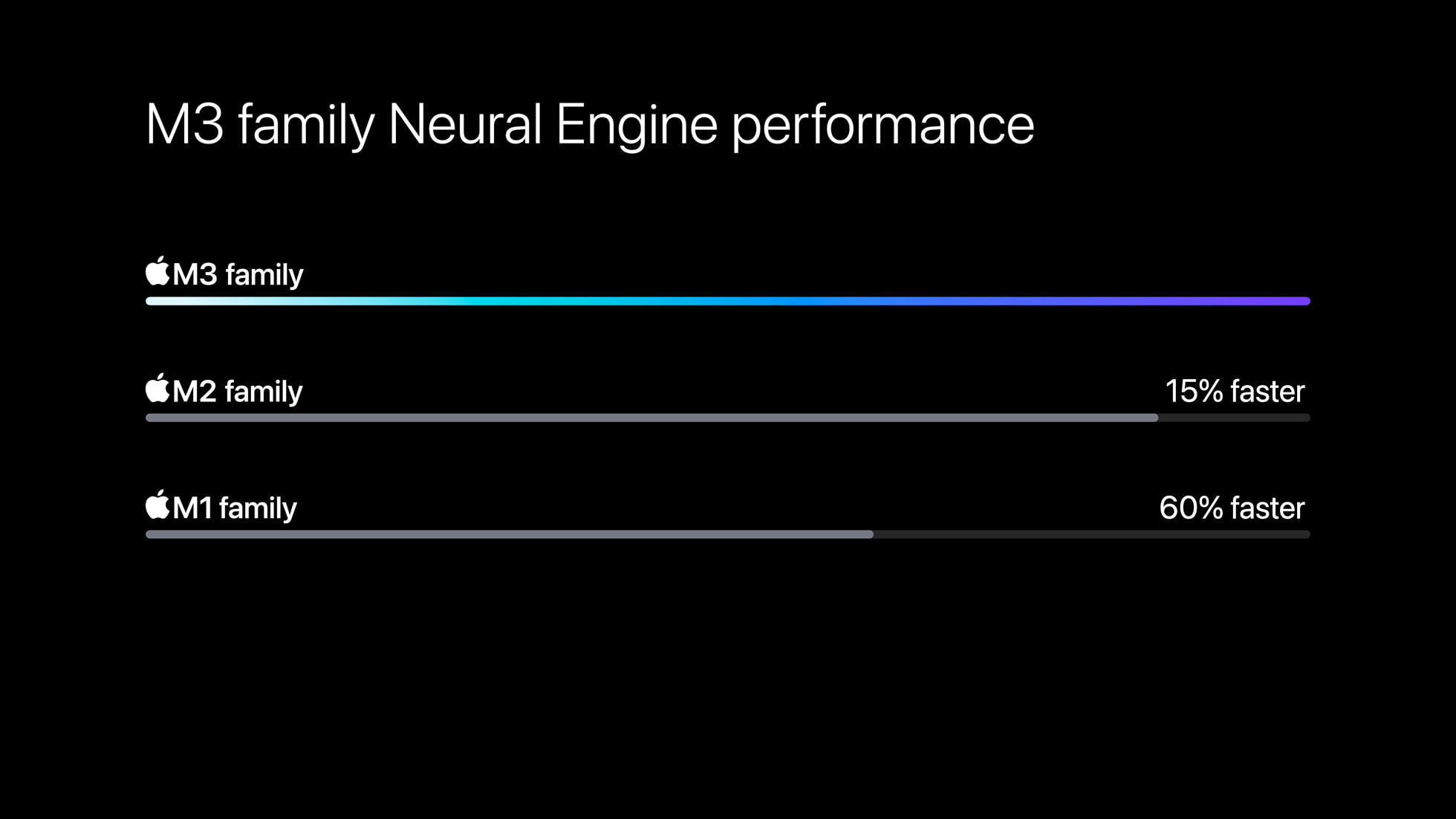 The M3 family's three chips also have a robust media engine that accelerates hardware for the most common video codecs, including H.264, HEVC, ProRes, and ProRes RAW. The main highlight is the new AV1 decode support to enjoy more power-efficient video playbacks in streaming services.
On M3 Pro, you can play back up to 21 streams of 4K ProRes video and support two simultaneous external displays. Besides, the M3 Max can play back up to 13 streams of 8K ProRes video and run four external displays. Thus, the intel-based and M1 Mac users will be swept away by this ground-breaking performance.
All-new GPU architecture – M3 vs M3 Pro vs M3 Max
Apple has designed the M3 series keeping creative professionals and gamers in mind. Similar to the new A17 Pro chip in the iPhone 15 Pro series, the M3 has a new GPU architecture. Therefore, users will be able to enjoy new features like Dynamic Caching, mesh shading, etc. More on that later!
The base M3 processor has a 10‑core GPU, 65% faster than M1 and 20% faster than M2. While video editing on Final Cut Pro, the chip has shown a tremendous 7.4x better rendering performance than MacBook Pro with M1. Also, the Logic Pro music production can run 2.3x more Amp Designer plug-ins.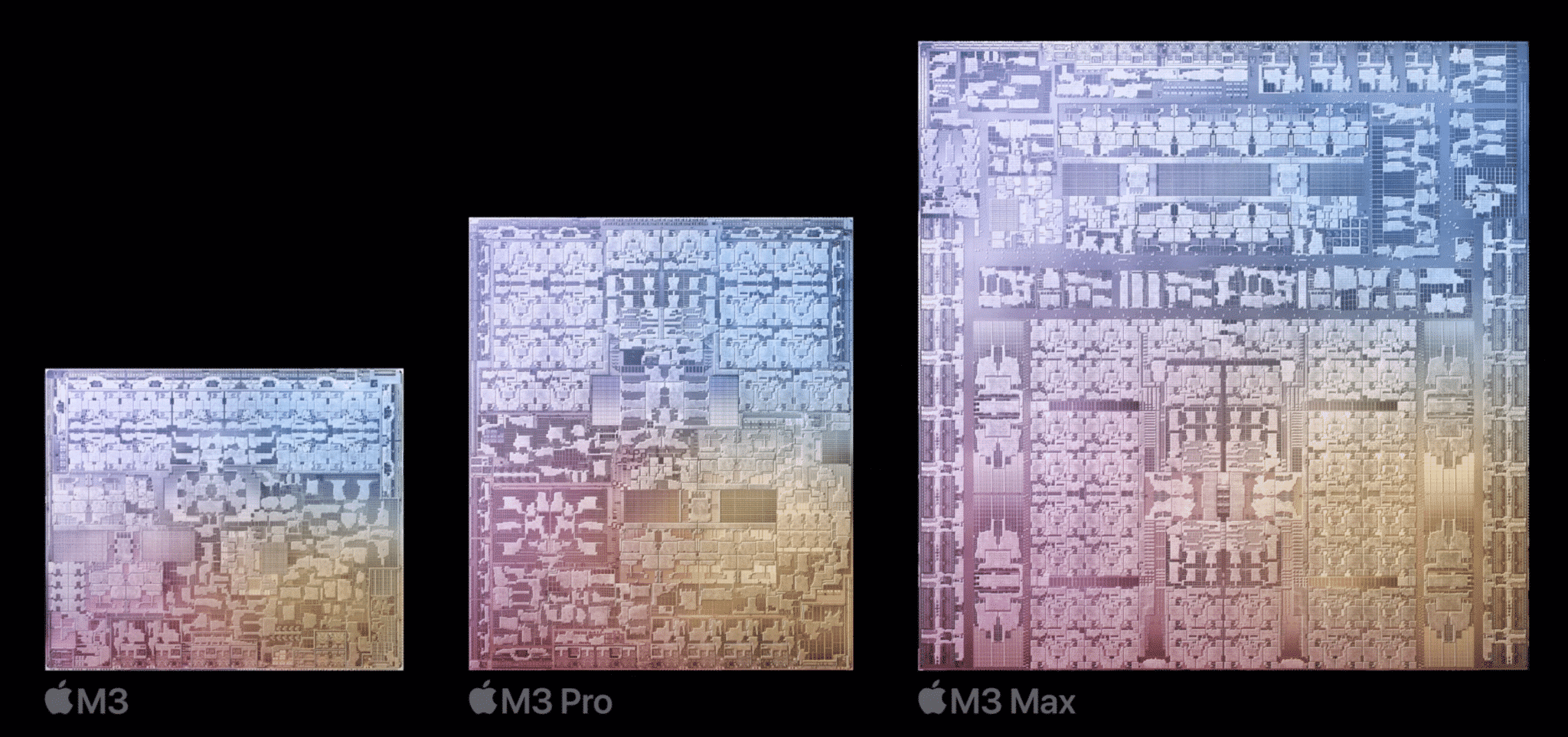 Besides, the M3 Pro is upgraded with an 18-core GPU setup. The new architecture facilitates 40% more graphics power than M1 Pro and up to 10% faster than M2 Pro. If you love animations, you will enjoy 24.7x faster 3D rendering performance than M1 Pro. Besides, photo editing in Photoshop is a cakewalk thanks to 2.9x better filter processing.
On the other hand, the M3 Max is a literally beast in these terms. It has a 40-core GPU, increasing the capabilities by 50% to M1 Max and 20% to M2 Max. So, whether it's 3D rendering, scientific analysis, image processing, medical imaging, video and photo editing, or color grading, the chip provides industry-level unimaginable performance on your laptop.
Enhanced CPU cores
Besides the GPU system, Apple has also worked on the CPU cores to provide a highly responsive experience while remaining extremely power efficient. The multithreaded performance is elevated to 30% higher compared to the previous MacBook Pro. So, all your everyday activities are completed up to 50% quicker than those in the M1.
The M3 chip has the same 8-core CPU with 4 performance and 4 efficiency cores. However, the additional transistor architecture has made it faster by 35% than M1 and 20% more than M2. Next, the M3 Pro incorporates a 12-core CPU with 6 performance and 6 efficiency cores.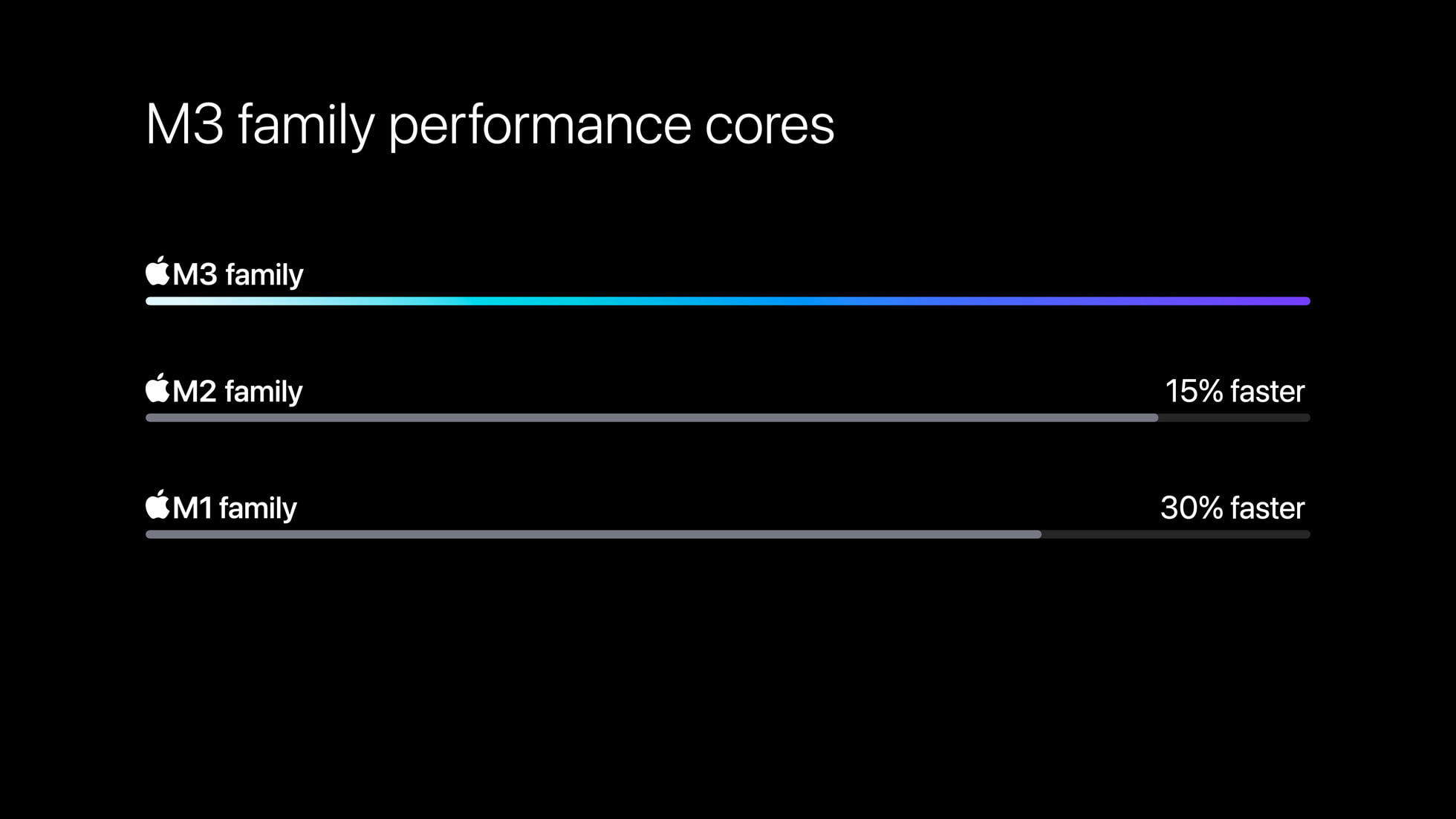 While we don't know how it compares to the M2 Pro, the chip is 20% faster than the M1 Pro. At last comes the show-stopper M3 Max with a 16-core CPU. Apple has provided 12 performance and 4 efficiency cores, a whopping 80% faster than M1 Max and 50% more than M2 Max.
Overall, while the M3 and M3 Pro focus on balanced performance and power consumption, the M3 Max goes all out to offer you a breezy work experience.
Reduced power consumption
Apple understands that resource-heavy tasks and projects consume your battery in a blink. So, the M3 series complies to keep up with the industry-leading performance-per-watt.
The M3 chip can accomplish the same CPU and GPU process workload with half of the power consumed by M1. Moreover, Apple claims that the M3 chips only need one-fourth of the ability to run CPU threads and only one-fifth for the same GPU performance as any 12-core laptop processor.
Storage options
With increasingly demanding tasks and games with more extensive content libraries, the storage always seems less. Therefore, Apple ensures your essential tasks never get hampered or lag by introducing support for up to 128GB of Unified Memory and up to 8TB SSD storage. However, this configuration is only available for the M3 Max chip.
If you opt for the base 14-inch M3 model, you will get 8GB Unified Memory and 512GB SSD storage only. Apple lets you configure up to 24GB Unified Memory and 2TB SSD. The 16-inch MacBook Pro does not come with the base M3 chip.
On the other hand, the M3 Pro model has two variants: an 11-core CPU with a 14-core GPU and a 12-core CPU with an 18-core GPU. You can further configure the storage with 18GB to 36GB Unified Memory and 512GB to 4TB SSD. If you want more extended storage options, upgrade to the M3 Max model.
Similarly, M3 Max comes in two configurations. The 14‑core CPU with 30‑core GPU variant can be coupled with 36GB or 96GB Unified Memory. In contrast, the 16‑core CPU with 40‑core GPU M3 Max model can house 48GB, 64GB, or 128GB Unified Memory. Both variants boast SSD storage from 1TB to 8TB options.
What's new with Apple M3 chips?
Besides the performance enhancement, the M3 family is jam-packed with new GPU features. Let's know in brief:
Dynamic Caching: Apple M3 is the first laptop processor to get dynamic caching capabilities. It enables the system to allocate required local memory in real time and save resources for other tasks. So, even the most resource-intensive applications run smoothly.


Ray Tracing: You can now enjoy hardware-accelerated ray tracing with the M3 series. It enhances 3D rendering and lets applications produce incredibly lifelike and physically precise visuals. Therefore, creators and gamers can experience more immersive scenes with realistic shadows and reflections.
Mesh Shading: The new mesh shading capability enables sophisticated geometry processing to generate intricate graphics-heavy sceneries. Therefore, along with ray tracing, your Mac becomes a go-to device for intense gaming.
All these new features are available for M3, M3 Pro, and M3 Max.
Final verdict – M3 vs M3 Pro vs M3 Max
The base M3 is suitable for every user who typically does multitasking, video conferences, other daily tasks, and advanced apps and games. It is more focused on power efficiency. If you need balanced performance, the M3 Pro is ideal. With extra unified memory, CPU and GPU cores support more demanding workflows of academics, coders, and creative professionals.
Finally, M3 Max allows pro users to run multiple resource-intensive demanding software simultaneously. You can edit multicam 8K videos, intricate 3D rendering, and compile large code. Besides, the M3 Max MacBook Pro is necessary for AI developers to create transformer models with billions of parameters.
So, that's all for my M3 vs. M3 Pro vs. M3 Max chipset comparison. Let me know what you think of this new series of the most powerful Apple silicon Mac processors in the comments below!
Read more:
Readers like you help support iGeeksBlog. When you make a purchase using links on our site, we may earn an affiliate commission. Read Disclaimer.