Mixit is a must-try singing app for singer-wannabes and pros alike. This app lets you select from thousands of songs or tap the power of AI to create your own, transform the song to fit your style, and showcase your musical talent before the watching world.
Pros
Lets you change the song's genre
User-friendly and intuitive interface
Cons
Weak voice audio
Full songs, AI song credits, and advanced editing features are only available with a subscription
Editor's rating: 🌝 🌝 🌝 🌜

Price: Free (In-app purchases start at $0.99)

Letting your inner singer out, even just for a few minutes (or possibly for hours), can help let off steam and boost happiness. It is one of the best ways to have fun with friends! Thanks to technology, you don't have to drop by the nearest karaoke place or plug in a device on your TV to be able to sing. Now, you can do this and so much more through your iPhone.
Mixit is an innovative app that lets you sing and has a wide array of tools to perfect your song performance—especially if you plan to share it on TikTok!
Planning to get Mixit? Here's a comprehensive review of the Mixit karaoke app, how it works, and all its features.
What is Mixit app?
Mixit app is a singing or karaoke app that lets you pick from and sing along to thousands of songs in its library. It enables you to record yourself while singing, add filters and effects, and instantly share your song performance on social media.
Features that can make Mixit stand out
While there are plenty of singing and karaoke apps, Mixit has several distinct features that set it apart from the rest. Here are some of them:
Change the song's genre
Instead of going for the song's original style, you can opt for Dream, Ukelele, the '80s, Ballad, Acoustic, Rock, Piano, Cinematic style, or something else that best fits your personality or mood at the moment.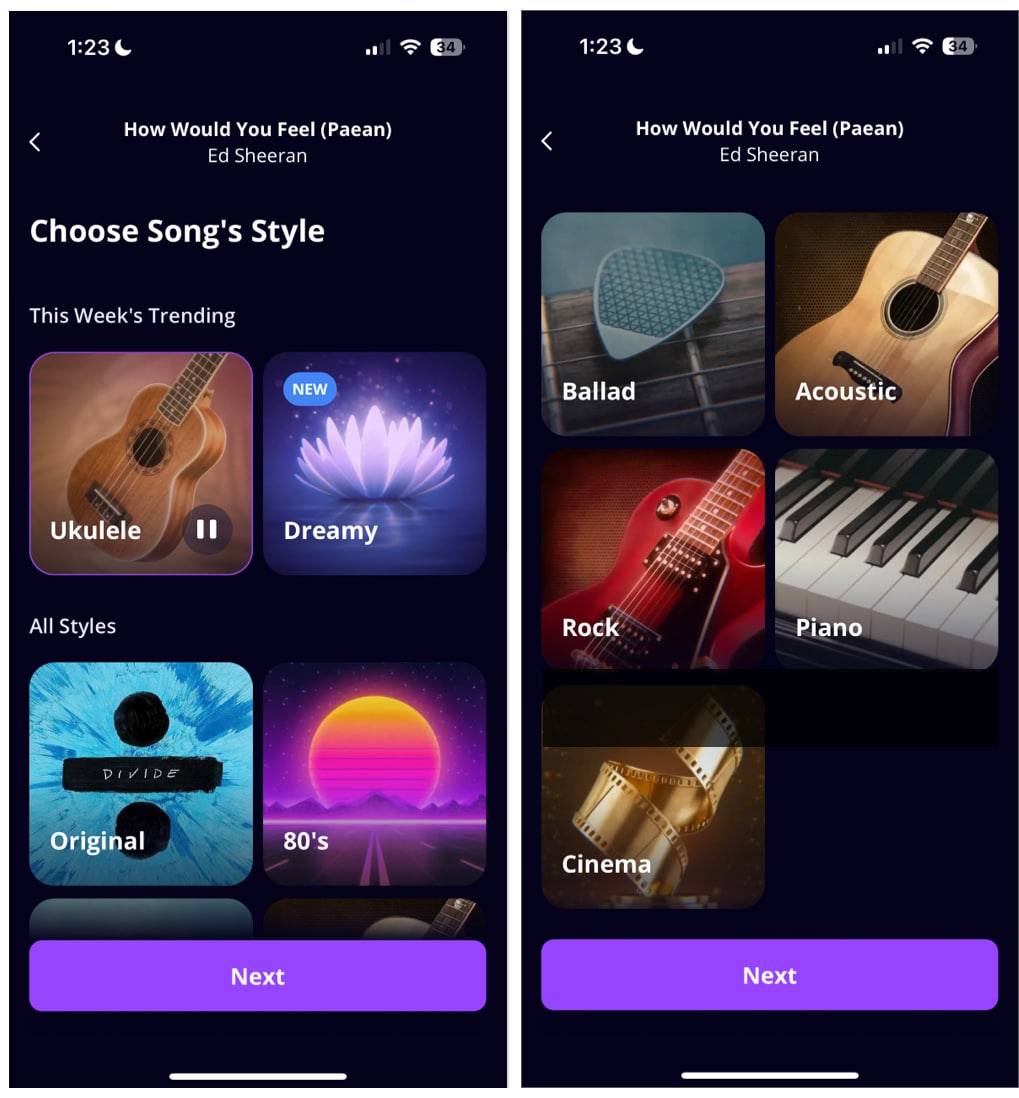 Visual filters
There's Beautify to hide your blemishes, eye bags, and many visual filters to choose from. You can even control how much filter to apply to your video so that it still looks natural.
Mixit also lets you choose from over 40 filters and overlays/animations that play while you sing.
But if you're camera conscious and don't want others to see your face as you showcase your vocal talent, you can tap Cam Off.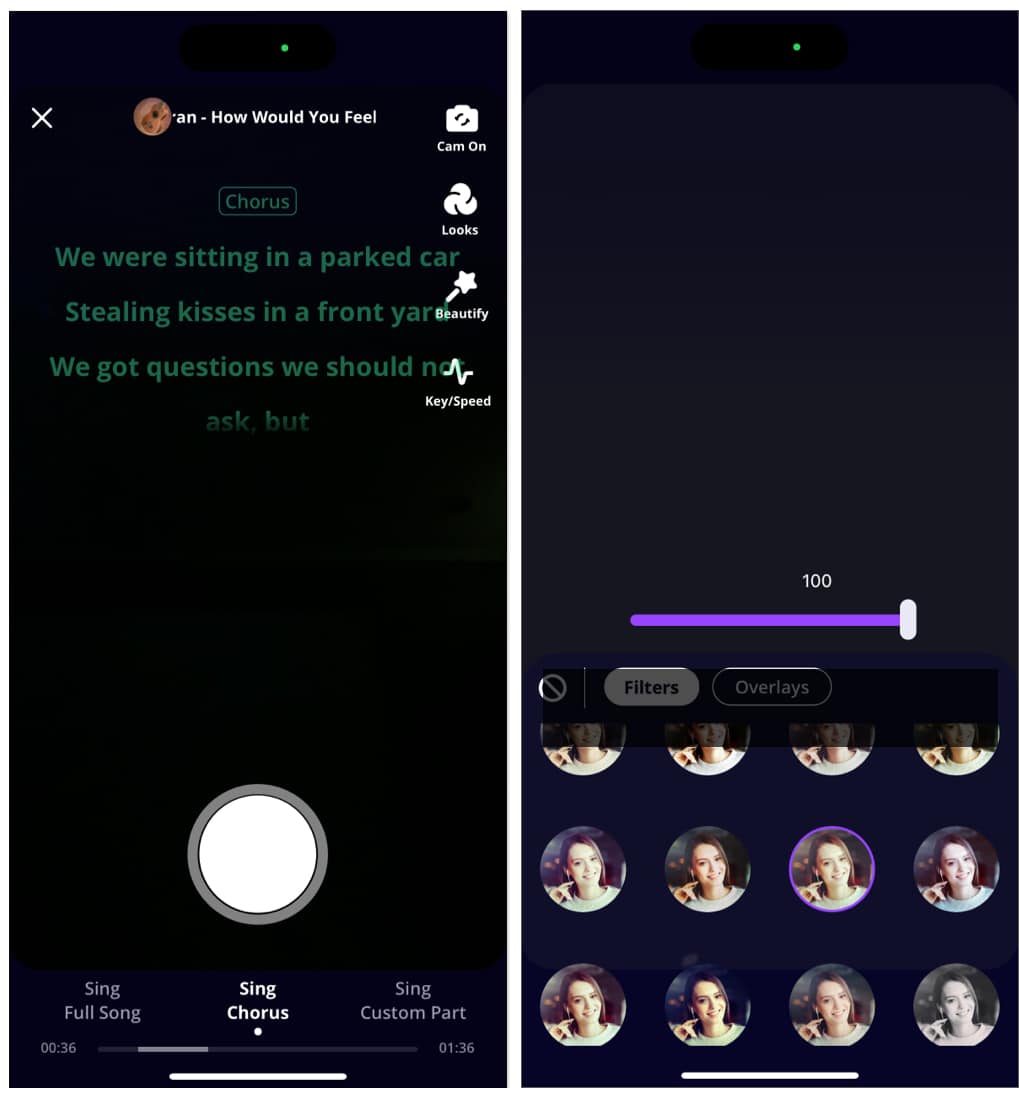 Select which part to sing
You can sing the entire song, just the chorus, or select a custom part, such as a specific verse or chorus. However, if you only have a free subscription, you can only sing the song's chorus.

Use lyrics and vocal guides
It's not always easy to sing along to a melody minus the vocals. The Mixit cover maker app provides rolling lyrics that highlight the lines you're about to sing and lets you use vocal guides to help you sing in the correct pitch.
Before recording, Mixit will suggest that you plug in a headphone for a better recording experience—and I totally agree. Plugging a pair of headphones allows you to hear yourself while recording, which offers feedback to keep your pitch in check.
It also allows Mixit to capture your voice better (recordings taken without headphones tend to have louder music and weak voice recordings).
When you record without headphones, you'll only see a Guide icon that lets you control the sound of the accompanying vocals (a great help to keep you in sync with the song). But if you record using headphones, you'll also see a My voice option, which lets you adjust the volume of your voice.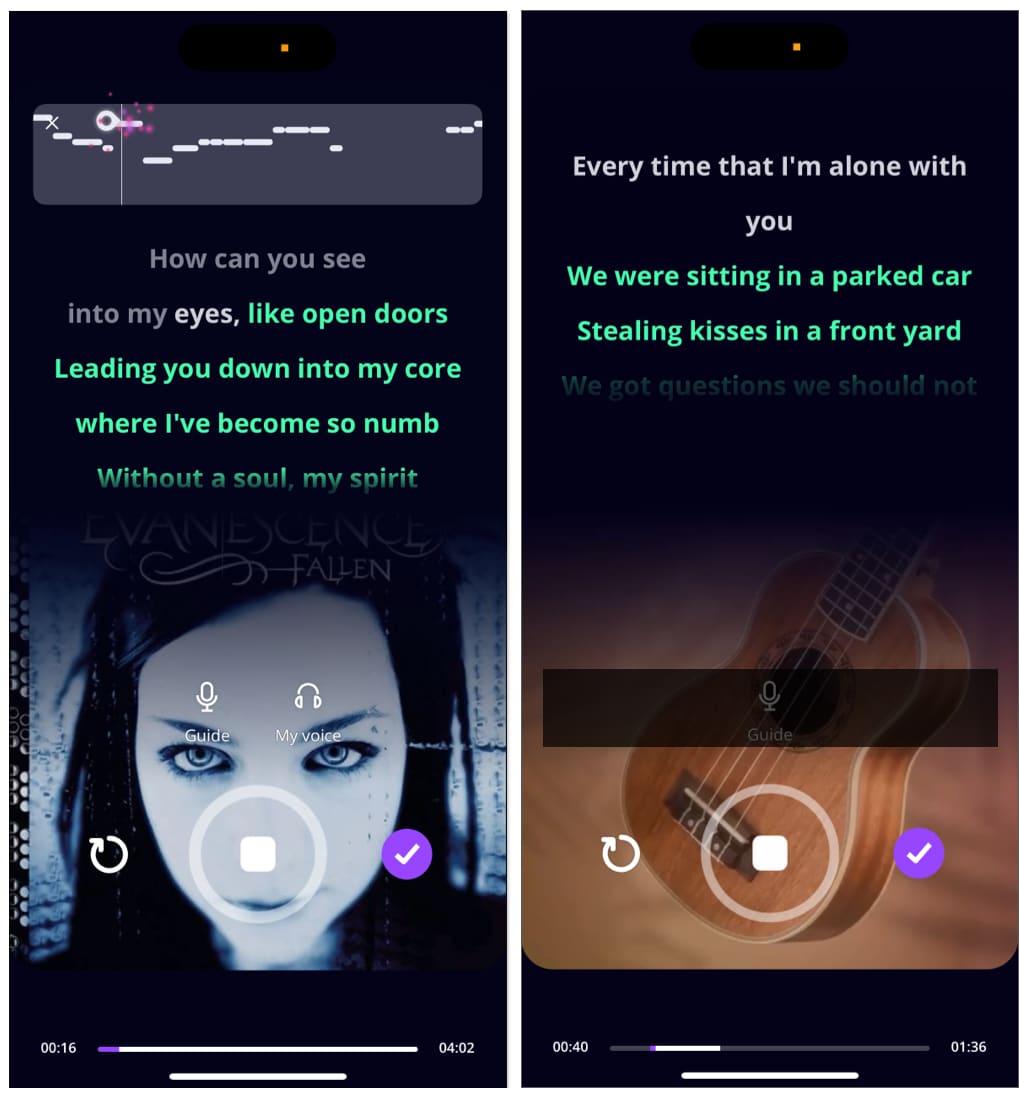 Adjust the song's key and speed
The Key/Speed feature lets you adjust the song to your voice by bringing the key up (up to +6) or down (up to -6) to match your key and change the song's speed (from 70% to 150% its original speed) based on your preferred pace. Note that the free version only allows you to adjust the key from -2 to +2 and the speed from 91-109%.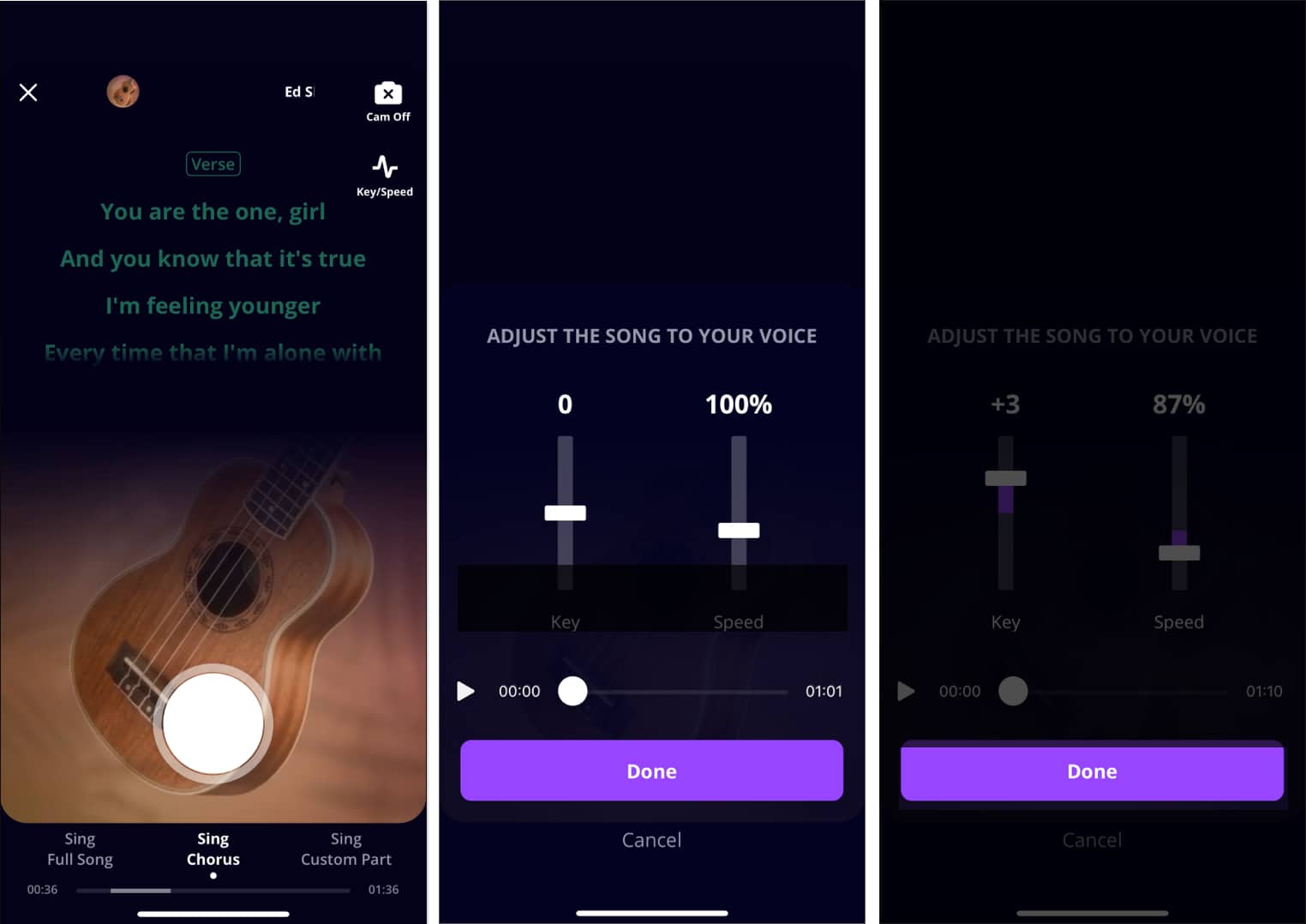 Choose from numerous voice effects and filters
Mixit also has several advanced settings to help users improve the sound quality of their recordings. The Sync feature is useful when your vocals don't sync with the music. Tap Auto or manually move the slider to sync the two together.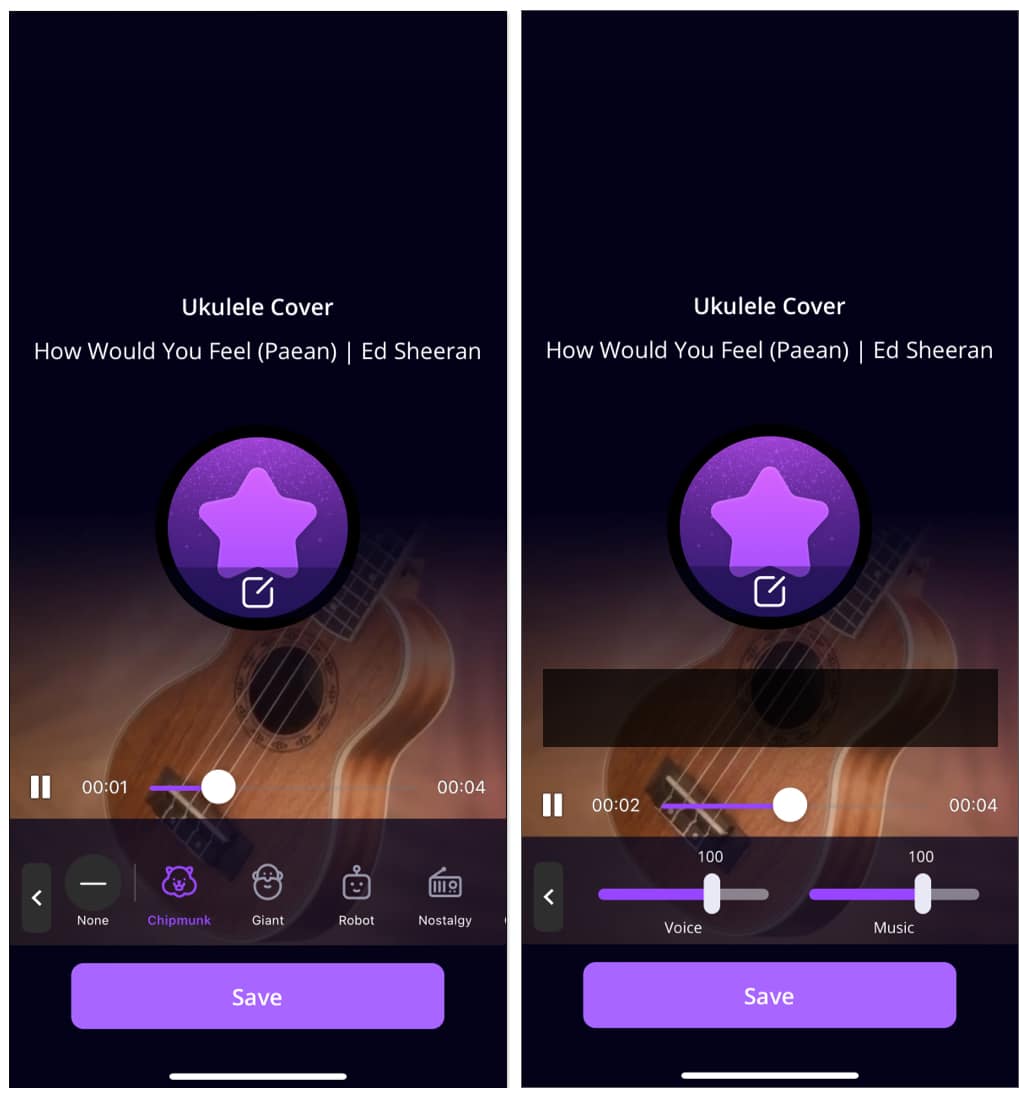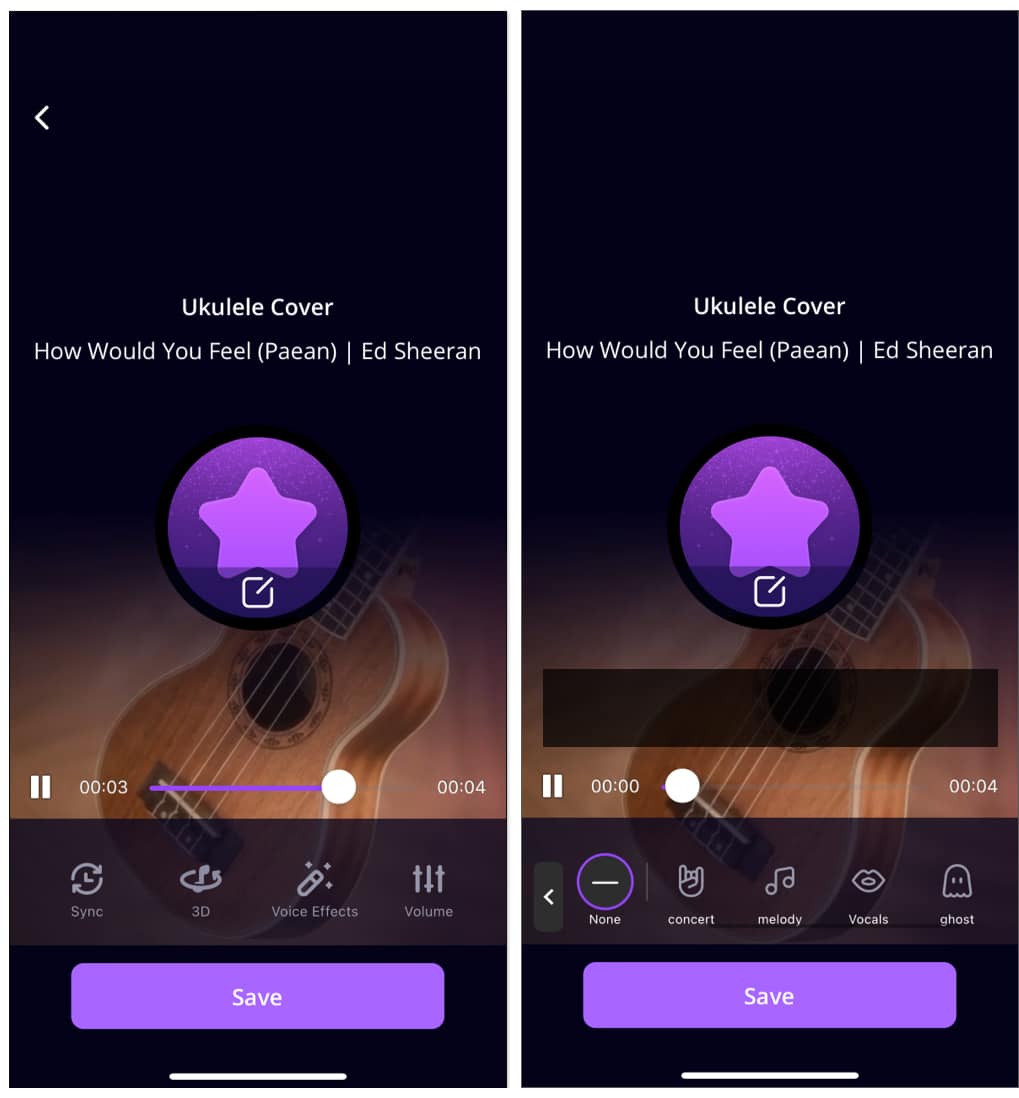 There are also several 3D sound effects that can make the music or your vocals move in a three-dimensional space. However, this works best when you're using headphones.
You can also adjust the volume of your voice and the music to get a perfect balance.
AI Song Generator
All of us know that Apple released its own karaoke feature, which instantly gained popularity. However, one feature that sets Mixit apart from other karaoke apps is its ability to generate a song for you. Just input your keywords into the text box and wait for it to generate a unique song.
Tap Regenerate to create a new one based on your provided text. Then pick a melody from any of the songs in the library.
Of course, generating AI-crafted songs isn't free. You'd have to pay a certain amount for AI song credits:
$1 for 10 songs
$2 for 40 songs
$5 for 120 songs
You'll have three free AI song credits on a free subscription.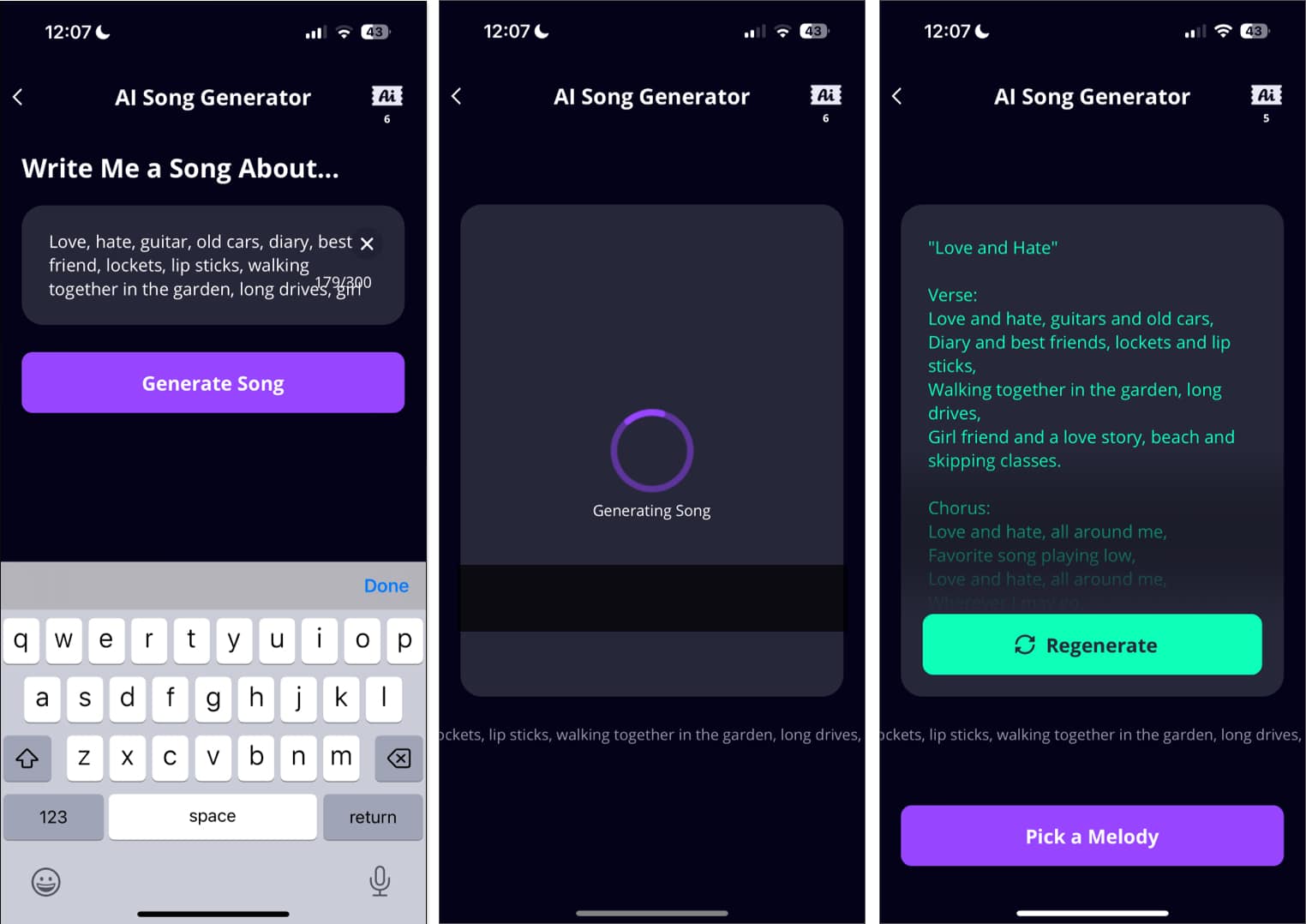 Content creators who want to post song covers regularly will find this option extremely convenient. After creating your video, you can immediately share your creation with family and friends or post it on social media.
How to use Mixit to create your own song cover on iPhone or Android
Using Mixit to create and enhance your music cover is easy-peasy. Once you've downloaded Mixit on your iPhone, here's a step-by-step process for creating your next song performance:
Scroll down on the app's home screen, which arranges song hits based on categories like TikTok Trending, Easy to Sing, and All Time Favorites, or use the tabs at the top like Pop, Rock, and Hip Hop to list the songs according to the genre.

You can also use the search bar if you already have a specific song or artist in mind.
Select a song.
Select a style and tap Next. A sound preview plays when you select a style.
Choose to sing the full song, only the chorus, or a custom part of the song.
You can modify your recording experience by turning your Cam On/Off, using Beautify, or adjusting the Key or Speed of the music. You can also add a filter or Overlay animations while you're recording.
Tap the record button to begin recording, and tap it whenever you want to pause. The recording also automatically finishes when the song or chorus is over. Tap the refresh icon to start again, and select the purple check button when you're done.
Tap Guide (mic icon) to adjust the volume of the vocals to guide you. If you're using a headphone, a Voice(headset icon) will also appear, allowing you to adjust your voice's volume.

You'll see a preview of your video for editing. You can perform several advanced settings like Sync and add Voice Effects to your video before saving it. Note that Mixit doesn't allow you to go back to editing mode once you've saved your video.
Once done with the editing, tap Save.
Tap Share and select which social media platform you want to share your recording.
Should you get Mixit?
iGeekometer
User interface
Features and facilities
Content Creation support
Value for money
I've enumerated numerous features that set this app apart from its competition. For one, the AI song generator is really cool. But it's still a bit clunky and needs rephrasing and polishing. Moreover, the app doesn't generate a new melody but only lets you sing the AI-generated lyrics to an existing song's melody. But we know that AI is still in its infancy, so this feature has great potential.
Another sad thing about the app is that there's no way to save the lyrics. This means you must copy it if you like what it made for you.
Another con about the app is that it doesn't let you go back and modify your song performance with advanced settings like voice effects after saving it. Once you've saved it, you can no longer change it. This means that you only have one chance to customize your recording.
Audiophiles shouldn't compare Mixit to sophisticated audio software, though. So, if you aren't looking for anything pro but need an app to let you create song covers, Mixit would be a good option.
Review Summary - Mixit app
Review Summary - Mixit app
The Mixit app is designed for fun and social media-ready content, but it isn't for those who want pro-level content. It lacks the more nuanced audio finetuning features that may be important for other content creators. In essence, this app would be a great choice for those want to be creative and add some personality to their covers.
The Mixit app is designed for fun and social media-ready content, but it isn't for those who want pro-level content. It lacks the more nuanced audio finetuning features that may be important for other content creators. In essence, this app would be a great choice for those want to be creative and add some personality to their covers.
Rachel loves anything Apple —from iPhones, to Apple Watches, to MacBooks. She is also a medical writer and a ghostwriter for various publications.