The introduction of MagSafe for iPhone brought in a wave of several new accessories. Twelve South crafted two such MagSafe accessories to eliminate a quirk in the MagSafe charger, all the while adding to the overall aesthetic and providing additional features.
What is the quirk, you ask? While the MagSafe Charger is designed well, you need to use both hands to unplug the device due to its strong magnetic disc. Both Forté and Stone'r solve this problem with ease but are these MagSafe stands worth the price?
At iGeeksBlog, everyone's a big fan of Twelve South products, and we have reviewed many of them. So I have high expectations from them. Let's dive in without further ado to know more about these products.
1. Stone'r: A marbelous design 😉
Primarily designed to be a savior when charging your iPhone wirelessly using MagSafe, Stone'r is indeed a cool stand whose design, as its name says, is inspired by stones. No kidding! And well, it allows you to charge your device the way it's meant to be – without putting in ridiculous efforts to detach the device from MagSafe.
Let's learn more about its design and utility!
Design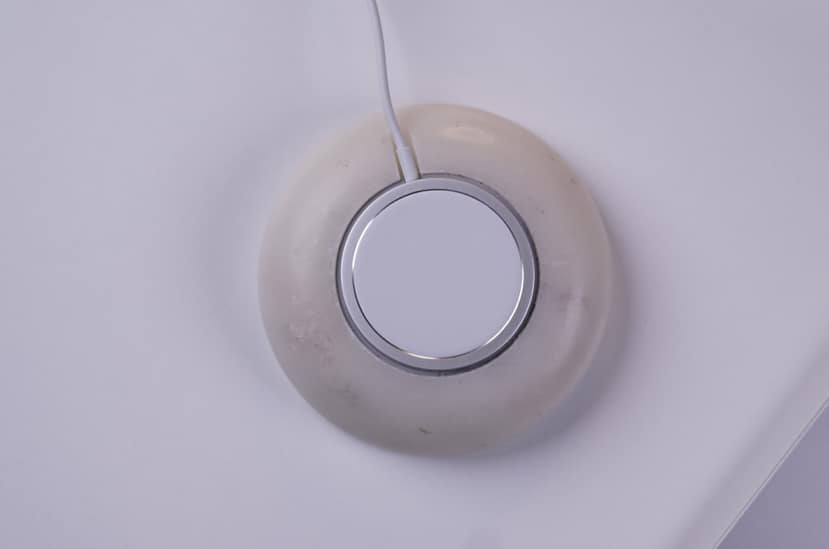 Stone'r by Twelve South is a cute little MagSafe charging stand carved out of Banswara marble. Its design is subtle and aesthetically pleasing to the eyes regardless of where it is placed. Moreover, it has silicone housing for the MagSafe charger.
It isn't huge in height and width and sits well even when placed in a corner. The only problem is that it's a bit heavy weight-wise. No matter the color of your tabletop, desk, etc., Stone'r will blend in. However, there's not much to say about a stone after all.
Utility
Stone'r is more than what meets the eye. The silicone housing for the MagSafe charger makes sure that it sits in tight. Also resulting in one-hand usage of MagSafe.
Marble is naturally heavy, weighing 1Kg, so Stone'r won't move around when you place or remove your device from it. Moreover, it uses a silicone base that is non-slip and helps prevent damage to any object on which it lies.
iGeekometer
Design
Utility
Value for money
Well, it might seem over for people who don't frequently use MagSafe charging, but it is indeed a blessing in disguise of a stone! The struggle was real. However, this might feel expensive accessory for a MagSafe stand.
Pros
Eliminated the hassle of MagSafe charger sticking on the iPhone
Provides elevation
Subtle design
Price: $39.99
2. Forté: Multiple problems, one solution
Designed for iPhone 12 series and later, Forté is a cool MagSafe stand + iPhone stand that rotates and offers more functionality than Stone'r (or maybe I am biased?). Either way, you will understand why I am saying so once you read more about it!
Design
Forté is yet another MagSafe charger stand by Twelve South. The stand has a squircle design (Square base with circular edges). It also has silicone feet, and when combined with the weight it comes at, i.e., 0.9lbs/400 grams, you can expect the stand to be quite sturdy.
The MagSafe housing has a silicone base, allowing you to place your MagSafe charger without any hassle. However, cable management can be an issue as the space allotted to route the cable isn't enough.
Utility
The Forté MagSafe charger stand allows you to easily place and remove your iPhone from the MagSafe charger. There is no more hassle of pulling your iPhone to separate it from the charger.
Another advantage of Forté is that you can rotate your device horizontally as well as vertically because of MagSafe. Moreover, Forté also doubles as an iPhone stand as the top can rotate up to 70°. Since it has a swiveling top, you can also charge your AirPods wirelessly.
iGeekometer
Design
Utility
Value for money
Now you get the reason why I was calling it cool? Besides holding MagSafe and being a perfect iPhone stand, it also comfortable charges your AirPods. For this price, I find this one a much better choice than Stone'r. What do you think? Share in the comments below!
Pros
Easy to assemble
70° rotation
Premium matte finish
Price: $39.99
Buy now: Twelve South | Amazon
Are Stone'r and Forté right companions for MagSafe?
Stone'r and Forté by Twelve South are great MagSafe charger stands, eliminating the hassle of pulling the iPhone to separate it from the charger. While both of these products demand a premium, the issue they resolve might be worth your money if you use MagSafe extensively.
Given a choice between the two, I'd personally pick the Forté since it provides more utility than the Stone'r. Which one should you get depends on whether you want more utility or aesthetics? Let me know which of these appeals more to you in the comments.
Readers like you help support iGeeksBlog. When you make a purchase using links on our site, we may earn an affiliate commission. Read more.
Consumer Technology and Motorcycles are the two things that excite Darryl the most. Why? Because Tech helps better people's lives, and solving people's problems related to tech is something he enjoys. And what about bikes, you ask? Well, drop a gear and disappear.