If you follow several people on Instagram, it can be easy to miss an update, whether a story, post, or IGTV video from your favorite ones. While you can't manage the feed, here's a handy trick – you can turn on or off post and story notifications on Instagram for someone's account to keep updated with their latest posts. Read on to learn how and make the most of your time.
How to turn on notifications for Instagram post, story, and IGTV on iPhone
Open the Instagram user's profile for whom you want to turn on/off notifications.
Tap the Bell icon at the page's top right.
Toggle On the switch next to Post, Story, IGTV as per your preference.
To adjust the notification frequency for Live videos, tap it and select an option accordingly.
Once done, you will be notified as and when the respective user shares a post, story, IGTV video, or goes live.
You can also turn on notifications for a post from the Instagram feed. Tap the three-dot icon at the post's top-right and select Turn on Post Notifications.
Got carried away, and now you're getting too many notifications? Don't worry; the reverse process is pretty simple as well! Just follow the same steps above and toggle Off.
Note: You can only edit/manage notifications for an individual's post or story via the mobile app. Although the web browser allows you to set notification preferences for first posts/stories, IGTV view counts, live videos, and more.
To edit Instagram notification via web browser, click your profile photo in the top-right corner → select Settings → Push Notifications → choose a preferred option.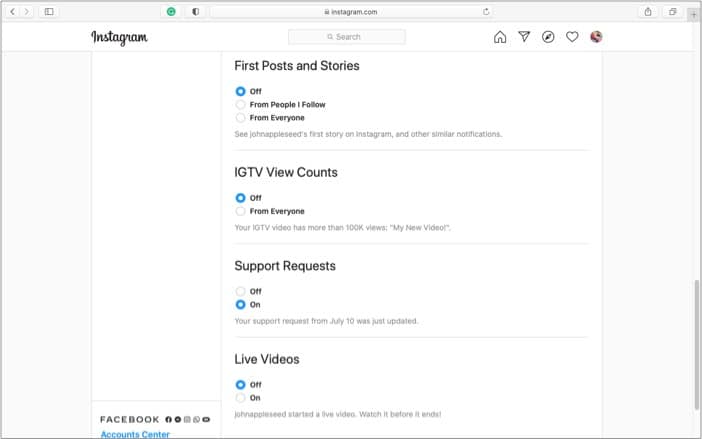 How to pause all Instagram notifications on iPhone
Come to think of it, turning on or off posts and story notifications individually for each Instagram user can be daunting. I wish the platform would come up with a simpler solution.
Until then, you can try the below trick for a focussed, disturbance-free Instagram detox, as and when you need it.
Launch Instagram and visit your profile.
Here, tap the hamburger icon (three-lines) at the page's top-right.
Select Settings followed by Notifications.


Toggle on Pause All and select the timing.


Instagram offers up to 8-hours of respite. If you need more, go to iPhone Settings → Notifications → Instagram → Toggle off switch next to Allow Notifications for as long as you want.
When you are ready to join the notification squad again, simply toggle on the switch.
Have more questions? Go through our FAQ section.
FAQs
Q. What are the post/story notifications on Instagram? What happens when you enable it?
Consider it Instagram's version of YouTube's bell icon. If enabled, you get an instant push notification whenever someone uploads a post, story, IGTV or if they are live.
Q. Is a user notified when you enable notifications for their post or stories?
No, the user is not privy to this data, even if they have a business account. The only benefit of this setting is that you don't miss the post or story.
Q. How to find who has enabled push notifications for your posts or stories?
Since Instagram does not share this data, there is no surefire way to know. You can, however, get a rough idea by observing follower's behavior; someone who is usually first to like or comment on all posts might be the one.
Q. Should I ask my followers to turn on post and story notifications for my account?
One significant advantage is that followers don't miss important posts like giveaways or other announcements. Plus, it also boosts engagement as users slowly adapt to your posting schedule.

So yes, if you are building/promoting a brand or services, you should encourage your followers to turn on the post notification.
If you still have queries, shoot them in the comment section below.
Here are some must-read Instagram guides:
Readers like you help support iGeeksBlog. When you make a purchase using links on our site, we may earn an affiliate commission. Read more.
A self-professed Geek who loves to explore all things Apple. I thoroughly enjoy discovering new hacks, troubleshooting issues, and finding and reviewing the best products and apps currently available. My expertise also includes curating opinionated and honest editorials. If not this, you might find me surfing the web or listening to audiobooks.