When Pokémon Go was released in 2016, it became an instant hit. You could find people on the roads, staring at their phones and searching for their next Pokémon. The game is still popular today.
However, some of us here either want to try something different or stray from the mainstream that caused plenty of chaos. If you're one of those, I've picked the best iPhone games similar to Pokémon Go.
1. Dragons: Rise of Berk – Editor's choice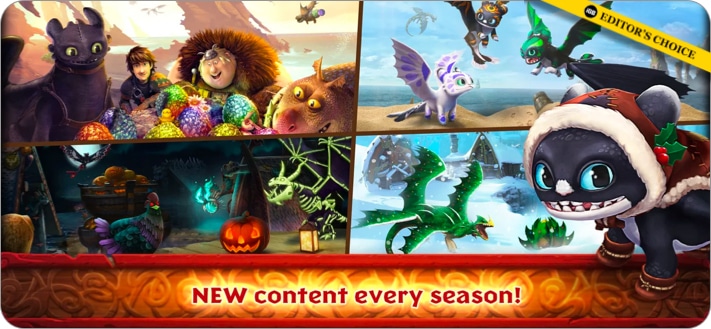 Are you a fan of the movie series How To Train Your Dragon? You would love Dragons: Rise of Berk, where you get to build the village of Berk, the place featured in the movie.
The game has over 600 Dragons to raise and upgrade. You will have to train the Dragons to save your village from the onslaught of mysterious strangers wishing to destroy your village.
The game offers plenty of content, with over 60 different islands to explore and find Dragons. There are Legendary Dragons that you can fight and defeat. Once you've defeated them, you can bring their powers to Berk and add them to your village's capabilities.
Other characters from the series also feature in the game and you will have to complete missions with their help and guidance.
One of the issues with the game is that plenty of content is hidden behind a paywall. Hence, you will have to spend money to advance into the later stages.
Price: Free (In-app purchases start at $0.99)
2. Zombies, Run! – Best running game
Have you thought about what your strategy could be in the zombie apocalypse? If you plan to run as fast or as much as you can, Zombies, Run! is for you.
Co-created with award-winning author Naomi Alderman, this audio adventure game also doubles as a running app.
You can play songs from your playlist as it pairs with the story each time you run. You become the hero in your thrilling adventure drama, and your task is to run for your life. The story also gets more interesting as you keep playing, hinting at a deeper mystery to solve.
If you've thought about getting into fitness and running but never found it interesting enough, this game could be a boon. While you're burning your calories, you're also playing a game in which you're evading zombies.
However, the app still needs to fix syncing issues with the player's music.
Price: Free (In-app purchases start at $1.99)
3. Jurassic World Alive – Fighting game like Pokémon Go
The Jurassic series has been a classic for decades. With Jurassic World Alive, you can participate in the dinosaurs' return to the planet.
The game involves collecting dinosaurs to create your team and battle other players. You can also collect dinosaur DNA to create hybrid dinosaurs in the lab. There are almost no limits to the different dinosaurs you can find and create.
This game takes location-based gameplay, similar to Pokémon Go. You will have to go around real-world locations near you to find dinosaurs.
Once you've created your team, you can go online and battle other players for supremacy. Get to the top of the leaderboard charts to be the best dinosaur trainer globally.
However, you might encounter minor but annoying glitches. The game still needs a few updates to iron out small bugs.
Price: Free (In-app purchases start at $3.99)
4. Draconius GO – Alternative fighting game
This is another dragon and monster-catching GPS-based game. However, Draconius GO puts an entertaining and cartoonish spin on the niche.
There is a multitude of monsters to collect and train here. From vampires and unicorns to dragons, this is the ultimate fantasy game based on GPS. Its aesthetics and gameplay also make this a fun game for kids.
It also changes how you catch the monsters. You will find eggs in real-world locations, and you will have to hatch them to see your find. It's almost always a surprise when the egg hatches to reveal your new monster.
All creatures can be upgraded and used for battling against others. After all, this is an AR game, and you can enter into a different world through the AR to find the elusive Mother of Dragons.
Unfortunately, Draconius GO suffers from some ranked matchmaking issues. You should be prepared to face opponents of a higher level to play online.
Price: Free (In-app purchases start at $0.99)
5. Landlord Tycoon Business Games – Best simulation game
The real estate business has been booming over the past few years. While you may not have the capital to become an estate investor in real life, Landlord Tycoon Business Games give you an idea of what it would be like to invest in properties around you.
The game uses your phone's GPS to check for properties around your location and creates a game where you can virtually invest in said properties. You start with a capital of $50,000 and work your way up the ladder.
Players can also upgrade their investments to rake in more money and sell them off at a profit. You can compete with your friends online in a race to raise your business empire.
Since this is a freemium game, in-game purchases can be expensive.
Price: Free (In-app purchases start at $1.99)
6. Neko Atsume: Kitty Collector – For cat lovers
If you're a cat lover, you're going to enjoy Neko Atsume: Kitty Collector. It is a simple yet elegant game to collect elusive cats.
There are over 40 different varieties of cats to collect. You'll have to attract cats with food and exercise patience until you can catch them. Next, you can take care of them and keep them in your yard to play around.
There are also rare breeds of cats to collect, and finding them is a matter of strategy and luck. These cats can only be attracted through specific items. Overall, this is a cute and casual game to spend time on.
However, when you have to attract rarer cats, the needed items can be difficult to procure.
Price: Free (In-app purchases start at $0.99)
7. Pikmin Bloom – Offers best zen experience
Pikmin Bloom is a cute adventure game that uses your location to render a beautiful environment. You have to walk to grow Pikmin from seedlings.
After the Pikmin have grown, you can pluck them. These Pikmins will follow you around, and you can use their petals to grow more flowers. You can also take pictures of different areas you find beautiful in the game, and upload them.
There are 7 unique Pikmins with different characteristics. Once your Pikmin reaches a certain stage of bonding with you, they will bring back gifts. You can use those to transform the Pikmin to Decor Pikmin.
Overall, it is a great game that rewards your daily steps with an aesthetically pleasing environment. If you're stressed, this game could calm you.
Some players have reported issues with the image uploading mechanics, so you will have to be wary of this when playing the game.
Price: Free (In-app purchases start at $0.99)
8. Walkr: Gamified Fitness App – Best exercise game
I've never been a fan of cardio. However, when cardio involves walking to explore galaxies and planets, things get more interesting. This is exactly what Walkr provides you with.
The game integrates with your phone's pedometer to count your steps. The more you walk, the more you get to explore planets and galaxies. Besides, you can also gather rare items to build your collection. Your daily steps are captured and converted into fuel, propelling your rocketship.
There are 100+ unique planets to explore. With more than 30 different objectives, the game gives you a lot to accomplish.
This game is also a great fitness app, and it's got an accurate count of the calories you burn through walking. If you have a Fitbit, you may experience issues syncing the Fitbit to the game. Hopefully, a fresh update can fix this.
Price: Free (In-app purchases start at $0.99)
Like the alternatives?
While Pokémon Go is enjoyable, sometimes it's better to expand and diversify your gaming tastes. I've considered the fundamentals of Pokémon Go and curated the list of Pokémon Go alternatives for iPhone.
What do you think of these games? Spot any favorites? Share your thoughts in the comments below!
Read more:
Readers like you help support iGeeksBlog. When you make a purchase using links on our site, we may earn an affiliate commission. Read Disclaimer.