PDFs have made our life easier, but haven't they also complicated things? Everything from filling out forms to signing documents, merging PDFs, to editing or converting them can be a headache. However, pdfFiller promises to be the single pill for all your PDF-related headaches.
But can it be the ultimate problem-solver? The only way to know is to test it, and that's exactly what I am going to do; if you're interested, join me as I review pdfFiller.
What can pdfFiller do for me?
A quick overview of the pdfFiller's feature page begs me to rephrase the question above, what doesn't the software offer? It lets you create PDF documents from scratch or edit an existing one completely, auto-fill forms or host forms, and that's not all.
pdfFiller by airSlate Inc. functions across multiple platforms. With a comprehensive web dashboard, users are privy to iOS, Android, macOS, and Windows apps. Simply put, it is a software suite designed to help enterprises create and manage documents with ease.
But my question is, how well-equipped and user-friendly is it? Let's dig deeper and explore some pdfFiller features.
Create and edit PDF documents like a charm
Usually, people prefer to make a document with various text editors and convert it into a PDF. However, pdfFiller offers you a plain background with many text-editor-like features so that you won't need any other software.
You can add:
Text and text box
Checkboxes
Date, page number, header, and footer
Images
Videos
Watermarks
Draw shapes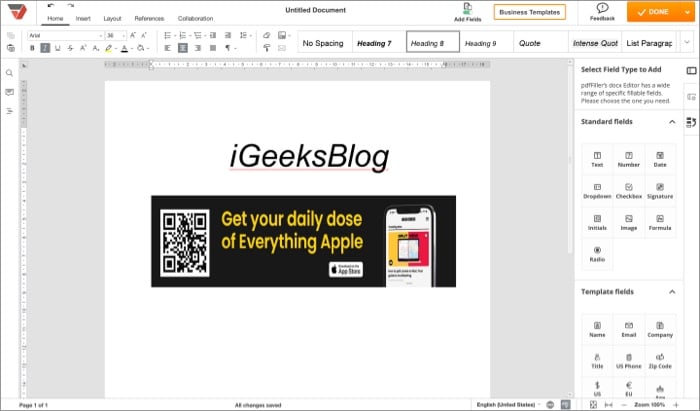 And just like any text editor, you can undo and redo, copy and paste, search and replace text, use an online spell checker, and even make notes in the margin or add comments anywhere in a document.
Furthermore, you can do all this and more to existing PDFs as well, including:
Merge and paginate PDF files – Anything from inserting new pages to removing existing ones, rotating a page or rearranging them, splitting pages into multiple PDFs, or merging multiples to create one.
Convert PDFs – Interestingly, while you don't need to save documents as PDF anymore, you get the chance to convert the PDFs to Word, Excel, PPT, text, or JPEG.
Pre-made templates – Another great feature that works in your favor is the variety of templates you can use and edit to your preference.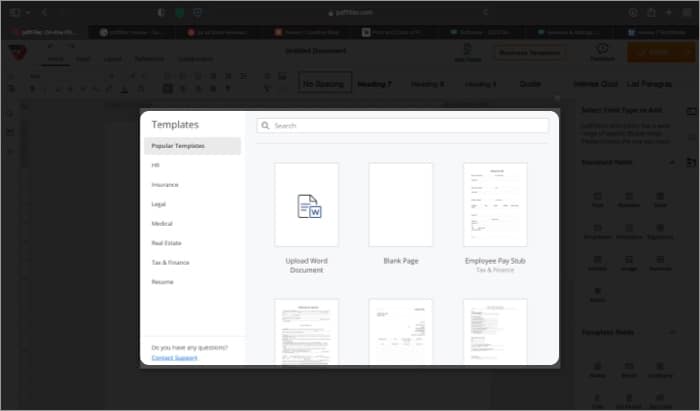 Ease of creating and managing forms
If you don't have a friendly PDF editor or a printer/scanner handy, filling forms can be quite troublesome. And as illustrated above, pdfFiller makes editing any PDF document a breeze. So, if you have it on your side, you're surely lying in green pastures.
Fill forms automatically
But, what's amazing is that the software can auto-fill forms by merging databases or Excel spreadsheets. Imagine auto-filling and sharing payment slips with a few clicks.
All you have to do is define fillable fields, upload the data to be pre-filled, and auto-fill up to a thousand copies of a form, contract, or document.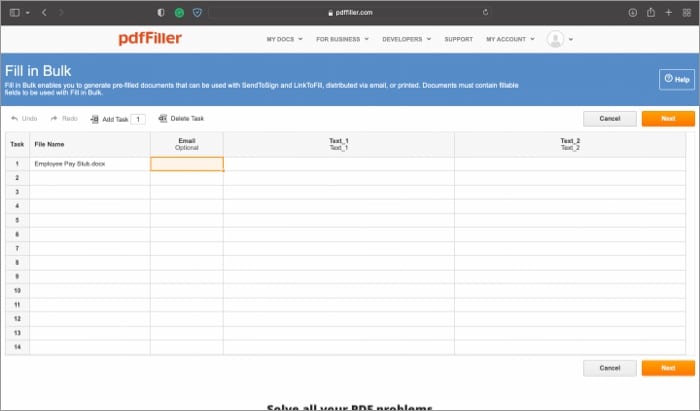 Host fillable forms
Why settle at just filling or editing forms when you can create and host fillable forms without special coding knowledge or other resources. It can be a survey, information-collecting form, or documents that need to be signed.
You can send the said form via email, create a QR code, or publish it on your website. And even set email alerts and get a copy of the filled form in your inbox. Most importantly, all the forms and data are securely saved pdfFillers could.
Interestingly, you can also bulk extract data from many forms and export it into an Excel sheet or CRM software. Now, that's a pretty handy feature for any small, medium, or big scale business.
Document signing on the go
While you can sign PDF documents from your Mac and iPhone, it will not be considered legal. All signatures added into pdfFiller are legally binding under the E-Sign Act (2000) and acceptable in all 50 US states.
You can either add a signature by drawing one on your mobile or using a mouse/touchpad or taking a photo of a handwritten signature.
There's also an interesting verified by pdfFiller stamp feature that tracks details like who signed the document and when.
Send documents for signing
To no one's surprise, the jack of all trades, pdfFiller, also doubles as a document signer, and that too is a good one. You can invite up to twenty people to sign a document and get messages or email notifications upon signing.
But there's more,
Mark a field as required – So the signer doesn't skip anything.
Signature workflow – Set a signing order, and recipients will receive and sign documents as per this sequence.
Request documents – Need some supporting documents and signatures; just add the clause into the mix.
Authenticate signers – Along with their name and email, you can also incorporate social integrations and authenticate users via Facebook or LinkedIn profiles.
Integration at its best
Another masterstroke for business owners; pdfFiller can seamlessly sync with major CRMs from Salesforce, Xero to Confluence. Additionally, you can access and sign documents within Google Docs, Gmail, Google Sheets, and Office 365.
The software also integrates major cloud services like iCloud, OneDrive, DropBox, Box.net, and Google Drive. Thanks to it, you can import documents, convert them into PDFs and send/share them where they need to go.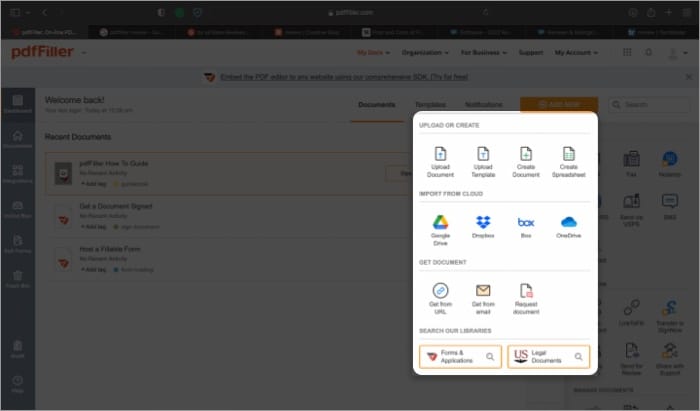 Security is indeed a priority
Now, pdfFiller can indeed do a lot, but is it safe for my private and sensitive documents? Yes, pdfFiller ensures that your documents are secured and remain private. In fact, it applies HIPAA security standards to protect your medical records.
Additionally, you can create encrypted folders and two-factor authentication to ensure no one else has access to that folder. And for confidential documents or contracts, you can lock them with a four-digit PIN.
Does pdfFiller fulfill all your PDF needs?
iGeekometer
User interface
Features
Third-party integration
Security
Value for money
pdfFiller is filled with features that make everything from creating and editing to signing and securing PDFs pretty easy. The basic interface is quite simple and user-friendly. However, some complex tasks like auto-fill forms or extract data have a learning curve.
But you may find a video or online tutorials that'll make things easier. And while the mobile apps are also user-friendly, they have limited features in comparison to the web dashboard; even though understandable, it's a bumer that you won't be able to handle everything from your mobile.
Overall, if you are a medium to large-scale enterprise, pdfFiller will help smoothen many document/forms/contract-related edges. And even though it might be slightly expensive for freelance or solopreneurs, it would be worth it if they handled a lot of paperwork.
Pros
Easy to use
All-in-one document management app
Available on the web and other platforms
Interesting and helpful features
Great for handling multiple forms
180-day money-back guarantee
30-day free trial
Banking-level security and encryption
Cons
Slightly expensive
Mobile/desktop apps have limited features
Compatible platforms: iOS, macOS, Android, and Windows
Price:
Basic (one user) – $8/month, annual subscription
Plus (up to 3 users) – $12/month, annual subscription
Premium (up to 5 users) – $15/month, annual subscription
Read more:
A self-professed Geek who loves to explore all things Apple. I thoroughly enjoy discovering new hacks, troubleshooting issues, and finding and reviewing the best products and apps currently available. My expertise also includes curating opinionated and honest editorials. If not this, you might find me surfing the web or listening to audiobooks.