We've all lost pictures, documents, or videos because we didn't back them up. Whether it be due to a corrupt driver on your PC, a broken phone, or simply an accidental delete, you'd be able to recover what you lost had you backed up your files on pCloud.
You may be thinking "great, another cloud service?" which, with the number of cloud storage apps popping up these days, is entirely fair. But pCloud offers users distinct features that set it apart from other apps, like iCloud, for instance.
What features you may ask? Let's take a closer look.
How to use pCloud on mobile and PC
A great way to learn pCloud's workflow and primary features is to run through a quick "how-to". For starters, pCloud is available across your daily driver devices (including your smartphone and desktop or laptop). We'll break down how to use pCloud on both mobile and desktop clients in this article.
Note: We'll be showcasing how to use pCloud on an iPhone and a Windows PC. Using pCloud on Android phones and Macs is a very similar process. Questions? Ask away in the comments below.
pCloud for desktop

For browser: Head to pcloud.com and sign in or create an account. This is the File Manager screen; here, you'll see an overview of your stored files.
Simply click a folder to see its contents, click the blue upload button to add a new document, or select folders and documents to perform various tasks such as sharing, copying, moving, and more.
If you'd like to make a new folder, click the folder icon with a white plus on its body. Name your file and select Create. If you'd like to delete a folder, firstly, make sure there's nothing in it that you want to keep—then select it using the checkbox on the left hand side of the table, click More on the toolbar, and select Delete. Press Delete one more time and you're finished.
You've likely noticed the Public and Rewind tabs on the navigation menu; Public lets you host static websites on pCloud, and Rewind helps you recover deleted files.
Trash is well, trash. If you've deleted a file off of pCloud in the last 15 days, you'll find it in Trash.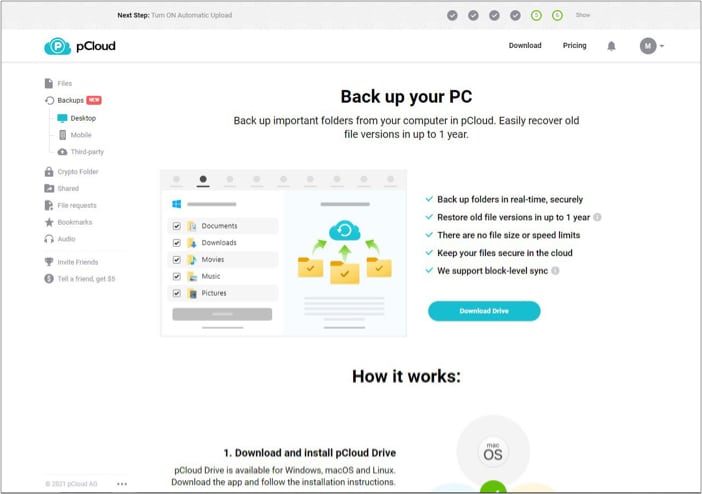 The Backups tab allows you to back up important data from your Windows, macOS, or Linux devices. Another thing we like to see is that there are no file size or speed limits, in contrast to some apps that throttle upload speed—making their primary purpose a huge hassle.
The Crypto Folder is pCloud's secure housing unit for sensitive information. Need a file encrypted? This is where you get it done quick and easy.
Shared allows you to see shared Links and Files that you've sent or received. File Requests allows you to manage incoming file requests for uploaded data. Bookmarks is a place to store your bookmarked web pages.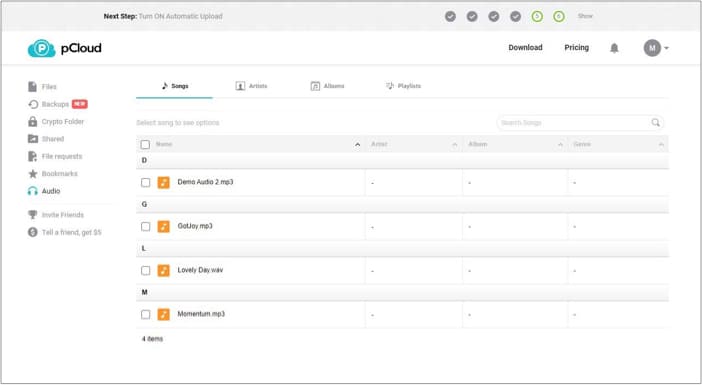 Audio houses your uploaded audio tracks, allowing you to listen directly from pCloud. No more drive space eaten by music!
For desktop: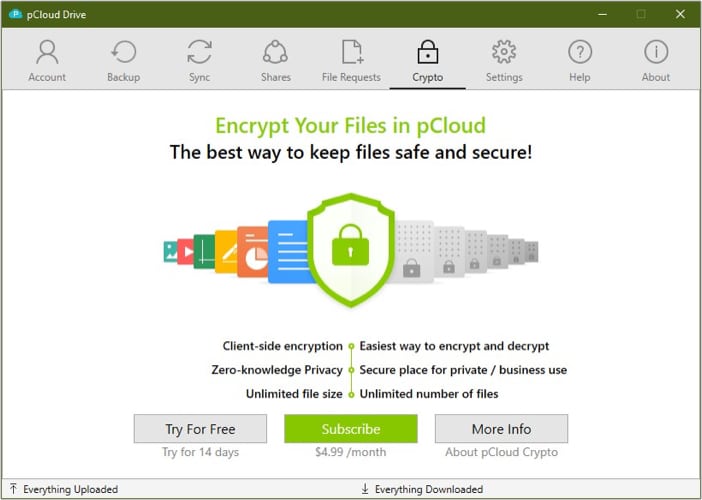 The workflow on your desktop is similar to the processes of using pCloud through a browser. Run pCloud Drive and backup, encrypt or share at will.
You can also right-click directly on a folder and select Sync to pCloud or Back up this Folder to store it in pCloud. You can then access backed-up files on your iPhone, Android, Mac, or Linux machines.
pCloud for iPhone
Download and install pCloud from the app store. Open the app and sign in or create an account.
Your Home screen is where you'll see an overview of your stored data. To add a file to pCloud, tap the blue plus sign in the top right corner, then upload your image, video, or document. You can save pages via their links, scan documents to PDF, and create new text files directly in pCloud.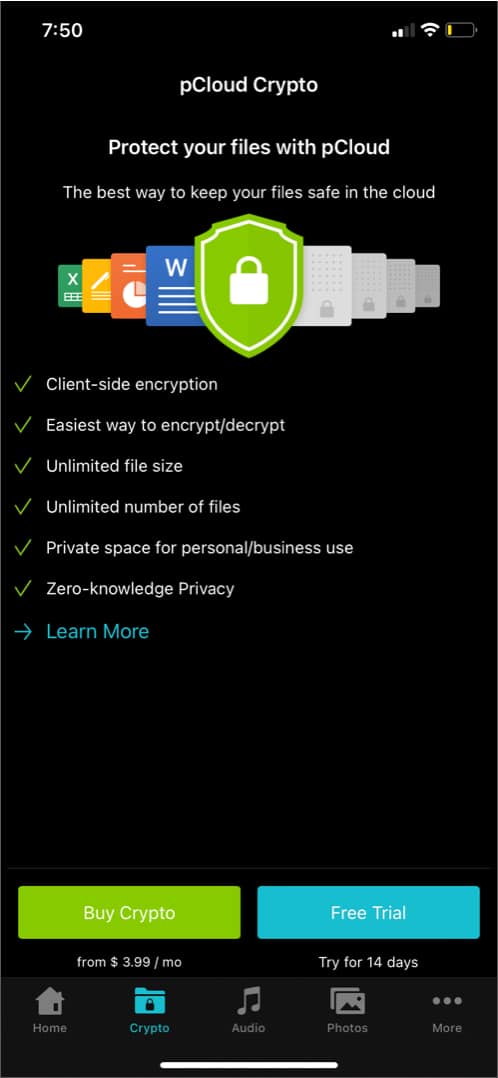 pCloud Crypto is not a cryptocurrency, but an encryption service. Have a file (or many files) containing sensitive information that you'd rather not share with the world? pCloud gets it; encrypt it with Crypto.
Whether it's for business or personal use, pCloud Crypto offers unlimited file size and quantity. pCloud never sees the contents of the file during the encryption process, either (this is a big deal!)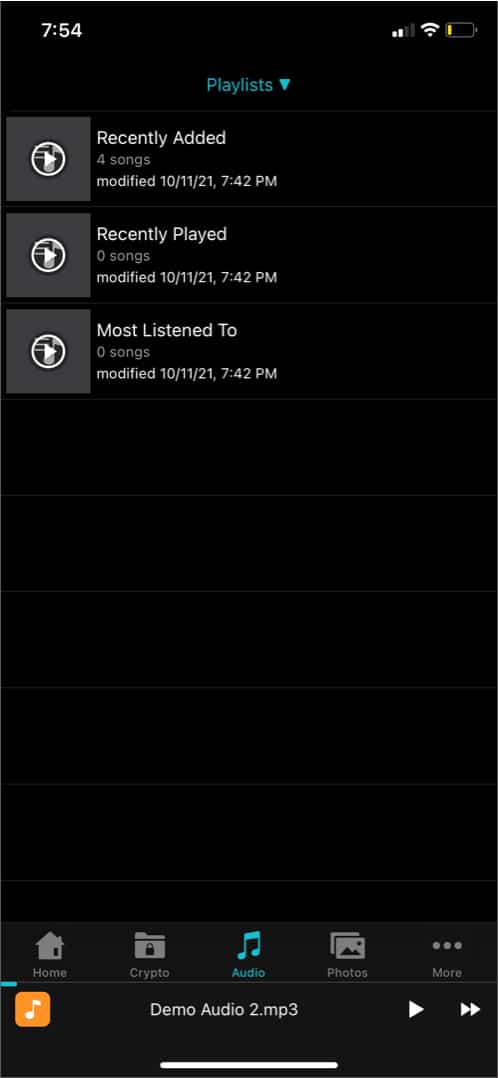 Tired of your music taking up a chunk of storage space on your iPhone (especially if you have a model that's a few years old now)? Move it to pCloud! You can stream audio directly from the app's Audio page.
The Photos tab is pretty self-explanatory; these are your uploaded photos and videos. You can select photos to share or password protect them, as well as download or delete them.
The More page is where you'll find statistics about your pCloud links, file requests, settings, and trash. If you head to More → Settings, you can see exactly how much storage you're currently using, how much is free, and if any of it is locked.
You can also use pCloud directly in Messages on your iPhone. Send a link to your file by selecting the pCloud icon and navigating to it, all without leaving your conversation.
Pretty easy process for peace of mind, right? We think so, too. If you want it to get even easier, turn on automatic upload. This will instantly store new photos and videos in pCloud as soon as you take them.
pCloud: Features at a glance
The cut-and-dried:
Cloud storage (frees up space on your smartphone or computer)
File Backup service
Scan documents and create text files directly in pCloud
pCloud Crypto file encryption service
Available on mobile, desktop, and through browser
Share specific files or folders with friends and colleagues
Password protect your files
Store and stream audio seamlessly
Manage links and file requests on all versions
Host static HTML sites with pCloud Public
Recover deleted files up to 15 days after
See what we mean when we say pCloud just has that special something that puts it in a different category than other cloud storage apps?
pCloud: Our verdict
iGeekometer
User Interface
Features
Performance
Value for money
pCloud offers solutions to various problems and lets users pay specifically for the features they want to use. For instance, if you just want to encrypt your files, you don't have to pay for more storage space; just pCloud Crypto.
This is an outstanding way for pCloud to provide you with the most bang for your buck—you don't have to pay a blanket subscription price for features that you wouldn't even use.
Pros
An abundance of features
Respectable free version
Available on multiple platforms
Easy to use
Sectioned pricing
Cons
Could provide starter info on each page
Price:
Free account with up to 10 GB storage space
Personal Lifetime plans

500 GB – $200 current prom price
2 TB – $400 current promo price
10 TB – $1200 current promo price

Family Lifetime Prices

2TB $600 current promo price
10TB current promo price $1500

Lifetime Crypto – $150 current promo price
Business Plan:

Monthly subscription starts at $9.99 per user/month
Yearly subscriptions starts at $7.99 per user/month
What do you think of pCloud? With the free version offering as much as it does, we think it's more than worth a shot. Have another app you'd like to see us review? Let us know in the comments!
We think you'd like: