GIVEAWAY CLOSED!
If you've been looking to buy a standing desk, chances are you've come across one or two made by FlexiSpot. The prices look enticing, the pictures pique interest, and features like USB passthrough and customizable height presets are in no shortage.
Everything looks great, but is their perceived quality a reality?
Short answer: Yes. And we feel so strongly about it that we're teaming up with Flexispot for a Thanksgiving giveaway! One of you will be able to win a Flexispot Kana Pro Bamboo Standing Desk—the same desk in our review today—more details on how to enter later. For now, here's the review.
Kana Pro Bamboo Standing Desk: An overview
First things first, you'll likely receive your standing desk in two separate packages: the desktop in one and the frame in the other. FlexiSpot packages its products with care, and it shows. There were no visible scratches, dings, chipped edges, or other blemishes upon unboxing.
The frame is heavier than you might expect until you remember that it includes the working parts of a standing desk (you'll also receive the required screws and tools in this box). While certainly sturdy, their sleek white bevels and curves were designed for functionality and control.
The desktop comes in two designs (rectangular and curved) and four sizes at varying price points: 48" x 24" (as pictured in this review), 55" x 28", 60" x 30", and 72" x 30".
The frame is available in white, black, and grey for any size or design. Its 3-stage design is adjustable between 23.6" and 49.2".
Flexispot also offers a host of optional accessories that pair well with their desks, such as casters, chairs, and desk mats. Now that the basics are clear, let's move on to the installation part!
Setup and installation
Assembly is required, but fortunately, it's pretty straightforward if you have a drill. Paper instructions are included with easy-to-follow diagrams, labeled parts, and helpful text blurbs.
To give you the gist, you'll need to secure the legs, motor, and keypad to the desktop, then plug in a few wires. There was never a moment where I was left scratching my head, wondering what went where—with a little reading and drilling, the desk practically built itself.
If you prefer to watch a video rather than read your instructions, FlexiSpot delivers; simply scroll down on the product page to find a guided tutorial.
Design and build quality
The desktop's surface is smooth but naturally textured. You can immediately tell the difference in quality between the sustainably-sourced bamboo used in FlexiSpot's Kana Pro and the laminate surfaces of cheaper products.
There are no build inconsistencies or annoyances, simply a display of well-executed craftsmanship.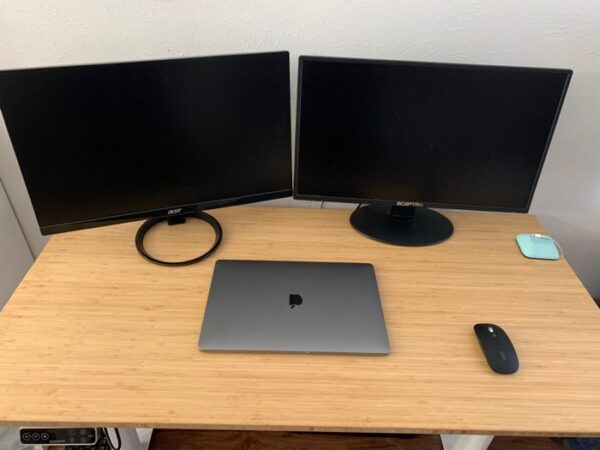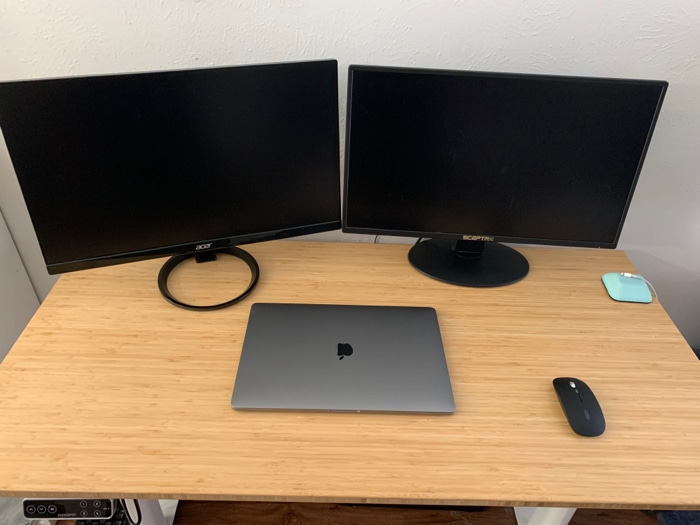 The frame is quite sturdy and raises no doubt that it could house a tower PC, multiple monitors, and all your other daily accessories without any problem. The battery, motor, and cables are more than adequate for the high standards the desk sets.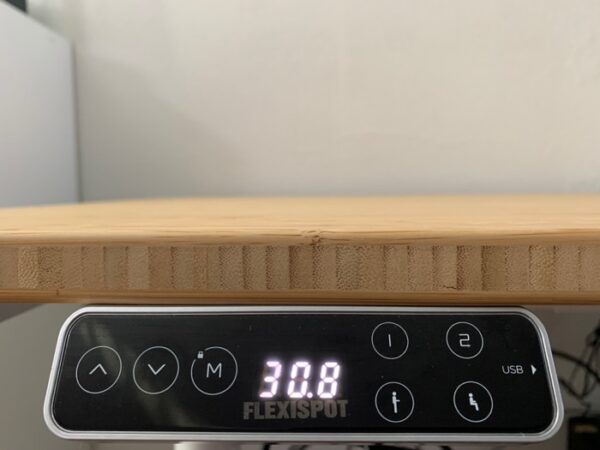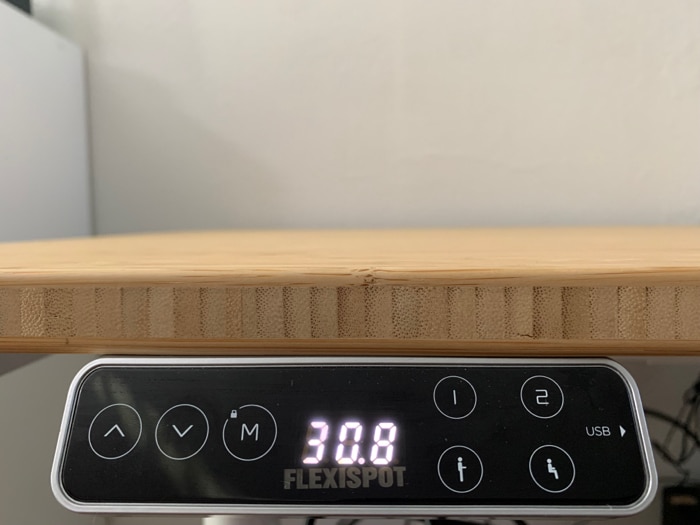 All we need now for a working FlexiSpot standing desk is a keypad to control it; sleek and responsive, the Kana Pro's keypad allows you to raise and lower the desk's height procedurally using the arrows or instantly upon selecting a preset key.
There are two presets for your usual standing and sitting heights, as well as two more for whatever custom settings you'd like. You can set these presets by moving to the preferred height and using the memory lock option on the keypad, then selecting a preset button (such as 1 or sitting).
The desk rises and lowers at a comfortable speed, and the motor produces a quiet low hum as your displays change the height.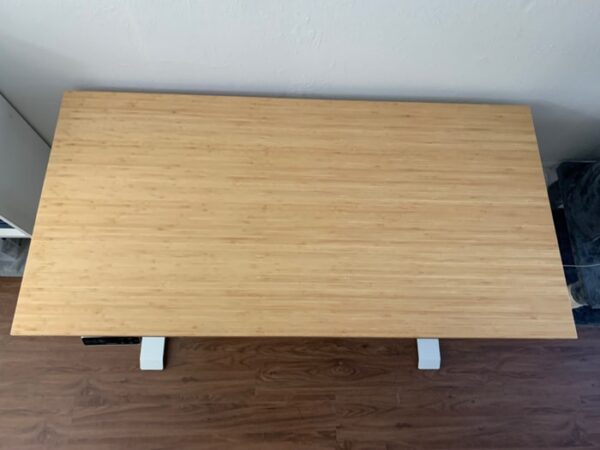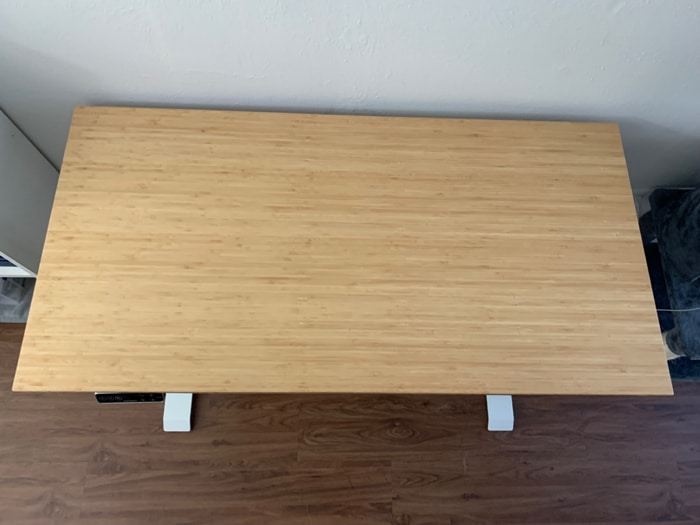 I received the rectangular version for review, and while I prefer a curved version for cable management opportunities, I was pleasantly surprised that FlexiSpot thought of the rectangular users.
The frame's legs come out further than the desktop, meaning the frame will sit flush with your wall, but the desktop won't. This is good for a few reasons: easier cable management, and it means you're far less likely to smudge or otherwise damage your wall if you bang into the desk.
This is the first FlexiSpot product I've used, and I wasn't sure what to expect from its build before it arrived. I'm pleased to share that the Kana Pro exceeds my expectations.
Performance and utility
After months of use, the Kana Pro stands up to the task. I've only encountered one issue to date: sometimes the desk needs to be reset ("rSt" will appear on the keypad), especially after abruptly powering off, like in the event of a power outage.
The good news is, resetting the desk is extremely easy. All you need to do is lower the desk to its lowest possible height and wait for the click to notify you that the reset was successful.
I don't notice any wobbling or imbalances when using the desk in standing mode, thanks to FlexiSpot's robust frames.
If you're looking to increase productivity, the Kana Pro is an ally to the cause. When my knees start to ache from sitting for a prolonged period of time, I can stretch my legs and continue working with a key's tap. This also gives me a chance to grab a cup of coffee and get back to my displays at eye level, ready to go.
Kids or significant other need to use the desk? No problem, your presets give you peace of mind so they can adjust the height without ruining your workflow when you return.
I have no complaints and many compliments when it comes to discussing the performance of the Kana Pro. Ease of use? Check. Reliability? Check. Customization? Check. What else do you need?
How about free, fast shipping, 30-days free return, a 5-year warranty, and 24/7 support service? Yeah, FlexiSpot has that, too.
FlexiSpot Kana Pro Bamboo Standing Desk: Our verdict
iGeekometer
Appearance
Performance
Build quality
Value for money
Pros
Excellent craftsmanship
Easily customizable height presets
USB passthrough
Sturdy frame
Simple to assemble
Cons
May need reset from time to time
Looking for some accessories to go with your new desk? Check out our list of the best desk pads and mats.
What do you think? Ready to win a FlexiSpot Kana Pro Bamboo standing desk for free? Read the next section for giveaway details.
FlexiSpot Kana Pro standing desk Thanksgiving giveaway
Yes, you can win this customizable standing desk! We're excited to announce the iGeeksBlog + FlexiSpot Thanksgiving standing desk giveaway! The giveaway will run from November 16 to November 24, 2021.
Fill out the form below and ensure you've followed ALL these five steps to become an eligible participant.
You must reside in the United States.
Download our app from the App Store.
Sign up for the iGeeksBlog and FlexiSpot newsletters.
Follow iGeeksBlog & FlexiSpot on Instagram.
Follow iGeeksBlog & FlexiSpot on Twitter.
Kana Pro Bamboo Standing Desk Giveaway
Once done, sit back and wait for the results to be announced on November 25, 2021. We will get in touch with the winner to coordinate.
In the meantime, if you're ready to make a purchase, you can buy it at a discounted price from FlexiSpot during their Black Friday sale from November 26-29, 2021.
Price: $539.99 (Discounted price: $459.99)
Readers like you help support iGeeksBlog. When you make a purchase using links on our site, we may earn an affiliate commission. Read more.