Quick Notes is a feature that allows you to take notes without opening the Notes app. It's ideal for recording a brief thought, storing anything from the web, noting a phone number, etc. Let's check out how to use Quick Notes on Mac.
What is a Quick Note on Mac?
Quick Notes is a faster way to take notes without leaving your app. It makes it simple and convenient to record thoughts and snippets without launching the Notes app.
The coolest aspect is that it can intelligently determine which app you're using in order to provide you with a personalized experience. For instance, if you're using Safari, you can note a URL or some text from a webpage. You can also easily save some material from an email if you're using the Mail app.
Quick Notes debuted with macOS Monterey and iPadOS 15 and have got better with the all-new macOS Ventura and iPadOS 16.1.1.
How to access Quick Notes on Mac
The quickest method to open a Quick Note on Mac is to use the keyboard shortcut "Fn + Q." You may also go to the Notes app and tap Quick Notes on top of the pop-up.
You may also use Hot Corners to quickly access Quick Notes. To enable hot corners on your Mac, follow the steps below.
Set up hot corners in macOS Ventura
Click the Apple logo () from the top left of the screen.
Go to System Settings.


Navigate to Desktop & Dock.
Scroll down and select Hot Corners.


Select Quick Note from the dropdown at any corner.
I choose the bottom right.


Click done.


Note: If you are using macOS Monterey, go to Apple logo → System Preferences → Mission Control. Then follow Steps 3-6 from above.
How to get new Quick Note each time on macOS Ventura
Go to Launchpad or use Spotlight search.
Navigate to the Notes app.


Click Notes from the top left of the menu bar.


Choose Settings.
De-select Always resume to last Quick Note.


Note: If you are using macOS Monterey, follow steps 1-3 from above and click Preferences → Resume Last Quick Note.
To unlock all the possibilities of the Notes app, follow our guide on how to use the Notes app proficiently on Mac.
How to add smart links to Quick Note on Mac
You may add Smart Links to a Quick Note on Mac from within an app or while browsing the web. Let's see how we can accomplish that with Safari and the Quick Notes interface.
Add Safari links to a Quick Note
Open the Webpage on Safari.
Click the Share button.
Choose Add to Quick Note.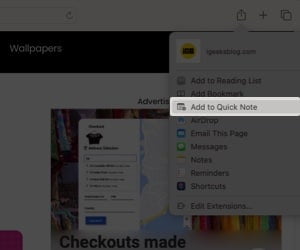 When you revisit the linked content on the webpage, the Quick Note's thumbnail appears in the screen's lower right corner to remind you of what you previously noted.
How to add links on Quick Notes
Create a Quick Note.
Click Add App link from above.
Click Add Link in front of the webpage you need to save.


Congratulations! Now your link will be displayed in the Quick Notes.
How to add text or images from Safari to Quick Notes
Another fantastic feature of Quick Notes is that it lets you capture images or texts from a webpage along with the URL. When you click the saved snippet, it will transport you to the precise location on the webpage where it came from. Here's how to put it to use:
Navigate to a Website in Safari.
Select the text.
Right-click and choose New Quick Note/Add to Quick Note.


How to view and edit Quick Notes in the Notes app
Open Notes → Quick Notes folder.
Click a Quick Note to edit.


Other actions, such as sharing or deleting, can be taken on a note under the Quick Note section. You may also edit a Quick Note to add tables, tags, and other features. Consider the following:
Include a table.
Make a list.
Include hyperlinks
Attach images, files, and other media.
Note: Quick Notes can't be locked.
Signing off…
I hope this detailed article has helped you understand how to use Quick Notes on your Mac. I find this function to be quite useful and convenient. What are your thoughts on Quick Notes? Share your thoughts in the comments section below!
Read more:
Readers like you help support iGeeksBlog. When you make a purchase using links on our site, we may earn an affiliate commission. Read Disclaimer.