Things to know before using Detection Mode:
Detection mode only works on iPhones and iPads with LiDAR sensors.
Your iPhone needs to be running on iOS 16/iPadOS 16 or later to use all the features of Detection Mode.
You can use all the Detection Modes (Door, People, and Image) together.
While the Magnifier app on iPhone and iPad may be used by many to magnify small texts, you may be surprised to know how much more it can do. Since looking at all of its features will take an eternity (not quite literally, but it has many features), I will help you use Detection Mode in Magnifier on your iPhone.
This feature is mainly catered to visually impaired people. So if you know someone who's going to benefit from this feature, read along and help them make use of this great feature.
Apple devices that support Detection Mode in Magnifier app
While people detection has been around for quite some time on iPhones, Apple introduced Door Detection with iOS 16 and iPadOS 16. So as you might have guessed, to use this feature, you must ensure that your iPhone or iPad is updated to the latest iOS or iPadOS version.
Now, even after that, you must ensure your device comes with a LiDAR sensor. If that bit got technical, here's a list of iPhones and iPads that have LiDAR sensors:
iPhone 15 Pro and 15 Pro Max
IPhone 14 Pro and 14 Pro Max
iPhone 13 Pro and 13 Pro Max
iPhone 12 Pro and 12 Pro Max
iPad Pro (2020)
iPad Pro (2021)
iPad Pro (2022)
And if your iPhone has successfully passed these criteria, let's take a look at what should be done next.
How to enable Detection Mode in iOS 17 and iPadOS 17
While in most cases, the option is enabled by default, it is good to double-check. Here's how you can turn on Detection Mode on your iPhone and iPad:
Open the Magnifier app.
Tap the gear icon.
Select Settings.
Here, tap the plus icon next to Detection Mode.
If you see a minus icon (-), it's already enabled.
Tap Done.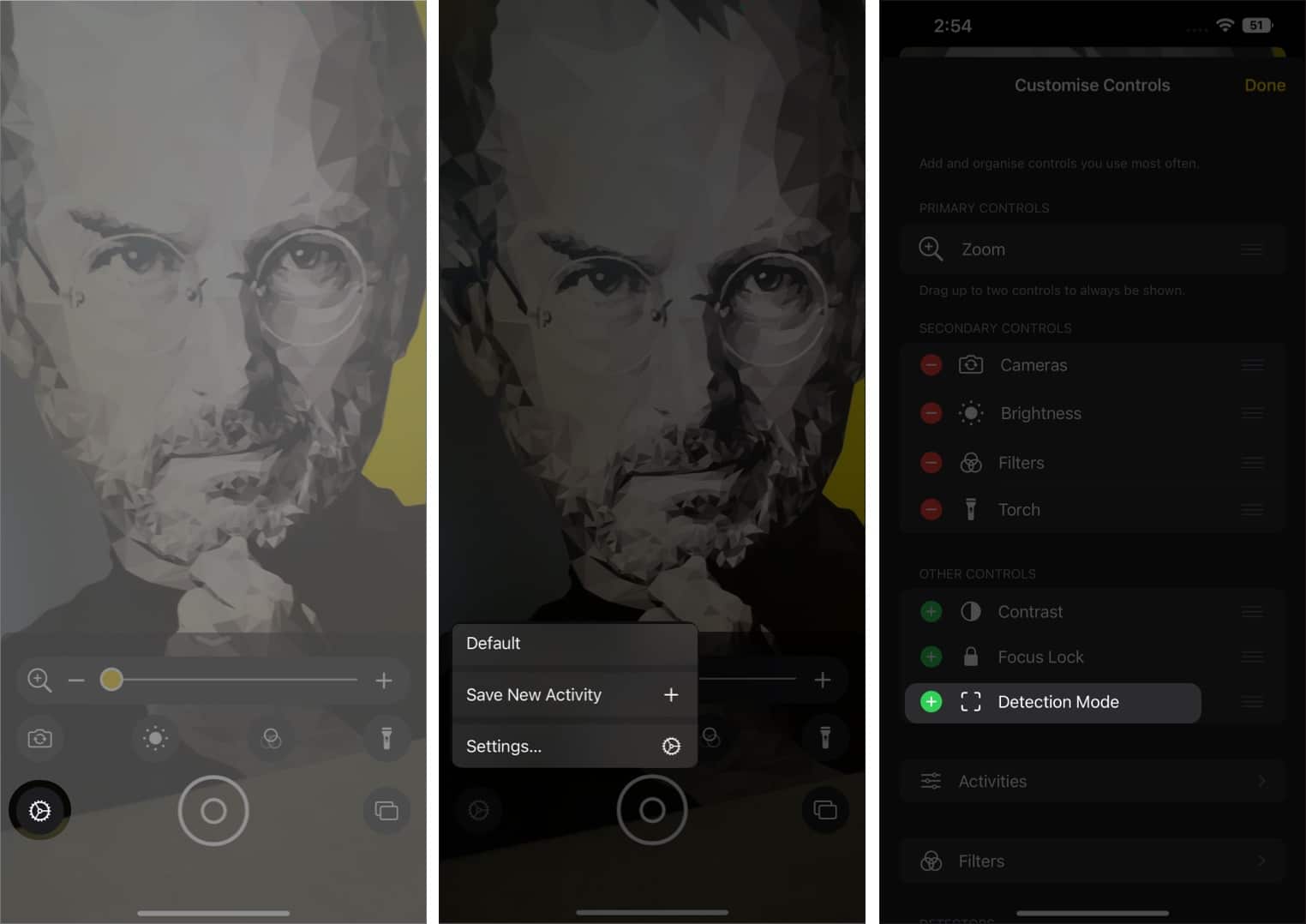 Now, you will see the Detection Mode icon while opening the app itself.
Use Door Detection on iPhone and iPad
Open the Magnifier app.
Tap the Detection Mode icon.
Select the Door Detection icon.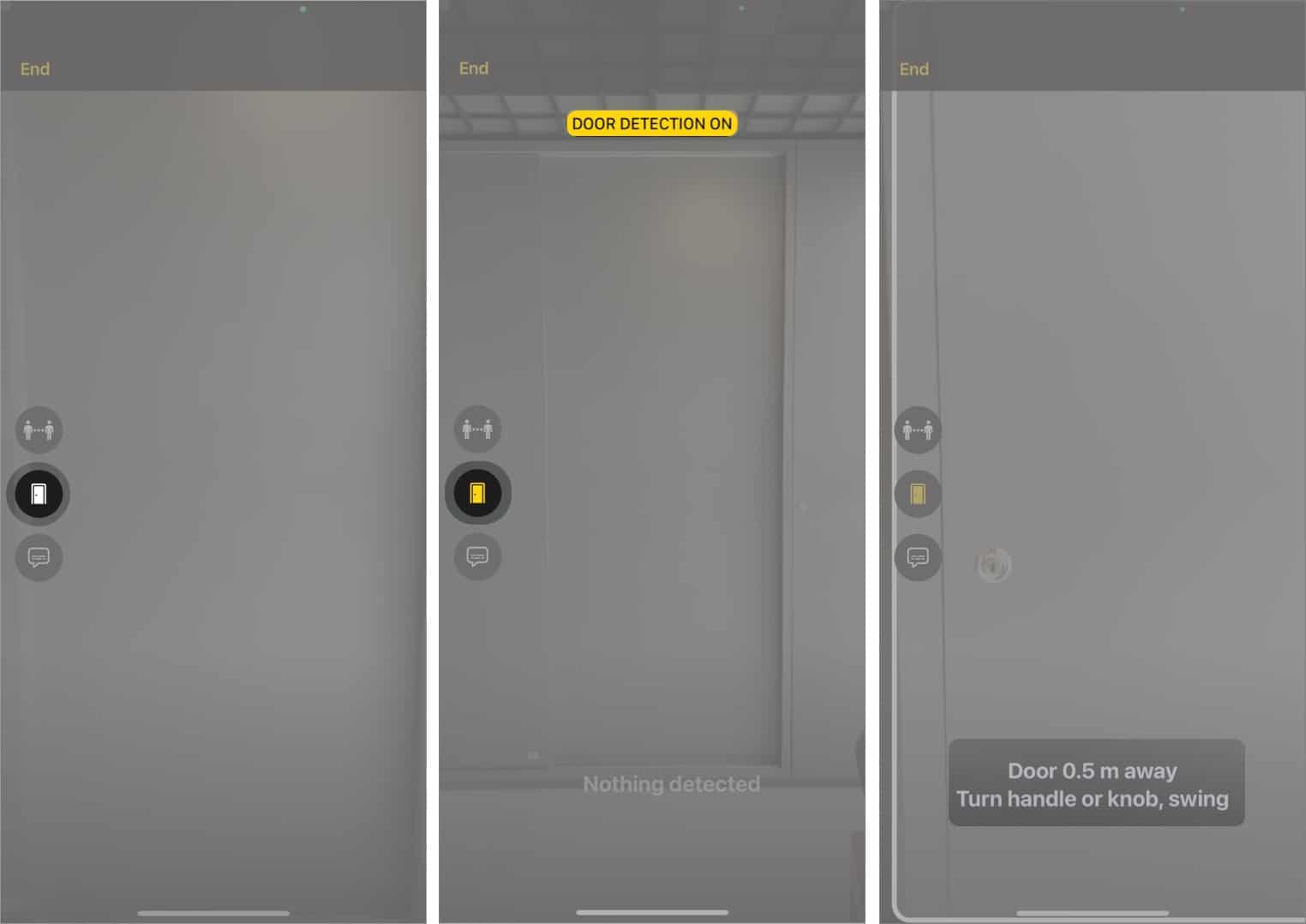 You will see a confirmation message on top. To detect doors, move close to any, and you will see your iPhone mentioning the door; it would also mention the distance and the type of door.
Customize Door Detection in Magnifier app
Tap the gear icon.
Select Settings.
Scroll down and tap Door Detection.
On the Door Detection page, you will get the following customization options:

Units: Meters and Feet
Sound Pitch Distance: Here, you can customize the sound feedback from your iPhone when it detects a door at a set distance.
Feedback: Toggle on any of the following options according to your choice.
Sounds
Speech
Haptics
Colour: Customize the color of the door outline.
Back Tap: Once toggled on, you can use the double-tap feature to hear more information about the detected doors.
Door Attributes: Enable this to get more information about the detected doors.
Door Decorations: Provides information about door decorations.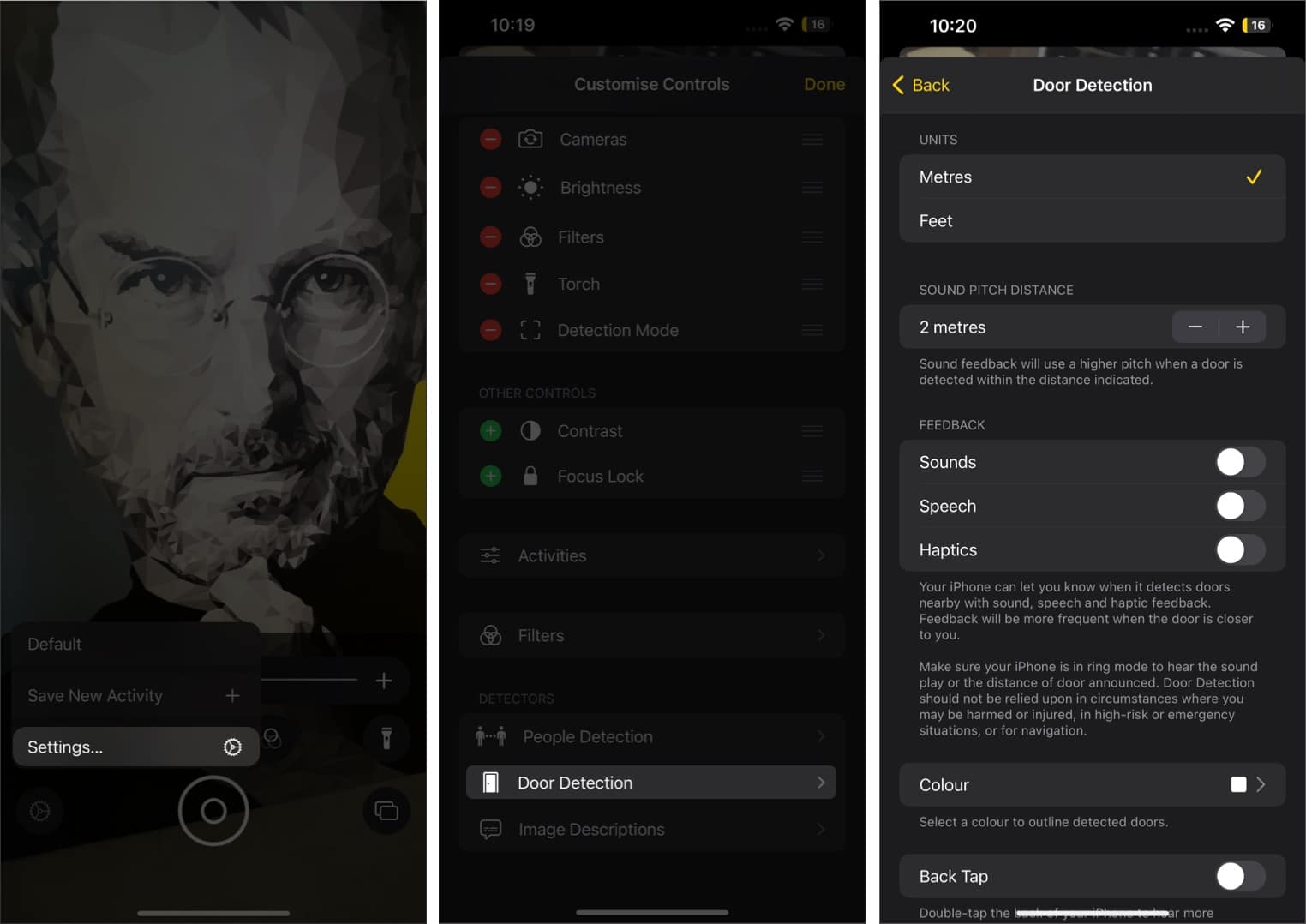 How to use People Detection in iPhone
Open Magnifier.
Tap the Detection Mode icon.
Select the People Detection icon.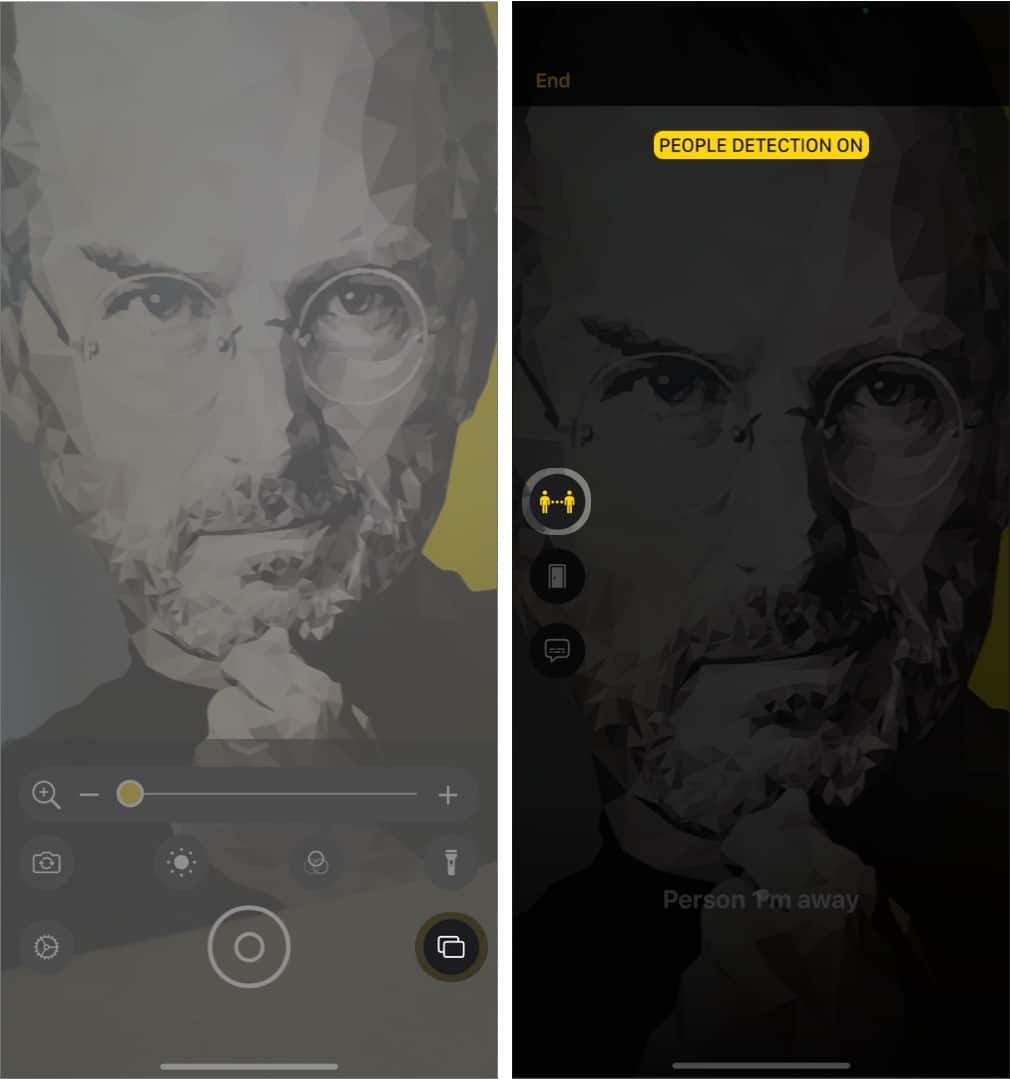 You can see the confirmation message on top, and when you move your iPhone close to a person, it will inform you about the person and how far they are.
Customize People Detection in Magnifier app
Tap the gear icon.
Select Settings.
Scroll down and tap People Detection.
These are the customization options that you will get for People Detection:

Units
Sound Pitch Distance
Feedback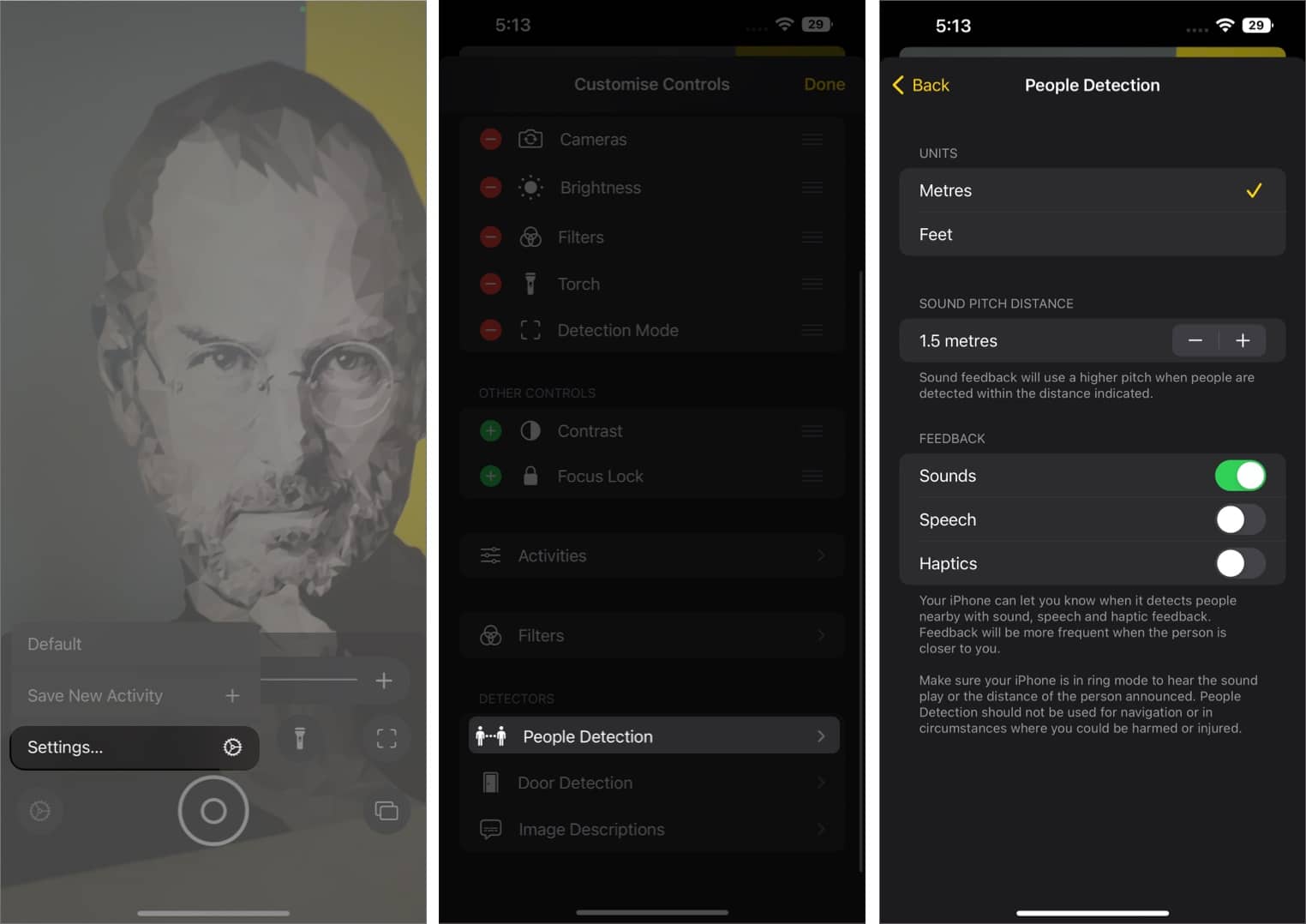 Fix Detection Mode not working on iPhone and iPad
Despite enabling this feature, if you are unable to use Detection Mode on your iPhone and iPad, here are some tips to check.
Make sure you have enabled Detection Mode.
Update your iPhone or iPad to the latest iOS version.
Check if your device is equipped with a LiDAR sensor.
Restart your iPhone or iPad. If that also doesn't work, try force restart.
While using the app, try to move away or a bit closer to see if that triggers the feature.
That's it!
It's great to see Apple caring about its users with features such as Medication, improved Door Detection, and the addition of the people detection feature. And just like the feature, I hope that this guide was also helpful to you. Let me know in the comments if you have any doubts.
Here are some more great reads:
Readers like you help support iGeeksBlog. When you make a purchase using links on our site, we may earn an affiliate commission. Read more.
Anoop loves to find solutions for all your doubts on Tech. When he's not on his quest, you can find him on Twitter talking about what's in his mind.