Key highlights:
Apple finally introduced a new keyboard for Apple Watch. However, it is exclusive to Series 7 running watchOS 8.
The keyboard is enabled by default on the watch.
If you have Apple Watch Series 6 or below, you can use

FlickType and WristBoard.
The Apple Watch is definitely the best smartwatch in terms of both: form and functionality. While many might consider it just eye candy, it is nowhere further from the truth. For the uninitiated, Apple Watch finally has its native keyboard app. Read along if you want to learn how to use the new Apple Watch keyboard.
Requirements to use the keyboard:
You must have an Apple Watch Series 7
Your watch must be updated to watchOS 8 or above
How to enable keyboard in Apple Watch Series 7
If you're using Apple Watch Series 7 with the watchOS 8 and above, the Qwerty keyboard will be functional without changing any settings. However, if you have turned it off by mistake, ensure that your Apple Watch is connected to your iPhone and follow the below steps.
Open Settings on the paired iPhone.
Select General.
Tap Language & Region.
Select iPhone Language and choose English (UK or USA).


Once done, both your iPhone and Apple Watch will restart. You will now see the Qwerty keyboard on your watch Series 7 in all supported applications. If this method does not bear fruit, try restarting. It'll help fix your problem.
How to use the all-new Qwerty Keyboard
Now that you have the Keyboard enabled on your Apple Watch Series 7, here's an example of how you can text using it:
Open Messages on your Apple Watch.
Tap New Message.
Select Contact and tap Create Message.
Type your message, check for spelling corrections, and navigate with the Digital Crown.
Now, tap the text to hide the keyboard.
Tap the keyboard icon to continue typing.
Once typed, tap Done.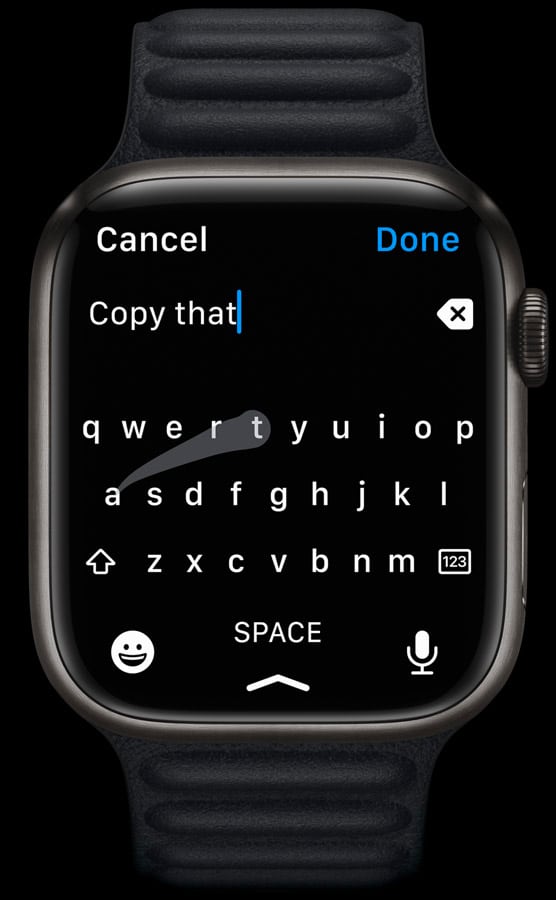 Best keyboard alternatives for Apple Watch Series 6 and older
Here are the two best apps to help you type seamlessly on your Apple Watch Series 6 or older.
1. FlickType – Watch keyboard

Flicktype was the go-to app before the Apple Watch Series 7 was introduced. Why? Because of its algorithm, which corrects typos and lets users type without worrying about making mistakes. The gesture control within the app is another asset of the app.
FlickType is also three times faster when compared to the standard keyboard, Scribble, or even dictation. Users do not even lose out on emojis or text shortcuts. Customization is another aspect where FlickType shines.
Price: Free (Subscription starts at $7.99)
2. WristBoard – Watch Keyboard

Have you ever dreamed of typing on your Apple Watch by swiping its display? Well, who doesn't? And WristBoard brings this dream to life. And please do not confuse this feature with Scribble, as swiping a keyboard is different from typing letters or words individually.
QWERTY, AZERTY, or QWERTZ are some formats supported by WristBoard. Prediction and auto-correction work flawlessly, so you're not missing out on features and avoiding typos.
Price: $2.99
FAQs
Q. Can you keyboard text on Apple Watch? 

Yes, you can text on the Apple Watch. While only the Apple Watch Series 7 supports a dedicated Qwerty keyboard, all other Apple Watches support typing. The only difference is that you do not get a built-in qwerty keyboard with Apple Watch Series 6 and below.

To text on Apple Watch Series 6 and below, you can either use the scribble feature or install a third-party app (mentioned above) that helps you use a qwerty keyboard.  
Even though late, Apple has finally added a Qwerty keyboard to the Apple Watch. Yes, it's not available on all the models, but I'm glad it's finally here. What are your thoughts on this step by Apple? Leave your thoughts in the comments below.
Read more:
Readers like you help support iGeeksBlog. When you make a purchase using links on our site, we may earn an affiliate commission. Read Disclaimer.