Reverse videos are in trend these days on social media platforms. Mostly because of the interesting video-form ideas people come up with. Although Snapchat offers a built-in reverse mode, it has limited functionality. Ironically, even the full-blown version of iMovie does not help you to reverse a video on iOS.
But why worry when iGeeksBlog is here to help you out? If you need to reverse a video on your iPhone or iPad, this blog will be your guide.
Reversing a video on iPhone with the InShot app
InShot comes with a boatload of presets, filters, and transition effects. It is basically built to provide on-the-go editing functionalities and share across popular social media platforms. The only swindle I find is that the app is adware, and you will have to deal with it unless you pay for the premium subscription.
Download the InShot app and Open it.
Tap Video under the "create new" section.
Select the video to import and reverse it.
Tap Canvas, and select the frame (size ratio).
If you're unsure about the platform you would be sharing, select No Frame.


Swipe tools all the way to the right and select Reverse.
Depending upon the video size, it might take some time.
Check the video once the process is complete.


To remove the application watermark (optional) – tap the cross mark (x) and watch the ad.
Now, tap the export icon appearing on the top right.
Here you can configure the frame rate (preferably 60fps), resolution, etc.
Hit the Save button.


The video will start exporting. Stay on the app screen and do not lock the iPhone to avoid delay or cancellation of the process. If you want to share the video directly, tap "Other" and select the app.
4 Best apps to reverse video on iPhone
All apps covered here are free-to-use, but some require in-app purchases to unlock additional functionalities.
1. VN Video Editor
VN is an easy-to-use video editing app featuring an aesthetic UI and powerful tools. With the diverse library of special effects and transition modes, It delivers an intuitive experience overall. It is my personal favorite on the list.
Smooth & responsive UI
Watermark free
Great user rating on the AppStore
Limited usage without a premium subscription.
2. FilmoraGO
FilmoraGO is a lighter version of the full-fledged computer version of Filmora. It is an effective yet compact video editing tool that offers almost all the video editing utilities you can ask for. With this version, Wondershare has tried to present a no-compromise mobile video editing software.
Frequent Updates
Tons of predefined templates
Requires a premium subscription to remove the app watermark
3. Reverse Movie FX
Reverse Movie FX is a simple and effective video reversing tool you can give a shot if you don't want to get into the complexities of editing and just want your video reversed. It is also a great tool to shoot and reverse with its built-in cam feature. The user interface isn't something you'll enjoy, but it gets the job done.
Out-of-date user interface
4. KineMaster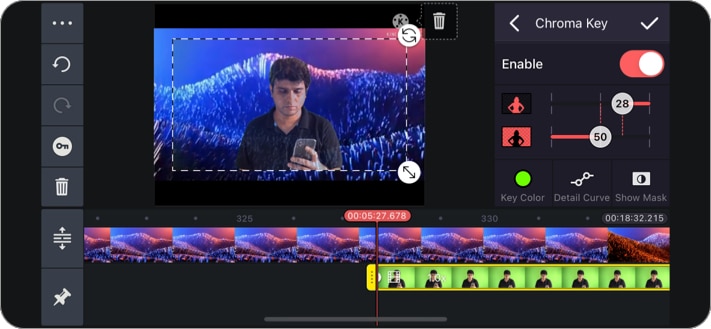 KineMaster is a well-known and sophisticated video editing tool on mobile devices. It has various built-in presets and transition effects to choose from.
A diverse collection of audio and video effects
Requires a premium subscription to remove the app watermark
Wrapping up
That's pretty much everything from my side. The world and variety of video editing apps are getting more and more interesting these days. Shoot us queries (if there are any) in the comment section.
While you're here:
Readers like you help support iGeeksBlog. When you make a purchase using links on our site, we may earn an affiliate commission. Read more.
Tech Junkie and Computer Science Undergrad, who loves experimenting things and everything Apple.