The Timekettle Fluentalk T1 Mini is an efficient handheld translator that uses advanced technology to promote communication. It is ideal for globetrotters, professionals, and students.
Pros
Portable and compact design
95% accuracy in translation
Supports photo and offline translations
One-year global unlimited data for free
Editor's rating: 🌝 🌝 🌝 🌝
Price: $149.99
We, as humans, love creating connections. It can be a simple 'Hello' to your neighbor or a heartfelt conversation with a stranger you meet on your recent holiday. Eventually, it is the language that builds bridges between people. But sometimes, language barriers can leave you stranded, especially when you are traveling. This is where the Fluentalk T1 Mini language translator comes to save lives.
The T1 Mini offers instant translation in 36 different global languages in 88 unique accents with 95% accuracy. In addition, you can get photo and offline translations with this power-packed device. Sounds interesting? Then, stay with me on this detailed Fluentalk T1 Mini translator review that discusses its design, translation modes, price, etc. Let's go!
Fluentalk T1 Mini – Specifications
Before going into the deets, here's a specs overview for all the stat nerds!
| | |
| --- | --- |
| Size | 91×54.8×13.4 mm |
| Weight | 86 grams |
| Screen size | 2.83" |
| Storage capacity | 1GB RAM and 8GB ROM |
| Battery | 1500mAh |
| OS | Android 10 |
| Camera | 5MP |
| Microphone | 2 |
| Connectivity | Wi-Fi/E-SIM (Built-in) |
Unboxing – Simple and sweet
If I must describe the Fluentalk T1 Mini unboxing experience, I call it minimalistic. The green and white outer box carrying the handheld translator was sturdy enough to save its belongings from damages likely to arise during transportation. Where the upper side of the box featured the T1 Mini, the bottom was covered with all the product details.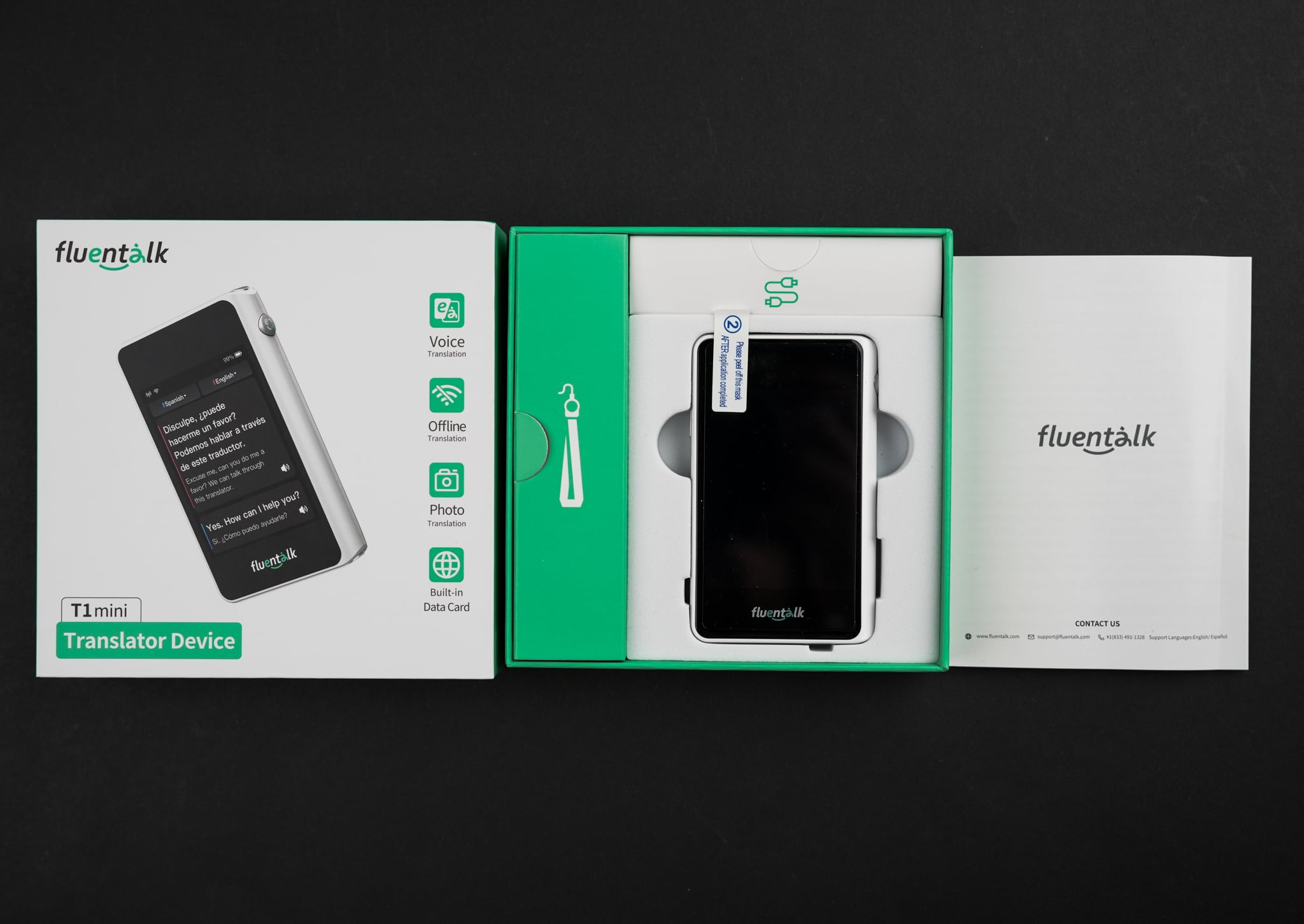 On opening the box, I saw my translator placed safely inside a hollow cutout designed to add another layer of safety. Alongside, the box contained the USB-C charging cord and a neck-around belt with an attached lanyard. I liked how each product had a separate section reserved for themselves.
Fluentalk T1 Mini – Design
Wrapped in a sleek plastic frame, the Fluentalk T1 Mini is an ideal companion for travel expeditions. The device measures 91×54.8×13.4 mm in dimensions and is a mere 86g in weight. Its credit-card-sized chassis allows you to hold it in your hands or hang it around your neck without feeling an added burden.
To ensure easy accessibility, the device houses a translation button on the right side. A simple press and hold of this button gives you instant translations of the text in your preferred language. Let's go deeper into the translation modes of T1 Mini in the later section of this review.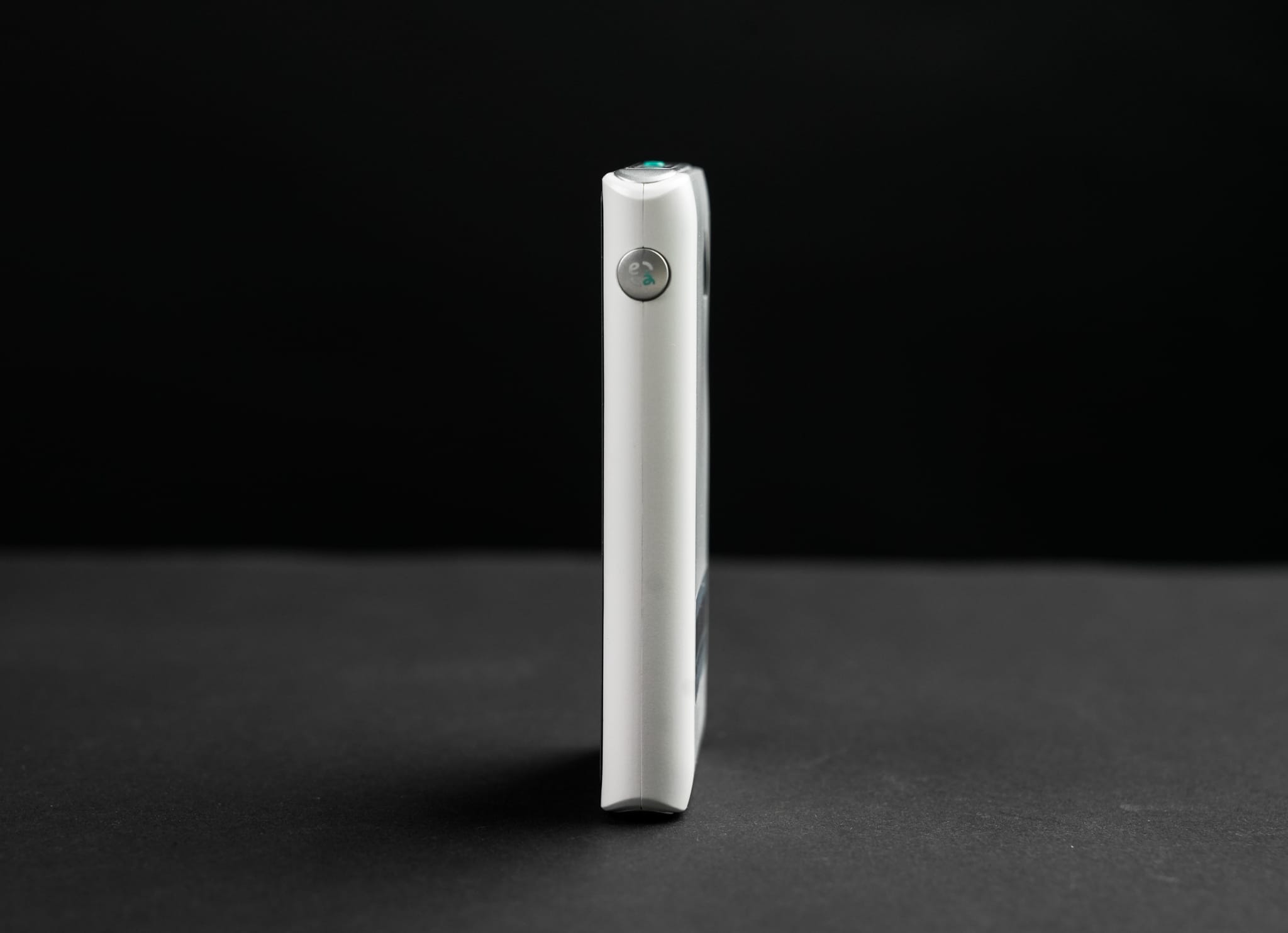 The power button, a mic, and a stack of speakers occupy the top section of the translator. On the left side, you get the volume buttons for adjusting the audio frequency. Plus, the bottom carries a USB-C charging port, another mic, and a lanyard hole.
Indeed, the frame looks strong and durable, and the curved edges offer a firm grip. However, the small size might lead to frequent drops. So, you must be extra careful when handling this language translation device.
Battery, storage, and connectivity
The core idea behind the Fluentalk T1 Mini translator is to keep you connected to the world through languages. To ensure this, the device boasts a robust 1500mAh battery to keep charged using the in-built USB-C port. Moreover, you get a standby time of 7 days with this fantastic translator.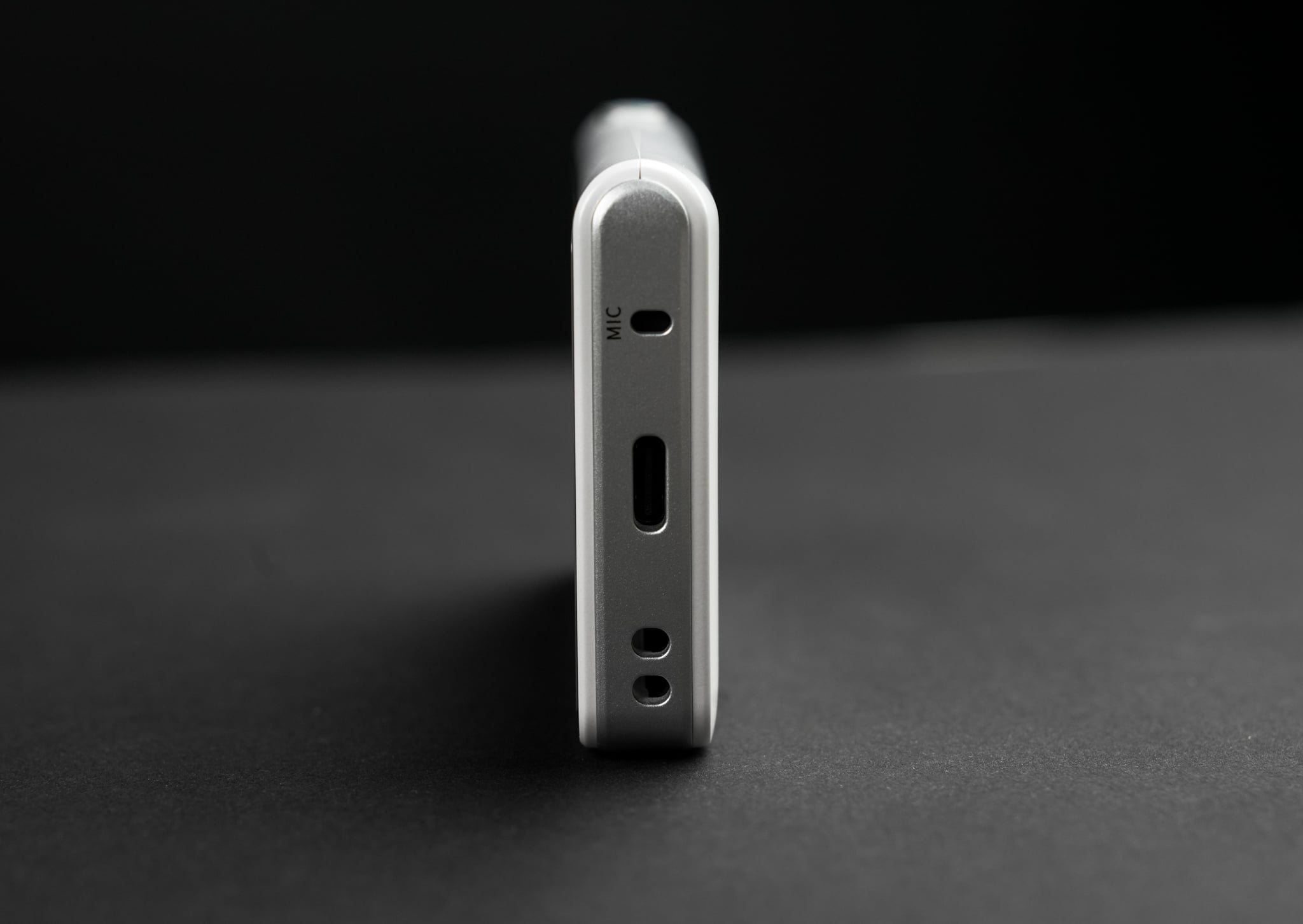 With its 1GB RAM and 8GB ROM support, the device stores your translation records for easy access anytime and anywhere.
Next, there is an in-built data card offering one year of free global data access at your fingertips. Alternatively, you can connect it to a stable Wi-Fi network too. Feel free to explore your favorite destinations without worrying about your Fluentalk T1 translator leaving you alone.
Display and camera
This user-friendly translator features a 2.83" screen for a clear display of translated text, commands, and features. In addition, there is a 5MP camera that ensures hassle-free photo translations. A simple click of a picture and the device generates the text in your targeted language instantly.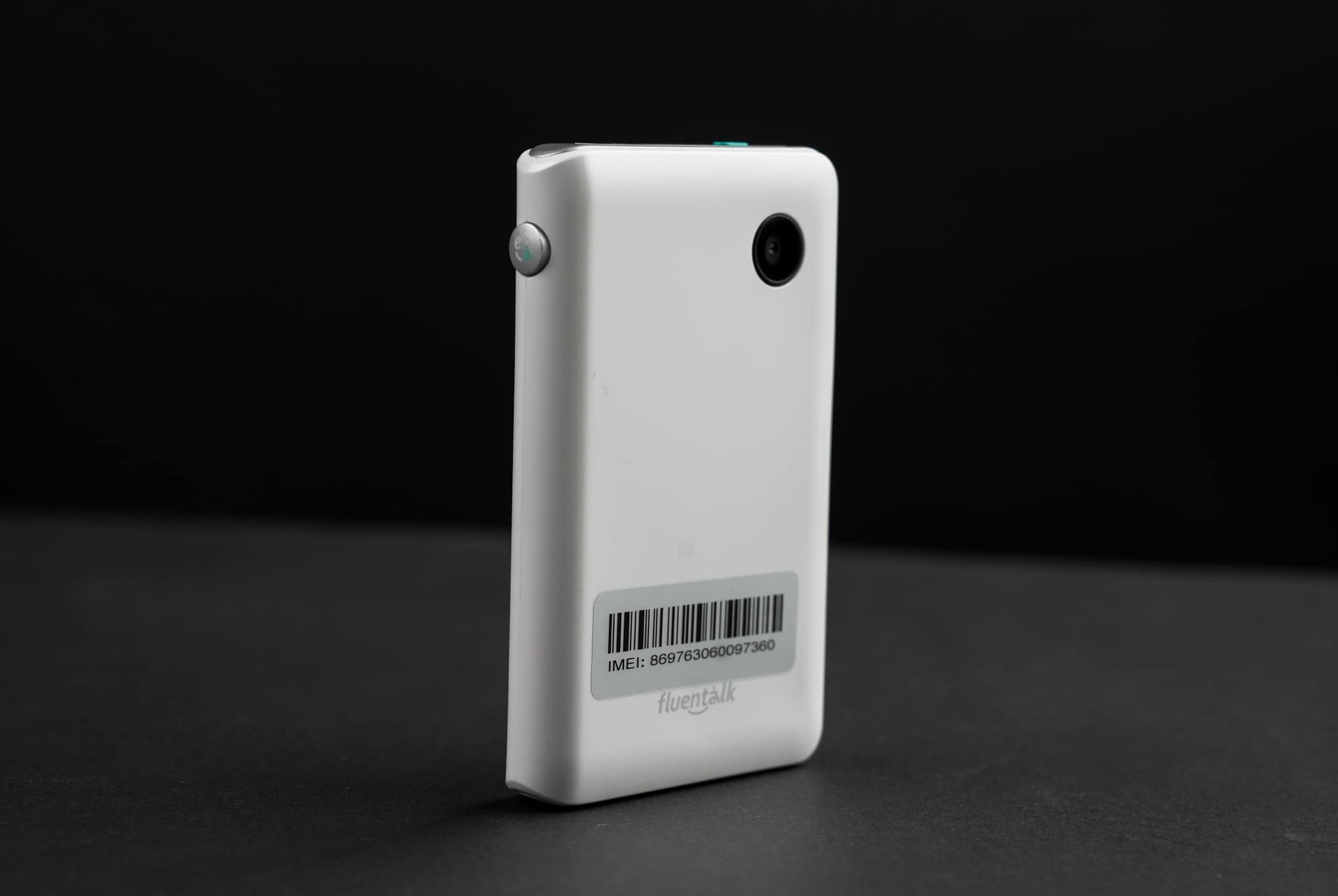 User Interface
Designed using Fluentalk's advanced speech processing technology, the T1 Mini translator boasts an innovative user interface that excels in performance and utility. The Quad-core ARM processor and Android 10 OS promise high-speed, real-time translations in 0.5 seconds. With its quick reaction time, the T1 Mini stands ahead of its competitors.
The touch responsiveness is decent, saving you from the frustration of multiple taps and no result. Here, the intuitive sliding gestures help you switch between different translation modes, settings, or features. It's easy, efficient, and accurate- everything you might want in a handheld translator device.
Fluentalk T1 Mini review: Translation Modes
With Fluentalk T1 Mini, communication flows easily. Thanks to the four translation modes supported by this tiny-looking device. As promised above, let's understand them in detail:
1. One-tap language translation mode
The Fluentalk T1 Mini specializes in saving your day with a simple, one-button translation mode. Its innovative technology auto-recognizes the source and target language based on your preset options, unlike the Fluentalk T1 model with separate buttons for source and target language.
To start, first, you must select your original and target language from the available list of 36 languages in 88 accents. Next, press and hold the side button as you speak or let another person speak into the microphone. The device processes the input into the desired output in a few seconds. All Fluentalk portable translator devices are designed to make your work easy.
2. Photo translation mode
Sometimes, a misread menu item or a signboard can leave an everlasting sour memory in your mind. But with T1 Mini's photo translation mode, you can avoid such mess-ups easily. The device offers an impressive stack of 39 languages for instant photo translation.
A simple swipe to the right opens the 5MP camera that you can use to click the picture of the text you want the translation for. The device gives the targeted translation in seconds. Feel free to use it for reading documents, billboards, or other form of written content.
3. Offline translation mode
When moving around, your network will likely leave your side in crucial moments. Fortunately, the Fluentalk T1 translator device will always be at your rescue in such situations with its offline translation mode.
Here, you get 13 offline translation language pairs you can access anytime without a stable connection. All this makes T1 Mini the best offline language translator device in the market.
4. Shortcut statement mode
The shortcut statement mode saves you from repeating the exact request multiple times. It allows you to store a command or sentence that you might be repeating frequently during your trip or meeting.
Once stored, you can trigger the feature with an easy swipe up on the Home Screen. The voice assistant narrates the phrase instantly. However, if you don't want the narration, you can also turn it off.
Plus, if you don't like the default shortcut statement, you can change it to your preference. For this, you can go to the Comprehensive Settings or the Quick Settings.
Should you buy Fluentalk T1 Mini?
iGeekometer
Build quality
Features & Functions
User Interface
Value for money
The Fluentalk T1 Mini excels when it comes to design and performance. Equipped with the brand's latest technology, this handheld translator promises 95% accurate translation in 36 global languages. Plus, with photo and offline translation, this Mini device surely gives many similar products a run for their money.
With its seamless interface and fast start-up speeds, the T1 Mini is a feasible pick for those who hate language barriers. Further, its robust processor helps you get instant translations with ease.
Amid all the good, there are some downsides. The screen size of the translator is small, which can pose difficulties for elderly individuals or users with impaired vision. Plus, the tiny frame is more susceptible to slip-offs. Moreover, the battery drains out quickly, even when you are not using the device to its maximum potential.
The photo translations are less accurate than you would like them to be. Moreover, the device adopts a no-noise policy, meaning you cannot use it to translate group discussions or in areas with constant background noises. So, before using the device, you must move to a less noisy space. Another task, phew!
So, should you invest in Fluentalk T1 Mini? To answer this, you must weigh the pros and cons of the device and your willingness to spend the hefty sum. I hope this Fluentalk T1 review will help you make the best choice.
Price: $149.99
Fluentalk T1 Mini summary
Fluentalk T1 Mini summary
Fluentalk T1 Mini is a compact translation device that encourages seamless interactions in different languages. This user-friendly device promises 95% accurate text and photo translations in 0.5 seconds. It is an ideal pick for those who love to go beyond the language barriers and explore the magic the world has to offer.
Fluentalk T1 Mini is a compact translation device that encourages seamless interactions in different languages. This user-friendly device promises 95% accurate text and photo translations in 0.5 seconds. It is an ideal pick for those who love to go beyond the language barriers and explore the magic the world has to offer.
Readers like you help support iGeeksBlog. When you make a purchase using links on our site, we may earn an affiliate commission. Read Disclaimer.