While some iPhone cases come with a stand at the back, not everyone admires the extra weight. Pop sockets come in handy in such cases. Using plain cases for your iPhone is one of the best ways to display your device's glory. But you'll hardly find those with a pop at the back, except for some OtterBoxes, which can be expensive.
However, you can buy a pop separately and attach it to your iPhone's case, and it all still appears as a whole, in addition to the elegance and functionality it confers. Keep reading as I show you the best pop sockets and grips for your iPhone!
1. PopSockets PopGrip Slide Stretch – Editor's choice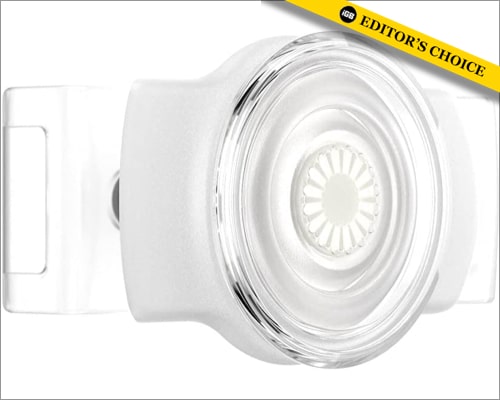 The PopSocket PopGrip goes with any iPhone case considering it comes in four different patterns and colors. It has a slidable base holding a removable pop socket in place. The pop socket grip stretches easily to fit most iPhone sizes. And the transition between socket popping and compression is sleek.
The pop socket presses flat enough to fit your iPhone into your palm, pocket, or pouch. And the edges are smooth, giving it an appealing texture. Although you'll get a pop socket on a sliding clip, the socket is removable. This ergonomic feature is valuable when using a MagSafe charger since you can remove the socket easily.
The slidable socket clip also rolls the pop socket to and fro across your iPhone's rear, giving it the extra function of a multidimensional stand. However, the edges of the slide are curved. So this might be picky with phones and may not be compatible with flat, mini-boxed iPhones like iPhone 12 mini, but it works for iPhone 13.
Pros
Pop socket and slide included
Remove the pop socket easily
Smooth compression and stretching
Smoothness on the edges confers fine texture
Different colors and designs
3-year warranty
Check out on: Amazon | Popsocket
2. Velvet Caviar ring holder – 360° rotation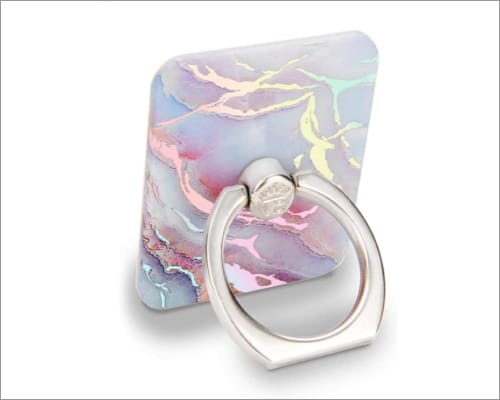 The Velvet Caviar features a strong ring stand sitting on a flat grip that adheres to your phone firmly. The ring grip features leather, silicone, and marble materials, so it's sturdy. A rotating knob stands between the ring and the ring grip, giving enough room for a 360° orientation.
Considering the ring's diameter, you can use it to fix your iPhone to your index finger or even hang it on a wall anchor. This grip is also available in various patterns. So I'm sure you'll find a design matching your iPhone or its case.
However, this one might not be suitable for standing the phone in portrait orientation since it's close to the ground. While it may obstruct MagSafe wireless charging, you can remove the grip for allowance.
Pros
Highly durable material
Offers a 360-degree rotation
Hang your iPhone on the wall or fix it to your finger
Available in various patterns
Cons
Might not be suitable for standing the phone in a portrait orientation
Check out on: Amazon
3. Case-Mate MINIS iPhone grip – Sturdiest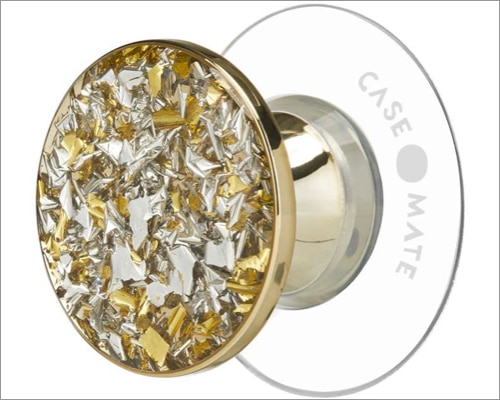 The Case-Mate iPhone grip is compatible with any phone, whether or not you use a case with it. Its golden tint is also applaudable, as it gives your iPhone the needed fitting, regardless of its color or case design. The material strength is also worth our attention.
The pop socket uses strong adhesion to grip smooth surfaces. But it also has a smooth adhesive disk that lets you attach it to roughly textured cases. So, this serves as an interface between a roughly textured iPhone case and the pop socket.
It doesn't pop in or out on your iPhone's back, but it's detachable. It doesn't support wireless charging. Hence, you'll have to remove the socket if you need to use a wireless MagSafe or compact your iPhone to fit the pocket.
Considering that you can stick this anywhere on your iPhone's rear, it takes the place of the typical ergonomic stand on most iPhone pouches.
Pros
Detachable socket to use MagSafe charging easily
Firm grip
Adhesive disk for attachment to rough cases
Durable
Cons
Frequent detachment and attachment can limit grip power over time
Check out on: Amazon | Case-Mate
4. Generic pop socket mount kit – Multifunctional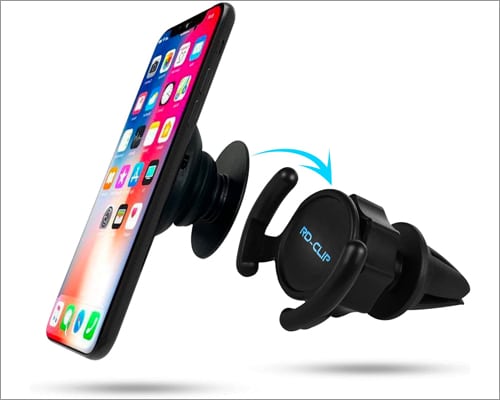 Are you looking for a socket to attach your iPhone to your car's vent? The Generic pop socket is an elegant piece you want to try out. Of course, one of its most admirable features is the extra socket grip that comes with it. This has flexible vent clips at the tail end that let you stick your iPhone to your car's dashboard firmly.
The mounts on either side of the socket grip slide into the pop socket to hold your phone firmly. You can use it with or without the socket grip, and it still works as a stand. Moreover, there's a rotating knob on the neck for a sleek 360-degree orientation, making this one an efficient stand for your iPhone.
The pop socket also uses an adhesion to stick to your phone's back. So it's detachable. However, this one has a popping effect, and you can compress it to level it down to your iPhone's body. Nonetheless, the socket grip hardly works with other pops. So the entire setup might become worthless if you lose the pop socket.
Pros
Multifunctional
Fix your iPhone firmly to your car's air vents
The pop and compression effect lets you flatten it easily
360° rotation
The extended socket grip makes it a suitable iPhone stand
Cons
Socket grip isn't compatible with other brands
Check out on: Amazon
5. Pela: Collapsible grip & stand for iPhone – Most lightweight
The Pela Collapsible grip has a unique ergonomic design, perfect for any iPhone case. Unlike pop sockets, this one is lightweight. It's a flat paper grip, but it's adjustable. So you can fold it into a stand, making it the ideal replacement for LoopyCases. The look is also stunning, and the surface gives a soothing texture.
The Pela grip hails from a green initiative, and the manufacturer crafts it from the Flask plant to eradicate the more commonly used plastic or rubber pop sockets. Indeed, the Pela grip adds value to nature in addition to its functionality. And what's more amusing is the strength of this grip.
Further, it also offers pocket and palm comfort. Considering that it has a tiny surface, it doesn't obstruct MagSafe wireless charging. Overall, this one has two layers. A lower one sticks firmly to your iPhone's back, holding the upper one within a thin slider.
Do you want to see a movie or make a sketch on your iPhone and need some support? You only need to fold this upward to make an iPhone case stand.
Pros
Lightweight and comfortable
It doesn't obstruct MagSafe wireless charging
Strong despite its thinness
Folds into a stand easily
Made from a natural material
Cons
Might get damaged when you try to remove it
Check out on: Amazon
6. Cute Black Camo pop case – Minimal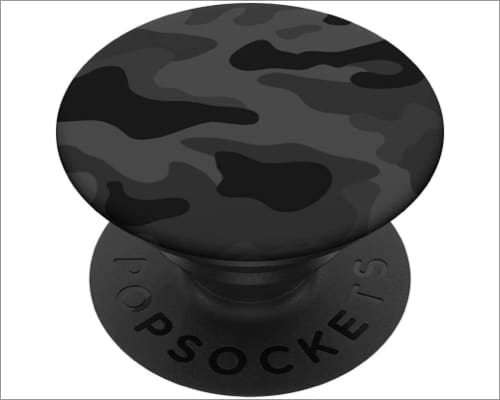 The Cute Camo socket grid is a minimalist pop socket. Although the top is swappable for another design, the camo pattern on this one looks attractive.
The pop socket doesn't support the MagSafe charger. So you might have to remove it if you want to charge your iPhone wirelessly. The fact that you can swap the top of the grip gives room for variety. The pop grip also compresses and pops easily. So it can serve as a stand.
With surface adhesive, all you have to do is pin it to your iPhone's back or its case to stick it. One primary con of this grip is that it doesn't glue to silicone or roughly textured materials.
Pros
Removable head to swap designs
Smooth pop and compression transition
Easy attachment
Cute design
Cons
You can't use it with silicone cases or those with a rough surface
Check out on: Amazon
7. Motorsports Pop Sockets – Best pop socket for kids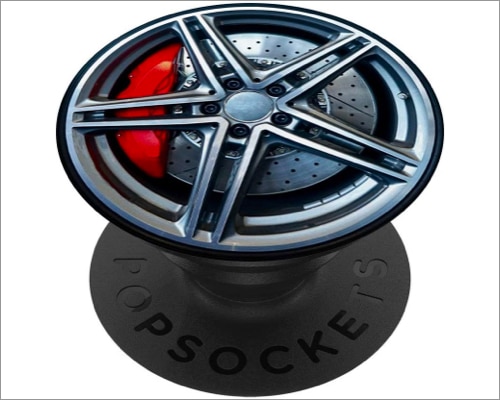 Do you want to get a pop socket for your kid? I'm sure they'll appreciate the Motorsports pop socket. The wheel design at the top is what sells this to most people. Otherwise, it's no different from the camo design.
As in the camo design, you can replace the top in this pop socket with another one. It also has an adhesive property that lets you attach it to a smooth case surface firmly. And you can stretch it to use it as a stand, too. Also, you might have to remove the pop grip to use a MagSafe wireless charger.
Pros
Elegant design
Swappable top for varied design
The adhesive base creates a firm grip on the case or iPhone surface
Cons
You can't attach it to a rough surface
Check out on: Amazon
8. PopSockets PopGrip – Swappable top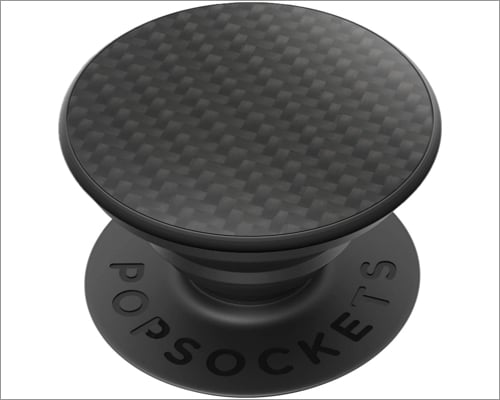 Here's another durable popping piece for your iPhone back from PopSockets. The PopSockets PopGrip wields a polycarbonate material, making it rugged on the go. I particularly love the carbon fiber design covering its upper part. This makes it more lightweight than most pop cases.
The top is also swappable. So you can replace it if you grow tired of it while keeping the pop grip. There's also enough space between the grip and the top cover to hang your hand when popped.
Like most of its kind, this pop grip has an adhesive base that attaches it firmly to your iPhone's back. However, this adhesion works best on smooth surfaces. So you might choose your case carefully while picking up this pop socket.
Pros
Carbon fiber reduces pop socket weight
Durable
Hold your iPhone firmly
Can use it as a stand
Cons
Only attachable to smooth surfaces
Check out on: Amazon
9. MOFT X reusable adhesive 3-in-1 Stand – Most ergonomic design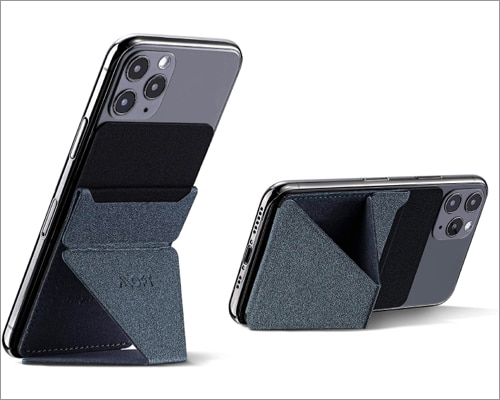 Whether you want to stand your iPhone vertically or horizontally, the MOFT phone stand is flexible to achieve it. It's slim and blends well with your phone's width, and its design is top-notch.
It's a magnetic, flattened phone grip with an RFID-protected cardholder. This one also comes in various colors. So you have a couple of design patterns at your service.
The MOFT phone stand is a multilayered mini pouch. But its details are in its back stand, as they have flexible joints that let you form a 45 or 60°-oriented stand in a portrait or landscape position for perfect viewing. The stand also curves inward into the case to form a strap. This serves as an anchor for your hand while holding your phone.
Pros
Highly ergonomic
Comes with an RFID-protected cardholder
Beautiful design
Suitable for portrait and landscape viewing
Ultra-slim design
Cons
The grip might loosen up with heavier phones
Check out on: Amazon
10. enGMOLPHY MagSafe ring holder – 2-year warranty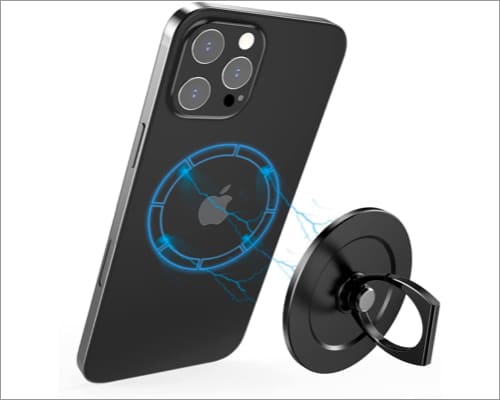 Finally, here's a case grip that works with a MagSafe case. The enGMOLPHY MagSafe ring holder is selectively compatible with iPhones 12 and 13 and is one of the best ring grips you can get, as it's functional and sturdy.
Its support for MagSafe means you don't have to worry about removing the grip before you can use a wireless charger. Simply attach your MagSafe with the ring attached and your phone charges. You can attach it directly to the naked back of your iPhone or pair it with a MagSafe.
However, keep in mind that this grip uses the super-magnetic force of attraction. So it might not work with non-MagSafe cases. The ring on this one is strong, and all it takes is a flip to change its orientation in any direction. As expected, you can leverage the ring as a stand or hanger to fix it on your finger or the wall.
Pros
Compatible with MagSafe wireless charging
Comes with a 2-year warranty
Sturdy grip and ring
360° orientation
Cons
Doesn't attract your iPhone if you use a non-MagSafe case
Check out on: Amazon
That's it!
Besides serving as iPhone stands, pop sockets and grips add to the elegance of your iPhone. And they also make the phone handier by providing an anchor for the hand. I've recommended the best ones here, and I believe you'll find what you need.
Which of these pop sockets would you prefer to buy? Let me know in the comments section below.
Read more:
Readers like you help support iGeeksBlog. When you make a purchase using links on our site, we may earn an affiliate commission. Read more.
Idowu is an avid tech writer and a software surfer who loves covering knowledge gaps in consumer software, including anything related to iPhones. Well, when he's not reading and learning new things, you'll find Idowu losing gallantly on a solid chessboard or virtually on Lichess.