Although the Netflix desktop app lets you access movies and shows conveniently, streaming Netflix via a browser brings more benefits with powerful extensions and Add-ons. The right browser extension can significantly enhance your streaming experience. Here, I will share the best Netflix extensions for Chrome, Safari, or Firefox on your Mac.
Best Netflix Extensions for Chrome on Mac
Here are the best Netflix extensions you can get on the Chrome browser. The best part is all the extensions are free to install and use!
1. Netflix Extended – Get rid of the fluffs – Editor's choice
Manually skipping all the movie intros, episode recaps, and intermittent interruptions every time on Netflix can frustrate your movie experience. You can remove them automatically and jump directly into the content with Netflix Extended. It's also a fantastic extension to have if you hate spoilers. All it requires is a click to remove movie thrillers from your timeline.
Besides, the extension features keybinding options for setting custom playback navigations. Moreover, you can see the elapsed time for a video. This feature is a must-have if you always default on the time frame you set for your movie time. Although it features review ratings from IMDB, Rotten Tomatoes, etc., you'll have to look elsewhere for faster review information.
Overall, Netflix Extended allows for a more flexible usage of Netflix on Chrome. And if you feel your kids might not get along with the stringent settings, it has a deactivation option for kids' profiles.
2. Teleparty – Watch movies with friends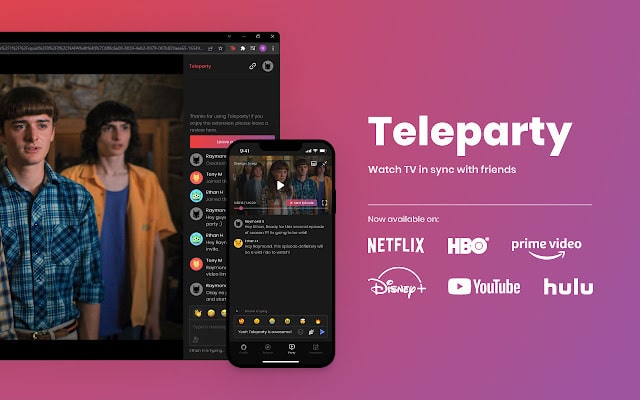 Can't meet your friends right away? There's no better way to get along virtually than hosting a watch party for the latest hit on Netflix. Teleparty Chrome extension makes streaming Netflix movies in sync with that special one easy. All you need to do is set up a watch party for a movie you're currently streaming and share the sync link with friends.
Besides, you can choose to solely manage the watch group or make it flexible for others to control. The best part is your recipients don't need to install the extension at their end to join a party. They only need to click the link, get onboard using the Teleparty icon, and enjoy streaming. The extension is also available on Firefox as Netflix Part.
3. Netflix Flip – Stream movie from any angle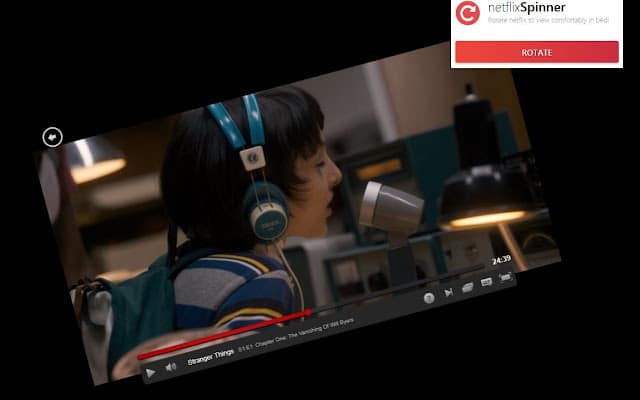 Do you prefer to flip your laptop for convenience or use it in the tab mode sometimes? Netflix Flip is a simple Chrome extension that lets you rotate videos by 360 degrees so you can enjoy playback from any angle.
That's not all. If you spot an exciting detail that may not be obvious to others and want to share, zooming clearly in the browser has gotten better with Netflix Flip.
4. Netflix Picture-in-Picture – Best for multi-tasking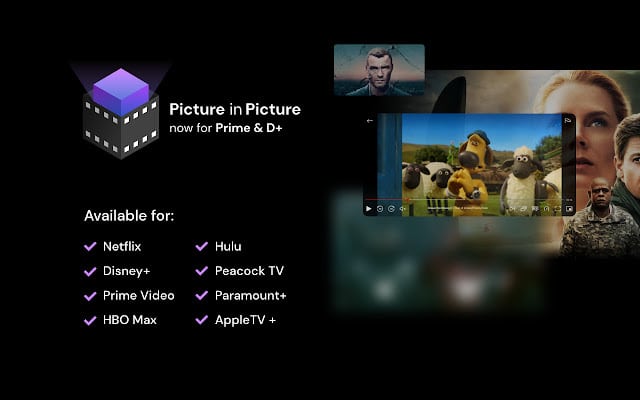 Streaming Netflix via Chrome in picture-in-picture mode sounds right when you get busy with other menial tasks on your Mac. Although the Netflix mobile and desktop apps have this feature, it's not possible while streaming via the browser. Thanks to the Netflix Picture-in-picture extension for making this multi-tasking feature possible on Chrome.
Using the extension is straightforward. Once installed, it automatically displays a picture-in-picture icon at the bottom-right corner of a movie you're streaming on Netflix via the Chrome browser. Click this icon, and your favorite web series is played in an always-on-top window.
5. Trim – View movie ratings before watching
Checking critic's ratings and reviews about a movie is the surest way to determine if it's worth your time and attention. However, going through the rating aggregator's website is also time-consuming. With the Trim extension, you don't need to pause a movie to get its ratings from another website. It brings them to you right within the Netflix web app.
Featuring IMDB, Rotten Tomatoes, and Metacritic ratings, Trim lets you know the thrilling value of a movie by simply clicking its thumbnail to view its details. As a plus, the extension also lets you quickly browse hidden categories on Netflix, making your favorite movie genres easier to find. However, you must sign in to the Trim website to access the extension's features.
Best Safari Extensions for Netflix
You're not in isolation if you use Safari on Mac. While the Apple ecosystem is less permissible to third-party extensions, you'll still find a few valuable ones for Netflix.
1. Smartplay – Multifunctional Netflix extension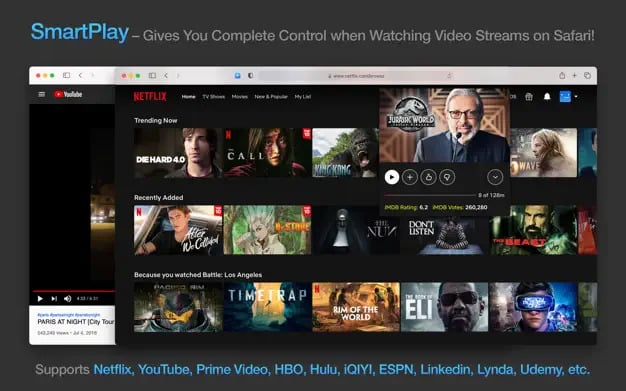 Smartplay is like the Netflix Extended version of Safari. Considering its multifunctionality, you may not need extra Netflix browser Add-ons once you install this powerful extension. Featuring IMDB ratings, playback control functions, and optimized video effects, there's no better way to enjoy Netflix via Safari. You can automatically skip boring movie intros and series recaps.
It also features a playback multiplier effect that lets you speed up movies for a quick recap. While Netflix provides subtitles for most movies, Smartplay lets you optimize details like subtitle color, fonts, text size, and position to enhance your reading experience. However, all these features come at a cost, starting from as low as $4.99/month.
2. Popcorn for Safari – Get the best ratings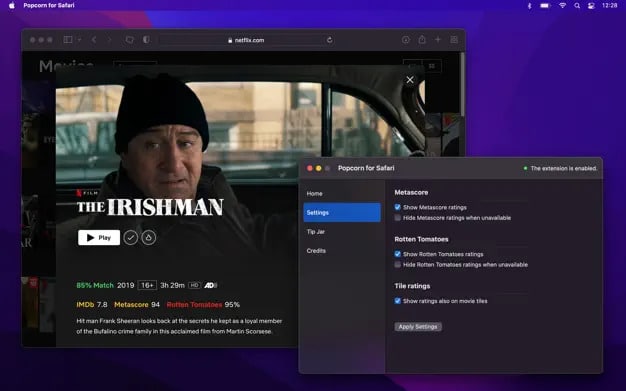 A single rating source is sometimes not enough to judge a movie. If you want to tap into more rating sources before streaming a movie on the Netflix web app, Popcorn is the best Safari extension for the job on your Mac. Whether you want ratings from IMDb, Metacritic, or Rotten Tomatoes, just install Popcorn on Safari and view movie ratings by clicking its details.
To get the best of what Popcorn offers, you'll need to grant the extension the appropriate permission on Safari. The extension is free for starters, and there are no intrusive ads to hinder your movie streaming.
Best Firefox Extensions for Netflix
Firefox can be frustrating with occasional IP censoring, but it could be an excellent Netflix streaming platform if you install the right Add-ons. Let's quickly see some of the most valuable Firefox add-ons for Netflix on Mac.
1. Better Netflix – Add zooming functionality to Netflix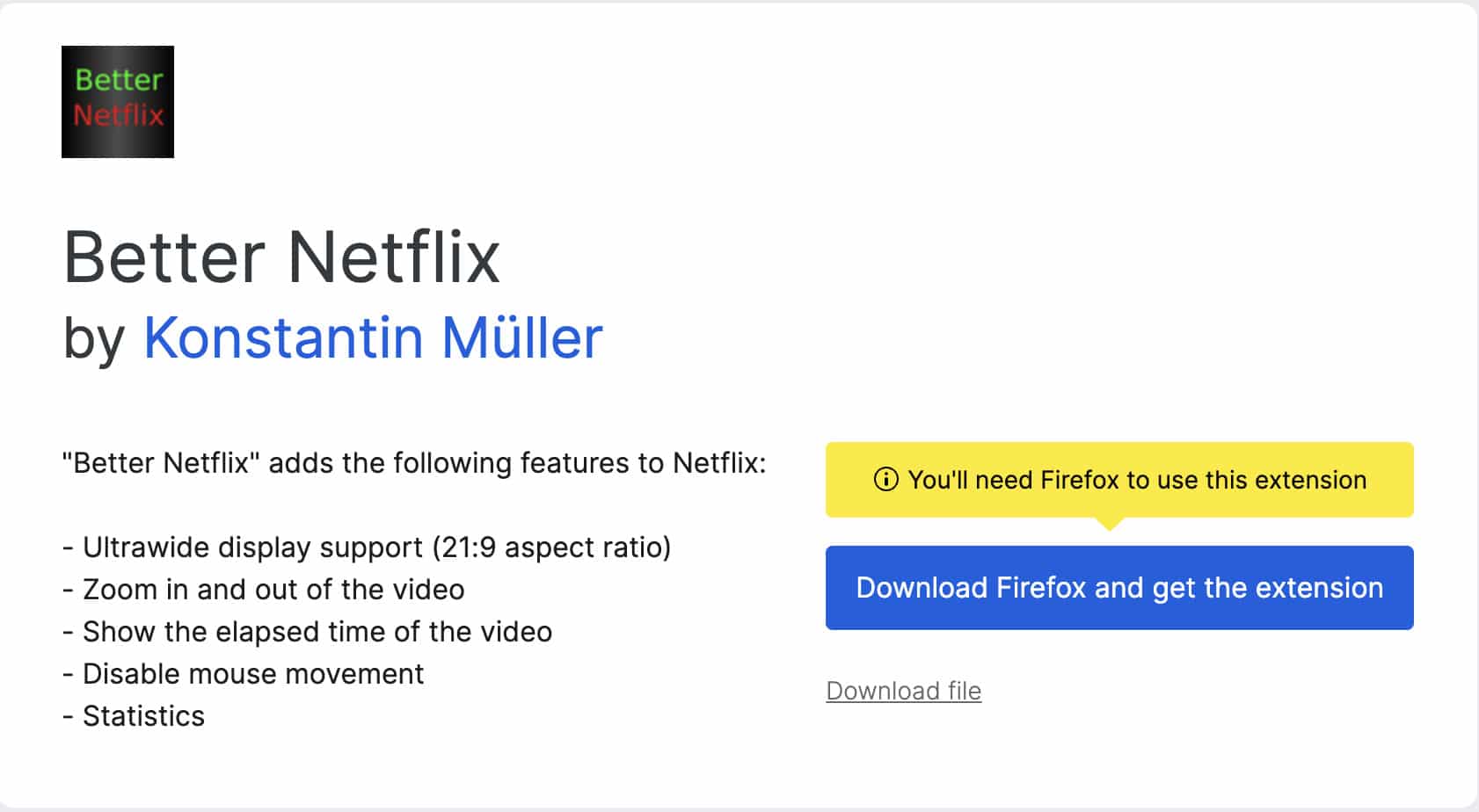 Installing the Better Netflix add-on is one of the best ways to add more features to Netflix on Firefox. You can use it to zoom in and out objects in movies, increase screen aspect ratio, and view IMDB ratings. It also features shortcuts for enabling and deactivating mouse movements and viewing the aspect ratio stats.
Moreover, the Netflix extension lets you see the elapsed time in a playback. This adds a two-way timing stat to your playback, as you can see how long you've watched a movie and how long you have left. The only setback with Better Netflix is that clicking the IMDB button in the description takes you to the IMDB website rather than fetching the stat directly inside Netflix.
2. Metastream Remote – Watch Netflix with friends on Firefox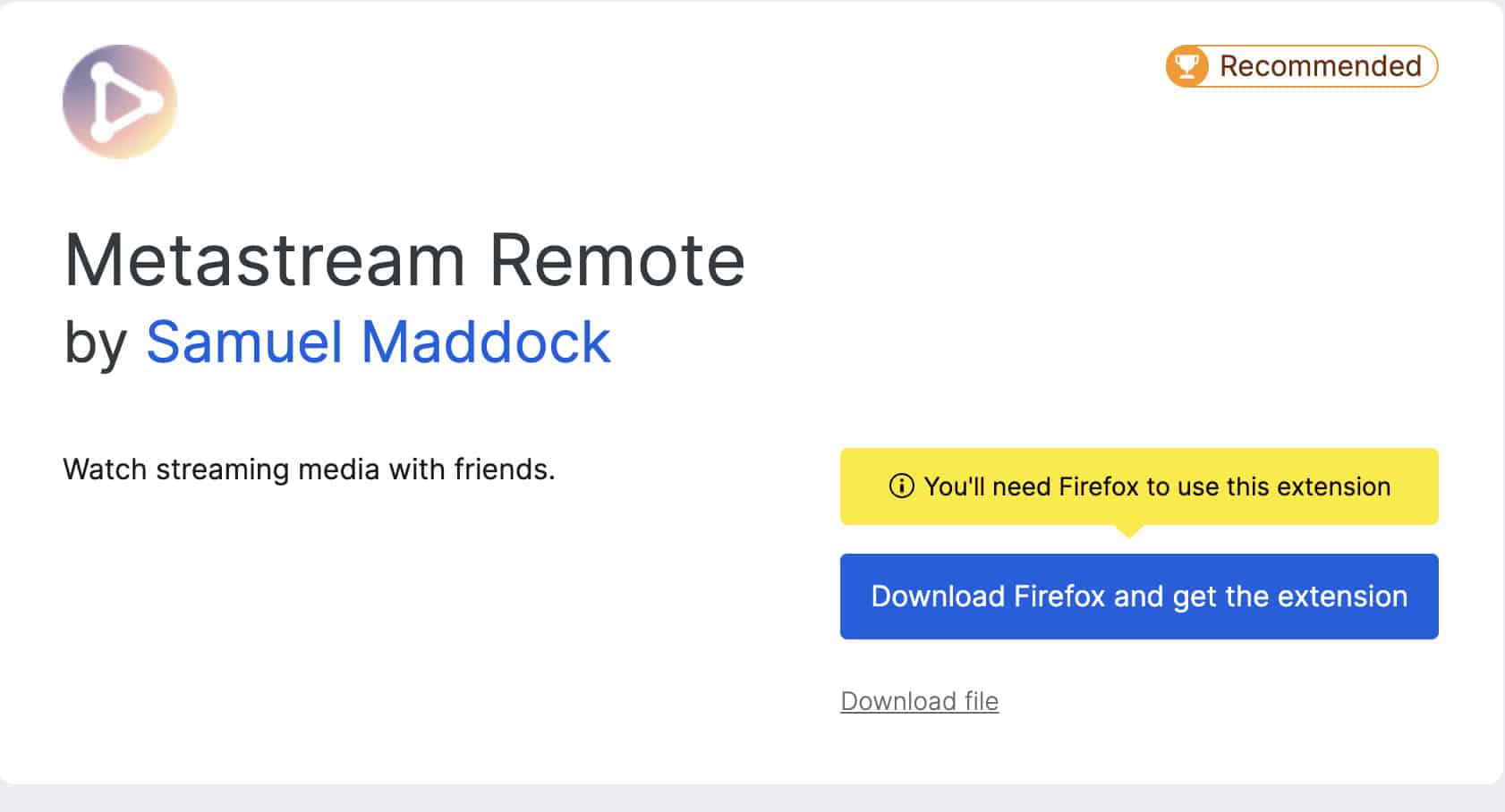 Want to set up a watch party on Firefox and stream movies with many friends at once? Achieve this smoothly with Metastream Remote. Although you'll have to install the add-on in your browser, the main event unfolds right inside Metastream Remote's website. To create a synced watch session, visit the main website and paste the link to a movie you're streaming on Netflix.
Copy the session link and share it with friends to start the watch party. Once your friends click to join a session, you must accept their request to connect to complete the setup. If it's the first time you're sharing a session link with a friend, they only need to open it, create a display name, install the extension on their browser, and jump into the synced session.
Want to discuss and analyze the movie? Chat away in the extra pop-up window. Keep in mind that Metastream Remote relies heavily on pop-ups. Ensure you enable pop-ups in your browser to get the best of it. Besides, this extension is also available for Chrome to watch Netflix together.
3. Film Scores for Netflix – Quickly see movie ratings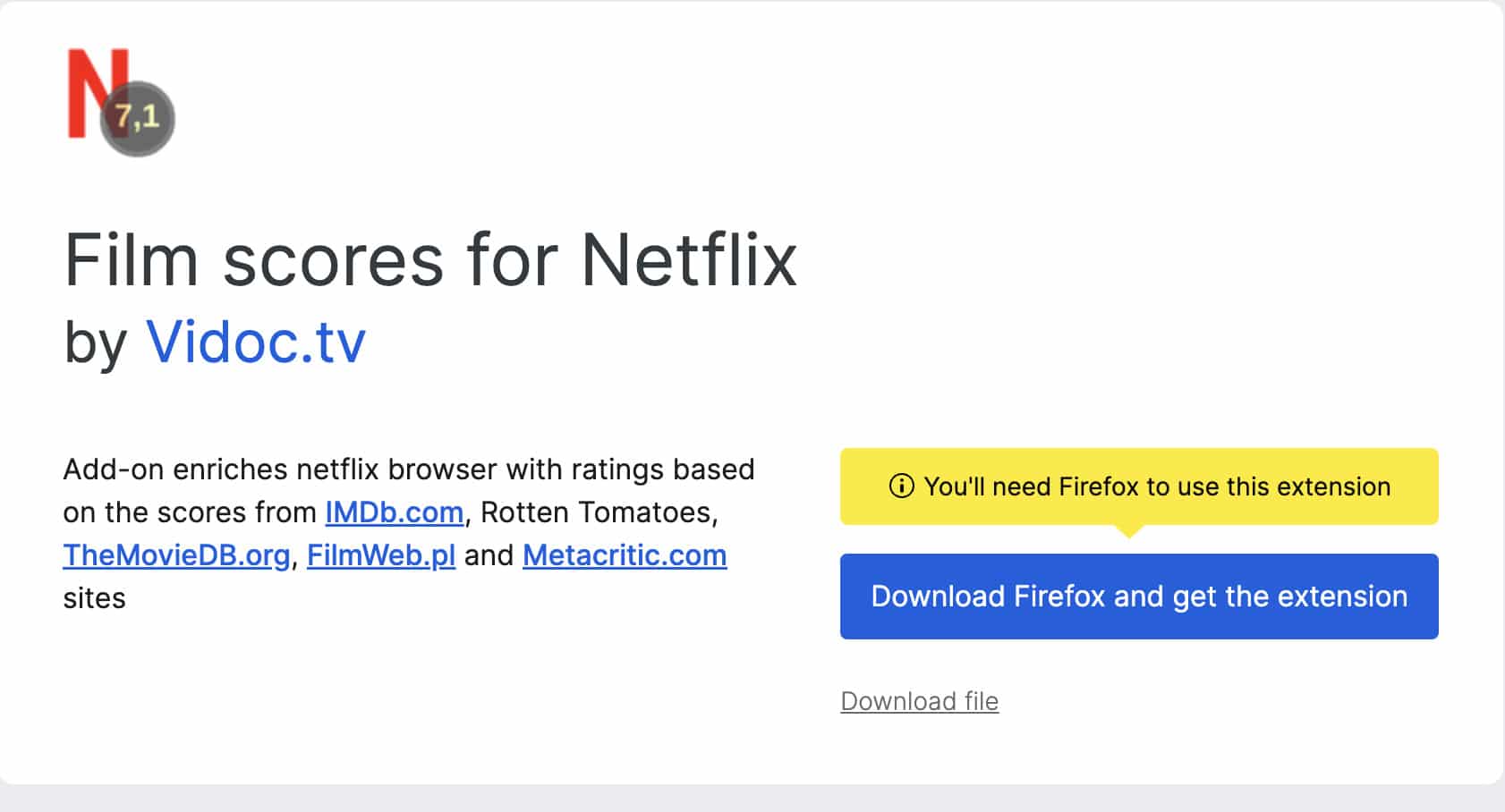 Film Scores is the best Netflix add-on on Firefox to get more movie ratings from various aggregators, including TheMovieDb, IMDB, Rotten Tomatoes, Metacritics, FilmAffinity, and Trakt TV. Once installed, it attaches a quick rating score to every movie banner based on your rating source preference.
So, this is the easiest way to know if a movie is worth your time and data. You can change this preference by clicking the Extensions icon on Firefox, selecting Film Score, and going to Configurations. That's not all; the add-on lets you turn off undesirable ratings. Simply click the description under a movie banner to view more ratings.
4. Netflix Category Browser – Sort movies easily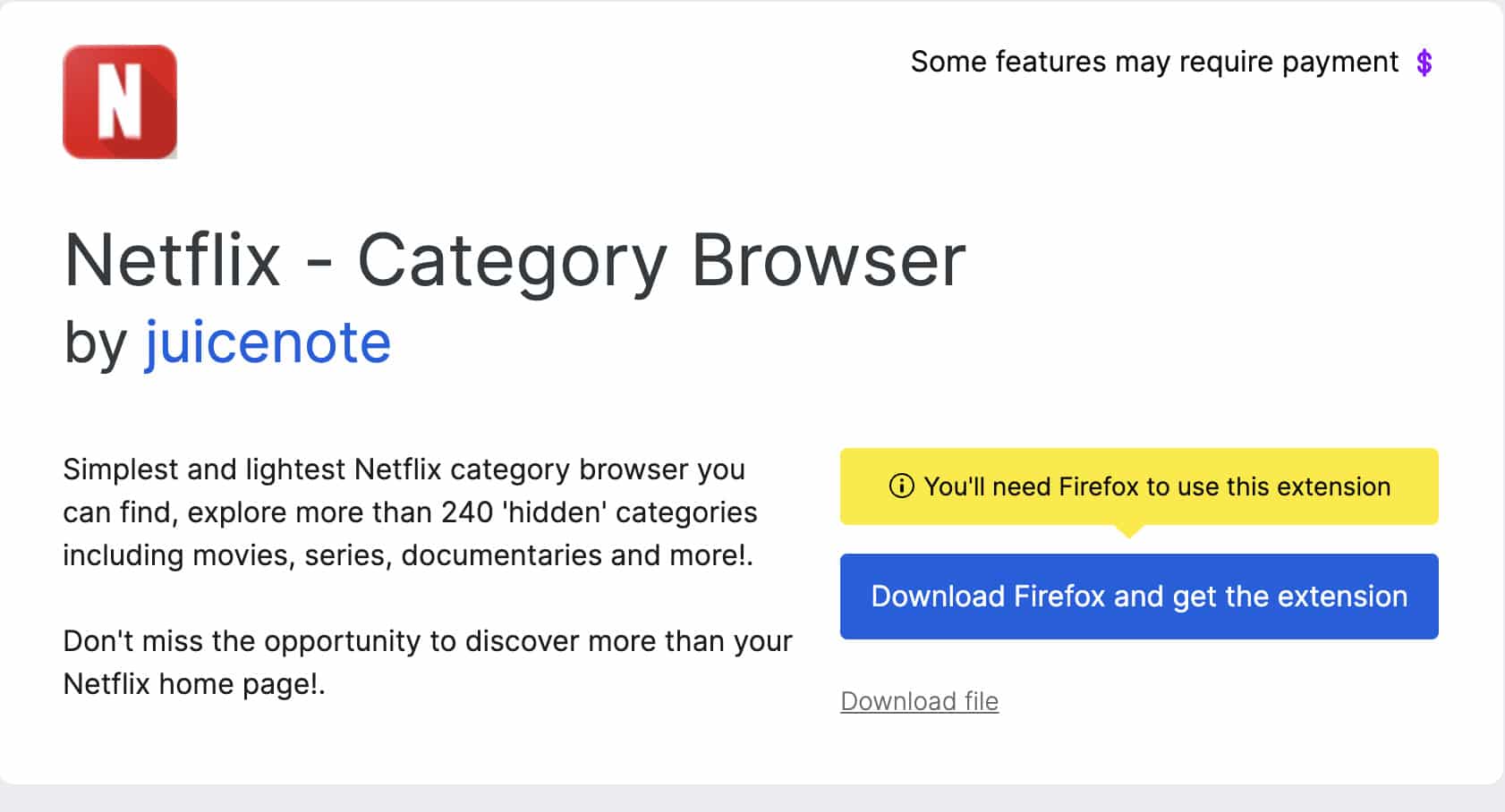 While the Netflix web app lets you browse by language and sort in alphabetic order, there's no direct way to browse by categories. Solve this single challenging task using the Netflix Category Browser add-on on Firefox.
All you have to do is click the extension icon on Firefox, go to Netflix – Category Browser, and select your category and subcategory choices. This action will reload Netflix with the chosen options. Surf away to locate and start streaming the movie that catches your interest.
That's it!
Kudos if you stream Netflix via a browser like mine. Now, you know the best way to enjoy your streaming with the ideal browser extension for the right task. Don't hesitate to install a combination of these extensions to get everything you need to extend Netflix functionality and boost your Netflix experience.
Explore more…
Readers like you help support iGeeksBlog. When you make a purchase using links on our site, we may earn an affiliate commission. Read Disclaimer.