Morse code is a method of communication for transmitting or sending messages through sequences of dots and dashes. It is typically used to send radio and SOS signals using sound or light and comes in handy during disasters or emergencies.
Worried about how to use or understand morse code? Here are the best morse code apps for iPhone that use the flashlight, haptic feedback, and sound tones to communicate.
1. Morse Code Keys – Editor's choice
If you are looking for an app that allows you to learn, train, and memorize morse codes for the different numbers and alphabets, Morse Code Keys Trainer is the app.
It provides a pane for beginners or newbies to repeat practice lessons. You can switch to the single-button mode as you master the pieces of morse code. While practicing, it displays a completion tracker in percentage to show your progress for each alphabet, symbol, or number.
Although this app is beginner-focused, you can download in-app recommended resources to get your hands on advanced training. You might opt for the free version, which contains a few non-intrusive ads. But going premium removes the displayed ads.
Pros
Simple and relatable user interface
Beginner-friendly practice sessions
Enables quick-learning
Cons
Free version doesn't have advanced lessons
Price: Free
2. Morse Code Reader and Deocder – Many practice lessons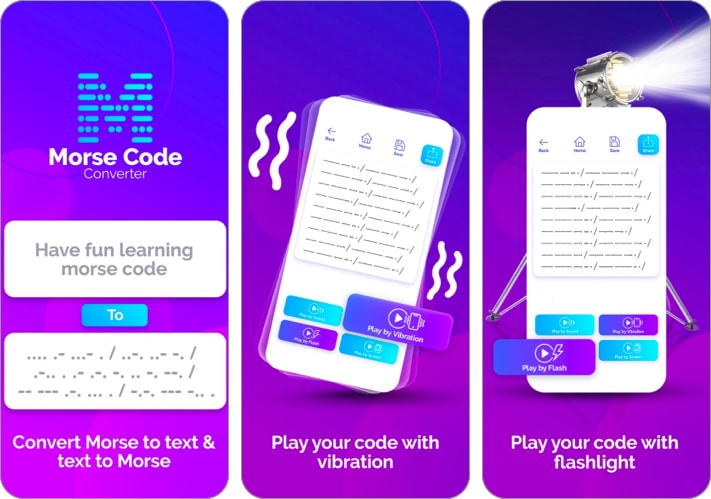 The Morse Code Course Translator app gives you encompassing features that allow you to learn and practice morse code. It features approximately 100 practice lessons in three different difficulty levels.
Another exciting feature is that it allows you to convert morse code into text and vice versa. Additionally, you can transmit the morse code in four different forms (sound, flash, vibration, and screen). There's also a sort of dictionary for each alphabet, symbol, and number, including what they represent in the morse code. Plus, you can save your written morse code.
The user interface is appealing, allowing you to navigate the app easily. Whether you're a beginner or a pro, you can't go wrong with this app. One of the few drawbacks of the app is that you need to subscribe to access most of the lessons.
Pros
Navigable user interface and supercool user experience
Transmission of morse codes via four different means
Compiled a list of alphabets, symbols, numbers, and their corresponding morse codes
Price: Free (In-app purchases start from $2.99)
3. Morse-It – Reads audio signals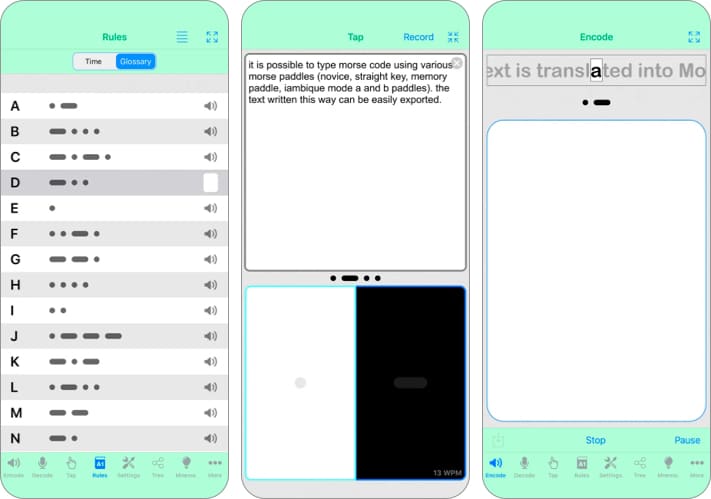 Looking for something extra? A unique feature sets the Morse-It app aside from the other apps. Besides being able to translate words into morse codes and vice versa, it can interpret audio morse codes; this gives you the leeway to receive and read audio signals.
You can also download an audio file from a translated message and send it to other people. Morse-It can transmit signals through different media, including screen, flashlight, and audio. However, you have to unlock the premium features to enjoy the best of what Morse-It offers, including practice questions, a morse-code dictionary, and more.
Pros
Translates audio morse code into text in real-time
Audio files are available for download and sharing
Provides a binary tree diagram of morse code
Cons
The app is available only on subscription
Price: Free (In-app purchases start from $4.99)
4. Flashlight and Morse Utility – Superfast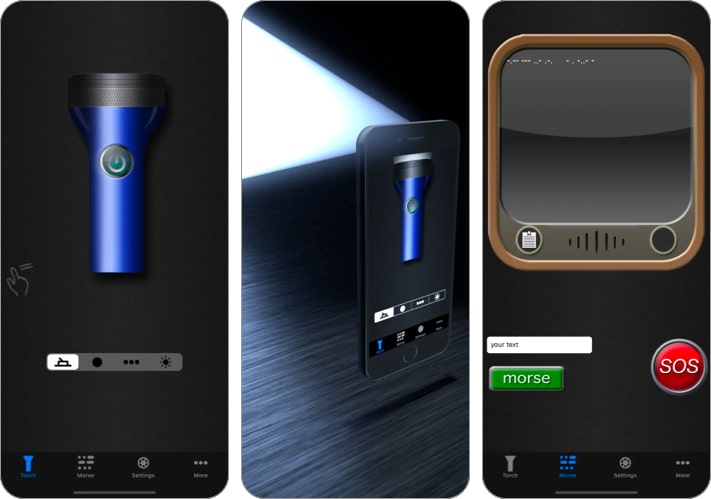 The Flashlight and Morse Utility app comes with a simple user interface that enables you to translate texts into morse codes. If you need to copy the translated codes, the app provides an excellent option for this. It transmits codes via audio or light. The app has a flashlight feature that you can regulate to serve various functions.
The Flashlight and Morse Utility app also has an SOS option, which can transmit messages in situations of emergencies. The cons include occasional ads that pop up during use and the relatively small textbox.
Pros
It has low memory usage
It has an SOS feature
Adjustable flashlight feature
Cons
The user interface could be better
Price: Free (In-app purchases start from $0.99)
5. Morse Code Translator App – Most beginner-friendly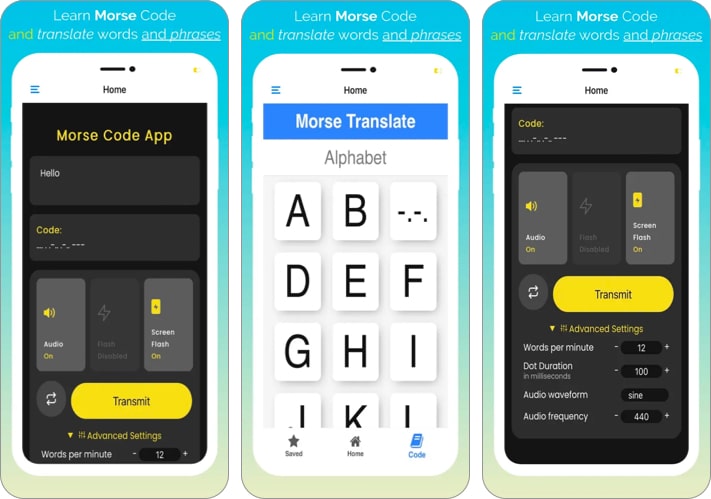 The Morse code translator app is another app that provides users with features to learn, memorize and practice morse code. It's similar to the morse code reader and decoder app and provides a compilation of alphabets, symbols, numbers, and their corresponding morse code.
The app also helps translate text to morse code. For varied options, you can choose to transmit messages via flashlight or sound. Unfortunately, the app contains ads. And there's no option to remove them since it's completely free.
Pros
Copy-paste texts and codes
Completely free
Permits you to save your morse codes to the app
Price: Free
6. Morse Mania – Learn Morse Code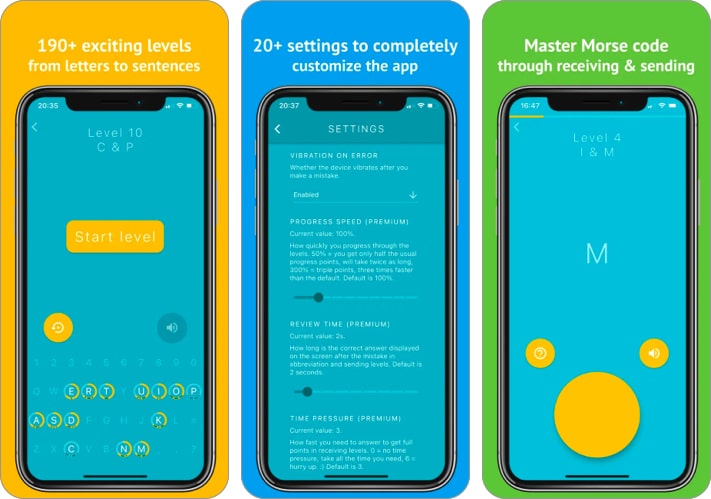 Thinking of icing on the cake? It's the Morse Mania app! The super cool UI shows why the app is widely adopted. You can learn and practice morse code by advancing through 270 levels of available lessons.
Additionally, it transmits morse code through five different outputs (haptic effect, blinking light, audio, flashlight, and light + sound). It offers up to nine different keyboard layouts. It also supports an external keyboard that provides almost a gaming-like experience. There's also a progress indicator that helps you monitor lesson progression. The app has a list of abbreviations and interpreted morse code, which you can learn and practice. It also gives you the leeway to create and save your morse code.
Another exciting feature of this app is that it's pro-community-oriented and can work offline. And what could be more fun than making friends while learning? If you want to add a chat room to the Morse Mania fun, you can download Morse Chat; it is an in-app recommended chat room. However, you need to subscribe to premium to enjoy all the benefits.
Pros
Supercool User interface
Different Keyboard layout
Chat community
No ads
Price: Free (In-app purchases start from $0.99)
Wrapping up…
You can't tell where life skills like morse code can be helpful. It's even handy for explorers, campers, and adventurers. And if you're planning to join the navy or army, you might want to have hands-on relevant practices before starting your career. Why are you learning morse code? Let me know in the comments section below.
Read more:
Idowu is an avid tech writer and a software surfer who loves covering knowledge gaps in consumer software, including anything related to iPhones. Well, when he's not reading and learning new things, you'll find Idowu losing gallantly on a solid chessboard or virtually on Lichess.