Pool games are a great way to pass the time. They involve the right amount of skill, luck, and competitiveness to hook you for hours. However, one look at the App Store will tell you that there are far too many pool games available for iPhone and iPad. So, instead of you downloading and checking which game you like best, I've curated the list of best iPhone pool games worth your time (and cash)!
1. 8 Ball Pool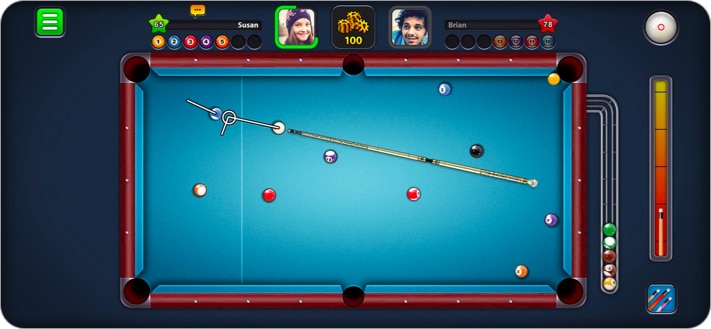 If you're a casual player, 8 Ball Pool is possibly the best pool game to try. Apart from being popular, it also provides multiple modes to play. If you like to play online or with friends, you can try the online tournament mode.
The game can also match you with 8 of your friends so that there's some friendly competition. It's got a basic look and feel, with satisfactory graphics. Further, the game's mechanics are rudimentary, and you won't take too much time to understand it.
You will earn Pool Coins as you play, which can be redeemed for various items, including table colors and pool cues. Some pool cues boost your stats, helping you win matches. They also help you move to the different sections, especially those with higher stakes and returns.
The game may seem generic and casual, but it's a good gateway into other, more advanced pool games online. Whether you're commuting or need a game to pass the time, 8 Ball pool is a good choice. It is enjoyable without committing to difficult matches and gameplay.
Price: Free (In-app purchase starts at $0.99)
2. Pooking – Billiards City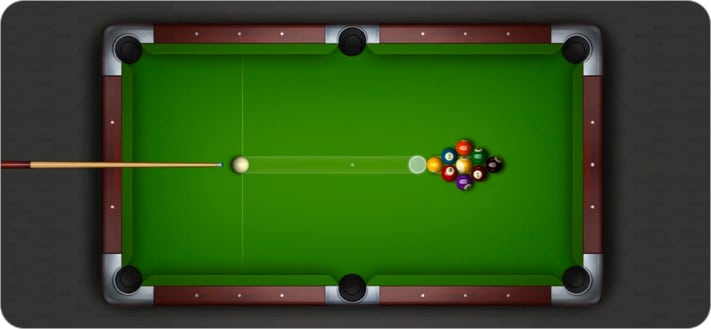 Remember when video games consisted of minimal graphics and simple gameplay, courtesy of Flash Player? Well, Pooking – Billiards City is its perfect example.
If you're a fan of single-player modes, this game will be your savior. It's one of the few pool games that still focuses on introducing players to a proper single-player mode instead of forcing users to connect to the internet and their social media handles. This is a decent offline game for pool enthusiasts.
You can challenge yourself further by completing challenges in tables shaped differently. It's striking at first, but you start enjoying the depth it adds to the game. The graphics are simple, so if you're looking for a pool game with more 'realism,' Billiards City isn't your best bet.
In a world of freemium games, this game brings you joy by being completely free. However, you will have to be patient and watch a few ads. Honestly, it isn't as annoying as it sounds. The game is decent enough to wait 15-30 seconds to continue playing, especially for its single-player mode and a healthy dose of nostalgia.
Price: Free
3. Real Pool 3D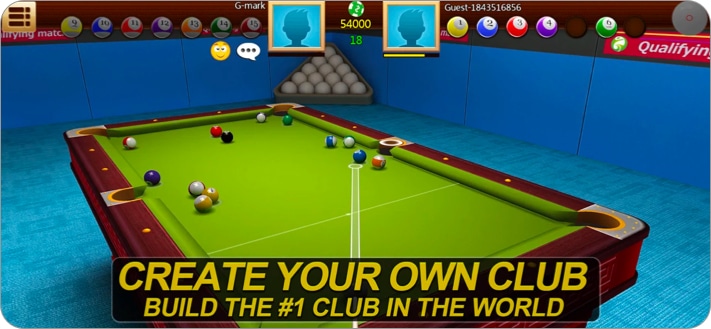 Real Pool 3D offers a bit more than some of its competitors. Besides being integrated into social media, it has nuanced and satisfactory gameplay. While I prefer playing this game on an iPad, it works well on an iPhone too.
The game has two different views – 2D and 3D. Depending on which view you play with, your gameplay style changes automatically. It also offers a different perspective on shots that you didn't consider possible. It's got a Facebook sign-in feature, and after linking your account, you can play with anyone on your friend list.
Another social facet of this game is building your clan, where you team up and play in tournaments. There are different match modes, and you can choose either the 8-Ball style of gameplay or Snooker. To level up, you will have to grind a bit, and this can be frustrating.
Overall, it's a good game offering more social inclusion than others.
Price: Free (In-app purchases start at $0.99)
4. 8 Ball Hero
8 Ball Hero puts a spin on the regular pool games. It comes from the developers of the popular Score! Hero franchise and the mechanics remain similar. The only difference is that instead of passing a football around with one touch, you'll have to hit the cue ball. Let me explain further.
The mechanics of the game are different. You don't play entire matches. Instead, you will be put into a match with a particular situation where you're losing, winning, or tying the match. You will then have to complete the events and challenges that come with each level.
As you increase in levels, you will face more complex challenges. The game mechanic is neat and doesn't require the patience of an entire match. However, it can get quite frustrating – if you don't make a particular move work, you will have to restart the entire level. This adds satisfaction and challenge to the game, nonetheless.
8 Ball Hero may not be for everyone. If you like challenges, but don't have the patience for playing full matches, give this game a try.
Price: Free (In-app purchases start at $1.99)
5. King of Billiards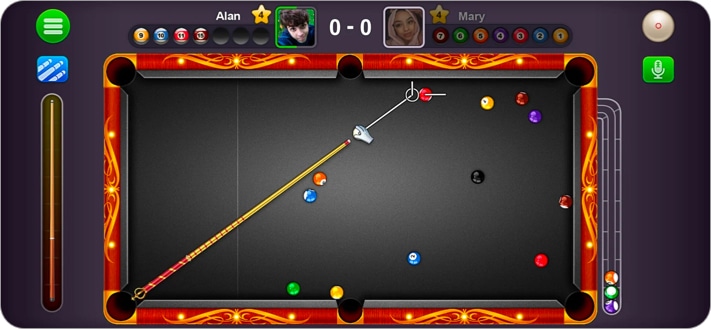 King of Billiards doesn't do anything particularly new. However, it does what it does exceptionally well. The game has an "Around The World" theme in which you can play matches in different tournament stages modeled after certain cities around the world.
There's a single-player mode that is good and provides some challenges to competitive players. With over 500 different events and challenges to complete, players will be challenged throughout the game. I liked the ball physics in this game – it adds a touch of realism to the matches.
The graphics and audio of the game are decent as well. You will have to play the game in the 2D view, but the lighting effects, realistic cue ball physics, and audio provided come together to create a memorable experience.
The game has had the reputation of some notorious bugs, especially when it comes to matchmaking and drops in connection for multiplayer. Nonetheless, the developers have rolled out numerous updates to address the issues, and the game provides a decent experience now.
Price: Free (In-app purchases start at $0.99)
6. Pro Snooker 2021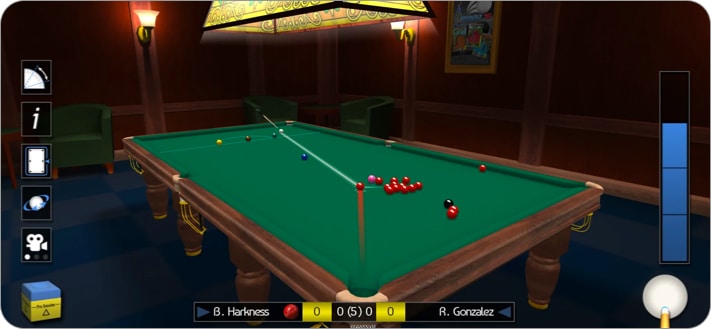 If you're a more serious pool enthusiast and want some of the most realistic gameplay in this niche, Pro Snooker 2021 is your game. Even if you're a casual gamer, Pro Snooker 2021 does enough to make you comfortable with its more nuanced gameplay, thereby keeping you hooked.
Pro Snooker 2021 prides itself on one significant aspect – realism. To create some of the most realistic gameplay you can find in a snooker game, the developers have rendered beautiful graphics, crisp audio, and advanced ball physics. All this combines to create a complete package.
For casual gamers, it is made simple enough to dive into a match without facing the need to learn each and every game's aspect. Once you're more comfortable, you can adjust settings for the advanced shooting options. These new options will provide you with different avenues for shots by adding topspin, backspin, and ball swerve for satisfying gameplay.
Further, users have highly rated the games on the App Store. Give this game a shot if you want more depth in the gameplay.
Price: Free (In-app purchases start at $0.99)
7. Pool Empire – 8 Ball & Snooker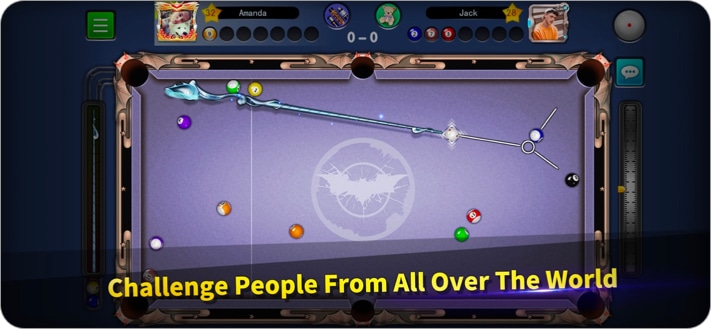 This game has a story behind it. According to developers, they were tired of playing 3D pool games that failed to correct the physics. Bad graphics, difficult camera angles, and unrealistic ball physics led developers to create Pool Empire.
The gamble of creating their game paid off, as this game has received numerous awards for being the most realistic 2D pool game. There's good reason for it, too – the game has plenty to offer, like events, challenges, and a story mode.
This is one of the few pool games that actively provides a story mode for the single-player mode lovers out there. Start from the bottom of the ladder, and beat opponents on your way to the top. You'll then be able to challenge pro players for their championships and work your way to stardom!
You can also connect the game to your social media accounts and invite friends to play matches with you. When you're done with the single-player mode, you can challenge players from worldwide and climb to the top of leaderboards.
Since the developers actively listen to the users' feedback and suggestions, this game will only improve.
Price: Free (In-app purchases start at $0.99)
8. 8 Ball – Billiards Pool Games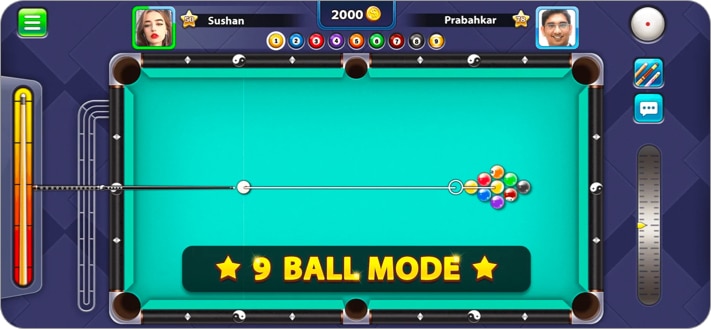 This is a relatively simple game, and it does its tasks well. From events and challenges to playing matches with players worldwide, the game provides a little bit of everything.
If you're a casual gamer, you will find it easy to dive into, as the controls aren't all that difficult. You'll find yourself pocketing a substantial amount of balls after playing a couple of matches and understanding how physics works in the game.
For the more serious players, there is an option to configure the game's physics to make it more difficult. The graphics and audio are good enough, and the configurable difficulty option adds depth to it. You get coins after playing matches, which you can spend on stat boosts or different pool cues.
However, the game involves a fair amount of grinding, and you might come across players that have extensively used the mild "pay to win" mechanic. Nonetheless, the game is fun to play, even if it might seem unfair in certain ranked matches.
The best games are those that lock on the fundamentals properly, and 8 Ball – Billiards Pool Games does precisely that. There's a reason why this game is highly rated on the App Store. It's still an underrated gem, so you should give it a shot.
Price: Free (in-app purchases start at $0.99)
That's it!
Pool games are usually a niche in the app community, with a small percentage of players involved. Nonetheless, there's a variety of games to try, depending on what you're looking for.
Is there any hidden gem of a pool game on iPhone and iPad that I missed? Let me know in the comments below!
Read more:
Readers like you help support iGeeksBlog. When you make a purchase using links on our site, we may earn an affiliate commission. Read Disclaimer.