Instagram has become the ultimate social media platform in the past couple of years. It includes almost every feature that you'd want in a social app. However, it still lacks the capability to let us repost an Instagram post on our feed. This is why I've curated a few of the best repost apps for Instagram.
These apps help you repost someone else's post on your feed, thereby increasing reach. This can help both content creators and people who are in dire emergencies. So, without any further ado, let's get started and check out the entries!
1. Repost: For Instagram – Editor's choice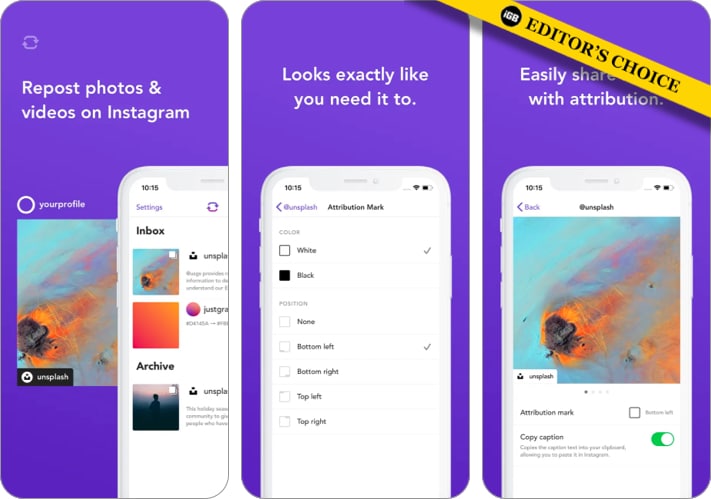 This free repost app for Instagram is one of the most popular and highly rated. The app provides you with multiple important features. For example, you can repost, archive, and save videos for Instagram.
Plus, it doesn't matter whether the videos and posts are from a public or private profile, as you cab repost material even from private accounts!
You can also add an optional overlay and change its attributes based on the position and color of the overlay. This is excellent not only for editing but also for spreading awareness about someone else's post.
However, the latest updates have created issues, with users reporting an infinite loading bug. Hopefully, the developers can update the app through patches and fix the bug as soon as possible.
Pros
Allows you to repost from private accounts
Optional overlay that can be customized
Relatively easy to use
Cons
An infinite loading bug has plagued some users' experiences with the app
Price: Free (In-app purchases start at $0.99)
2. Repost for Instagram #Repost – Versatile option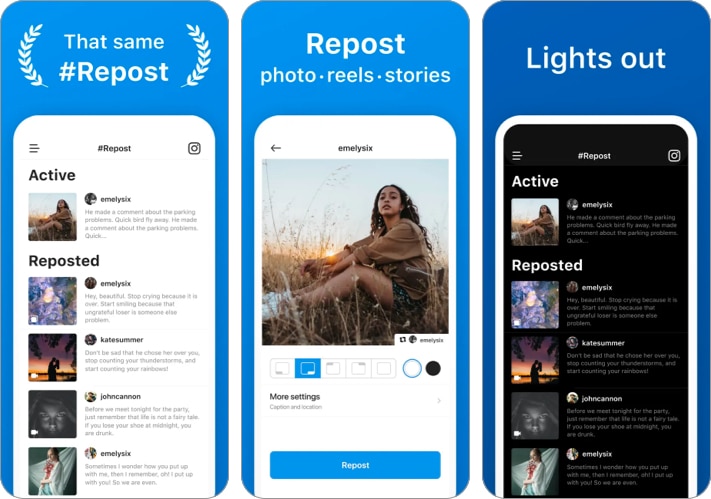 Repost for Instagram #Repost is definitely a great app. It has a convenient interface and offers to repost functionalities on a wide range of Instagram posts.
This is where the app's strength lies. Basically, most repost apps have limitations when it comes to reposting. You can only repost certain kinds of posts from Instagram. However, this app lets you repost carousel posts, IGTVs, Reels, single photos, and Reels!
Despite the app's versatility, some users have stated that Premium access is problematic. In fact, many users have been logged out of their Premium access without explanation. Additionally, the app doesn't have too many customization options.
Pros
The app can repost every type of Instagram content
Reposting can be done in a few easy steps
Convenient user interface
Cons
The app is quite buggy
Lacks customization features
Price: Free (In-app purchases start at $4.99)
3. InsTake – for Instagram – Best for content creators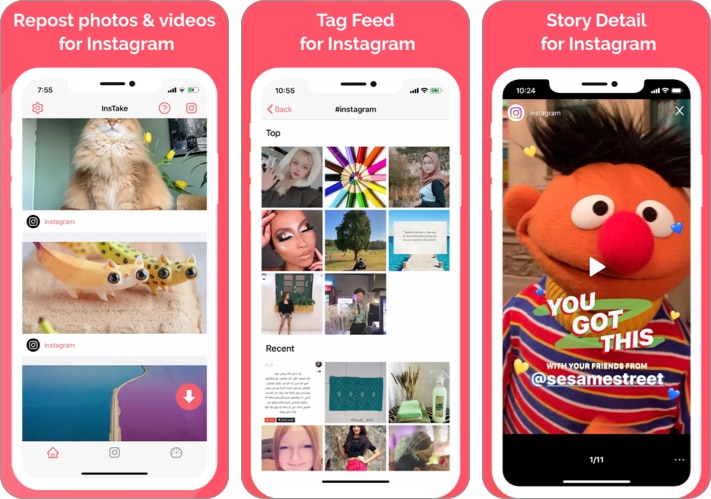 Sometimes, content creators collaborate with other experts in the field to increase their reach and follower count. These collaborations are often shown through reposting stories, posts, Reels, and even IGTVs.
With InsTake, content creators can better understand how their reposts are faring. Apart from working pretty much as the normal Instagram app, it also has features for tracking followers. You can check who are your newest followers, who are following you back, mutual followers, and people who have blocked you.
New likes, comments, and story views are also notified to the user. While some of these features aren't too important for building your content creator profile, they can give you a better idea of what works for your profile and what doesn't work as a brand image.
Overall, this is one of the best repost apps for Instagram, without a doubt. Unfortunately, the app has been facing numerous issues recently with various bugs.
Pros
Lets you track follower details
Works almost like the original Instagram app
Good metrics for budding content creators
Cons
Recent updates have made the app comparatively buggy
Price: Free (In-app purchases start at $0.99)
5. Reels Repost for Instagram – Easy to use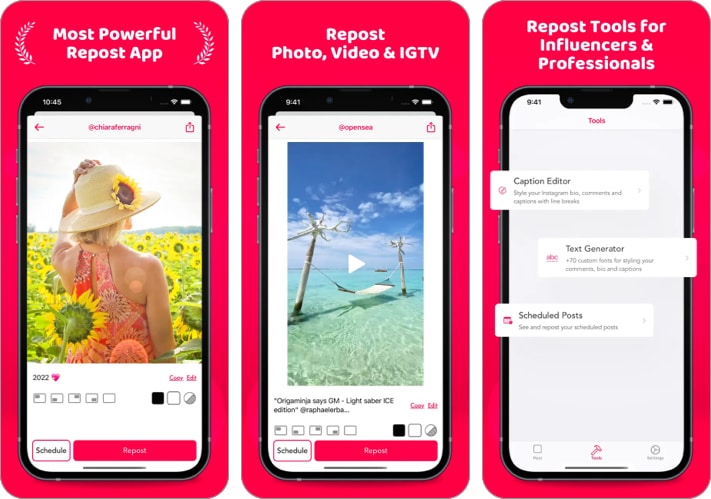 Some repost apps for Instagram make the process quite convoluted with multiple features. While the added features should make the app stand out from the crowd, they made it counterintuitive. However, you don't have to worry about this with Reels Repost for Instagram.
Undoubtedly, the app is one of the more convenient for reposting Instagram posts, stories, and reels. It has a user interface that's relatively easy to understand. Furthermore, you can add your custom watermark to the repost without logging into your Instagram account!
Other important features of the app include a hashtag generator for more reach, post scheduling for extra engagement, a caption editor, and a text generator. This makes your work much easier without additional efforts for post timings or hashtags.
A major issue with this app is that it tends to crash quite often. Additionally, the app features plenty of expensive microtransactions. You can even download Instagram videos with this app, but this feature is locked behind an expensive paywall, as are most of its important features.
Pros
No need to log into your Instagram profile
Powerful tools such as hashtag generator and scheduling posts
Can add your custom watermark to the repost
Cons
Crashes often
Important features are locked behind paywalls
Price: Free (In-app purchases start at $4.99)
FAQs
Q. How do you repost on Instagram manually?
There's only one way to repost Instagram material manually. Basically, you'll have to screenshot the image, resize it, add the original post's caption, and then post it on your feed. Although the process itself isn't difficult, it can be quite time-consuming, especially when reposting multiple images and larger captions.
Q. What is @withregram?
@withregram is the official Instagram handle of the Repost for Instagram (the first app on the list).
Q. How do I enable reshare for Instagram Stories?
You'll have to follow a few easy steps to enable reshare on Instagram. At first, you'll have to select your Instagram profile picture on the bottom left of the screen to go to your personal profile. From there, tap the settings icon at the top right corner. Navigate to the Privacy segment and then go to the Story section. You should then find an option called Allow Resharing to Stories. Selecting this will allow Instagram Story resharing.
Final remarks
I hope you've found this list of the best repost apps for Instagram useful. I've tried including the best Instagram repost apps based on ratings and different features. If there are any other reposting apps for Instagram that you prefer, let me know more about them in the comments below!
Read more:
Readers like you help support iGeeksBlog. When you make a purchase using links on our site, we may earn an affiliate commission. Read more.
Anirban is a literature post-grad who delves in philosophy and postmodern novels when not writing on tech and gaming. His love for research is only trumped by his love for chai and heavy metal.