For most people, iPhone is the most secure smartphone. But when your iPhone starts to freeze, open apps you did not launch or install, or frequently behaves unusually, it's most likely a virus. As surprising as it may seem, iOS is almost about as vulnerable as platforms like Android if a virus or malware hits hard on it.
Often, this eventually goes beyond what the iPhone can handle. And before it all goes haywire, you better prevent the virus outrightly with an antivirus app. Keep reading as I show you the best antivirus apps for your iPhone and iPad.
1. Avast Security & Privacy – Editor's choice
Avast maintains a solid security reputation across all platforms. And in this app, Avast provides one of the most intuitive environments for instantly scanning the iOS and blocking security threats on the iPhone. The app is lightweight. So, it's fast and pretty straightforward to use.
Avast antivirus app provides all-around protection of your internet network, including Wi-Fi, media you download, and detailed information about security features you need to activate on your iPhone.
One of its most admirable features is its inclusive dashboards that show comprehensive security stats and let you manage how you protect your iPhone.
The app also provides an additional identity protection program that scans your email ID to see if it's vulnerable to attacks. And there's a photo vault that protects your media from prying eyes.
Another selling point of Avast is it provides a virtual private network (VPN) to secure your network traffic. However, all these additional features come with a premium plan.
Pros
Fast and easy to use
Provides a VPN
Check if your email ID has been in data leaks
Inclusive stats and security monitoring dashboards
Cons
Advanced protection features are limited to a premium plan
Price: Free (Subscription starts at $2.49)
2. Clario: Privacy & Security – Best for all-around protection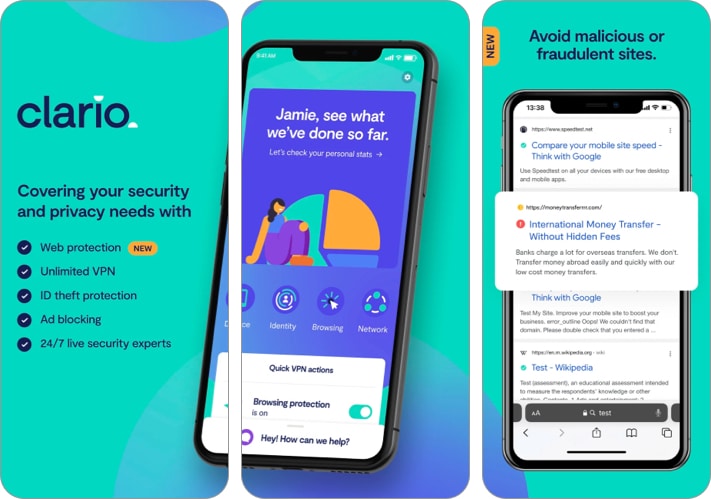 Are you looking for all-around security for your Apple devices? Clario answers the call! It is available for iOS and macOS. Thus, you can install it on either OS and manage other devices, making it ideal for safeguarding their Mac, iPhone, iPad, or all. I particularly love its clean dashboard that lets you turn on or off any feature easily.
The app features an AI-powered lookup tool for malicious links, a data breach monitor, and excellent Wi-Fi security, to name a few. However, what's more alluring? There's an ad blocker that works efficiently in addition to a top-notch VPN and a 24/7 security expert service.
A few similar apps feature notifications, but Clario is more accurate and promptly alerts you whenever it senses a data breach. Although the app is free to download, you need to pay for advanced features, which still makes it worth it. However, one drawback is that you need to pay more to manage up to three devices.
What's more? Clario provides an email scanner that helps you check if your email address appears in a data breach. It then recommends possible ways you can fix any problem it detects.
On top of these, the app adds identity security to give your Instagram account protection. I still wonder why this is limited to Instagram, though. Nonetheless, it's a good overall antivirus app for iPhone and Mac.
Pros
Monitor up to three devices via your iPhone
24/7 security service
Clean UI
Scan links before visiting to prevent malware
Features VPN and adblocker
Rapid response to impending threats
Cons
Expensive if you use more advanced features
The VPN service can support more countries
Price: Free (Subscription starts at $8.99)
3. Norton – Best for protecting multiple devices remotely
Norton depends on signature and source code scanning to detect malicious components of a program or software. Using the app requires that you register or have a previous Norton account.
However, the app offers nothing outside of its premium protection plans. This is a drawback, as you can't use any feature until you purchase a license, which comes in various levels and at different prices. For instance, a higher plan lets you protect up to five devices, including your PCs.
With that said, Norton helps secure your Wi-Fi network and tells if there's an ongoing malicious activity. It also scans your iPhone and internet traffic thoroughly to give you a detailed security report and how you can fix any irregularities.
Additionally, Norton filters spam in your SMS through its SMS Security program. And to prevent your iPhone from syncing faulty or suspicious calendar invitations, it uses a Secure Calendar feature. Ultimately, setting up these features is straightforward. So, you can get your device security beefed up in no time.
Pros
Filter spams from your SMS
Find and fix malicious programs quickly
Offers calendar protection
Discover bad actors with local network
Protect multiple devices remotely from a single account
Cons
All features are subscription-based
Can't register from within the mobile app
Price: Subscription starts at $14.99
4. McAfee Security – Offers protection scorecard
McAfee stands out with its protection scorecard that appears right at the top of its dashboard. This app rates your iPhone's security on a scale of 1000. Then it gives you a summary of your security performance in a dedicated dashboard. And, of course, it offers actionable mitigations against breaches, malicious software, and viruses.
Safe browsing, Wi-Fi protection, and checking against personal information breaches are some features that McAfee offers. While scanning your information for data leaks, McAfee looks through the deep layers of the web, essentially the Dark Web, to see if your credentials appear there.
And if you want protection from heaves droppers, you might want to try out its VPN. Although the app offers a 30-day free trial, most of its security features come with a subsequent subscription. Nonetheless, you might want to see if the app works for you within 30 days to decide whether or not you'll go further with a subscription.
Pros
Scan for your credentials on the dark web
30-day free trial
VPN service for safe surfing
Scan for vulnerabilities on public Wi-Fi
Multiple devices' protection
Cons
Fully subscription-based after free trial
Price: Free trial (Subscription starts at $2.99)
5. Kaspersky – Also offers password management
Kaspersky wields a strong reputation for its keen attention to security details. Its VPN services allow you to connect to specific servers to access geographically censored content. Plus, the app merges anti-phishing algorithms with security features like Wi-Fi protection and more.
One of the unique features of Kaspersky is that it offers a password management tool to stash your authentication credentials for added safety.
Further, it also features a data leak checker that scans through all cunning places on the internet for any iota of a data breach. This beeps a warning when it senses a data leak and recommends the best ways to avoid the impending consequences.
Unlike many other antivirus apps, Kaspersky automatically detects changes in your software in real-time and launches a counter-protective measure. Kaspersky requires you to open an account to enjoy it, though. And this lets you manage your devices from anywhere using a single user account.
Also, the app is free. But features like VPN services, multi-device protection, and functionality checks are only available in premium. One of its drawbacks is some features are only still available in specific countries.
Pros
Manage multiple devices remotely from a single account
Offers VPN services
Receive updates on a data leak
Automatic malware detection
Protect your local network
Cons
Some features are limited to specific countries
Most advanced features are paid
Price: Free (subscription starts at $4.99)
6. Bitdefender Mobile Security – Antivirus with a virtual assistant
Bitdefender does well to provide an all-inclusive detail of your iPhone's security status. And notably, it features an autopilot virtual assistant that recommends the best security tips for iPhone.
Like many other antivirus apps, the app features VPN services to mask your online presence. There's also an account privacy program to scan your email ID for its involvement in any security breach. So, this tells you where your data got leaked and recommends how to protect it.
Bitdefender also takes pride in its web protection strategy. It uses this strategy to block potentially malicious web pages you might click. Plus, it prevents bad actors from spying on your network on the web. This comes with the app's premium plan, though.
Pros
Block malicious web pages automatically
Offers VPN services to protect your network
Simple user interface and comprehensive dashboard
Get dynamic security tips from a virtual assistant
Price: Free (subscription starts at $1.49)
7. Mobile Security – Antivirus app with anti-theft feature
Security Protection is more than an antivirus app. It adds antitheft and backup functionalities to its stacks of security features. Plus, it lets you locate your phone in case of misplacement.
The app also uses native sensory algorithms to detect when someone unplugs your iPhone, plugs in a headset, or moves it from an initial position. It then sends the location of your device in an email or SMS alert. And you can choose to get notifications from your Apple Watch if you like.
That's how its antitheft program works, by the way. It provides a dedicated cloud where you can back up contacts and photos!
Increased security and cloud storage come with a subscription, though. However, its security features include spam call detection and give you the option to block such calls. There's a password manager to store your authentication credentials and prevent them from leaking to other third-party apps.
Password management and media protection come at a price, though!
Pros
Antitheft functionalities
Get security alerts via your Apple watch
Offers cloud storage for media and contact backup
Password management with Bitdefender
Cons
Security stats dashboard could be more explicit
Price: Free (subscription starts at $2.99)
8. AVG Mobile Security – Comes with photo vault
AVG Mobile Security isn't different from any other typical antivirus app on the list. For the most part, AVG's user interface and functionality are similar to Avast's.
Moreover, it offers detailed web security statistics and provides the best resolution for any detected vulnerability. It also protects your Wi-Fi network. But it embeds it with its VPN service to hide your internet traffic, including browser and app-based details.
And, of course, there's an email protection feature that scans your email to see if it's been in a data leak. Then there's a photo vault on the side to hide your private pictures from the public.
The basic features on the app don't come at a price. But it only offers limitless identity protection, secure browsing, and unlimited photo vaulting when you subscribe to its premium service.
Pros
Relatable user interface and experience
Get detailed security stats
Mask your internet data from prying eyes
Find your email in a data leak
Doesn't need initial registration
Cons
You can't manage multiple devices
Price: Free (subscription starts at $4.99)
9. Avira Mobile Security – Best for blocking spammy calls
Here's another iPhone-friendly security app that couples antitheft properties with antimalware features. Indeed, your privacy matters when you use Avira Mobile Security.
As an added feature, it provides a call blocker to cut off spam calls, a network scanner to detect devices on your network, a password manager, and supports traffic encryption. And its privacy manager lets you protect your Siri searches.
The app presents you with a rapid scanning feature that looks through your apps, media, and accessed websites to detect potentially malicious content. It then recommends the best possible fix if it detects any irregularity. There's also a result page to view various issues around your device.
Besides its array of security features, Avira provides extra functionalities for detecting theft and outdated iOS. You can also back up your contact to its dedicated cloud infrastructure. Most protection features are free to use.
However, to scale up to advanced security, you'll have to opt for premium plans. There's also an activity log that gives you a caption of your previous security details!
Pros
Block unwanted calls and monitor your local network
Protects your identity and email address
Masks your Siri searches
Block malicious content with rapid scanning
Simple and intuitive dashboard
No previous sign is needed to get started
Comprehensive activity log
Cons
Intrusive network scanner
Price: Free (subscription starts at $1.99)
10. TotalAV – Antivirus app with the best web shield
TotalAV uses website filtering and VPN services to protect your iPhone from viral infestation online. It also offers web shield, VPN, and antifraud and antitheft services as added features. There's also a data leak reporter to scan the internet to detect your email in data breaches.
Registering on the app is an option. So it doesn't require you to create an account or log in to start using the app. However, you might not be able to control multiple devices without an account, as it uses this to identify your user profile across multiple devices. Additionally, you can't use some features without first creating an account and signing into the app.
Further, TotalAV offers an interface that lets you scan your Wi-Fi network to detect potentially malicious actors. Then, it provides a quick iOS scanner to audit your iPhone viruses and malware detection.
Like other antivirus apps on the list, this one also has an alert system that notifies you of any impending red flag on your device. But you'll have to allow notification via your device settings to get alerts.
Pros
Supports website filters
Protect yourself from fraud online
Antitheft properties
See if your email is part of a leak
Offers VPN services
Price: Free (Subscription starts at $7.99)
Does Apple recommend antivirus for iPhone?
Apple doesn't explicitly state whether it recommends antivirus for iPhones or not. But the company boasts of a secure platform strictly managed by itself. You'll find the evidence in how the App Store screens iOS apps that finally get accepted. This structure forces developers to submit app security details to Apple for scrutinization before launching.
Hence, the company checks data privacy threats by giving people the flexibility to choose how an app accesses their data.
Nonetheless, that doesn't mean your iPhone has an alpha immunity against viruses and malware. Indeed, websites you visit and your Wi-Fi network can act as sources of infestation even if you're not likely to get it from the App Store. So, here's where an antivirus app comes in for the iPhone.
What should I look for when choosing an antivirus for my iPhone?
An ideal antivirus shouldn't be too intrusive and should protect your network traffic, prevent you from accessing potentially dangerous websites or visiting malicious links. The list goes on and on. But above all, look out for an antivirus's credibility and record before using it.
If an antivirus has vague goals or low credibility, you may avoid using it!
Winding-up
The sophistication of iOS coupled with various security features presents it as a foolproofed platform. But as I mentioned, you might still get caught in the net if you access what you shouldn't. So getting one of these antivirus apps might help prevent potential risks.
Do you use an antivirus app on your iPhone? Share in the comments below!
Read more:
Readers like you help support iGeeksBlog. When you make a purchase using links on our site, we may earn an affiliate commission. Read more.
Idowu is an avid tech writer and a software surfer who loves covering knowledge gaps in consumer software, including anything related to iPhones. Well, when he's not reading and learning new things, you'll find Idowu losing gallantly on a solid chessboard or virtually on Lichess.