A complete folio case takes care of multiple needs. Whether it's revving up your hands-free time or offering the desired protection to the iPad, a high-quality folio cover stands up to the task seamlessly. Not to mention the extra pockets where your documents can rest securely. Want one for your ultimate iPad? Look no further than the best 12.9-inch iPad Pro [2018] Folio Cases that we've listed out below.
1. Oxford Leather from Pad & Quill
For sheer top-grade quality and refined craftsmanship, Oxford Leather has deservedly found the top spot in this lineup. It exhibits the famed class that Pad & Quill is known for.
Beyond the high praise, this folio case is readied with American full-grain bridle Leather. What enriches its profile is the marine-grade nylon stitching.
Can it lose its shine when faced with UV light? Nope. So, you can expect this luxurious folio cover to be a long companion for the 12.9″ iPad Pro.
Pad & Quill has used soft leather in the interior to offer an additional defense to the tablet. Talking about color options; your iPad can choose between Whiskey and Chestnut.
USP: Top-grade leather and craftsmanship
Check out on Pad&Quill
2. URBAN ARMOR GEAR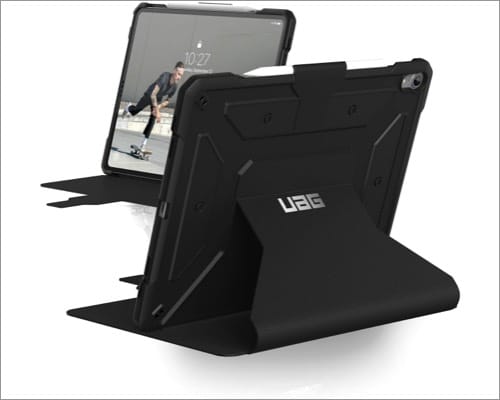 Give your iPad Pro some tough protection with this rugged folio that boasts an impact-resistant softcore and hard outer construction. It meets military drop-test standards to safeguard your device while being feather-light to carry around.
Further, it's made of a water-resistant soft tactile grip material that's a pleasure to handle. The adjustable stand with auto wake/sleep and a convenient built-in Apple Pencil holder make this case the complete package. Choose from black, blue, and red colors, which all look classy.
USP: Military drop-test standards
Check out on Amazon
3. Contega Thin from Pad & Quill
Should you want to embrace a flagship folio leather case with a slim profile, "Contega Thin" can ideally fit into your taste. The case is carved out of high-grade material and sports aesthetic design. Plus, this sleek cover features smooth and grippy surface so that you get extra comfort while holding the iPad Pro 12.9-inch.
For all being on the slim, the leather cover has got the needed resistance to disperse impact. And with the built-in self-propping stand always in readiness, your hands-free time will continue to be a seamless experience.
What's more, you will be able to choose your favorite Contega Thin in three nice-looking colors including Linen Gray, Charcoal, and Cranberry.
USP: Sleek profile
Check out on Pad&Quill
4. ProCase
The ProCase for iPad Pro is made from premium composite leather on the exterior and soft materials on the interior. It has multiple slots that allow multiple viewing angles for hands-free viewing. The cover has a magnetic closure mechanism that enables auto sleep/wake feature.
Besides that, the case also boasts support for Apple Pencil and on top of that, it comes along with a ProCase Stylus Pen. Lastly, there are four vibrant color choices available.
USP: ProCase Stylus Pen included
Check out on Amazon
5. Infiland
Infiland treads pretty much on the same line as ProCase. Both the cases are sleek and have translucent back. And the only major difference is that you can choose Infiland in four color options like black, grey, navy and rose gold.
Regarding durability, the synthetic leather outer shell and soft interior can protect your iPad from the normal bumps.
Times when you wish to have a better typing angle or enjoy FaceTime group calls, the front cover turns into an efficient stand. Plus, it has on-point openings for camera, speakers, and ports.
USP: Slim design
Check out on Amazon
So, these are our top folio suits for the ultra-large iPad!
Which one did you pick out for your iPad Pro 12.9?
Before you can set your eyes on other posts, do share your thoughts about the cover that can stand up to your demand. As always, you can also refer to the names of the cases that are worth adding to the above lineup.
Readers like you help support iGeeksBlog. When you make a purchase using links on our site, we may earn an affiliate commission. Read more.
Jignesh Padhiyar is the co-founder of iGeeksBlog.com, who has a keen eye for news, rumors, and all the unusual stuff around Apple products. During his tight schedule, Jignesh finds some moments of respite to share side-splitting content on social media.