When messaging anyone on your iPhone, the best way to type out the words is by utilizing the Auto-Correction and predictive text features. Auto-Correction uses the dictionary on your iPhone to check for spellings you type and corrects them if anything goes wrong.
But what if it doesn't work as intended or stops working entirely? You need not worry about it; I'll show you a few ways you can fix autocorrect when it stops working on your iPhone.
Whatever the reason, the first solution to fix the auto-correct issue is to restart your iPhone. In case you need some assistance, here's our guide to restarting your iPhone. If this doesn't fix your issues, follow these troubleshooting tips.
1. Enable Auto-Correction from iPhone's settings
There's also a possibility that you might have turned it off when your iPhone autocorrected your texts often. The best way to start the troubleshooting process is by disabling and enabling the autocorrect feature from your iPhone settings. Here's how to do it on your iPhone.
Open Settings on your iPhone.
Select General, and then Keyboard.
Turn off the toggle next to Auto-Correction and then turn it on again.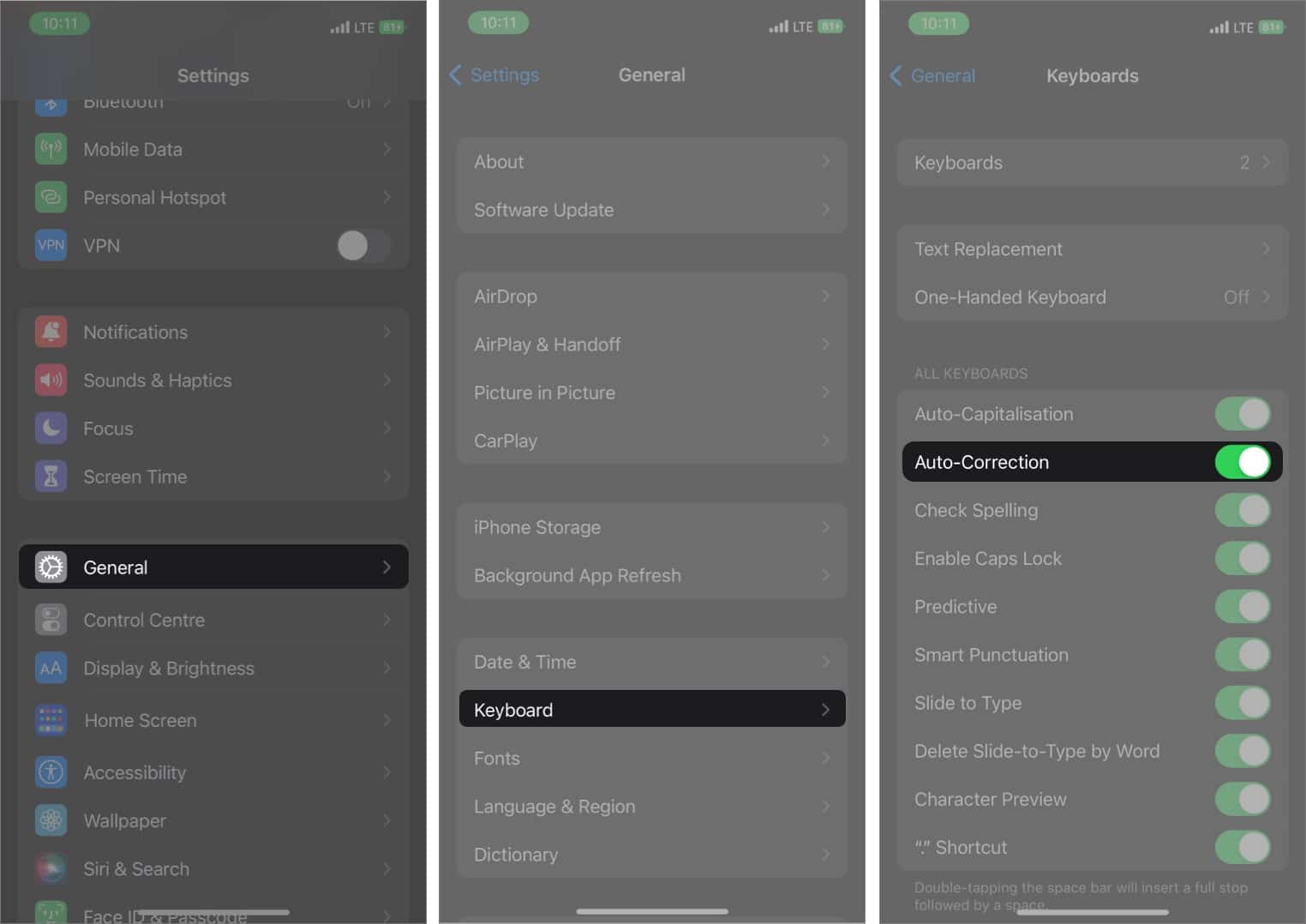 Enable Check Spelling and Predictive options in Keyboard settings
Using a dictionary, spell check corrects misspelled words on your iPhone. On the other hand, predictive text recommends words based on your daily typing patterns. You'll have to type a few words, and predictive text will use AI to suggest a few words that can complete the sentence. If it's turned off, here's how you can turn it back on.
Go to Settings on your iPhone.
Select General → Keyboard options.
Turn on the toggles next to the Check Spelling and Predictive options.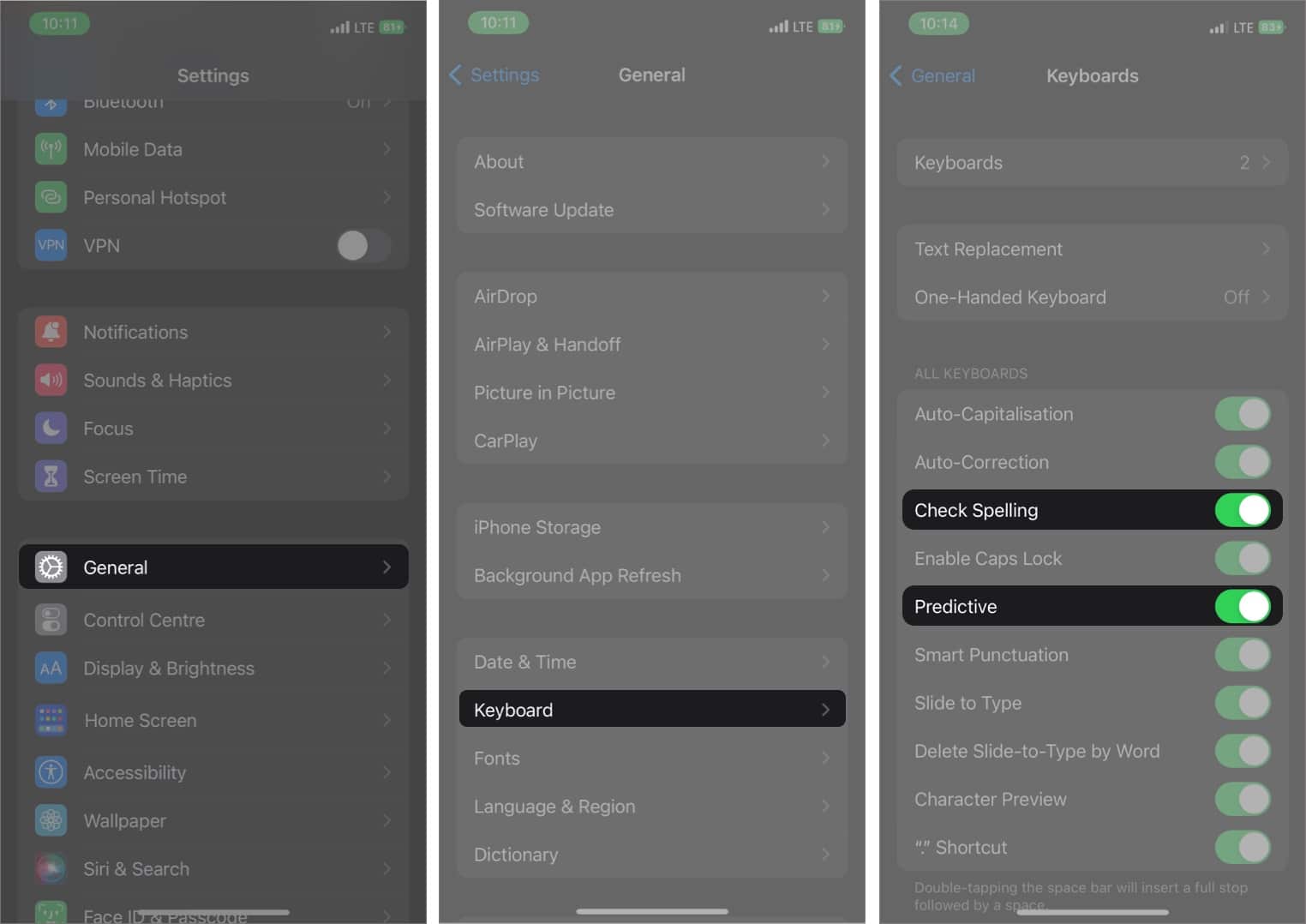 2. Add or remove Text Replacement shortcuts on iPhone
Text replacement shortcuts allow you to expand any random word with the word, phrase, or sentence you set. There's a chance you might be seeing random text popping up when you type something.
It could be someone pranking when they took your iPhone or iPad. However, you can use these text replacements to your advantage as well. Here's how you can remove text replacement shortcuts on your iPhone and iPad.
Head over to Settings on your iPhone.
Tap General, and then Keyboard.
Select the Text Replacement option.
Swipe left and hit "delete" on the text you want to delete.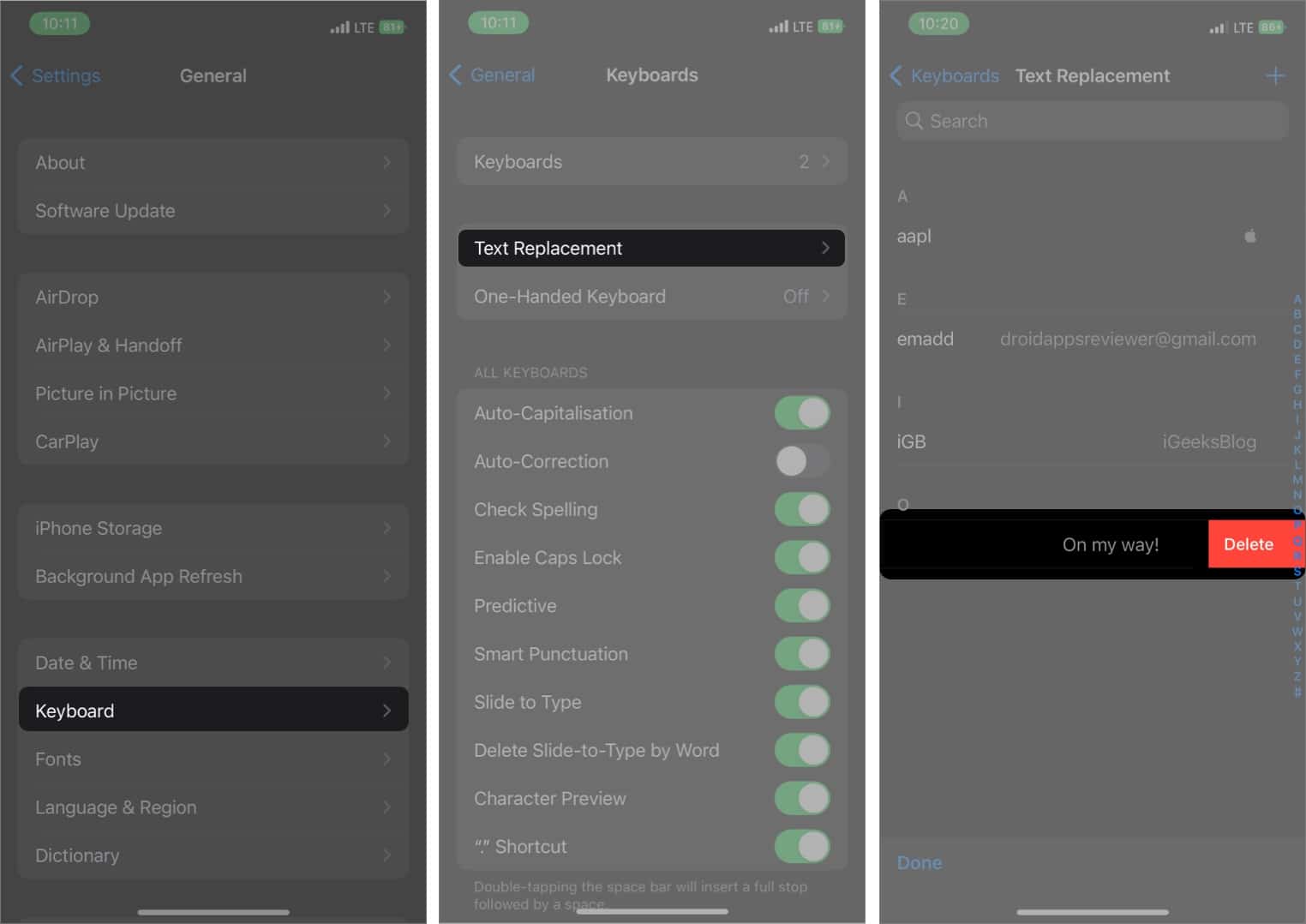 Similarly, you can add a text replacement shortcut to ease your typing when you keep typing a word repeatedly. Select the "+" button on the top right of the Text Replacement settings, add a phrase you want to expand, and then the shortcut. Now, whenever you type the shortcut, it'll get replaced by the phrase you have set.
3. Add a new keyboard for another supported language
Apple doesn't support all languages when it comes to using Auto-Correction. So you might not get Auto-Correction if you use a language besides the one from Apple's official list of supported languages.
For instance, if you use a language like Korean or Tibetan, you're out of luck; if you use Telugu or Gujarati, then Auto-Correction will work on your iPhone. Nevertheless, here's how you can switch to a supported language on your iPhone.
Open Settings and go to General.
Select Keyboard → Keyboards.
Tap the Add New Keyboard… option.
Choose a language that supports autocorrect.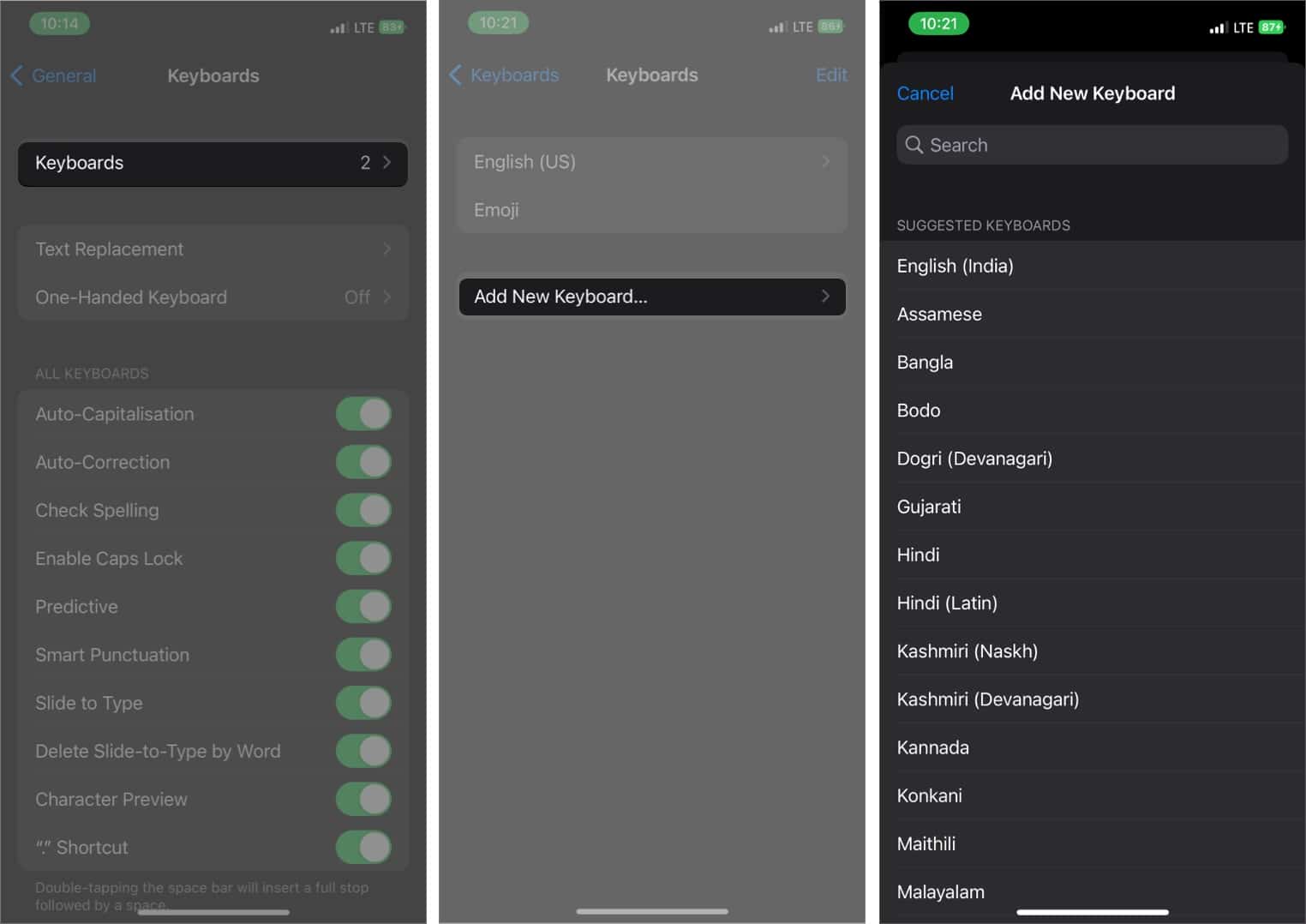 4. Reset Keyboard Dictionary on iPhone
Over time, iPhone learns a lot about your typing habits and thus enabling users to type faster using the predictive text feature. However, it might sometimes even remember incorrect spellings you wouldn't want to use. The best way to eliminate those words is by resetting your iPhone's keyboard dictionary. Follow these steps to know how you can do that on your iPhone.
Go to your iPhone's Settings → General.
Scroll down and select Transfer or Reset iPhone.
Select Reset, and then Reset Keyboard Dictionary. Enter your passcode if prompted.
Tap Reset Dictionary to confirm it.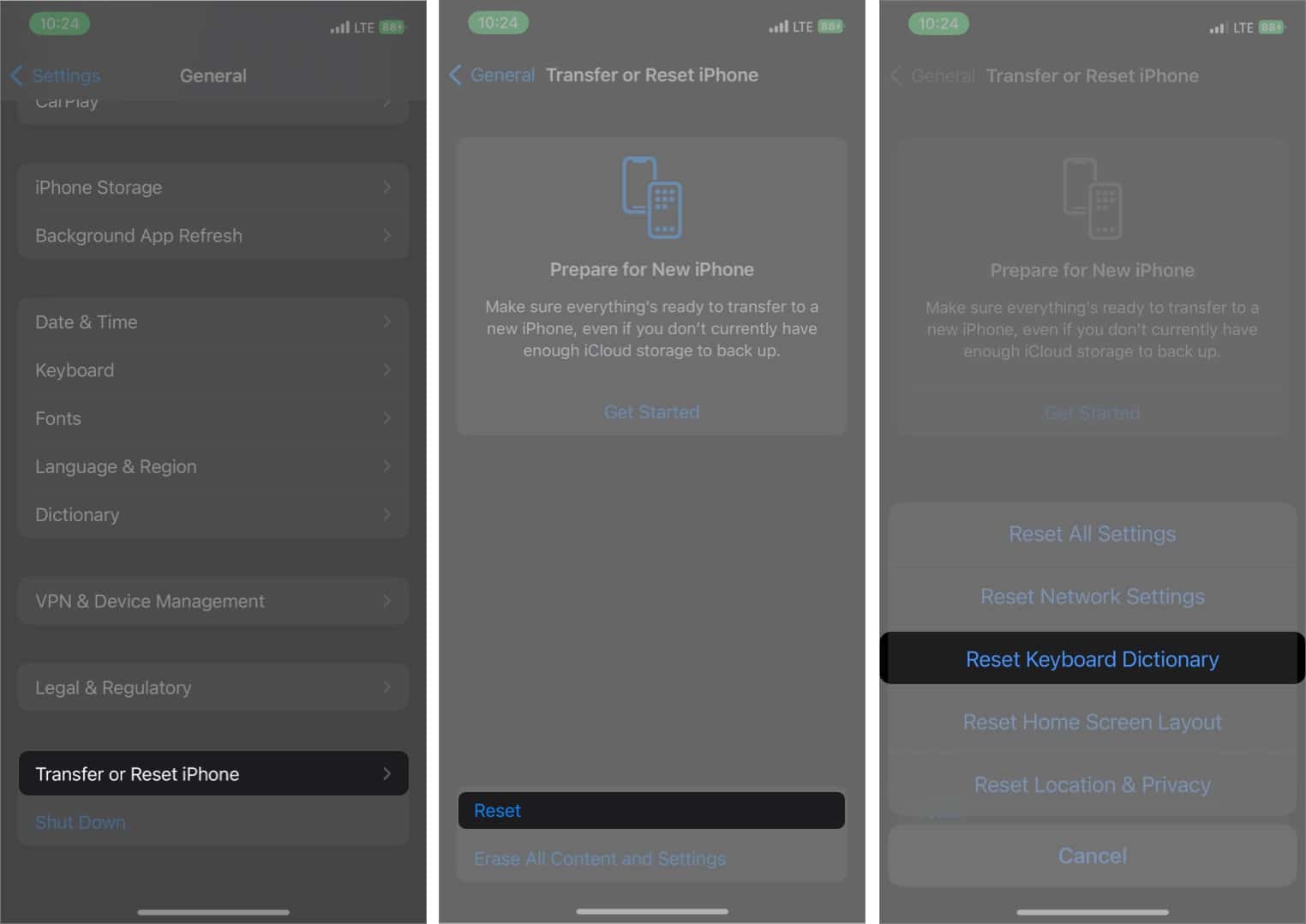 5. Update your iPhone or iPad
There are chances that the Auto-Correction feature might not function properly on your iPhone or iPad. If you still haven't updated your iPhone or iPad to the latest iOS version, it's best to update since it might fix bugs like these. You can do this by going to Settings → General → Software Update and see if there's a new update for your device. If there's one, select the Download and Install button.
6. Use a third-party keyboard app
If your issue didn't fix after this, it's time to look for third-party keyboard options like Microsoft SwiftKey Keyboard or Gboard for your iPhone. If you're confused about which keyboard to choose, you can check out our list of the best keyboards for your iPhone and iPad.
7. Factory reset your iPhone or iPad
If nothing in this list works for you, the last resort is to reset your iPhone. Check out our guide to resetting your iPhone and iPad to do it. It'll reset all your iPhone settings, including Auto-Correction.
Wrapping up…
We hope these tips fix Auto-Correction issues on your iPhone or iPad. If it still functions abnormally on your iPhone, you should take it to your nearest Apple service center. If your iPhone is under warranty or Apple Care+, they'll fix it for free; otherwise, they'll charge you a small fee.
Read more:
Readers like you help support iGeeksBlog. When you make a purchase using links on our site, we may earn an affiliate commission. Read more.
Sajid is an Electronics and Communications Engineering graduate who loves writing about tech. He's primarily interested in writing about Android, iOS, Mac, and Windows. You'll find him watching Anime or Marvel when he's not writing.